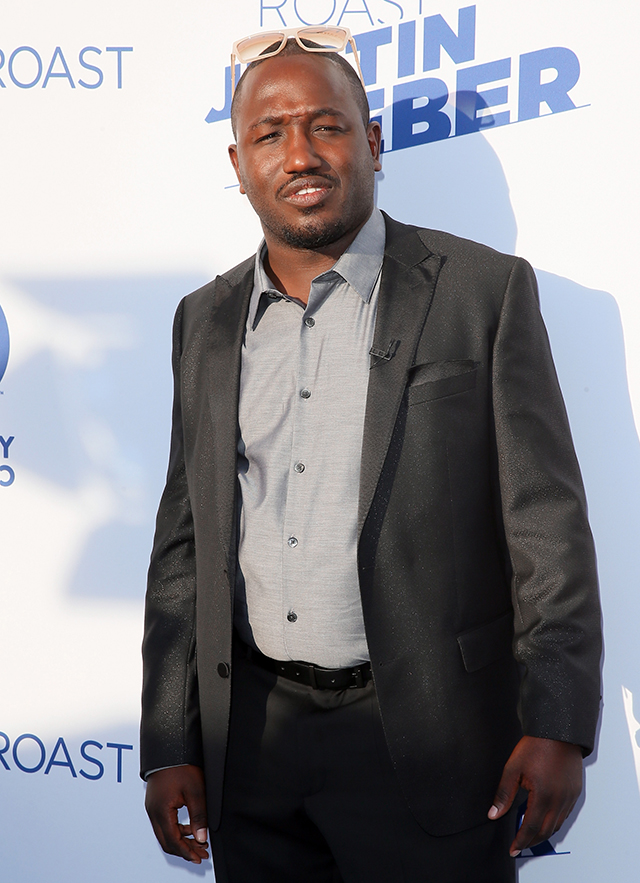 Hannibal Buress has quite an impressive résumé, including stints on Saturday Night Live, 30 Rock, Broad City, The Eric Andre Show and several Comedy Central specials. This July, he's writing, executive producing and starring in his own weekly Comedy Central show entitled Why? With Hannibal Buress. Buress, born and raised in Chicago, is also a huge Bulls fan, so we had to catch up with him to pick his brain about the NBA.
SLAM: Did you play basketball growing up?
Hannibal Buress: I played in grade school, but that was pretty much my career outside of a few pickup games. I wasn't that good and kind of just stopped playing. My career high was 4 points—that was in fifth or sixth grade. But two of the four points did come on a shot that was from pretty deep.
SLAM: You're from Chicago, so you must have lots of Michael Jordan memories. What's your favorite MJ moment?
HB: The Jordan shrug was pretty cool. I remember watching that one at home. The shot over Bryon Russell, that was pretty dope. The double nickel at the Garden.
SLAM: Where do you stand on all these Jordan versus LeBron debates?
HB: LeBron is great, man. But you have to let his career play all the way out before you can compare them. They're different types of players. I hear the arguments from both sides. But you're asking a Chicago guy, so I think you know what a Chicago guy is going to say.
SLAM: And of course, now Jordan is just a crying meme online.
HB: That's what the internet is now. It's people taking one joke and stomping that into the ground, over and over again. But I think he'll be alright. He can handle it.
SLAM: The Bulls came close to knocking off the Cavaliers in the Playoffs. Were you disappointed by the end result?
HB: They were a couple plays away from winning the series. With David Blatt calling that phantom timeout, and Gasol's injury made it a different series. And Dellavedova. I was pretty angry at him.  
SLAM: Do you think he's a dirty player?
HB: Nah, I think he's just a scrappy player, I wouldn't say that was dirty. [Pauses] But yeah, the leg lock was kind of dirty.
SLAM: Your reaction to Tom Thibodeau's firing?
HB: I think it was about that time. They probably could have handled it better. Somebody pitched this to me: if it was Thibodeau with Mike D'Antoni as a lead assistant, like a super offensive guy, it might work. I think the team's gonna be solid next year—we'll see how Fred Hoiberg is. But Thibs, he had a great winning percentage, I guess the team just felt like they hit that point. I'm sure he'll be alright—he has millions of dollars from coaching a game. And the Bulls are a very successful franchise, they sell out every game. So both parties will be fine. They just probably won't work with each other in the future.
SLAM: Are there any rules you would like the NBA to change or get rid of?
HB: The intentionally fouling rule. I don't like it. I was at one of the games when the Rockets started hacking DeAndre Jordan in the first quarter. I was like, Come on, dude—we paid money to be here, man. It's rough. But I mean, it's a rule that only applies to a handful of players. Another thing: Nobody shoots underhand free throws. Like, you wouldn't change it up to potentially average 5 or 6 more points per game?
SLAM: The resistance to underhand shooting is probably a pride thing.
HB: But how prideful is slinging bricks all day, over and over? Underhand is the way to go. I would recommend these free-throw shooters be locked in a gym with Rick Barry for two months.
SLAM: If you could have anyone from the NBA on your new show, who would you invite?
HB: Mark Cuban's a smart dude. He'd be fun to have on TV. LeBron would be good, despite me being from Chicago and not liking what he's done to my team. He's a solid actor, man. Blake Griffin. Nate Robinson. JR Smith. And maybe get together all the NBA players who rap and have the first NBA cypher. Somebody's probably going to steal this idea, but so what, I'll come up with more. Get Iman Shumpert, Stephen Jackson, Kevin Durant, Damian Lillard, Tony Parker and get Kobe back on that rap shit, too.
SLAM: So what can fans expect from the new show?
HB: It's just me, just talking about different subjects through sketch, man on the street stuff. Just doing funny stuff, man. It's just my point of view in sketch form and monologues and different pieces like that. With a television show and with our format I'm able to do different things and bring bits to life in a different way than you can with just standup.
SLAM: Do you still get nervous when you're on set or when the cameras come on?
HB: No, not nervous in that in that sense. It depends on the bit or what we're doing. It's not a general nervousness—if it's something different or weird, or something where I have to divert from my usual thing, that can be a bit nerve-wracking. The stuff sometimes on The Eric Andre Show where we have to do weird stuff on the street, it would take some time to get comfortable with that. That's more about the task than the camera itself.
SLAM: And sometimes the bits can be hit or miss.
HB: There's this one bit that I do. This next bit isn't connected to anything I've said so far and anything I'll do afterwards—I want to jizz on my hands and go to a palm reader and say, What does this mean? It usually gets a big laugh and does well. I think it was Montana on Memorial Day Weekend, I did it how I usually do it, and it was just nothing. I look at my DJ like, Did I say this shit wrong? Audiences are different, man. They laugh at different stuff. I bring it back in a different way. I'm stubborn like that—I'll make it work even if it didn't work.
Alex Wong is a SLAM contributor and freelance writer. Follow him on Twitter @steven_lebron.
61