Following a 98-81 victory over the Knicks on a late-February Sunday, it's business as usual in the Heat locker room. In the middle of the team's road trip, the veteran roster isn't blasting music or wasting time with small talk, instead showering and dressing quickly. While the media surrounds former Brooklyn Net Joe Johnson after his first game with the team, Hassan Whiteside fits his impossibly long 7-foot frame into a small corner of the visiting MSG locker room. The 26-year-old is in a good mood after a 16-point, 11-rebound, 2-block performance and brushes off a back-and-forth jawing with courtside regulars Fat Joe and Spike Lee after he hit a smooth fadeaway baseline jumper.
Before he bounces, Whiteside slides on a pair of Jordan Xs, daps up a few members of the Heat staff and grabs a plate of food. All the while, a smile never leaves his face.
Whiteside has a lot to be happy about these days. Since his one-game suspension stemming from an altercation with Spurs behemoth Boban Marjanovic, the big man has embraced his role off the bench and averaged an eye-widening 18.5 points, 15.5 rebounds and 3.8 blocks since the All-Star break. As of this writing, Miami is 8-2 in that span, and with Chris Bosh sidelined again, Miami's center holds the key to post-season success. Word to DJ Khaled.
The fact that Whiteside is even being mentioned in this magazine, let alone as a major part of the Heat's Playoff run, is downright astonishing. As a child in Gastonia, NC, he suffered freak injuries that would keep most kids off the court for life. There were the 68 stitches in his leg after rough housing with his older brother Danney. A broken leg and a growth plate separated from his knee suffered after being hit by a car, requiring surgery and a defibrillator to wake him up.
"Me and my brothers, we used to go on adventures," laughs Hassan about the injuries.
His high school career saw him bounce between six high schools before concluding at The Patterson School in North Carolina. He drew interest from high-major programs Kentucky and NC State but ultimately committed to mid-major Marshall.
In his freshman year, Whiteside averaged an eye-popping 5.4 bpg before declaring for the 2010 Draft. Selected 33rd overall by the Sacramento Kings, the raw Whiteside was assigned to the Reno Bighorns by the end of November. Once he was called back up by Sacramento in early 2011, he suffered a partially torn tendon in his left knee and was sidelined for the rest of the year. Whiteside's rookie year total stat line read two minutes played, 0 points and 2 fouls.
Whiteside appeared in just 18 games with Sacramento in '11-12. At the end of the season he was waived. With a roster full of young guys like DeMarcus Cousins, Isaiah Thomas and Tyreke Evans, there was little veteran leadership to show Hassan the ropes of NBA life.
"I had to deal with everything on my own, really," he recalls. "I had a few older guys talk to me but we was a young team so it was tough."
The tough times, unfortunately, would last a while longer.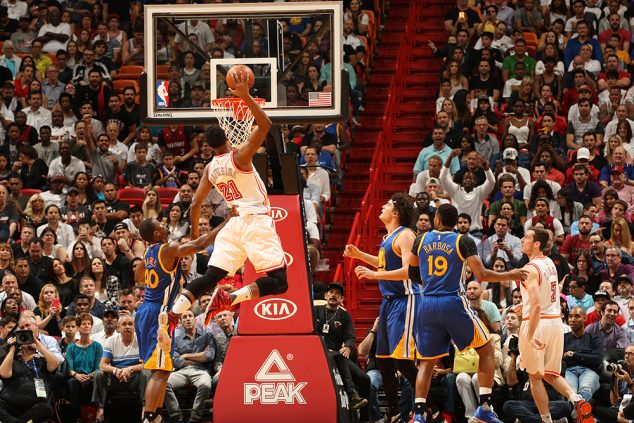 The 2012-13 season took Whiteside literally around the world. After bouncing around the D-League with the Sioux Falls Skyforce and Rio Grande Valley Vipers, he agreed to join Lebanon's Amchit Club in April 2013. By the end of May, Whiteside was out of Lebanon and in China to play for the Sichuan Blue Whales of the NBL. There, the big man enjoyed the best ball of his career to that point, averaging 25.7 ppg, 16.6 rpg and 5.1 bpg. He also took home Defensive POY, Center of the Year and Finals MVP as the Blue Whales won the NBL Championship.
In November 2013, Whiteside was back in Lebanon, then back to China in April 2014.
Whiteside's experience in the Middle East proved a reality check. As he hooped inside, tension in the streets was high and violence wasn't uncommon. "I felt scared sometimes because you're hearing car bombs and you see people die," he says. "It put everything in perspective."
After 17 games with the Jiangsu Tongxi Monkey Kings in China, Hassan was done with international ball.
That summer Whiteside returned to North Carolina, where he trained and played pickup at a local YMCA. Four years into his career and he was in basketball purgatory, a vicious cycle of D-League stints, 10-day contracts and seasons spent in hard-to-pronounce cities on the other side of the world. Based on the odds and track record of players in his situation, it would take a small miracle for Hassan to play in the NBA again.
The rest of 2014 was a whirlwind. Instead of heading back overseas—where he had big money offers—Whiteside remained in the States. Between September and November, he was signed and waived by the Grizzlies, signed by the Rio Grande Valley Vipers, traded to the Iowa Energy and re-signed and waived by Memphis before rejoining the Energy. Hassan hadn't touched an NBA floor since April 12, 2012, but was putting up big numbers with the Energy. In the time since his rookie year, he also bulked up, going from a 227-pound 20-year-old to a 265-pound man.
On Nov. 22, 2014, Whiteside put up 24 points, 16 boards and 4 blocks against the Sioux Falls Skyforce, the Heat's D-League affiliate. The next day, Chris Andersen went down with a nasty ankle sprain and Miami suddenly needed a shot blocker. Already familiar with Whiteside thanks to a 2012 workout, the Heat signed Hassan on Nov. 24.
As a coach, GM and president, Pat Riley has had the patience and wherewithal to take second-round picks and guys playing in lesser leagues and turn them into important role players, NBA All-Stars and champions. He did it with the late Anthony Mason and John Starks on the Knicks and plugged in countless players alongside LeBron, Wade and Bosh. None, however, have been as dominant as Whiteside.
"The first time I met Pat Riley I thought, he's a winner," says Whiteside. "He told me in 2012 I was going to get bigger and stronger and better. It's amazing. I have to tip my hat to Pat Riley. Everything he's done for me has been amazing and everything he's done throughout his career has been amazing. That's why he is who he is."
On Jan. 4, 2015, Whiteside notched his first double-double. A week later, he put together an absurd 23-point, 16-rebound, 2-block performance in a win against the Clippers. Post-game, he took the opportunity to call out every team—and Doc Rivers in particular—that passed on him.
"I got a chip on my shoulder," he told Heat broadcaster Jason Jackson. "Every other team in the NBA said no to me, especially [the Clippers]. I couldn't even get a training camp invite. The Clippers thought it was a good idea—Doc said no. I tried to get a workout here—Doc said no."
On Jan. 25, 2015, Whiteside went viral. After killing the Bulls with a 14-point, 13-rebound, 12-block triple-double, he told ESPN reporter Heather Cox that he was, "just trying to get [his] NBA2K rating up." The clip sent Twitter wild.
From playing in far corners of the world to being a household name, Hassan was a feel-good story for the Heat, one they needed after Bosh's scary bout with blood clots and the team missing the Playoffs. But somewhere along the way, perception of Whiteside changed and the suddenly dominant center became a target.
In 100-plus games with the Heat over two seasons, Whiteside has had violent altercations with Kelly Olynyk, Alex Len and Marjanovic, publicly feuded with Draymond Green on Twitter, been ripped by Dwyane Wade for being "selfish," criticized for his poor free-throw shooting (he's hitting at an impressive 82.9 percent clip since All-Star) and shown poor body language when benched by Spo for fourth quarters. Early this season, more than a few bloggers were quick to point out that the numbers showed the Heat were better defensively with him off the floor, even though he's a prolific shot-blocker. Off-court, critics point to his relationship with the equally fascinating Khaled, alleged aloofness and engagement on social media as distractions.
Because of this, Whiteside has become one of the most polarizing players in the L. The numbers he's putting up for a $980,000 salary make him the second-most underpaid player in the L—the first is Stephen Curry, by far—but the questions surrounding him made him a buzzworthy name at the trade deadline (rumors Pat Riley called "bullshit"). With his contract set to expire at the end of the season, Whiteside is in line for a massive contract, but there is wide speculation that the Heat will let him walk.
ESPN's Brian Windhorst, who covered the Heat through the LeBron era, came out and said on the "Lowe Post" podcast with his colleague Zach Lowe that, "[Hassan is] absolutely not a Heat player. His style of play, his personality and the way he goes about his business is not congruent with the way the Heat normally go about themselves."
Whiteside is well aware of what is being said about him in the media and has answers for his critics. For those who point to the Heat's defensive numbers with him on the bench: "Everybody that said them numbers is talking different now. That was at the beginning of the season when we were trying to figure things out. When you look at the last 20-30 games, it's better when I'm on the court."
For those who disapprove of his legendary Snapchat use, attitude and relationship with Khaled: "A lot of times I'm just chilling at home or at Khaled's house and we just watch and talk basketball. It's not like I'm at the club 'til 3 or 4, drunk on TMZ. I'm having a good time but not doing anything bad."
For those who claim he's not a "Heat player": "People are trying to nitpick and find bad things about me to try and figure out why I wasn't in the NBA for so long. It comes with the territory. There's nobody in the NBA that people aren't going to say something bad about. They'll always look for negative stuff. I love Miami."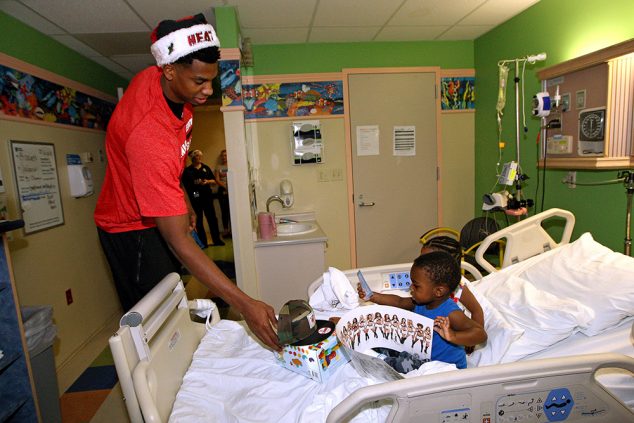 As the season wears on, his teammates have publicly had his back. "His impact is huge," says PG Goran Dragic. "He's a rebounding machine, a shot-blocking machine, [and] he's doing unbelievable things, especially for me. When he's setting those screens, he opens the floor a lot for me and if his guy steps up and defends, the lob to Hassan is open. It's awesome to play with this kind of player, who gives you a lot of options."
Whiteside is young, talented and about to be rich as hell. He also isn't a cookie-cutter NBA star, which makes people uncomfortable. As his role expands, Whiteside knows all he has to do is help the Heat win and a big payday in his future will come.
"We're worried about winning, and that's what Pat has said: Win and everything will take care of itself."
—
Peter Walsh is an Editorial Assistant at SLAM. Follow him on Twitter @Peter_M_Walsh.