Under a shower of confetti, Kevin Durant finished his 10th NBA season on Monday night. This means we now have a full decade's worth to judge just how good he is in the larger, historical scope. Now that he's finished the best defensive season of his career and a transcendent NBA Finals MVP-worthy performance against likely the best small forward of all time, should Durant already be considered the third-best player at his position in NBA history?
To explore this question, I spoke with four former NBA players who have either played with or against Larry Bird and Julius Erving—M.L. Carr, Reggie Theus, Sidney Moncrief and Scott Weldman. Theus also coached against Durant when New Mexico State played Texas at the 2007 NCAA Tournament and as head coach of the Kings and an assistant coach for the Timberwolves. I also got insight from Bob Ryan, the legendary sportswriter who had a front row seat for Bird's career and has covered the NBA since the 1960s.
Before delving into breakdowns of how Durant stacks up against Bird and Erving, all of them offered caveats on the inherent difficulty of comparing players from different eras. For example, the modern game stresses three-point shooting far more than the game did in the '70s and '80s. This is one reason Kevin Durant leads other top small forwards in terms of true shooting percentage, a metric gauging shooting efficiency that involves points scored from three pointers, field goals and free-throws.
Here are a look at how Durant's shooting percentages stack up against Bird, Lebron and Dr. J:
Career Playoff Games Only
LeBron James
217 games
FT: 74.2 percent
FG: 48.5 percent
3PT: 33 percent
TS: 57.4 percent
Julius Erving
189 games (including ABA)
FT: 78.4 percent
FG: 49.6 percent
3PT: 22.4 percent
TS: 55.3 percent
Larry Bird
164 games
FT: 89 percent
FG: 47.2 percent
3PT: 32.1 percent
TS: 55.1 percent
Kevin Durant
106 games
FT: 85.3 percent
FG: 46.8 percent
3PT: 34.4 percent
TS: 58.8 percent (68.3 percent with Golden State this postseason)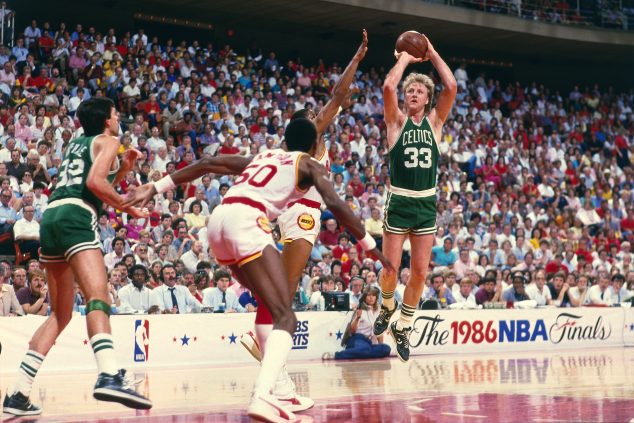 Rule changes in the 21st century have titled in the offense's favor, meaning players today face far less physical defenses than in previous generations. M.L. Carr, who played on the Boston Celtics from 1979 to 1985, said that back in the day he and other NBA players practiced a physical brand of defense that would get them suspended from today's game. "Instead of going up the side to block someone's shot, I'd go to block the shot to get him under the chin and rub that nose and try to break the nose. That's what I did, okay? Plain and simple," Carr recalls. "There was nothing I wouldn't do on the court. Nothing."
But those days are over.
"Commissioner [David] Stern, before he left, made sure that those stars are protected," adds Carr.
It should also be noted that at the highest levels of the game, the lines between position break downs—especially on a team like Golden State where Durant often alternates between the two forward spots and center—are often blurred. "The rigid notion of 'small forward' or 'power forward' is often irrelevant," longtime Boston Globe writer Bob Ryan says. "The two best forwards ever are Bird and LeBron, in some order. They are each uncategorizable."
So, yes, pure apple-to-apple comparisons are impossible. But before these NBA Finals, that hadn't stopped the LeBron vs. MJ debate, and it shouldn't stop this debate either. The following is a breakdown of parts of Durant's game vs. those of Bird and Erving.
Shooting
All interviewees agreed Bird and Durant operate in the same stratosphere when it comes to flat-out shooting ability and range. A physical advantage may go to Durant, who has a longer wingspan than Bird. "When Durant gets into into a scoring area, you're always in jeopardy," says Reggie Theus, a small forward with the Chicago Bulls from 1978 to 1984. "The way the game was played before, is they would run him off a pick. He would catch the ball 16 to 20 feet out. Now Durant is bringing the ball up the floor, or he's catching it at 25, 27 feet away from the basket," he adds. "With Larry Bird, you could basically physically stop him from catching the ball in certain areas, whereas you really can't with Durant because he'll catch it 30 feet from the basket."
While Julius Erving was an inferior shooter to Bird and Durant, Theus considers him "just as great a scorer" because of his ability to finish, get to the rim and to the free throw line. Erving, he says, was nearly in a class by himself in running the floor. LeBron James is the closest parallel, but whereas James uses his strength to bull through defenders, "Doc sort of finessed around you and went over the top of you."
Sidney Moncrief, a Milwaukee Bucks superstar in the 1980s, adds that Erving's massive hand size and ability to easily palm the ball gave him a unique advantage.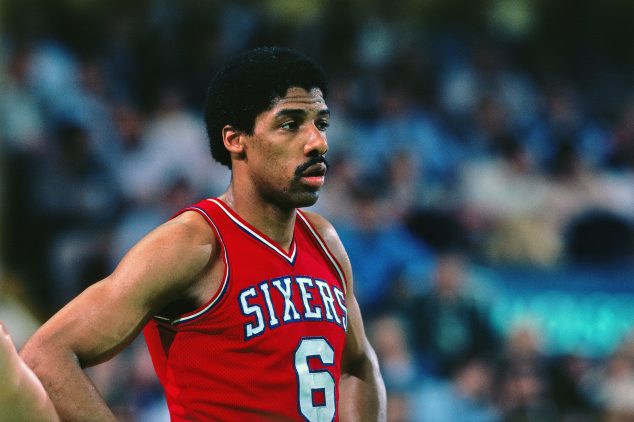 Ball handling and Passing
"I think Durant has the ability to manipulate the defense off the dribble more, in terms of manipulating the floor. Larry Bird was better than Durant in terms of passing, in terms of setting his teammates up," says Theus.
"No one anticipated angles of the game better than Larry," adds M.L. Carr. "He would sense where you were going to be and he got the ball there in the nick of time. It was unbelievable how he read the defenses with his passing. I just had never seen that before. If you ask me about passing, comparing Durant to Larry, there is no comparison. There just isn't. Shooting, yes, but there is not on the passing."
Career Playoff Games Only
LeBron James
217 games
PPG: 28.4
RPG: 8.9
APG: 6.9
SPG: 1.8
BPG: 1
Julius Erving
189 games (including ABA)
PPG: 24.2
RPG: 8.5
APG: 4.4
SPG: 1.7
BPG: 1.7
Larry Bird
164 games
PPG: 23.8
RPG: 10.3
APG: 6.5
SPG: 1.8
BPG: .9
Kevin Durant
106 games
PPG: 28.8
RPG: 8
APG: 3.8
SPG: 1.0
BPG: 1.2
Defense
This is the side of the ball where Durant's potential, due to his seven-foot frame, long arms, timing and quickness, appears to be higher than that of Bird's and Erving's. He's focused on defense all season long and was especially good in these playoffs against the likes of  All-Star Gordon Hayward and All-World LeBron James. "All you want as a defender is make a guy think twice," Draymond Green recently told ESPN. "That's what you saw with LeBron. He knows he can't just attack KD."
"If this is really who he is, it's going to take him to another level because I think that defensively Bird and Doc were—I wouldn't say poor defenders—but they weren't considered to be great defenders," says Theus.
Scott Wedman, a small forward who played for Kansas City-Omaha from 1974 to 1981 and later for the Celtics, says, "Larry was a great help defender and Dr. J was a great passing lane defender. When Dr. J was guarding me, I don't think it was his sole objective to shut me down, I was maybe a 20-point scorer at best. I thought he was normally just looking at the passing lanes so he could be dunking on the other end."
M.L. Carr recalls, "You could isolate Larry one-on-one and sometimes he'd have some problems, but in the defensive setting there was never a better team defensive player. Larry was an incredible team defensive player because he was talking to you. Dr. J could shut you down when he wanted to, he'd get pissed off because something happened. He could do that because he had the athletic ability to do that. Durant is not there yet. He's had a good year defensively, but one year does not make a dynasty. Matter of fact, you tell the Golden State Warrior fans two years doesn't make a dynasty either."
Conclusion
It's clear Durant is widely respected by basketball insiders regardless of all generations. His game, foremost, is built on a mastery of fundamentals and would transfer well to any era. In terms of raw statistics and overall damage done in his decade in the League so far, the 28-year-old Durant has already made a strong case for number three small forward of all-time behind only James and Bird.
But will he surpass Bird for No. 2?
Larry Bird won three NBA championships and was clearly the best and most important player on his Boston Celtics teams. On these Warriors, Durant's skill set makes him the best player or second-best player (behind Curry) on a loaded roster. But in terms of importance, you can certainly argue that Draymond Green is the team's most versatile player and its emotional leader.
For many fans and insiders, the number of championships Durant ends up winning beyond this first one will ultimately determine his all-time ranking. Sidney Moncrief knows that's the metric by which many people choose their "greatest" of all time. Still, he doesn't think a specific number of rings should alter Durant's all-time stature one way or the other. "I don't think it would matter even if he didn't win the championship, because he's a great player," he says.
"You are who you are as a player. What about all those Olympians [without NBA titles] who won a Gold Medal with the Dream Team? No one's saying because they played on the Dream Team they're not great players, or they're not champions."
—
Photos via Getty Images
Evin Demirel is a writer who grew up in Little Rock, Arkansas. He knows the odds of fellow Arkansan Scottie Pippen cracking this all-time Top 4 are worse than the Nets winning the 2018 NBA Championship, but wanted to mention Pip anyway.
2,030