Isaiah Thomas' first real job was at the local YMCA in his hometown of Tacoma, WA. He was 15 years old, and his father was on him about getting a job and growing up. Considering Isaiah was already at the YMCA playing basketball most every day anyway, his pops convinced the manager there to give him a job.
"It was funny because I was always there, so then when I worked and I was on my lunch breaks, I would just go in the gym and play basketball, and then come back and scan the members' cards to get in," Thomas recalls with a smile. "Lunchtime was not really lunch to eat, it was to get more shots in."
Skip ahead to a Sunday afternoon at present and here's Thomas, still getting extra shots up at lunchtime. In this case, the setting is slightly more upscale than his humble beginnings at the Y. And, thankfully, he's already eaten today.
It's mid-August, and Thomas has just wrapped a two-day basketball camp with hundreds of young Celtics fans in Boston. We've linked up back at his brand new apartment complex in Cambridge, MA, just across the Charles River. Thomas shoots around for a few minutes on the halfcourt adjacent to the building's in-house gym as we take some photos and roll video. IT flicks up consistent cash from deep, hardly breaking a sweat. Between reps, he talks about how freezing it was during February's All-Star Weekend in Toronto, and how excited he is that next year's festivities have been moved to New Orleans. This line of conversation, of course, has taken on new meaning for Thomas ever since he participated in the game himself. Beyond altering his schedule—you know, keeping the Sunday after Valentine's Day weekend free on his calendar—the All-Star honors haven't changed Thomas much. If anything, he notes, it's outsiders who are changing their tune.
"Everybody I guess feels like they knew this was going to happen," Thomas says, laughing. "So that's the funny thing. In the basketball world, from high school to college to the NBA, you work with the same people, and you see how they treated you back then and you see how they treat you now—like they always knew that was gonna happen."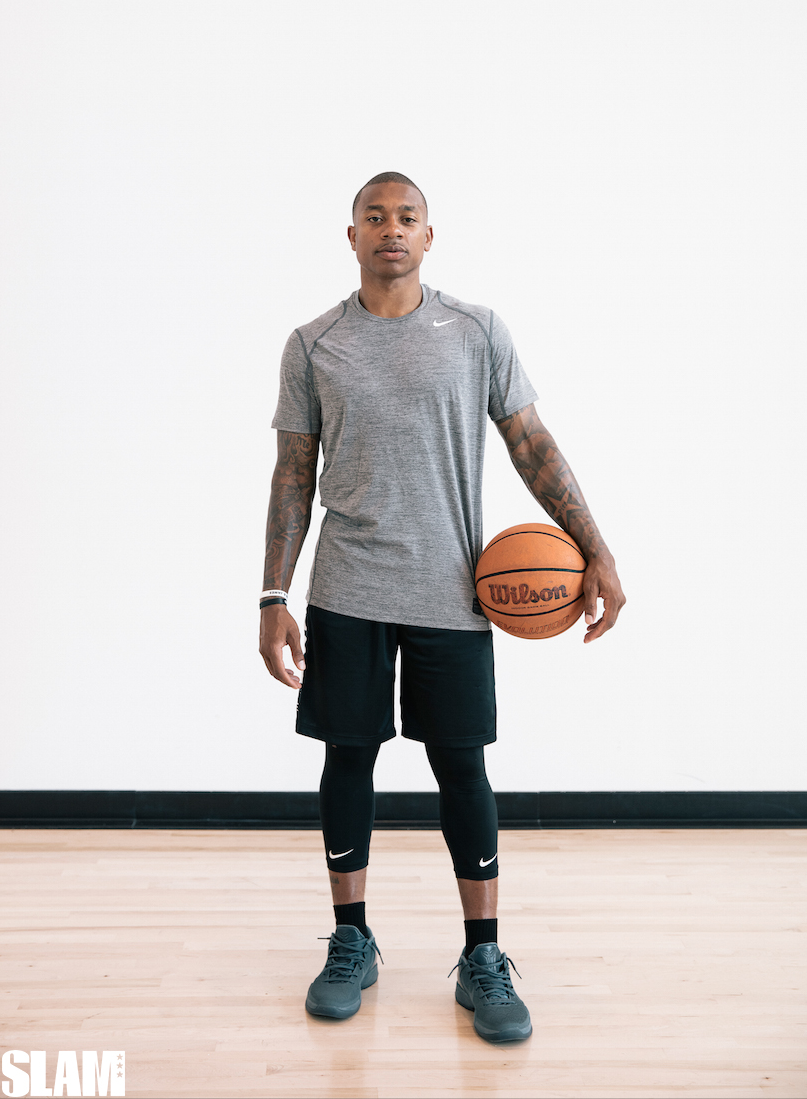 Still, that faction of phonies is almost tolerable when you consider the incessant chorus of naysayers who remain, despite all of Thomas' success. After joining the Celtics at the trade deadline of the 2014-15 season, Thomas scored a career-high 22.2 points per game in 2015-16 (11th-most in the NBA) to go with 6.2 assists and 3.0 rebounds, while starting 79 games and appearing in all 82. He led the C's in points, assists, free throws (he was fourth in the NBA in FTs made) and threes. Boston finished with its highest post-season seed since 2012, and took two games off the Hawks in the first round of the Eastern Conference Playoffs. And yet, the Isaiah Thomas haters remain steadfast.
"Last season was an All-Star year, and a lot of people think that was given to me for whatever reason," Thomas says. "A lot of people think that I lucked up, that I just had a pretty good year and that I won't have another one. Those are the types of things that give me extra motivation, knowing that this is a big year and I'm gonna be an All-Star again next year and I'm gonna have a great year and I'm gonna lead my team to the Playoffs, hopefully even further than the first round. So I'm just gonna continue to do the things that I do and do it with a smile on my face."
Recently, Thomas has devoted more effort to his mental focus. He often consults with close friend and champion boxer Floyd Mayweather Jr. He scored a sitdown with Kobe Bryant, too, to get advice on how to lock in. He's even become fascinated by the teachings of legendary martial artist Bruce Lee. Even with all the added Zen, though, Thomas still openly admits to paying attention to what's being said about him in the media, good and bad.
"I definitely read things," he says. "I like to read who wrote the articles, just to see who it is, and then prove them wrong—kill them with kindness, try to make them eat their own words.
"They're always gonna say something about my height. Even this summer around the Draft, some analyst said the Celtics should draft a point guard, and that point guard would be the best point guard on the Celtics," Thomas continues, referring to ESPN's Chad Ford, who suggested Boston ought to draft Providence's Kris Dunn as an upgrade at the PG position. "It's like, if anybody else was an All-Star and 6-1, you would never say that, and that's what happens with being small. They always overlook you no matter what you do—unless you're Allen Iverson."
He's right. Thomas is, at 5-9, the smallest player in the NBA. And his sub-6 foot stature makes him the only All-Star that any Average Joe would ever foolishly claim to be able to compete with. Even the biggest idiot at the rec wouldn't claim they could post up LaMarcus Aldridge or Andre Drummond. But guaranteed there's a bozo on every block who swears he could check Isaiah Thomas. (Such a claim is, obviously, so batshit insane it doesn't deserve a defense here.)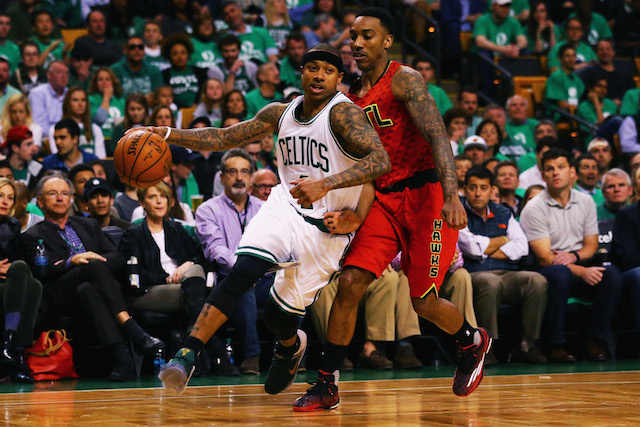 Zeke chugs a bottle of Fiji water and we dip into an elevator. He presses the button for the penthouse, where from the roof, on this beautiful sunny day, the sprawling view of Boston is stunning. Thomas squints at the sunshine, and for a minute, watching him stare out at the city from high above, it reminds me of that scene from The Lion King when Mufasa tells Simba, "Everything the light touches is our kingdom." In the foreground of the picturesque landscape, front and center from this vantage point 21 stories up, sits TD Garden. That arena is, without a doubt, under Thomas' reign.
It only took one game for Thomas to endear himself to the Boston fans; he was ejected in the fourth quarter of his Celtics debut, an OT loss to the Lakers at Staples Center. Perhaps not prudent at the time, but Celtics head coach Brad Stevens can laugh about it now. "That was a little bit unique," says Stevens of the first impression between PG and coach, "but I think the bottom line was, he has a passion and a fire for doing well and playing well for Boston—from the moment he's gotten here."
And as quickly as Thomas embraced Boston, the city embraced him back, as it so often does with its sports stars. Whereas during previous stops in his NBA career, in Sacramento and Phoenix, the average-sized Thomas might blend in with the normal human population, now even his young kids often get recognized by fans on the street.
"The biggest difference is, it's Boston," Isaiah says. "They love sports. They treat you like a god out here. If you give it your all each and every night, they're gonna respect you. That's the difference between anywhere else I've ever been, these people here, they really love their sports, they really love their team, and it seems like they'll die for you out here."
This season, Thomas will team up with some big new pieces, most notably No. 3 overall pick Jaylen Brown and free-agent acquisition Al Horford, a fellow All-Star who jumped ship from Atlanta. The Celtics were among the teams to meet with Kevin Durant, too, and though his well-publicized decision to join the loaded Warriors meant disappointment for Celtics fans, the fact that Boston was among the finalists points to an uptick in the team's Q-rating, thanks in large part to No. 4. Thomas won't divulge much about the specifics of the KD meeting, but he was in the room. He says it went well ("I mean, Tom Brady was in there"), but not as well as it could have gone, in his mind, had better timing allowed the C's to show up with Horford in tow.
The dream of Durant deferred, Thomas isn't afraid to take on the lion's share of leadership duties once again for the Celts. His steady improvement is only surprising to those who haven't been paying attention.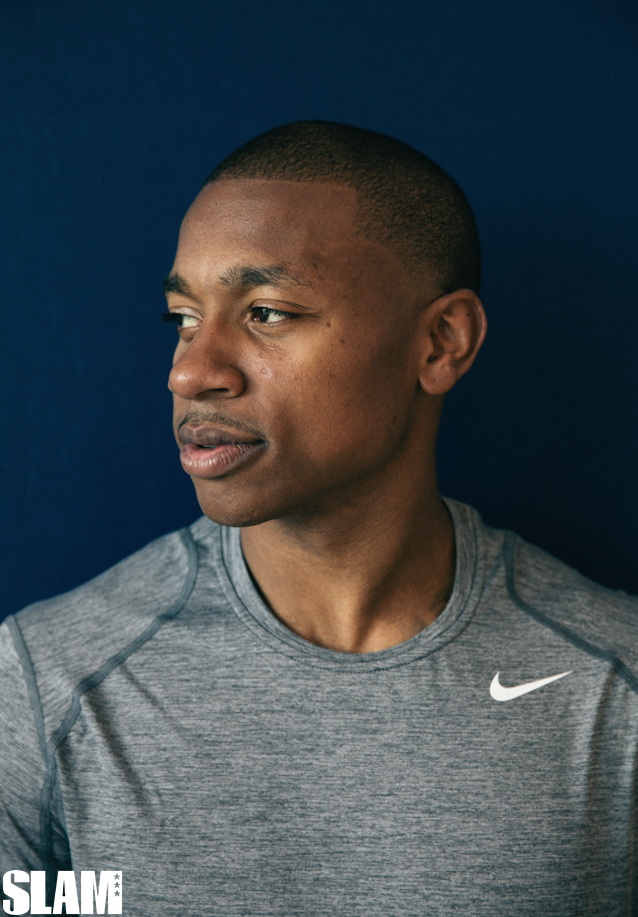 See, following Thomas' breakout season with the Sacramento Kings in 2013-14, we had a similar conversation. He laid out two goals then: "I want to be an All-Star." Check. "I want to get to the Playoffs." Check. Throw in the fact that the 27-year-old also got married to longtime girlfriend Kayla Wallace a few weeks after our latest chat, and 2016 is already the biggest year of his life, by far. So what's next?
"I want to be an All-NBA player—that's an individual goal for me," Thomas explains. "I know with having a good team and a Playoff team, all the individual success will come with the work that I put in. Maybe one day I'll be at the MVP level. Those are the next goals for me, and I always like to speak stuff into existence."
"I think the chip on your shoulder is contagious, if directed the right way," adds Stevens. "There's a pride that comes with being challenged—he constantly feels challenged and I think that's a good, contagious thing for him and our whole team."
One of Thomas' favorite sayings is All gas, no brakes. "I just kept my foot on the pedal and I'm here," he says. "I'm here today going into my sixth year, and I'm at a pretty good moment in my life."
—
Abe Schwadron is a Senior Editor at SLAM. Follow him on Twitter @abe_squad.
Portraits: Buck Squibb, Action: Getty Images