All basketball-loving kids have basketball heroes. Mine was Nick Van Exel. Then Allen Iverson. Then Stephon Marbury. Though not really one and then the next and then the next. When you're young, you don't stop loving a favorite player. You just keep adding other, newer players to the list.
Those were my guys—the flashy, occasionally undersized scoring guards who I worshipped as a pre-teen hoops fan in the late '90s. In my eyes they were fearless, unafraid of the taller, more traditionally athletic players, and they were so damn fun, with those crazy handles and the ability to take over a game with a barrage of impossible floaters and jumpers at any given time. The cliché says kids gravitate to the smaller players because that's who they can relate to—at a young age so many of us stand either equal to or beneath our peers, and in basketball even kids who are slightly above average height are often considered too short—and I've found zero evidence that that's anything but the absolute truth.
Today's youth has a pretty great group of supermen. At the top of that list are Kyrie Irving, who spins around giants like they're cones on a driveway, and Stephen Curry, who pulls up from the mid-court logo as if it's the deep corner of the backyard you only shoot from when the ball rolls there off a long rebound.
Now there's a new kid on the block—not necessarily new to the League, but certainly new to stardom—and we're more than happy to celebrate him in this month's playoff preview issue. Celtics guard Isaiah Thomas has, for years, been known in basketball circles as an awesome dude with a great story, but following a barrage of ridiculous fourth-quarter performances and consistently amazing stat lines (as of this writing he's third in the NBA in points per game), IT4 has officially certified himself as a member of the League's elite. Like my aforementioned childhood favorites, he seems completely unfazed by the fact that he's not "supposed" to be able to score at the rate he does at his size, and he gets those buckets in a way that makes young and old people alike think that in a similar situation, they could do the same.
It's the perfect blend: a feisty guard with a take-no-prisoners attitude, a seemingly innate clutch gene and an absurdly fun-to-watch style of play. I love it, and I'm 28 years old. I can only imagine how many green Thomas jerseys I would own if I was 11.
SLAM 208 will be available later this week. Here's the newsstand edition: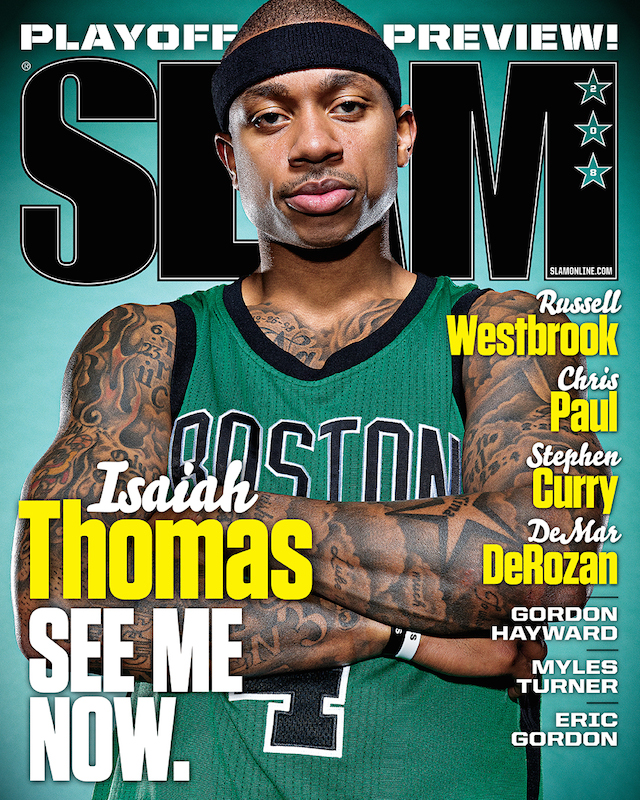 And here's the subscriber edition: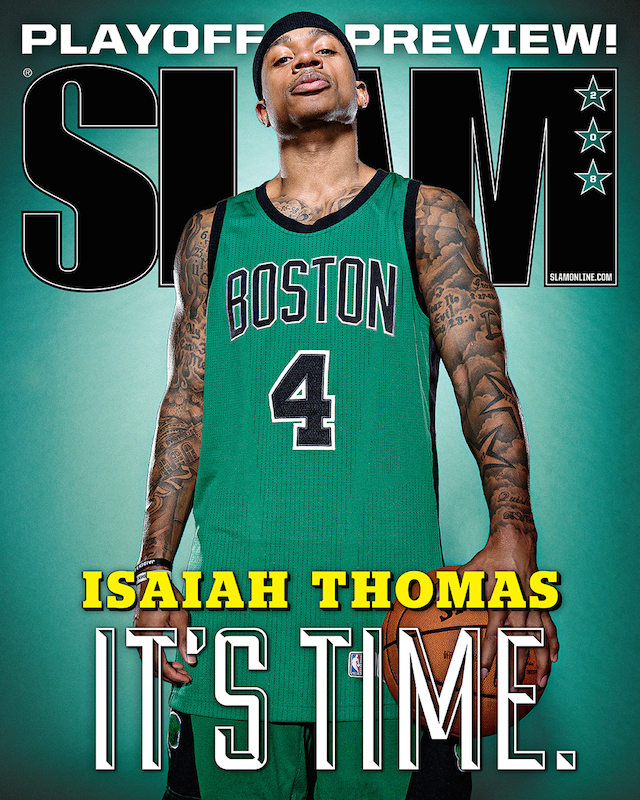 CLICK HERE TO READ SLAM 208'S COVER STORY ON ISAIAH THOMAS
—
Adam Figman is SLAM's Editor-in-Chief. Follow him @afigman.
Portraits by Atiba Jefferson
BTS video by @VASHR, Reaction video by Shakil Uddin
—
Related
Isaiah Thomas: "Nobody Holds Me in Check"
WATCH: Allen Iverson vs Isaiah Thomas Mixtape