It's late February, the week after All-Star, and NBA trade winds, as they say, are swirling. Jae Crowder's name keeps popping up. There's buzz—one of those both great and exasperating trade deadline words—that the Celtics just might be shopping around for a big star (maybe Jimmy Butler, maybe Paul George) but that parting ways with Crowder, their tough-nosed glue guy, could be part of the cost.
What does Crowder think of all this? How is he handling the idea that the Celtics, the first NBA team to truly believe in him, and trust him, and give him a real role with real responsibility, are considering shipping him out?
"I'm in the Bahamas at the moment," he texts. He's there with his 3-year-old daughter, spending time poolside and by the beach, where his 6-6, 235-pound frame is soaking in some sun. And who can blame him? Crowder's always been a valuable contributor, a solid two-way player who elevates teams without getting in the way. This year, though, he's upgraded his game. He's evolved.
The dreads and muscles and rugged play still live. But Crowder has also transformed into one of the NBA's premier 3-and-D studs, the rare player who knows how to thrive while on the periphery, a guy who in all likelihood will be at the center of the Eastern Conference playoffs.
And to think: It hasn't even been 10 years since he could barely find a college willing to give him a shot. Only eight years have passed since he was just another intriguing JuCo player. Only five years since he was forced to hear 33 names called before his during the NBA draft. And it's only been three years since he was sent from the Mavericks to the Celtics as a throw-in to the teams' Rajon Rondo trade.
"I never doubted myself, but there were times before that I started thinking my bad luck was never going to run out," Crowder said over the phone earlier this season. "I always worked hard, I just thought that sometimes things aren't meant to be, and that was what was happening."
Which is all to say that Jae Crowder was never supposed to make it this far. So why should trade rumors bother him, or even interrupt his much-deserved vacation?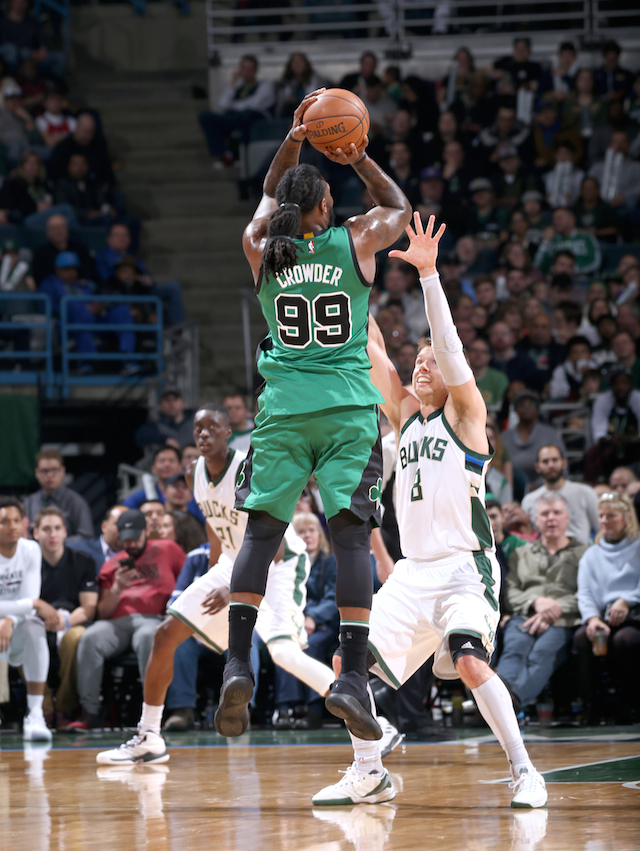 Crowder grew up in Villa Rica, GA, a once-small town (it's experienced a major population boost over the past decade) about 30 miles west of Atlanta. He was named Corey Jae Crowder, after his father, Corey, a former fringe NBA player who played some overseas ball, too.
Corey was Jae's idol, and the two, like the rest of the family, remained close even after Corey and Helen, Jae's mother, split up (amicably). Jae was around 11 at the time. After, he began spending most of the school year with his mom and four siblings. They'd play football in the basement (once Jae lost a tooth) and always had friends sleeping over. During summers Jae would head south to his dad in North Fort Myers, FL.
Jae always wanted to be like Corey. He hung posters of him on his bedroom walls and tried emulating his moves out on the court.
"I never pushed him to basketball," Corey says. "It's something he wanted. He wanted to be just like me."
Thing is, Jae just didn't have the skills. Or, for that matter, the physical tools.
"He loved Honey Buns," says Helen. "He'd call me all the time and ask me to bring some home." McDonald's double cheeseburgers, too. And Coke. And Moms was more than happy to oblige. She'd buy Jae whatever food and snacks he wanted. Corey would call Helen and beg her to stop. "But Jae was always a mama's boy," she says. "I just couldn't say no."
Eventually, he cut back and enlisted his dad to help him lose weight. He trimmed down and started honing his craft. But the offers from big-time college basketball programs never came.
"I never told him this, but, no, I didn't think he was going to make the NBA," Helen says. "Yeah, he slimmed down, but the offers just weren't coming. I never stopped supporting him, but I just wasn't sure it was going to happen."
He spent a year at South Georgia Technical College, then another at Howard College in Texas, where he was named Junior College POY. That led to a scholarship from Marquette, where things got off to a bumpy start.
"Going from being the Player of the Year, even if it was junior college, to just another Division I guy with a smaller role, that was hard for me," Crowder says. "I was playing with Jimmy Butler and it just took me a couple months there to buy into the system and teammates and realize what my role should be."
Crowder took that mentality—how to excel at being one of the guys instead of the guy—and turned it into a skill. He was named Big East POY the following season, then got drafted by the Cavs in 2012 and was immediately traded to the Mavericks. He never found much success in Dallas, but it was there where he discovered, and honed, what became the secret to his success.
"I grew as a player and got wiser," Crowder says. "I came to the conclusion that for me to succeed, and for me to help my teams win, I'd need to take a role. As soon as I did that, basketball became much easier for me."
He adopted defense as his focus, realizing that locking down opponents was how he'd make his way onto the court. He began talking to his father about ways to boost his numbers and rack up points without having plays drawn up for him. An offensive rebound here, a steal there. All of which made him a perfect fit for the new ping-the-ball-around system being installed by Brad Stevens in Boston.
"I think this league is all about guys figuring out what they do best and working on it as much as humanly possible," Stevens says. "Jae's figured out on the offensive end what he can do while knowing on defense he can be a versatile guy who can also create chaos around the paint."
Crowder immediately saw his playing time, and by proxy his numbers, skyrocket. He was making his name on defense (stopping guards and forwards) but was also figuring out ways to help the Celtics on offense. An occasional three. A strong drive. Always a quick decision.
"The more I played, the more I saw what I could do, the more my confidence grew," Crowder says. "And that motivated me."
Crowder was traded to Boston on December 14, 2014. Seven months later, after seeing him play for just half a season, the Celtics inked Crowder to a shiny five-year, $35 million contract extension.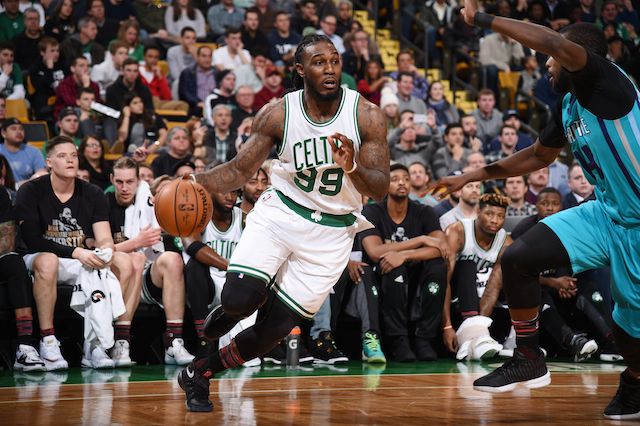 Let's talk about the dreads.
Crowder first grew them out as a freshman in high school. The plan was to cut them the summer before his senior year, but he balked. "Wait until after I get my college scholarship," Helen says he told her. But he balked then, too, telling his mom that he'd cut them after he made the NBA.
Four years later, Crowder was sitting with his mother and the rest of the family in Miami when he heard his name called during the 2012 Draft. Afterward, Helen looked at her son, smiled, then reminded him of the promise he once made.
"I can't cut them," Crowder responded. "They're my signature."
It's a line easy to make fun of, but also true. Most fans view Crowder as a role player, but a replaceable one. His look on-court—tattoos on his skin and dreads flopping in the air—combined with his style of play—rough and headstrong—helps mold the image of Crowder being a player who makes his living off hustling vs skills.
Once upon a time this might have been the case. But these days Crowder is much more.
Even after signing his new contract—the type of contract that could take care of him, and also his children and even maybe grandchildren, for life—Crowder kept pushing. He boosted his conditioning and worked on his jump shot, specifically making sure to land with balanced feet. He continued to study film, and learned where to better pick his spots. He talked with his dad (whom he speaks with almost every day) about becoming a team leader, and doing so through actions as opposed to words.
The results: Crowder, just 26, is enjoying the best season of his career. He's averaging around 13.7 points and 5.6 rebounds per game. He's taking more threes than ever (5.5 per game) yet drilling 40 percent of them (coming into the year his career-high mark from deep was 34 percent).
"I always thought he had the ability to stretch the floor, but in the past he did it better against 4-men who were slower with their close-outs," Stevens says. "Now he gets his shot off quicker, so it doesn't matter."
He still spends his nights guarding opposing studs like LeBron James, Carmelo Anthony and Paul George. Most telling of all: the Celtics are outscoring opponents by 8.1 points per 100 possessions when he plays, by far the best on the team.
Crowder has become elite at not being elite. That may sound easy, but there are only a handful of players in the league who fit that description.
"In Dallas, I don't think he would have gotten that chance," Corey says. "He's been given this incredible opportunity in Boston, and taken advantage of it."
Which is why Crowder's name keeps popping up in trade rumors. In just three years he's morphed from throw-in to coveted piece, from after-thought to beloved, and he's helped the Celtics to a 41-24 record so far this season (2nd in the Eastern Conference) after Wednesday night's big win over the Warriors in Oakland.
Players like Jae Crowder help teams win games. That there are so few of them is what makes him so special.
—
Yaron Weitzman is a Senior Writer for SLAM. Follow him @YaronWeitzman.
Photos via Getty Images