James Harden assumed Mike D'Antoni was joking.
"Our first meeting, he told me, I'm going to make you point guard. I looked at him like, What are you talking about?" Harden says, laughing over the phone earlier this season. "He told me I was going to average 15 assists a game, and I looked at him crazy."
Fast-forward to the present, and Harden is averaging an NBA-best 11.4 assists per game. OK, so it's not quite 15, but Harden—an explosive shooting guard for the entirety of his professional basketball life until now—is all of a sudden No. 1 in the League when it comes to dimes, ahead of All-Star PGs you'd expect to see atop that category, like Russell Westbrook and John Wall. Which, in addition to his still-insane scoring firepower, makes Harden the most unique offensive weapon in the NBA, and a frontrunner for MVP.
Who's crazy now?
* * *
The Rockets are at MSG for an early November matchup with the Knicks. A night ago, Harden put up 41 points, 15 assists and 7 boards against the Cavs, albeit in a loss. His individual numbers through the first handful of games this season had him on such a ridiculous historical pace that his name was flashing next to Magic Johnson's on SportsCenter. And on this night, in New York, he's determined to get Houston a W.
On the game's first possession, Harden finds free-agent acquisition Ryan Anderson for a wide-open three. Assist. A couple trips down the floor later, he waits for Clint Capela to slide behind a backscreen, then lobs him a pass over the top for an easy 2. Assist. He finds Trevor Ariza next. Another one. Harden will finish with 15 assists, to go with 30 points and 6 boards, and the Rockets cruise to a 19-point road win.
That Harden, unequivocally one of the League's top-10 players, would march into The Mecca and put up gaudy numbers is, in and of itself, nothing of extraordinary note. But the ease with which he's taken to playing the point, the way D'Antoni's suddenly turned him into the best set-up man in the NBA? That shit is scary.
Eight seasons into his career, we take the points (28.9 per game, top-3 in the League) for granted. Not to mention Harden's 8.2 rebounds per game this season, a new career-high. The assist numbers, though, those are making The Beard's '16-17 campaign something special, something downright artistic, something new and utterly terrifying for defenders who coulda swore they just figured out how to check him as a 2-guard.
Consider: While Harden remains one of the League's most efficient offensive players among those using at least 30 percent of his team's possessions (1.18 points per possession, behind only Isaiah Thomas and Kawhi Leonard), he also has an assist rate of 51 percent. That would be the second highest in the NBA since '99-00 (surpassed only by Westbrook's ridiculous 57 percent this year, too). Only three players have finished a season with an assist rate above 50 percent since 2000: Steve Nash, Chris Paul and Rajon Rondo, all traditional, pass-first PGs trained to play the position their whole lives—a position Harden is picking up on the fly while simultaneously operating as one of the most unstoppable scorers in the modern era.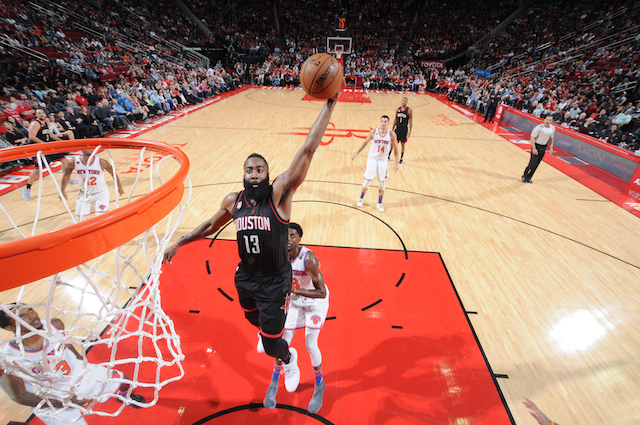 Harden would be the toast of barbershops and basketball Twitter—places he's previously been hated on, whether for his annoying amount of trips to the free-throw line or his often overblown defensive lapses—were it not for Westbrook's otherworldly triple-double count stealing the spotlight. With 14 of his own this season, Harden usurped Hakeem Olajuwon as the Rockets' franchise record holder for career triple-doubles—he's up to 23 and counting as of press time.
He victimized the Knicks again in December on New Year's Eve, this time with a career-high 53 points, career-high-tying 17 assists and 16 rebounds—just the second 50-point triple-double in the last 41 years of NBA ball (joining Westbrook) and the first time ever a player has put up 50+, 15+ and 15+ in a game. His 53 points tied Wilt Chamberlain for most ever scored in a triple-double.
"It was like NBA 2K numbers," New York's Brandon Jennings told reporters in Houston after that historic triple-double, part of a three-game stretch over which Harden totaled an absurd 106 points, 39 rebounds and 37 assists. "I just told him afterward to just go and get the MVP and keep balling and doing what he's doing."
A month later, on January 27, he did it again: 51 points, 13 rebounds and 13 assists against Philadelphia. Two 50+ triple-doubles in the same season? That's a first.
James Harden has two 50-point triple-doubles in last 28 days.
The entire NBA went 15,258 days (from 1/19/75 to 10/28/16) w/o any such games

— Ben Golliver (@BenGolliver) January 28, 2017
Rockets owner Leslie Alexander called Harden "one of the great players of all time." Even immovable Spurs coach Gregg Popovich confessed to ESPN that he only watches one team's game tape: the Rockets, because "Harden is ridiculous." The numbers are astronomical, and D'Antoni is fully cognizant of both the player he inherited and the monster he's since created.
"For James, my expectations are really high, so I don't know if he can exceed them, but he's playing terrific. He's taken over as point guard and he understands what we want, what we're looking for, and he's really smart about understanding the game. He's everything as advertised." Joking with reporters before the November win in NYC, D'Antoni said he was "hoping for like 60 and 20," when it comes to Harden's numbers, but "I'm only getting about 40 and 15."
Looking back, Harden says that despite his initial quizzical reaction, he trusted in D'Antoni's offensive genius from the moment the coach was hired by the team this past summer, replacing interim head coach JB Bickerstaff, who took over for Kevin McHale when the Rockets stumbled out of the gates last season.
"He knows his stuff, especially on the offensive end. He knows what he wants, and obviously it works," Harden says, with a chuckle, of D'Antoni. "I'm getting more comfortable in the role. I've always been a playmaker, but he's making my job a lot easier, not having to come down and work for the basketball. I get the ball already in my hands. I just come down and make sure our offense is flowing and get guys in the right position, and try to make the right play."
In the simplest of basketball terms, it makes sense—why disguise what everyone in the arena knows: Harden's going to eventually get the ball, probably in a pick-and-roll right down the middle of the floor.
"The good thing about him, he sees the game like a point guard," D'Antoni says, admitting that moving James to PG was mostly "just the acknowledgement of the role."
Likewise, Harden's teammates didn't bat an eye when he moved to the 1. "I was like, Cool," says Rockets swingman Corey Brewer. "James makes plays anyways, so to me I think it's an easy transition for him, because he has the ball in his hands most of the time."
The obvious question is: How in the hell can Harden keep this up? Will he continue producing eye-popping stats, all the while shouldering the PG duties? In the middle of a playoff race? Of an MVP campaign?
The "how" may rest with Houston's training staff, charged with keeping Harden healthy, or with Harden himself, who will have to stay locked in mentally beyond the All-Star break. But the "will" seems almost assuredly to be answered with a resounding Yes. Because in an era when his superstar peers routinely take time off to nurse nicks and bruises or conserve energy for a postseason run, Harden takes a refreshing pride in playing all 82—a feat he accomplished last season and hopes to repeat again this year.
"I've been playing basketball since I was a little kid," he explains. "It's going by fast. I don't want to take time off. I love being on the court. I love helping my teammates. I love playing the game of basketball. I want to cherish it and be out there as long as I can, as much as I can."
He continues: "It's probably the most fun I've had since I've been in Houston. Just the entire team, the coaches and everything. It's a good feeling. We've got a really good team—the personnel just fits. We've got guys that knock down shots, guys that really play well together. It kind of makes everybody look good."
And with Houston hovering just behind the Warriors and Spurs in the Western Conference (38-17), he's right. Anderson is shooting 40 percent from three-point range. Eric Gordon is having a kind of career-redefining renaissance off the bench, so much so that Harden has publicly championed EG as a "for sure" All-Star. Only Golden State scores more points per game than Houston, and the Rockets rank in the top six in the League in both field-goal percentage. They're No. 1 in threes made—the foursome of Harden, Anderson, Gordon and Ariza has combined to hit more threes than any other NBA team's whole roster in 2016-17, save for the Cavaliers.
For a team that finished .500 last season with Dwight Howard, Donatas Motiejunas and other since-departed names playing key roles, the Rockets have completely flipped the script, emerging as real contenders. Harden is still the team's best player, its leader and primary scorer. But his move to the 1, however obvious a change it may seem in hindsight, has ignited Houston's title chances.
Whatever position he's listed at, Harden maintains, "I'm a player. I'm a basketball player. Point guard, shooting guard, small forward, whatever. I'm on the court, and I just want to make an impact on the game."
Technically, though, that "PG" moniker now precedes Harden's name in every box score. And while that might still give everyone else in the League pause—just as it did Harden himself at first—D'Antoni is using it to unleash every ounce of his superstar's offensive arsenal this season. So far, the joke is on the rest of the NBA.
—
Abe Schwadron is a Senior Editor at SLAM. Follow him on Twitter @abe_squad.
Photos via Getty Images