Two years ago, LeBron James called James Jones his favorite player of all time. From afar, the statement drew plenty of raised eyebrows, considering the best player in the world was giving the highest praise to a player who had never averaged double digits in scoring in his career, never averaged more than 25 minutes per game and started a total of 91 NBA games heading into this season.
But for current and former teammates and coaches, LeBron's comments were no surprise. Perry Clark, who coached Jones at the University of Miami, knows that LeBron respects any player with a high basketball IQ. In that regard, few rank higher on his list than Jones. "LeBron respects certain characteristics in people, and James has those," Clark says. "James can really sit down and break down and analyze a game. He knows how to communicate and make people feel comfortable around him."
Even as a senior at Miami, when Jones averaged 16.9 points, 6.0 rebounds, 1.6 steals and 1.8 blocks, Clark remembers Jones as the vocal leader of the team. He leaned on Jones to get a sense of where the locker room was at throughout the season, whether it was deciding on team curfews or how long the team should practice between games. "He cares so much about the players on the team," Clark says. "He's got a lot of pride in himself and in doing things the right way."
Jones was selected 49th overall by Indiana in the 2003 NBA Draft, and joined a team led by Jermaine O'Neal, Ron Artest, Reggie Miller and Al Harrington. The Pacers won a League-best 61 games in his rookie season, making it to the Eastern Conference Finals before losing to the Detroit Pistons in six games. As a rookie, Jones appeared in only six games and played a total of just 26 minutes during the regular season, but he learned plenty from the veterans on the team.
Artest, who was 24 when Jones joined the Pacers, saw a rookie who had a sweet shooting stroke but needed work on polishing the other parts of his game. "I took him under my wing," says the man now known as Metta World Peace. "I made sure he saw what hard work was. We worked at it every day."
Jones learned about the importance of being a professional, and while World Peace pushed him in practice, he also took after Miller, always the first person in the gym and the last person to leave. "They challenged me," Jones says, looking back. "They understood I could absorb their wisdom, so they gave a lot of it to me. I owe a lot to those guys."
Although there was a clear hierarchy in the locker room of a championship contender, Jones was already starting to earn the respect of his teammates. Mike Brown, an assistant coach with Indiana at the time, remembers when he divided the starters and bench players into two teams for a scrimmage during training camp. World Peace started talking trash to the second unit and started making it personal by calling every player, including Jones, out by name.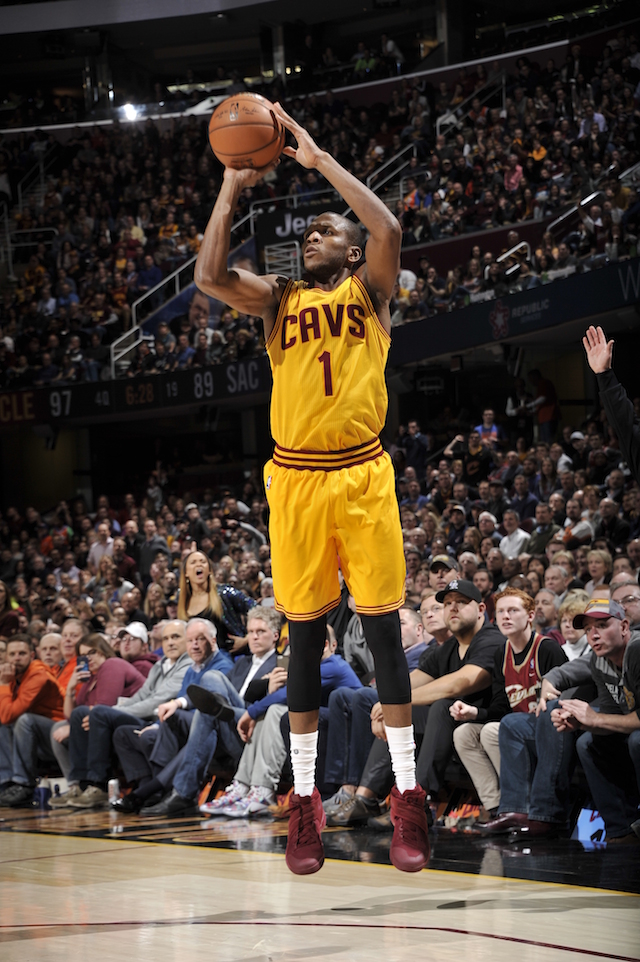 "James grabbed the ball and stopped the scrimmage," Brown says. "He told Ron, 'If you call me by my name again, we're going to have a problem.' He was real calm about it, but he was serious," Brown says. "From that point on, not only did Ron respect him, but the entire team did. He commanded that respect."
The following season, Indiana's championship hopes were derailed on a November night when World Peace earned a season-long suspension in a melee that became known as the Malice at the Palace. O'Neal and Stephen Jackson were also suspended for an extended period. With the shorter roster, Jones became a part of the team's rotation and averaged 17.7 minutes in 75 games. As Jones spent the next three seasons in Phoenix and Portland, he started to set realistic goals as to how a bench player like himself could carve out a long-term niche.
"This league has a few exceptional talents, a bunch of very good players, and then the majority of this league is filled with supporting cast members," Jones says. "These are guys that are very similar in talent and skill set, but different in their approach and professionalism. I wanted to make sure I was the ultimate professional, the ultimate pro, and with our talent being equal, I felt those things would allow me to stay above everyone else."
Jones signed with the Miami Heat in 2008. After back-to-back first-round exits, the team signed LeBron and Chris Bosh to form the Big Three with Dwyane Wade. Expectations were high. The Heat suddenly became villains, and many rejoiced when Miami lost the 2011 NBA Finals to the Dallas Mavericks. Jones had learned about personal sacrifices and approaching the game with no ego in his many NBA stops. The circumstances were different for his three superstar teammates, who carried the burden on a nightly basis, but that didn't stop Jones from talking to LeBron, Wade and Bosh about those topics.
"I'm about winning," Jones says. "My guys know that. And once they know that, it allows me to be honest with them, because there's no ulterior motive. I was invested in their personal success. I wanted to be aware [of everything] so in those crucial moments, I can provide some insight that matters when they're looking for someone to give it to them straight."
The Heat won back-to-back championships after their disappointing finish in 2011. After losing the 2014 NBA Finals to the San Antonio Spurs, LeBron decided to return to Cleveland. In the same offseason, Jones followed him and signed with the Cavaliers. Once again on a championship contender, Jones was presented with a new challenge: to help two younger stars, Kyrie Irving and Kevin Love, learn how to become championship-caliber players.
In their first season with LeBron in Cleveland, both Love and Irving suffered season-ending injuries during the team's run to the NBA Finals, where the Cavs fell in six games to the Golden State Warriors. Last season presented its own challenges. In January, while sitting atop the Eastern Conference standings, Cleveland decided to make a coaching change, replacing head coach David Blatt with Tyronn Lue.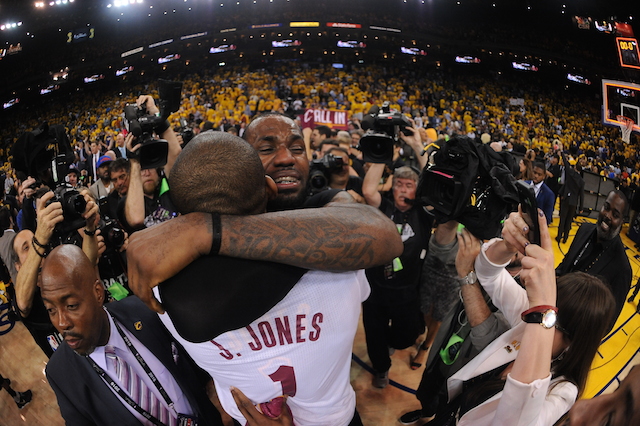 Jones recognized a need for the team to re-focus. At a players-only meeting after the firing, he reminded everyone on the team about accountability and the sacrifices required to win a championship. "It was just a friendly reminder," Jones says.
That's Jones' approach. He's outspoken, but only when necessary. He gets to know every player on the team, from the superstars to the 15th man on the roster, so he can figure out how to talk to them individually, whether it's in between games, during a game or at halftime when the team needs a speech. "He doesn't always say much," Love says. "But he's the master of timing."
So when does Jones feel the need to make his voice heard? When everyone wants to say something but no one actually wants to speak up. In those moments, he'll find the necessary words to bring the team together. "I'm a talker," Jones says. "I can verbalize what I'm feeling to each individual person depending on my audience. I've been blessed with the ability to get a collective point across to individuals and not make it personal."
Last season, Love found himself next to Jones in the locker room. "It was like sitting next to the smartest kid in class," Love says. The two would talk constantly about opposing team's defensive schemes, or just get their mind off basketball when Love was going through a difficult stretch. Throughout his time in Cleveland, Love has dealt with trade rumors and constant criticism from the outside about his fit next to LeBron in the Cavs offense.
Jones continued to provide encouragement, especially in the playoffs, when Love suffered a concussion during the NBA Finals against Golden State. He watched as the Cavs fell behind 3-1 in the series, then provided a concise and consistent message to his locker room neighbor: It doesn't matter if it's one game, one quarter, or even one play, you could make your mark at any moment. "He just told me to keep thinking about that," Love says. Those words proved prophetic, as the Cavs came back to win three straight games against the Warriors, winning their first NBA championship in franchise history. In the closing moments of Game 7, Love did indeed make his mark, switching onto Stephen Curry at the top of the key and delivering the greatest individual defensive sequence of his career.
Afterward, Love posted a photo on Instagram of himself next to Jones on the team plane, wearing championship gear and holding the Larry O'Brien trophy. In his caption, Love called the 36-year-old Jones the best teammate he's ever had. In the Cavs locker room, teammates refer to Jones as "Champ." He might not have any individual accolades worth mentioning, but Jones has made a lasting impact on the teammates he's played with throughout his career. He's also accomplished his stated goal of being a winner. Jones has three championships and missed the playoffs just once in his career. He has never played for a team that finished with a losing record.
The Cavs are expected to make another trip to the NBA Finals this season. During these playoffs, we won't see Jones on the floor too much, if at all (he did not play in the Cavs' Game 1 win over the Pacers). But whether it's breaking down plays with his teammates in the huddle, keeping the team focused in practice or speaking out in the locker room when necessary, Jones will have an impact on another contender. The numbers will never truly prove his contribution to the team, but hearing the praise from some of the best players in the game is all that matters to Jones.
"My mom raised me to be genuine," Jones says. "When you're genuine, some people will like it, some won't, but you can't worry about what other people think. But to have teammates, the guys who I've sacrificed with, recognize me and think that highly of me—it means a lot. Because those are the people—outside of my wife and my kids—whose opinions matter to me. I love these guys. They've helped me become a better person, which is what I hope to be when I leave this game."
—
Alex Wong is a SLAM contributor and freelance writer. Follow him on Twitter @steven_lebron.
Photos via Getty Images