SLAM: How would you describe growing up in Montgomery?
JaMychal Green: The best part about growing up in Montgomery was being around my family. My mom, she came from a family of 12 [siblings] and my dad came from a family of eight, so I always had a lot of cousins around my age. And we were always close. I always had a big family around me.
SLAM: Which neighborhood did you grow up in?
JG: I grew up in Normandale from about 6 to 18. We stayed on a pretty good street. But the next block over is rough—there's a lot of shootings. We were still in the area. But it really shaped me into who I am today.
SLAM: How would you compare Montgomery to Memphis, where you live now?
JG: Montgomery is a small little Memphis. There are so many little things around Memphis that's similar to home. They have some good barbecue spots here and at home we have good soul food as well. Memphis is a little more spread out; Montgomery is smaller. But just the culture, the good food and family environment, it reminds me of home.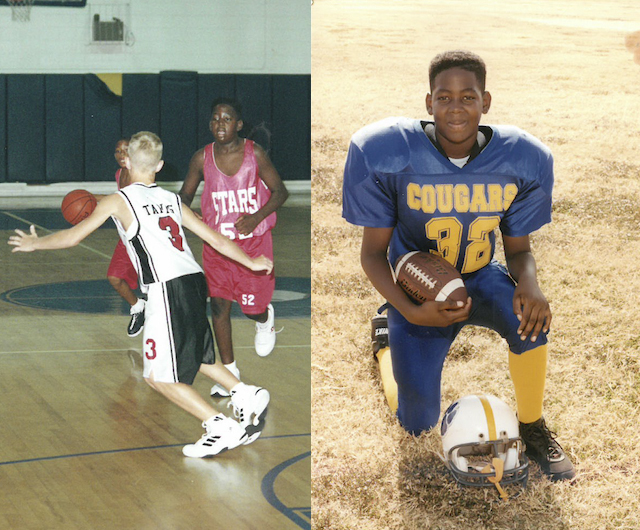 SLAM: What was the hardest part about coming up in Montgomery?  
JG: I would say the most difficult part was losing my brother. He was shot and killed in 1992. I was 2 at the time. I remember my mom was really hurt. I was young so I didn't really understand what was going on, but just seeing how hurt my mom was when talking about it—I saw how much she missed him. I miss him too and I just wish I had more time to spend with him.
SLAM: How did that time shape you into who you are today?
JG: My brother had two kids before he died—my nephew and my niece. My nephew, he had just turned 1 and my niece was only like a couple of months old so we were all close in age. Me and my nephew, we were only like a year-and-a-half apart, so growing up it was always me and him. Now I have a foundation called My Brother's Keeper. And that's how it all got started, with my brother dying and leaving his two kids. I'm not their father, but I felt it was my job to be involved. We just launched the foundation last year in Montgomery.
SLAM: You were a top-10 recruit out of high school but decided to stay home and play at the University of Alabama. Why?
JG: I wanted to play with Andrew Steele and Tony Mitchell. We were always close friends and we always wanted to play together. So we got it done. Then coach [Mark] Gottfried left my freshman year. I still decided to stay, just to try to change the culture of basketball there and get it back to how it was when Ron Steele and Kennedy Winston were there. We just wanted to get it back to how it was—that was really my point of staying home.
—
Franklyn Calle is an Assistant Editor at SLAM. Follow him on Twitter @FrankieC7.
Action: Getty Images, Childhood photos courtesy of the Green Family