As head coach of the Bucks, Jason Kidd has the young squad in prime position to make the playoffs. We've (obviously) been covering Kidd for years, and way back in SLAM 11 (May, '96), published the feature below, in which we spoke with the Oakland native during his second NBA season. Enjoy.—Ed.
Jason Kidd has a job to do, and he wants to do it right. The way he always does. The way he does everything. And so, with his five o'clock shadow—and faint Ice-T goatee—ready to strike the grimy hour of six any second now, the Mavs' point guard goes for what he knows best. Falling into his toughest, dead-end-kid-from-East-Oakland game face, he narrows his pale green eyes into furrowed slits, tightens his strong-boned jaw and squeezes up his long, broad nose into something resembling a terrier's sneer.
Intense, hard-edged and somewhat innocent all at the same time. That's JK all over. That's him all the time.
"Great, Jason, really great, that's it," says the high-pitched voice about 30 feet in front of him. It's a photographer bent over a tripod and glued to his viewfinder. "Now keep that look, but put your chin down and look to the side."
Which, being a coachable guy, Kidd follows to the letter: tucking his dimpled chin into his chest and craning his neck stiffly to the right, straight into the sunlight, as he leans against a wire fence by an empty Dallas high school football field. "Am I squinting too much?" Kidd asks, moving only his lips. "Man, I think I'm squinting too much."
"Don't worry about any of that, Jason," says a small, dark-haired woman just to his left, who is choreographing this mid-afternoon shoot for a sporting goods catalogue. "Just be yourself and relax."
"Oh, God, don't worry 'bout that," he slings back serenely, "I'm always myself. And I'm always relaxed." And with that, Kidd, modeling a blue-and-white jersey, suddenly takes the basketball held at his hip, and, with a subtle ad lib—his specialty and compulsion—he begins gently finger-rolling it, without looking down at the ball or breaking his pose.
The photographer reacts in the way most everyone does to Kidd: He goes absolutely bonkers. "Oh, I love it, Jason. I love it," he all but shrieks, clicking the shutter like mad. "That's cool, Jason. That's very, very cool."
It's just a matter of time, you know, until John Stockton throws his last perfect pass and hangs it up for good. Then it'll be the very cool Jason Kidd all by himself. Leaving everybody else in the dust. He'll be the purest point guard in the league, bar none—with no one even close enough for him to glare over his shoulder at.
"If Jason ever gets his jumper down, I like him some ways even better than Magic [for the purest] all-time," says Kidd's teammate, forward Jamal Mashburn. "Jason is way faster than Magic ever was, and Jason's doing it all while being five inches shorter. I'm telling you, Jason's one nasty point guard."
Is there another guard who, baseline to baseline, pushes the ball upcourt any faster? Who dissects the passing lanes, especially in the open court, any quicker? Or, in a heartbeat, gets the ball to the open man with any more accuracy, look or no-look? Is there another point guard who bangs harder underneath with the baddest of the big boys? Think hard—when was the last time Jason Kidd was beaten to a loose ball twice in a row? And creative? Forget about it. The guy's a downright visionary. He's so far advanced that some of his best passes fool his teammates, smacking off their startled, blinking faces like pinballs.
The night before the photo shoot, against the Sonics at home, Kidd has a quintessential Jason Kidd game: unable, as usual, to find the center of the rim but still—with pure point-guard genius—dominating the game.
On one incredible play, he penetrates with a silky-smooth, lightning-fast crossover, draws four defenders, then jumps right into the pack while twisting 360-degrees in mid-air before kicking it out—with his left hand, no less—to the top of the key for George McCloud, who drains the rainbow three. Later, driving left and seemingly ready to put it up, he dishes it off his hip to the left corner, a no-looker just inches beyond a defending hand, to McCloud again, who drops the three. Again. At crunch time, he threads yet another to McCloud and another to Tony Dumas, who both converts threes, and when it's over the Mavs have a 112-101 upset victory in OT.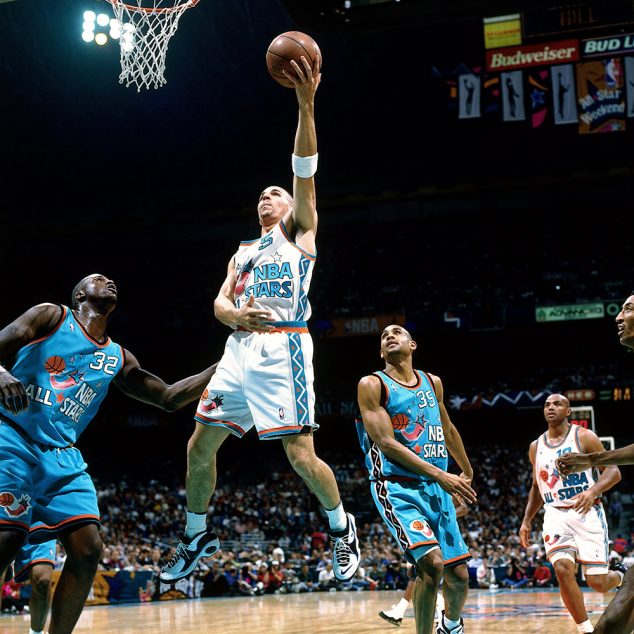 Kidd: 43 minutes, a lousy 2-for-14 for 7 points, but 11 boards, a career-high 18 assists (including 4 that led to the most critical baskets of the game) and 1 turnover. One. McCloud and Dumas, combining for nearly 70 points, take self-congratulatory bows in the clubhouse afterwards, but they should've knelt before Kidd's locker with their heads bowed. To worship the man. Because without Kidd on the floor, those guys simply never happen.
"He gives us a pace and energy we just don't have when he's not on the court," says Mashburn, who pushed hard for the Mavs to draft Kidd at No. 2 over Grant Hill two years ago. "He makes us go just by trying to keep up with him. And believe me, it's tough to keep up with him sometimes."
Especially last year, when Kidd's pace—or lack thereof—nearly caused him to break down midseason. He spent three days in the hospital in late January-early February, dehydrated and sick with the flu.
With a steadier, healthier, but still-manic stride, Kidd's numbers are slightly up from last year, the year he got a split-vote with Hill for Rookie of the Year. Even his jumper is better, if only a smidgen. His mechanics are bone ugly, with that bad habit of jerking his head back—watching the ball—on his release, with his body falling lamely away from the basket.
"Last year, I didn't have any confidence in my jumper at all," Kidd admits. "This league exploits your weaknesses and shooting was definitely one of my biggest weaknesses. There were times I was just afraid to shoot the ball. But not this year. Now, I'm throwing the ball up every time I think I have a decent shot. I'm not even thinking about it. I don't even care if I'm missing everything. I'm just gonna keep shooting. That's the only way I'm ever gonna keep shooting. That's the only way I'm ever gonna get better and keep building my confidence."
Kidd was raised in the hills of East Oakland, behind the zoo at Knowland Park. He remembers how very early on he was called "zebra" and "oreo"—because his father is black (a Baptist from Missouri) and his mother is white (an Irish Catholic from San Fran). "But for some reason," he says, "it never really hurt me being different or being called names by people. I don't know why, but it never did. Race was really never an issue for me. It bothered me more when people made fun of my big ears and the way they stuck out. People are still making big-ear jokes about me."
His hoops training came on the cement courts of the hard-knocks Oakland playgrounds, playing pick-up games from morning 'til late night, against the likes of Mitch Richmond, Tim Hardaway, JR Rider, Brian Shaw and Gary Payton ("Our leading smack-talker" says Kidd). Kidd was the youngest, smallest and, at first, the last to be picked.
"Being picked last definitely wasn't fun," he says with a still-pained look. "But it was big incentive for me. I wanted to make the other side regret that they didn't pick me. And I wanted everybody to pay for [my] getting picked last."
And the games?
"Well, there was definitely a lot of talent out there and the playing, it was definitely rough. I mean, real tough. Fouls, you see, were never called because they just slowed down the games too much and caused too many arguments. And so if you called a foul, you were looked upon as a pussy and you'd get talked about bad by everybody, even by guys on your own team. So you just didn't do it. The result was, you got chopped up a whole lot."
You hardly ever finished a day, he says, without scraped knees and elbows, bumps and bruises on your back and chest, or scratches along your arms.
"And if you sprained your ankle," he adds, "you'd just lace up your sneakers tighter and keep playing. There was a lot of pride out there, and nobody ever backed down from anybody."
"Jason was just this very quiet kid who was overskilled for his age," says Payton, the Sonics' starting point guard. "It was just a simple matter of fact. The stuff he's doing now—the passing, the crossovers, the way he gets the ball upcourt—he was doing way back then. Because of that, guys got upset with him a lot. They were jealous of how great he was so young."
Not wanting to leave home after starring big time at St. Joseph's H.S., Kidd went to nearby UCal/Berkeley, where he racked up all kinds of school and Pac-10 records for assists and steals, became a first-team All-American and led the Golden Bears to their first national ranking in more than 30 years.
But, just like that, after his sophomore year, Kidd left Cal for the NBA Draft. And The Trouble came. A suit by a woman accusing him of slapping her, another woman's paternity suit and a hit-and-run charge. Jason Kidd became basketball's anti-Christ. He eventually owned up to everything but the slapping thing, but the media mailed him to the wall. He claims now the whole experience taught him to be more cautious.
"I had been on the peak for so long that I knew there had to be a valley," says Kidd. "Nobody's perfect. And there are always goin' to be good stories and bad stories written about me. It's just that I'm in the spotlight and everything's magnified. I'm an easy target.
"But I also think, in a way, it was the Lord asking me, 'How will you face all the negative stuff after all the positive? Will you run away and blame somebody else?' Well, I accepted my punishment [a fine, probation and community service for the hit and run, and child support. The slapping charge was dropped.] and went on with my life."
After investigating the incidents, the Mavericks plucked Kidd high in the first round—over Hill—and made him a candidate for Lifestyles of the Rich & Famous ($54 million over nine years). He returned the favor by pushing the team to the sixth-best turnaround in NBA history—a swing of 23 wins—and a decent level of respectability around theLeague. He was the only rookie in the Top 10 in two categories (seventh in steals, tied for ninth in assists), the only unanimous selection for the All-Rookie team, and he topped the League in triple-doubles with four over a 16-day, five-game span in April.
"The guy's, without question, the best rookie I ever coached," says Kidd's coach, Dick Motta, who's been around since the Jurassic Period and who's always been extremely suspicious of first-year players.
It's a Thursday afternoon on a game day. Kidd, conspicuous in his white "Jason Kidd" T-shirt and black baseball cap turned backwards, is having lunch at a Dallas haunt, The Black-Eyed Pea, with personal manager Carl Foster and his Nike guy, Lynn Merritt. He's slurping his usual iced tea and picking at a grilled chicken breast with mushrooms and green beans. But right now, he's rolling back time…to the day he found out about the Rookie-of-the-Year award, when he defied the odds to grab half the trophy away from a guy all but elevated to sainthood during the season.
"I'm driving on the freeway, in this rented Pathfinder, from Santa Barbara to my home in Oakland," he starts, "and I get this call on my car phone. It's Aaron [Goodwin, his agent] and he says in this loud voice, 'Hey Jason, you won it.' And I say, 'Won what?' And he says, 'The Rookie of the Year.' And I say, 'Say what? Stop bullshittin' me, Aaron. Who won it? Grant? Big Dog?' And he says, 'No, it's you and Grant. You both got it.' And so I'm still thinkin' it's a practical joke, so I tell him to call my mom and have her call me right back, figuring there's no way he's gonna lie to my mom. But even when my mom called to congratulate me, I still couldn't believe it. I still have a hard time with it. I mean, if I were a betting man, I wouldn't have bet on myself. No way. But I'll tell ya, I was so excited after I realized I really got it that I pretty much raced home as fast as I could. I only wish I had a car that could've gone faster."
He takes a quick swig of his tea and continues, "But that was last year. And last year's last year. I don't want to be known as the guy who won the Rookie of the Year award and just faded away. I've got a lot to do out there before I'm done. And I can't ever forget that. I've seen a guy on my team go down the wrong road [Roy Tarpley]. I've seen how sad it is for somebody to blow an opportunity, and I don't ever wanna be one of those guys.
"I don't ever want to cheat the game. I love the game too much for that. And I love playing hard. And I don't mind if I have to sacrifice my whole body to do it. And before I'm done, I'm hoping that I bring the art of passing back into the spotlight again, and that I show you could do a lot more to win games than just to score."
Photos via NBAE/Getty
214