Sitting 8,000 miles away from his family as part of an NBA Legends Tour in Beijing last summer, I got to know Jason Williams. No, not the White Chocolate persona he took on when he rocked No. 55 in Sacramento; Jason Williams, father and businessman. And you know what? He still doesn't give a damn what you think of him.
"First of all, nothing has ever bothered me about what people think of me,"  Williams says after a practice. "My teammates know what I'm about and that's all that matters."
Spending close to three weeks around the player whose moves I practiced countless times in my driveway, it was immediately evident he was still doing everything his own way. When payment didn't come on time before one of the exhibition games, he apologized to all of his teammates before telling the coach that he couldn't suit up 'til he got his money. The first person in the lobby each morning before embarking on long days filled with promotional appearances and youth basketball clinics, the then-38-year-old set the tone for young bucks like Aquille Carr on the tour, showing the transformation that has taken place since he started turning heads with his wild play as a youngster in Belle, WV.
"My father never pushed me—I pushed myself," Jason says one morning over breakfast in Chengdu. "When I was 11 years old, I loved the game. I loved it more than half of the guys in the League.
"I just spent hours in the gym working on my craft," says Williams, who attended DuPont High School and played alongside legendary wide receiver Randy Moss, who was quite the baller, too. "I've never been one to like to shoot the ball. I don't really see myself as a good shooter. Playing pick-up growing up, the only way that I was able to get on the floor was to be able to pass because I couldn't really get my shot off since I was smaller than everyone."
The aforementioned work helped Jason earn a few collegiate offers, but in the pre-internet (and pre-mixtape) recruiting generation, he didn't receive anywhere near the attention that he'd get today. Having briefly committed to Providence and spending a second at Fork Union Military Academy, things were up in the air. In fact, if it weren't for his pops, he probably would have wound up at a traditional Big East power.
"I didn't get recruited too heavy, man—Virginia Tech, Providence and St. John's, really," he says of his recruitment. "I really wanted to go to St. John's. Me and my father drove to Providence and went through New York. My dad said, 'Nah, you ain't living in New York. No way.'"
A young Kentucky assistant had been recruiting him lightly, but the Wildcats didn't think enough of him to offer him a scholarship. When that same assistant got a head-coaching job right down the road in WV, though, JWill's college destination was a wrap.
"The only reason that I went to Marshall was because of Billy [Donovan]," he admits. "I grew up 45 minutes from Marshall. I used to tell all of my friends that there was no way that I was going to West Virginia or Marshall. But everything happens for a reason and I wouldn't change nothin'."
When Donovan left Marshall to take the job at Florida,  Williams followed. The ability to get on the court immediately not only gave him even more confidence in his game—it was enough to draw the eyes of NBA scouts.
"I tell these kids nowadays, Why do you want to go and sit on the bench at Kentucky for four years? Go to the Central Floridas and Marshalls so you can get minutes," he says. "If you're good enough, the scouts are going to find you."
Williams was indeed good enough, and he took that swagger and talent into NBA Draft workouts. Questions surrounded him, though, both on and off the court. His truncated career at Florida lasted just 20 games before he was kicked off the team for a marijuana violation. All of his focus turned to an NBA career.
The Kings selected Williams seventh in the 1998 Draft. "I didn't really expect to go that high," he says. "I went to these different workouts with teams and I was in the best shape of my life. I was killing everyone that they put in front of me."
From the second he took the court with Sacramento during his lockout-shortened rookie year, Williams captivated fans and coaches alike with his unique style of play. "White Chocolate" was born, and his No. 55 Kings jersey quickly became one of the highest selling in the League. His deep threes, filthy crossovers and endless no-look passes got basketball enthusiasts of all ages hyped. Success came, too. The Kings made the Playoffs all three seasons he spent there. The freedom that Rick Adelman gave his young lead guard was all he needed to take his game to the next level.
"It was the best thing that ever happened to me," he says of being handed the keys from the jump in SacTown. "Rick Adelman told me the first game, If you come down and throw one behind-the-back that goes out of bounds, don't worry about it. The next time, throw it with your left hand. I told him, Shit, that's all I need to hear."
That brash confidence and freedom allowed us to see plays that we have never seen before in the NBA. The elbow-pass in the Rising Stars Challenge. The double crossover that led Gary Payton to try to trip Williams on his way to the basket. The fake behind-the-back hop-pass against Mike Bibby that left you puzzled as to what you had just seen. The stuff he did in games was so dynamic that the refs themselves didn't even know when to blow the whistle.
"A lot of people say it was a carry, but in '98, it wasn't a carry," he says of his legendary move against Bibby. "That just comes from all of those hours in the gym, man. That's not the first time that I did that move, but it may have been the first time that anyone had seen it. I practiced that thing and probably did it thousands of times. Everything you seen me do, with the exception of the elbow pass, I practiced thousands of times."
"JWill had a unique ability to do things with a basketball that most people only dream of doing, and then he'd go out there and do them in games," former teammate and current Cavs sharpshooter Mike Miller says. "He was the best ballhandler I have ever seen."
After three years with the Kings, Williams was dealt to the Grizzlies for Bibby, accepting a far different role in the process. The 30-foot three-pointers in transition weren't as frequent. The no-looks and behind the backs were still there, albeit selectively. He had improved on his decision making to the point that he was among the top five in the League in assist-to-turnover ratio when he played in Memphis.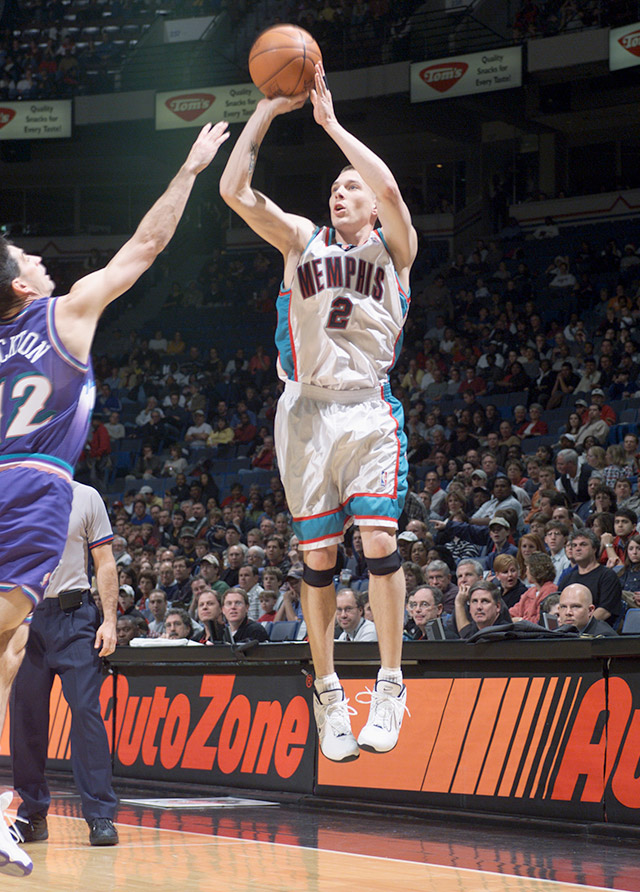 "When I was in Sac, we had all these guys and that's how we played, with all of the flare and flash. When I got to Memphis, my teammates weren't like  C-Webb and Vlade," he says. "They were good players—we won 50 games my third year there—but you know, you have to change your style. My role was different. I had to come down and get guys the ball in positions that they could score. I couldn't do what I did in Sac."
In the summer of 2005, JDub was dealt to Miami as part of what was then the largest trade in League history, with 13 players changing to five different franchises. Playing alongside Shaq and Dwyane Wade, Williams had to change it up again. And again, success followed. He took the backseat to the aforementioned duo and improved his shot selection. The Heat would go on to win the 2006 NBA Championship.
"Winning takes care of everything. As long as you're winning, all of the other bullshit is set aside," he says. "I'm playing with Hall of Famers, man. I just sat back, accepted my role, and we got a ring. Can't nobody ever take that from me."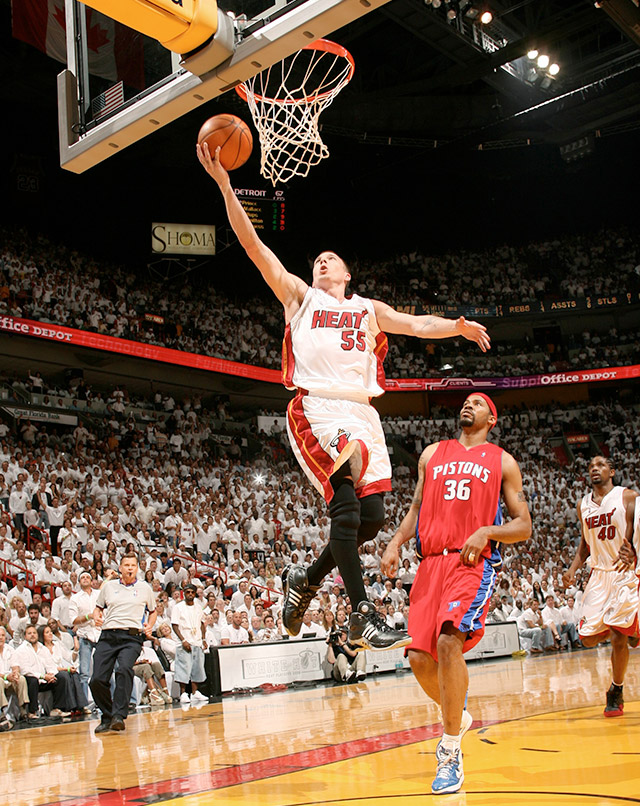 A stop in Orlando and a return trip to Memphis rounded out a 12-season NBA career that closed with career per-game averages of 10.5 points, 5.9 assists and 1.2 steals. Today, White Chocolate makes close to seven figures working around a month a year on overseas tours. He is a father, husband and well-off businessman who owns a handful of Five Guys restaurants.
Ask him what his proudest moments in the League were, and he won't mention that 2006 Finals victory—or anything else that took place on the court. "Just getting drafted and being able to take care of my grandmother. Just making it, really," he says with a smile. "I give my grandmother $400 a month and she thinks it's $4 million. Shit like that makes me happier than anything."
images via Getty
1,269