When Jaylen Brown was 16 years old, he attended an OutKast concert in Atlanta. Brown was always into music, but something about OutKast—how musically diverse their material was, the way they carried themselves on stage, the effect their songs had on the audience—had a profound influence on the young basketball prodigy. To this day Brown says it was the best musical performance he's seen in person, an experience that continues to resonate with him.
Years later, OutKast still regularly inspires Brown. That's relatively normal—music and basketball often embolden one another—but the result of that inspiration is anything but typical. Because not only does Brown listen to and feel motivated by the iconic ATLiens, he regularly makes music of his own.
Brown bought a copy of Logic Pro when he was in high school, and ever since he's been producing beats in his spare time. "It's just to express myself and kinda do something to pass the time instead of getting into the other stuff a young 19-year-old can get into," says Brown, who's turned 20 since our interview with him. "There's plenty of other enticements and things people can get caught up into and overwhelmed in: going out, girls, things like that. I try to just keep myself as level-headed and focused as possible, and [making beats] is one of the things that helps me do that."
The 6-7 small forward grew up in the Atlanta area, spent a year of college at Cal-Berkeley and now lives in Boston as a member of the Celtics—who selected him third overall in last June's draft—which is to say that he's been influenced by multiple regions of the country. During an impromptu listening session in SLAM's Manhattan office this past October, Brown played us some of his most recent beats, and we can say this: There's undeniably zero singular inspiration.
"I make different types of sounds, so not every sound sounds the same," he explains. "Like trap beats, I don't just make a whole bunch of trap beats. I might make a few 'cause that's what I'm feeling today, like I feel like making a banger or some Metro Boomin'-type stuff. Another day I may feel like slowing it down and making some Dilla-type beats or something smooth, something classic, New York-esque or something similar to that. It depends. It's just based on how I feel when I wake up in the morning or when I dive into it. I don't do it every day, but when I get into it I, can be into it for hours at a time, and time will just fly by."
Brown says these days he mostly makes beats by himself when he's looking to kill a few hours after practice—he purchased a small beat machine, a MiniNova synth and a keyboard that he can bring with him when his team is on the road—though in the past he's been in the studio with friends and messed around there, occasionally producing songs with others as well. He's connected to a nine-person, Atlanta-based hip-hop collective known as The Tribe Akashic, which features cousins of Brown's—he even brought two of the group's members to SiriusXM's "Sway In The Morning" radio show last June.
His desire to improve musically comes a distant second to his desire to improve on the court—"I have full investment in my basketball," he says. "It comes first"—but he hasn't been scared to associate himself with the local music scene in every city the game has taken him to. First it was Atlanta, attending concerts and making tunes with The Tribe Akashic. Then it was the Bay Area, where he dove into the catalogs of Mac Dre and E-40. "To be honest I didn't know who Mac Dre was before I went out there, and now I'm a big Mac Dre fan," he says. He even attended and was photographed on stage at Hiero Day, a one-day outdoor music festival in Oakland hosted by a group known as The Hieroglyphics.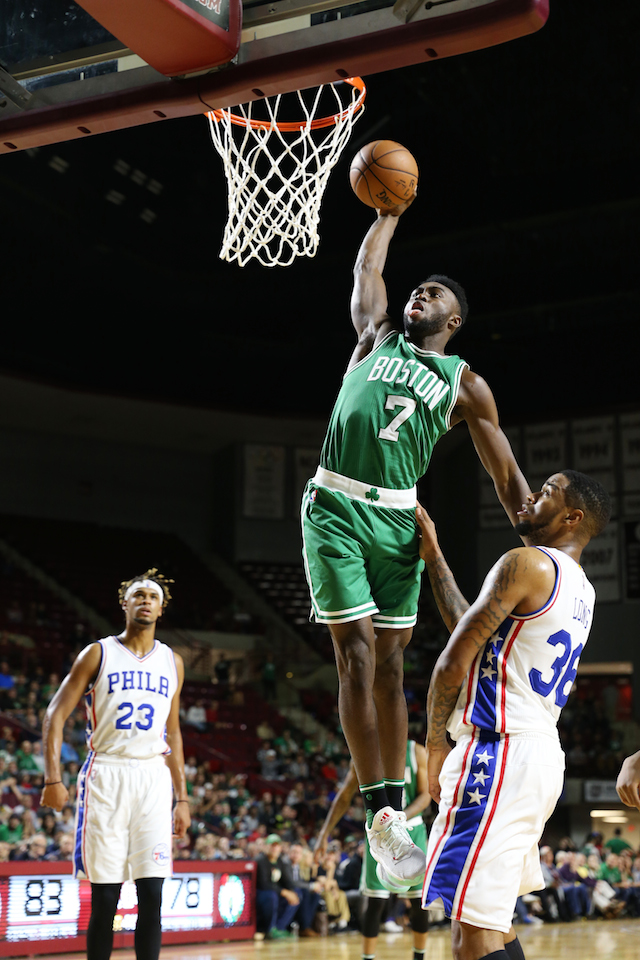 Now in Boston, Brown is interested in doing the same. He says he's yet to link up with local artists there but would love to do so. In early November, a Cambridge mall was shut down prior to a meet-and greet he was set to host with New York rapper Desiigner—too many people showed up, and six people were arrested for disorderly conduct, disturbing the peace and trespassing. (The mall was evacuated before Brown even arrived.)
Upon being drafted by the Celtics, Brown elected to wear the No. 7—on the surface that may look like an homage to '90s Celtic Dee Brown, and that may in part be true, but it's largely a nod to the Five-Percent Nation, a cultural movement that heavily influenced '80s and '90s hip-hop acts like Rakim, Big Daddy Kane and the Wu-Tang Clan. (The number seven is an important figure to Five Percenters, as it represents God; both Jay Z and RZA have been spotted wearing pendants with the number seven on them.)
Though music is a large part of how Brown passes time away from basketball, it stays with him in that realm as well. In fact, he sees little difference between the two. "The beat of a ball and the beat of a drum is the same thing," he says. "Having that rhythm, so when you're in the zone and you have a really good rhythm about yourself on the basketball court, nobody can stop you. It's the same way in the music world—like I feel the same type of way when I hear a dope beat. You feel the same type of excitement.
"Basketball and music is one to me," he continues. "The pace, it goes up and down. The momentum, it's all like a beat. You've got someone telling the story, controlling the energy—it's very similar, very comparable."
Brown listens to music before games, usually some type of hip-hop—nothing too aggressive, and nothing too calming. "I don't like to be too over-hyped, but I don't like to be too chill, either," he says. "I like to be right in that kind of Zen mode, so I like music that puts me there instantly." Before an October pre-season game in Brooklyn, he says he listened to The Notorious B.I.G., 2Pac, A$AP Rocky and a track from the '70s by Italian composer Piero Piccioni, whom J. Cole sampled on "Jermaine's Interlude," a song on DJ Khaled's 2016 album, Major Key.
The fact that this kid can string together Biggie and a now-deceased Italian pianist sums him up pretty well. He does things a little differently than most NBA players, and seems relatively comfortable doing so. He entered the 2016 NBA Draft without an official agent, leaning instead on his support system of basketball legends like Isiah Thomas and Shareef Abdur-Rahim and AAU Oakland Soldiers co-founder Hashim Ali. "I don't know if I would recommend [not signing with an agent] for everybody 'cause everybody has their own process," Jaylen admits. "All I needed was help navigating the process of going and flying to different teams and talking back and forth with GMs, and people to hear me and tell me what's the truth. That's all I really needed. It turned out well."
He also has hobbies that most NBA players simply do not. He writes poetry. He plays guitar. He's obsessed with chess. He reads a lot. He's fascinated by business—while at Cal-Berkeley he interned at Base Ventures, a venture capital firm in the Bay, observing wanna-be start-up founders as they pitched their ideas to Erik Moore, the company's Managing Director.
"A lot of 19-year-olds spend time differently—playing video games, girls, etc.," he says. "Nothing's wrong with that. I'm just thinking five, 10 years ahead, 'cause that's just how I'm wired."
Of course, all of this—the ability to devote a couple hours here and there to making beats or playing chess or studying business or learning guitar or doing any of the other things that make him The Most Interesting Man in the NBA—stems from his ability to maintain relevance on the court. And he knows this, referencing the fact that basketball comes first over and over. So far this season Brown is averaging only 4.7 points and 1.9 rebounds per game, but it's early in his rookie year, and he's stuck fighting for minutes behind older, more established players like Jae Crowder and Avery Bradley. And yet we've already seen flashes of what could be to come—he plays hard and with energy on both ends of the floor and has earned praise from star peers. "He's a strong kid," LeBron James said after an early season Cleveland-Boston tilt. "You can see he knows how to play the game."
Brown has also had a handful of seemingly out-of-nowhere highlight reel dunks that hint at some serious star power.
"In chess, they have a piece called the rook," he says. "The rook, in chess, most of the time it's in the corner and sits there and nobody really notices it. It's quiet—all game it might just sit in the corner and not do anything. But when it starts getting into action and starts getting into play, it can be very dangerous.
"I kinda look at myself as a rook right now."
—
Adam Figman is the Editor-in-Chief of SLAM. Follow him on Twitter @afigman.
Portrait by Jihad Dennis; Action shot via Getty Images