Jeremy Lin is standing on the corner of Kent and West Streets in Greenpoint, Brooklyn, waiting for his longtime friend and trainer Josh Fan to arrive. The two were supposed to roll together, he explains, but plans changed once the Nets kept Lin and his teammates for a mandatory orthotic insole fitting after this morning's workout. It's a drizzly Monday afternoon in September, and Lin is wearing adidas sweats from head to toe, with a matching snapback that's keeping his man bun, or braids, or whatever's under there hidden from view.
In a few minutes, we'll descend into a dimly lit, dungeon-esque basement to do one of those trendy new "escape the room" adventure games. You know, where you have an hour to collect clues and solve riddles as a team in order to, well, escape the room. (In our case, pulling off a Mission Impossible-themed bank robbery before the fictional cops catch us committing the heist.) While we wait, we bullshit about the Nets' fancy new practice facility in Sunset Park, about how Lin scored his new apartment near the Barclays Center after refreshing Zillow for days on end, and about the upgrades he still needs to make to the shiny black-on-black Maserati he pulled up in, including tinting the windows and replacing the rims. As a jackhammer pounds away at a construction site across the street, Fan finally appears, panting. Turns out, he took an Uber to Kent Avenue, not Kent Street, and had to run the last three-quarters of a mile here, which draws a laugh from Lin.
The last time he played professional basketball for a team in New York, Lin was crashing on his brother's couch in a cramped Lower East Side apartment. He was, before what ultimately became one of the most memorable individual stretches of basketball in the history of the NBA, another anonymous New Yorker. The night before his "Linsanity" phenomenon began, Lin famously slept on Knicks teammate Landry Fields' sofa. What unfolded thereafter, for the last two months of the 2011-12 season, established him not only as a full-time pro, but as one of the most popular basketball players on the planet.
"I'm definitely glad to be back," says the 28-year-old, who after stops with the Rockets, Lakers and Hornets from 2012 to 2016, signed a three-year, $36 million contract with the Nets this summer. "I obviously have a special connection with New York fans because of everything we've been through, so to be back here playing in front of them again is…to me, I wish it happened earlier."
During our faux bank heist in Brooklyn, Lin immediately takes charge. He's responsible for solving most of the puzzles to unlock each new clue and he instinctively directs everyone else to pick up items we'll need along the way. It's corny as hell to say, but he really is point guard-ing the shit out of this. When we emerge victorious with 26 minutes to spare, Lin admits that he's done this before. In fact, it's his eighth or ninth time "escaping the room," and he shrugs once we get back outside to daylight—this wasn't as challenging as the versions he played in Charlotte and Los Angeles. Then again, dude went to Harvard.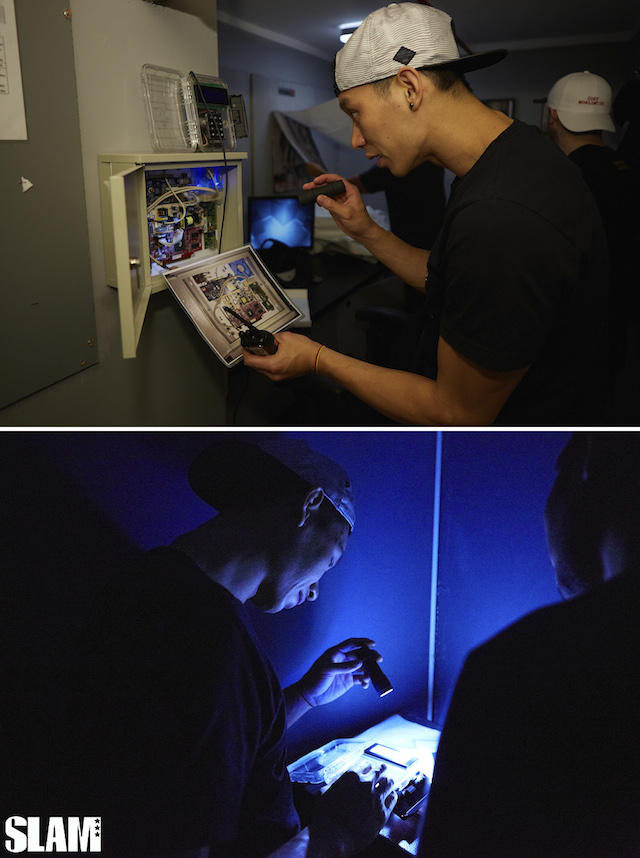 J-Lin's "regular guy" vibe is disarming, and yet there are brief moments when his status as an international superstar smack you dead in the face. As we casually talk hoops on the walk back to his (ridiculously nice) car after wrapping the interview portion of our shoot, for example, Lin points out that it's kinda hard for big men to look cool in highlights, because nine times out of 10, Stephen Curry breaking a defender's ankles and raining a three is more entertaining to watch than LeBron James muscling in 2 points in the post. It's not an earth-shattering observation for a person to make until you consider the two players being compared are among just a small handful whose global following eclipses that of the person who made it.
But this story isn't about Linsanity. Because that story's already been written many times over. And, if you're reading this, you already know what happened. The night it all started with Lin, then a little-known Knick, dropping 25 on Deron Williams and the Nets at MSG. The 38 and 7 he put up against Kobe and the Lakers less than a week later. The game-winning three on Valentine's Day in Toronto.
The memories won't soon fade. Walk the streets of New York City and you'll still occasionally see his No. 17 Knicks jersey every so often. But the next chapter for Jeremy Lin will play out across town, where Brooklyn head coach Kenny Atkinson is handing him the keys. (Lin says Atkinson, who mentored him as a Knicks assistant during the Linsanity season, is "the only reason why I really considered the Nets in the first place.") This year, on this team, Lin comes in as the starting point guard, not just some flash in the pan. With all due respect to former All-Star center Brook Lopez—whom Lin first met a decade ago on a serendipitous midnight visit to an IHOP during a high school tournament in California—it's Lin who will be looked at as the face of the franchise, from the inside and out. And he's definitely ready for the challenge.
"To have this role, I'm so excited I can't even really explain just how happy I am," says Lin. "There's days where after we work out or play pickup or whatever, I'm just like, Man, it feels natural. I'm a leader. I'm a starting point guard. I run the show—and that's something I've done my whole life on the court. So the last few years playing in a backup position, to me, that's not who I was created to be as a player, that's not natural. I feel like I wanna be the guy in the front. I wanna be the guy leading the charge, and I feel that here.
"Walking around Brooklyn, the vibe that I get is that they haven't had a product that the people have been proud of," he continues, noting the team's 21-61 record last season. "I can tell there's that disappointment from the past. No disrespect or no offense to anybody else who was here before, but that's just the vibe that I get. So for me it's just another challenge: How can we turn this thing around?"
Perhaps due to all the same lazy stereotypes that have followed Lin at every other stop throughout his career, it's still hard for some to picture him in the role of the veteran leader. Time to get over it. The reality is, almost all of his new Nets teammates really do look up to him, and almost all for different reasons.
Like 21-year-old Nets rookie Isaiah Whitehead, who remembers watching every game of Linsanity as a sophomore at Lincoln HS in Brooklyn: "I was right in front of my TV watching every one." Or Sean Kilpatrick, another New York-bred guard, who looks at Lin as a model of D-League-to-NBA-starter success. "He's one of the hardest workers I've ever seen," Kilpatrick says. "He's always talking to me about staying hungry."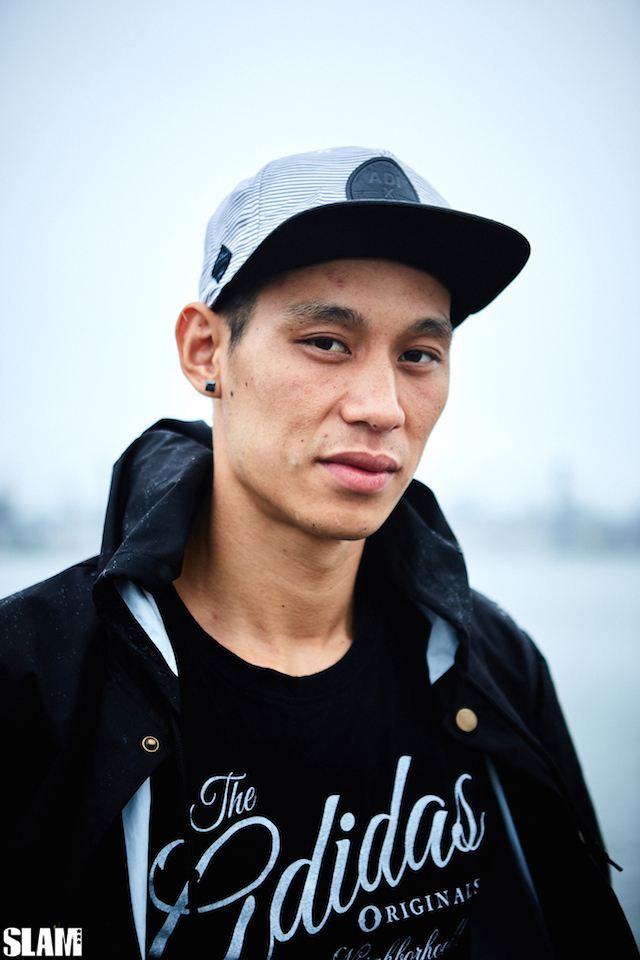 Even Greivis Vasquez, who will be pushing Lin for that starting PG spot every day in practice, respects Lin for being "a fighter" who fears nothing on the court. "We want him to lead," says GV, "and we want to win games with him."
Meanwhile, Lopez is…actually, Lopez is just envious that Lin is being featured in a special edition of Marvel's Totally Awesome Hulk comic book. "I was so jealous when I saw that," Lopez laments. "He didn't even tell me about it. Apparently it's no big deal to him. I had to read about it on my comic book sites."
Despite never having been an All-Star, Lin can sell comic books as a superhero thanks to his universal appeal. A week after our photo shoot in Brooklyn, at Nets Media Day, Lin is predictably swarmed by reporters despite playing on a team that beyond his presence is of lukewarm (at best) interest to the rest of the world. And, not unlike his teammates, Lin says his fans are as diverse as they are loyal.
"My story is so unique, and so there are people that always support different parts of my story. It might be that I'm Asian, or it might be that I went to Harvard, or it might be that I grew up in an immigrant family or the underdog story or the Ivy League," he says. "For me it's just something I want to be grateful for every day. I used to take my fans more for granted, and now I'm really thankful for them and I think I do a better job of showing that."
On the court, Lin insists he's shored up a lot of the parts of his game that were suspect during his first go-round under the bright lights of New York, including his jumper, his ability to go left and his defense. Last season in Charlotte he averaged 11.7 points, 3 assists and a career-high 3.2 rebounds per game in a Sixth Man role for a Hornets team that won 48 games and made the postseason. With increased minutes, expect to see his numbers jump across the board—a lot.
Friday night, Lin flirted with a triple-double as he led the Nets to their first win of the season in the team's home opener, finishing with 21 points, 9 assists and 9 rebounds. Through the first three games of the 2016-17 season, he's averaging 17 points, 7.3 assists and 5 rebounds per game.
Lin, though, says he's matured as a person as much as he has as a player.
"Probably spiritually and mentally more than anything. I think when everything first happened I was a little scared and jaded, just because a lot of friendships and relationships and the way things worked out, I felt like maybe people betrayed me. I felt that sense of like, I don't know if I can trust people," Lin says. "Having gone through the last four years, I'm really in a different place. I'm not so concerned with what everyone else has to say about me anymore, whether it's reporters or opponents or anybody, really."
The Nets surely don't have championship expectations in 2016-17. Competing for a playoff spot in a suddenly crowded Eastern Conference is probably a stretch, too. But Jeremy Lin is at long last comfortably stable, both in spirit and in his situation.
"I have a lot more fun through each day," he says. "I smile a lot more."
—
Abe Schwadron is a Senior Editor at SLAM. Follow him on Twitter @abe_squad.
Photos: Tom Medvedich | Special thanks to Komnata Quest