The two highest paid players in the NBA this season were Kobe Bryant and Joe Johnson. The former went out in a blaze of individual glory, racking up 60 points in an otherwise meaningless regular-season win against Utah.
The lack of gold at the end of the career tunnel shouldn't have worried Bryant too much. He had, of course, already long ago established his legacy by teaming with Shaq to hoist three Larry O'Brien trophies in a row.
Johnson, meanwhile, has now played in 11 postseasons and not yet been able to play in an entire Conference finals, let alone an NBA Finals. This spring, he clocked in with the most games of his post-season career (14) but as usual couldn't break through. His Heat lost to Toronto in seven games.
It didn't have to be this way.
Just over three months ago, Johnson had the opportunity to join LeBron James, Kyrie Irving and Kevin Love to form a team on par with the best team Kobe Bryant and Shaquille O'Neal ever formed. The Brooklyn Nets had just waived Johnson and James tried to convince his former USA Basketball teammate he should join the Cavaliers.
"All I care about is winning. That's all that matters to me. A piece like Joe, you know what it does to your team," James told the Cleveland Plain Dealer. "If he was concerned about playing time or concerned about starting, then I'll sacrifice. I'll sacrifice to get a guy like that to help us try to win a Championship."
James said he was willing to move to power forward, if necessary, to allow Johnson to slide into the small forward position. The King's courtship didn't matter. In the end, Johnson chose Miami instead, saying he wanted "security" and "somewhere I could really play and come out and enjoy the game."
No doubt, Johnson has enjoyed the game, racking up seven All-Star selections, signing a $123 million contract and over the last decade, hitting the most buzzer-beaters of any player in the League. Yet as great as the 34-year-old has been at closing games, closing seasons has been an entirely different story.
Part of the blame lies with Jerry Stackhouse.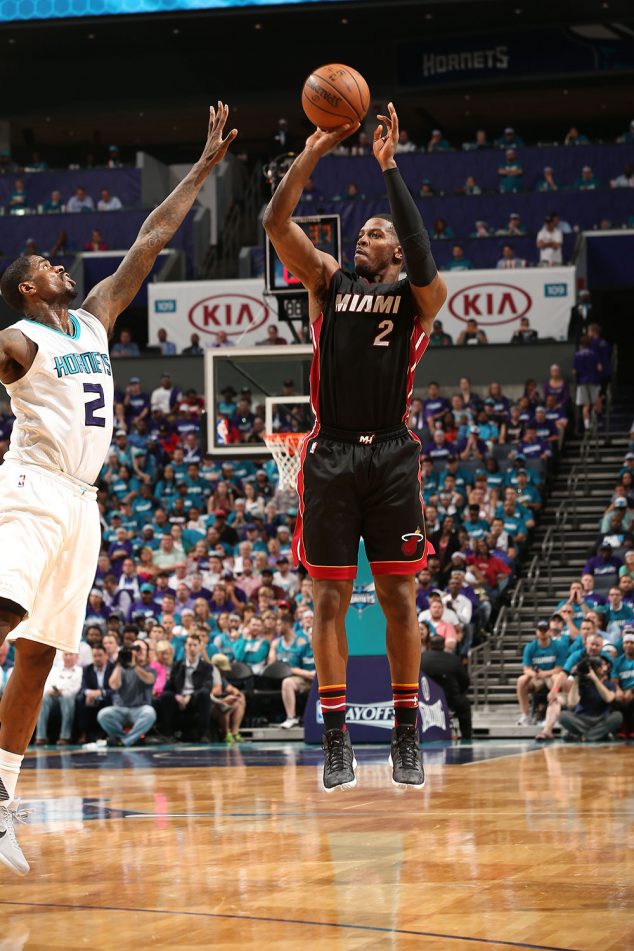 In 2004-05, Johnson was a young, rising star on a 62-win Phoenix team which took the League by small-ball storm before Stephen Curry had even finished his junior year of high school.
As a knockdown three-point shooter, superb passer and versatile defensive presence, Johnson became an essential fourth wheel to Steve Nash, Amar'e Stoudemire and Shawn Marion.
Those '05 Suns eviscerated Memphis in the first round before taking down Dallas and clashing with San Antonio in the conference finals.
Unfortunately, they started that series sans Johnson. Against Dallas, Stackhouse had blocked a breakaway dunk by Johnson, who caught the rim and fell hard to court, fracturing an eye socket. He missed the next six games.
By the time Johnson returned for Game 3 of conference finals, Phoenix had already lost its first two at home. San Antonio sprinted through the series in five games and ultimately won the Championship.
Johnson later told the Arizona Republic he felt his injury was a critical factor: "There's no way you can tell me we wouldn't have been NBA champions if I hadn't got hurt."
Had Johnson chosen to re-sign with Phoenix after that season, it's likely he would have played in an NBA Finals by now. Instead, over the next decade, Johnson chose to headline fringe playoff teams like Atlanta and Brooklyn.
Johnson's next best shot at the Finals came this year. Miami featured veterans like Dwyane Wade, Luol Deng and Goran Dragic (Nash's former protege), alongside very promising rookies in Justise Winslow and Josh Richardson.
They also had a preeminent X-factor in Hassan Whiteside, the freakishly athletic 7-footer who averaged nearly 3 blocks, 11 rebounds and 12 points on 68 percent shooting in 10 playoff games.
For the first time since his Phoenix days, Johnson didn't have the pressure of being a lead performer. He didn't have to shoulder the scoring load. And, for the most part, he thrived. In the regular season his shooting efficiency soared as his number of overall shot attempts plunged from previous seasons.
This was a big year for Joe, my fellow Arkansan. In the regular season he surpassed Scottie Pippen as the top scoring NBA Arkansan of all-time, and he put distance between himself and other NBA Hogs in multiple categories.
But things changed in the postseason, where Johnson's performance went Evel Knievel into a brick wall during the second round. With Whiteside missing the bulk of the series due to injury, Johnson's age and subpar lateral quickness were exposed when trying to defend the much shiftier Raptor guards.
He also had perhaps the worst outside shooting stretch of his career, converting a mere 14.3 percent on three-pointers while still attempting 3.5 threes a game.
It grates at me that Joe perpetually falls short of the Finals. He's my high school classmate, and part of me will always remember him as a 16-year-old kid whose fluidity and skill on the court at Little Rock Central High made me fall in the love with the idea of sportswriting in the first place.
Plus, he's a cool guy who gets along with essentially everybody. No doubt like most NBA stars Johnson has an ego—you don't show yourself wearing outlandish fur coats on your Twitter profile unless you do—but that ego hardly gets in the way of his likeability.
He's just so steady, so even-keel, so Arkansan.
Johnson will tell you that of course he wants to win a Championship, of course he wants to play deep into June. Yet had he really wanted to make that goal a priority, would he have left a team in Phoenix that was on the brink of a title?
Johnson spent his prime years in Atlanta and was awarded one of the richest deals in NBA history for it. But $123.7 million, six-year contracts typically don't leave much room to attract the best free agents, either.
What if Johnson had signed with Cleveland, now a favorite to beat whichever Western Conference team it meets in the Finals? With JR Smith and Iman Shumpert around, it's unlikely Johnson would have played the 32 minutes a game he did in Miami. By now he would have downshifted into a more complementary role than he held in Miami. That would have meant a bigger blow to the ego.
But here's the thing: Thanks to his tepid postseason, that blow is guaranteed to come no matter what. Johnson is now an unrestricted free agent heading into 2016-17 and, regardless of the team he chooses, he will be paid significantly less than the nearly $25 million he got this year. His name isn't near the top of Miami's off-season priorities, which remain with the likes of Dwayne Wade, Hassan Whiteside and bringing in a mega free agent.
There is also the complicated issue of whether Chris Bosh, sidelined for months by blood clots, will return next season. If he doesn't, the Heat will need Johnson more.
"If Joe were to return, it likely would be a Heat decision made later in free agency, a timetable that might not necessarily suit Joe's preferences," writes Ira Winderman of the Sun-Sentinel. "It could come down to whether Johnson is willing to wait for the Heat to put their $2.9 million 'room' mid-level exception into play after they are done filling out their salary cap. And even then, the question is whether $2.9 million for 2016-17 would be enough to meet Joe's demands."
What Joe demands of the team he chooses will reflect how he sees himself at this stage of his career. If he still sees himself as more star than supplement, someone who deserves to gorge on more "Iso Joe" moments, he's going to play increasingly inefficient and depressing old-man ball for another pretender.
But if Johnson accepts a role as more supplement than star, like he did in Phoenix, then he can evoke a Ray Allen, Michael Finley or even Boris Diaw to become a savvy, skilled veteran who chips in 25 minutes a game to score a title or two.
Because of that gargantuan contract, Johnson had long suffered from the perception he is overrated. While he's finally free of that burden, the contract will forever frame the narrative of his career. Meanwhile, with each early playoff ouster, his reputation in some circles as a loser grows.
Entering these last years, the ball is in Johnson's hands. He still has a shot at basketball's biggest stage, a chance to fill the gaping void which remains in his legacy.
It isn't long 'til the buzzer sounds.