A day after leading the visiting Philadelphia Sixers past the Minnesota Timberwolves 118-112, Joel Embiid not-so-subtly began trolling Karl-Anthony Towns on various social media platforms.
Towns unwisely fired back in the comments section of Embiid's Instagram post.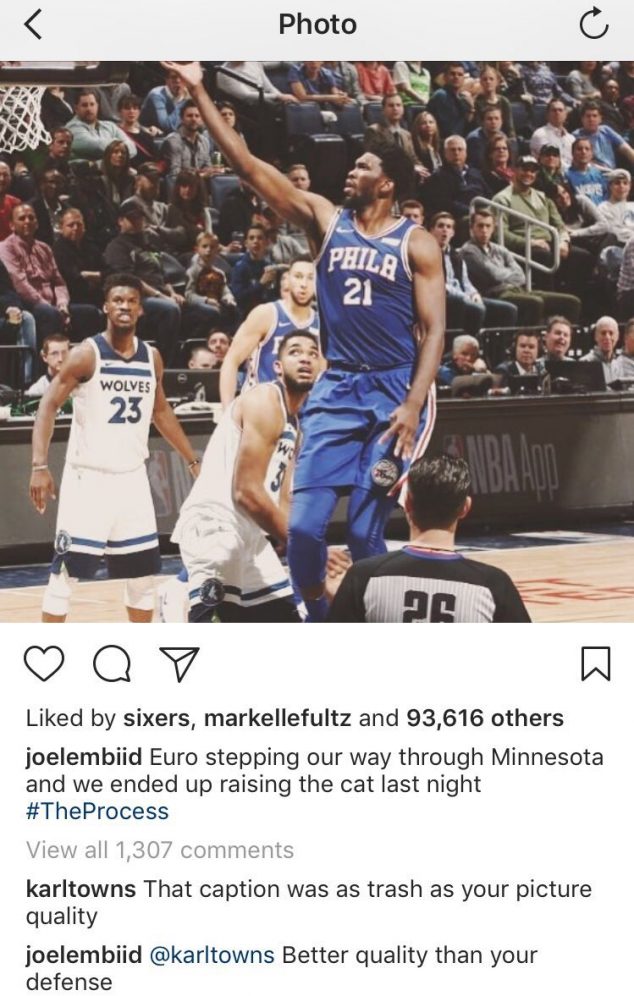 Embiid, who finished with 28 points, 12 rebounds and eight assists in the victory Tuesday night, re-affirmed his position as the NBA's undisputed king of digital put downs.
Joel Embiid with the picture-perfect eurostep pic.twitter.com/V3ph4UXCYX

— Rob Perez (@World_Wide_Wob) December 13, 2017
Per the Star Tribune:
In overtime, the 76ers ended a four-game losing streak by outscoring the Wolves 18-12.

"It should never have got there," Towns said. "I should have made the play I needed to make. I failed my team tonight. Things like that happen. I've got to look in the mirror and I have to be better next game. It's not good for me not to come through for my teammates."

Asked what frustrated him most Tuesday, Towns said: "I'm more frustrated with 20 seconds left, they threw the ball to Joel Embiid and I didn't make the stop I needed to make. My teammates trust me with the assignment, and I failed them. That hurts."