Following their epic duel Monday night, Joel Embiid playfully trolled Hassan Whiteside with a "BBQ Chicken" location tag on Instagram.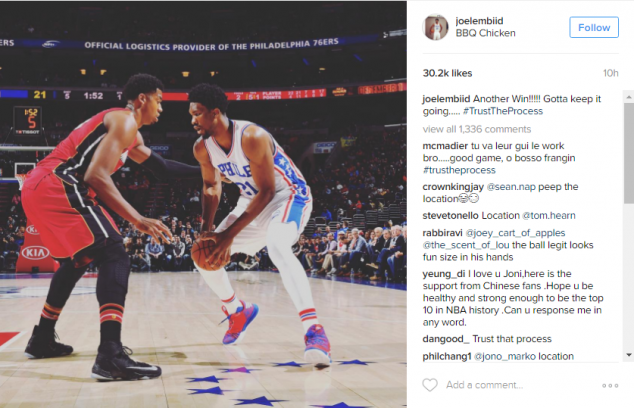 Embiid had 22 points in the Philadelphia Sixers' 101-94 home win against Miami, and praised the Heat center (who finished with a career-high 32 points):
"Around the league there's a lot of young big men, and I think we're starting to come back," said Embiid, according to the AP. "So one thing I told him is keep killing it. As big men, we all want each other to do good. I've always studied him in the past. It's always been a big man league, so I want it to stay like that."
Both big fellas are proving that the center position is far from being obsolete in the modern NBA.
Per the Sun-Sentinel:
"I don't know who 'they' are. 'They' don't watch basketball if it's not centers. I don't have a day off at the center position," Whiteside said, as the Miami Heat turned their attention to Wednesday night's game against Drummond and the Detroit Pistons, the third stop on this four-game trip.

On Monday night, even as he battled to a career-high 32 points, Whiteside essentially found himself trumped by the combined 37 points of Embiid (22 points) and Okafor (15) in the Philadelphia 76ers' 101-94 victory at the Wells Fargo Center. Whiteside, by contrast, got practically no support in relief at center from Josh McRoberts (two points) and Udonis Haslem (none).

"Even Embiid at the end of the game was talking about how we're bringing back the centers," said Whiteside, who added 13 rebounds in the loss that snapped the Heat's tow-game winning streak and dropped them to 4-9. "And when you hear it from the players, they're saying it, Embiid saying it, I don't know who 'they' are, But they must not watch basketball, because every night I've got Dwight [Howard], Drummond, [DeMarcus] Cousins. I got a really good center every night. So I don't know where these nights off are happening."