Joel Embiid and Drew Hanlen drove together to the first regular season NBA game Joel played in. Embiid had been named a starter, but Hanlen, his personal trainer, warned him that it's going to be a slow progression—Embiid would be on a 20-minute-per-game restriction to begin the year. Still, Embiid had lofty goals.
"He told me he was gonna average 20 points per game during the season," Hanlen says now. "I said, Hey Jo, I believe when you're healthy and when you're playing you're gonna be one of the best big guys in the NBA, but averaging a point a minute is absurd. Let's just go out there and try to help your team win more games and continue to improve throughout this rookie season and get better."
Embiid finished his first game with 20 points, playing 22 minutes while also grabbing 7 rebounds and blocking 2 shots in a 103-97 loss to the Oklahoma City Thunder.
Hanlen found the 22-year-old big man shortly afterward.
"That was easy, bro," Embiid told him. "I could've had 30."
So began Embiid's rookie campaign, a rollercoaster of a season that—despite large periods of time spent on the sideline for both rest and injury reasons—established the Cameroonian as the frontrunner for Rookie of the Year. He averaged 20.2 ppg (perfectly on pace with his projection) along with 7.8 rebounds and 2.5 blocks. And the Sixers are, as of press time, 13-18 in games with him on the floor and 10-22 with him off it. It's not a massive difference in winning percentage, but for a franchise so accustomed to the lowest depths of the standings, and previously so unsure what Joel would provide after sitting out two full seasons recovering from injuries before he ever formally donned an NBA jersey, the excitement Embiid has provided has ever-so-slightly awakened a long-sleeping organization in desperate need of some fun energy.
"During the two years I missed, I don't think anybody expected [that I could play this well]," Embiid says. It's a couple minutes after he takes the portraits you see in this feature on an early February afternoon, and he slowly walks across the 76ers' practice court in Camden, NJ, as he reflects. "I don't think I'm anywhere close to where I want to be or that I'm good enough yet."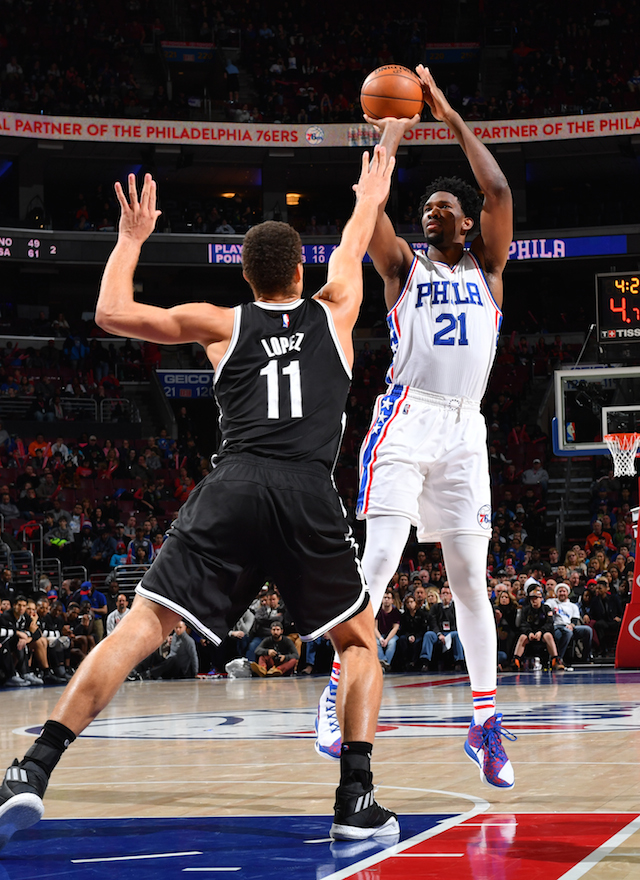 "The way he can shoot, his ballhandling—I was not expecting that," Sixers swingman Robert Covington says. "But he worked on it. All the stuff I've seen him do in a game is the stuff I've seen him work on when he was out."
Sixers fans have loved every minute of it. In the waning moments of that opening night home game, chants of "TRUST THE PROC—ESS"—the slogan famously used to describe Philadelphia's seemingly never-ending rebuild—rained down from the upper deck of the arena. Number 21 jerseys now dot the stands at every home game. He sat out every few games to make sure he wasn't pushing himself too hard, and even still, there was some early season All-Star chatter; stories like "Why Joel Embiid Should Have Made the All-Star Team" popped up after it was announced that he didn't make the cut.
Even Allen Iverson, who once instilled a liveliness into Philly basketball that Embiid can only hope to almost rival, is on board. AI still regularly attends Sixers games, and at a late-January contest he ran into Embiid in the bowels of the Wells Fargo Center.
"I TOLD YOU!" Iverson yelled at Embiid, a big smile on his face, his hands grabbing at the big man's neck. "I told you this was coming! I told people that you were gonna be this!"
"He was here before and got the city going," Embiid says now, "and basketball in this city was really good—so that's my job now. That's what I'm trying to do. Just bring life back to Philly, as far as basketball, and just have fun."
That last part is certainly happening. It's been happening, though—and from the onset has manifested itself on social media. Not long after Joel was drafted in 2014, he began tweeting about his infatuation with Kim Kardashian. Then it was Rihanna. "BREAKING NEWS: Moving on from KK to Rihanna," he proclaimed. He gave the fake couple a hashtag: #Johanna.
Eventually he moved on, though his love for the social media space never dissipated. And his social, uhh, strategy helped his legend grow, even as he was sidelined, because he was able to look criticism straight in the eye and laugh it off. "I see everything, trust me," he says. When a story came out that he wasn't taking his rehab seriously and was instead subsisting on a crappy diet highlighted by full pitchers of Shirley Temples, he posted a pic of himself looking swole with the hashtag #shirleytemple. When the media complained about previous Sixers GM Sam Hinkie's tank-heavy approach—and the "Trust the Process" tagline that was used to validate it—Embiid went ahead and nicknamed himself The Process.
"I learned I have to embrace it all," he says. "With the fans, I'm always having fun with them on social media, and I embrace it all until everything is gone. At one point people are going to really start picking on you and start judging you by what you do on social media, so until it's taken away from me, I'm gonna embrace it and keep having fun.
"I observe a lot," he adds. "When people are talking to me I don't look them in the eye and I act like I'm looking somewhere else or not hearing what they're saying, but every time someone's talking to me, I'm listening to everything. I take everything in and process it in my mind and take the good out of it and keep it in my mind and take the bad out of it and just get it out. I think that's been the biggest thing that's helped me get better—just listening to people and observing."
It's easy to recognize this facet of Joel's personality, that he hears everything, hangs onto the good and flushes out the bad. How else could he get through two entire years planted on the bench, the perpetual butt of Twitter jokes and dreadful talking head commentary?
"What he's done is flip the switch," Hanlen says. "He's the one making the jokes now, and people are laughing with him instead of people giving him trouble and laughing at him. I think it was just more of a mental shift of, 'Hey listen, this is all fun and games, and I'm extremely blessed to be in the position I'm in, and I'm gonna have fun with it.' He's very smart. Some people think he's just being a clown, but he knows what's gonna get a little rise from the media."
Which is impressive, since at times the route Embiid has taken from young draftee to NBA starter was far from fun. The first surgery took place on a broken bone in his right foot immediately before the 2014 draft—Hinkie, thinking long term as always, selected him No. 3 anyway—and after an entire season in recovery, the hope was he'd return to the court in 2015-16. But in August of '15 he underwent a second surgery on the same foot, and it was announced he'd miss one more full season while working his way back. "I went through a rough time," he says. "One thing I learned was patience."
Up until that point, Joel's life moved crazy fast. He came to the United States from Cameroon to play high school ball at the age of 16, spending a year at Montverde Academy in Montverde, FL—where he was stuck on the JV squad—and then a year at The Rock School in Gainesville, FL—where he broke out. He had barely picked up a basketball before the age of 15, when he was discovered by current NBAer Luc Mbah a Moute, so his skills were raw (at best), but his potential was through the roof: a true 7-footer who could maneuver in the post—all those years of volleyball and soccer helping him learn the art of footwork and lateral movement—swat shots into the stands, and even shoot from the perimeter. "'Y'all can keep laughing, but in three or four years you're gonna be asking him for money,'" Embiid says his coach at Montverde would tell the other boys on the team after Joel would get kicked out of practice. "That made me want to work."
He showed out during the one season he spent at the University of Kansas—11.2 ppg and 8.1 rpg, with the fact that he still barely had any basketball experience hanging over every remarkable performance—and he likely would've been selected with the top pick in 2014 had the future of his health not appeared so uncertain.
Hinkie and Embiid met at the perfect time. In mid-2014, Embiid was a full year (actually two years, unbeknownst to anyone) away from competing, while Hinkie was a young GM with questionable people skills but a legit on-paper plan: lose, draft projects, lose some more, draft some more projects, hope enough draftees hit that winning inevitably comes along. Soon the NBA and Sixers ownership would get tired of this, forcing Hinkie out in favor of current Sixers GM Bryan Colangelo, but without Hinkie and his blueprint, Embiid likely slips in the lottery and winds up on a different team, perhaps one unwilling to display the patience the Sixers happily signed up for.
(The two still text here and there. "[Hinkie] usually talks about basketball," Embiid says. "If he sees something that I didn't do, he'll text me about it.")
https://youtu.be/AOo3WGKF-no
This past summer, Embiid slowly worked his way back into basketball activities. He walked up to Hanlen at NBA Summer League—he had seen video of him working with his former Kansas teammate Andrew Wiggins—and asked if they could train together. The guys met up the next day in L.A. and have worked together ever since.
"After our first workout, he was obviously really, really tired—he was out of shape, a little bit overweight—but he had picked up everything really quickly, which I was super impressed with," Hanlen says. "He came to me with a ton of tools already there. We just had to polish them and put them in place."
Just a few days after they began hitting the gym together, Sam Limon, Hanlen's video guy, asked Hanlen how good he thought Embiid could be. "If he stays healthy," Hanlen told him, "he can be a Hall of Famer."
Then training camp started, and Embiid's teammates—who in some cases hadn't seen him so much as play in a pickup game—immediately took note of what he was capable of. In a scrimmage during those first few days, he dunked over a teammate with such rim-rattling force that Sixers guard Gerald Henderson still thinks about it.
"I don't know if I've ever seen something so violent," Henderson says. "It scared me. I was on his team—it was a post-up. I won't mention who was guarding him because it's one of my teammates, but it was violent. It shook me up, man. I had never seen something so powerful."
The dunk was a sign of things to come. Embiid exploded out of the gate, validating the rationale behind the hype—if not the hype itself—within the season's first few weeks. There was an 18-point, 10-rebound performance. A 25 and 7. A 22 and 6 (with 4 threes!). A 25 and 10. The Hakeem Olajuwon comparisons he used to get in college started looking more accurate than ever—not a coincidence, considering Embiid has watched tapes of The Dream, someone he's relied on for mentorship, over and over. There were aspects of the game Embiid struggled with—passing out of double teams, for example—but even over the course of those first few months, his ability to improve on a task like reading the defense and finding the soon-to-be open man hinted at a natural ability to pick up things a bit quicker than your average 7-footer.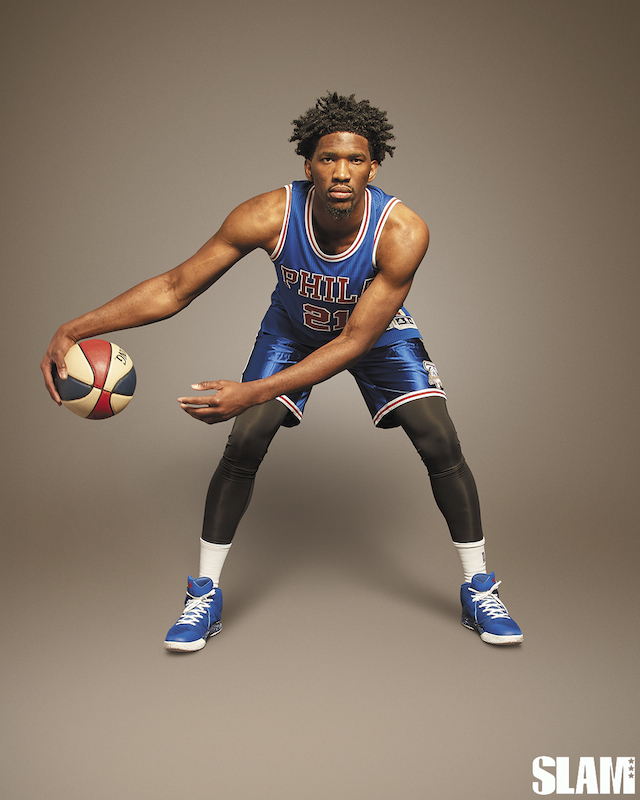 And then it all came to a halt. In January he missed a few games with a left knee contusion; it was later reported that there was actually a "very minor meniscal tear" that had been found. Weeks later the Sixers announced that Embiid's 2016-17 is over.
The stretch in between injury and the shutdown news didn't pass without a little extra controversy. On February 10, Embiid was filmed dancing shirtless at a Meek Mill concert, getting down to Future's "Wicked" in front of thousands of crazed fans pointing iPhones at him. The footage went viral in minutes. The next night, speaking with the media before a game against the Miami Heat, 76ers coach Brett Brown was bombarded with so many questions about Embiid's health status—and what his ability to dance says about that status and his commitment to his own health—that Brown eventually demanded the assembled reporters to ask about absolutely anything else. No doubt an unpleasant moment for Brown, but think about it like this: Not so long ago the questions were about whether Embiid would ever play in an NBA basketball game, and what he was capable of if he did. Suddenly they were about when he'll return, with added emphasis and pressure because it was finally obvious that when he's on the court, the 76ers are a markedly better team than when he is not. An upgrade in line of questioning, to be sure.
(Also worth noting is that if Meek's DJ decided to play literally any other song, none of this ever happens. "Wicked" is Embiid's favorite; Sixers guard Nik Stauskus says "that's the only song he ever plays" in the team locker room.)
The team won't rush Embiid through any of his rehabbing—they weren't doing a ton of winning this season, anyway. But thankfully, the questions that lingered over the past two seasons—Will he ever be physically able to play in an NBA game? Does he have any talent whatsoever? What exactly are we waiting for here?—are now gone.
"With him being able to score the way he can from anywhere, and at the same time affect the defensive end as much as he does and guard multiple guys at the rim like he can, the sky's the limit for him," Henderson says. "He's got the ability to be super, super special."
"I'm not close to where I want to be," Embiid says. "My nickname is The Process, and in my mind it's like, something processing, or something loading. I always see that as 100 percent where you want to be. I think I'm about… maybe 5-10 percent. I have a lot to improve on my game to get where I want to be. Sometimes I'll go on these runs of scoring the ball and playing good defense and I'm like, Here I am!"
And despite tweeting a little less than he used to—"Every time I do it there's a lot of notifications"—he's still very much paying attention. "I love reading articles and bad stuff they say about me," he says. "I read what they're saying bad about me and what I'm not doing on the court, and then the next game going and correcting it, and showing them, yeah, I can do this."
That won't happen anymore this season. Still, the one thing we learned from Joel Embiid this winter is that he's capable, that he has a future in this league. The All-Star bids, the playoff battles, the individual honors—if he can stay healthy, they're coming. Following two years of nonstop questions with unknowable answers, it is now clear that he is correct: He can do this.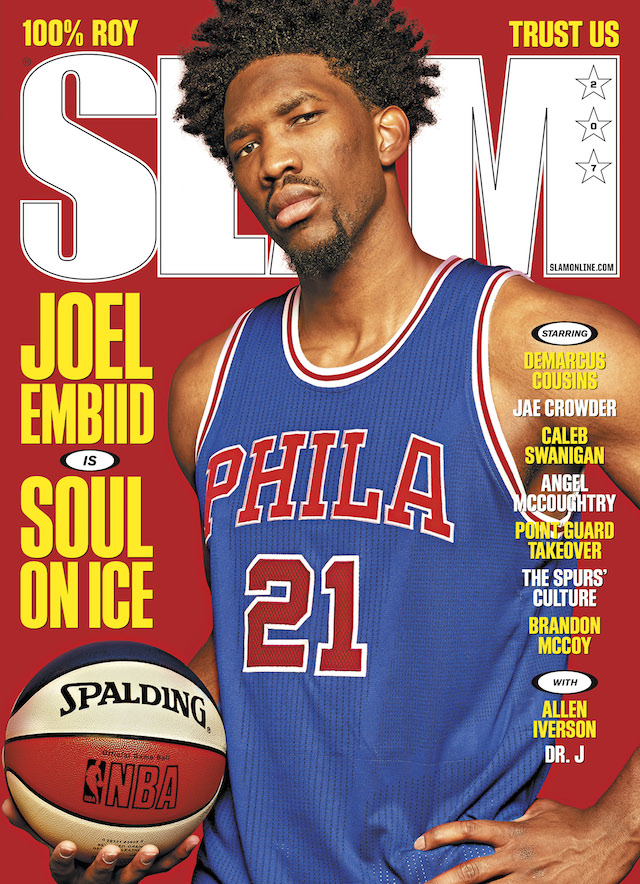 Adam Figman is the Editor-in-Chief of SLAM. Follow him on Twitter @afigman.
Portraits by Paul Aresu; Action shots via Getty Images