Being an NBA player is cool. Like, really cool. The private jets, the free kicks, the clothes, the expensive toys. Being wined and dined as a free agent? Also cool. Signing a big new multi-million dollar deal to play ball next to Anthony Davis in New Orleans? Hard to think of anything cooler, actually.
And yet, none of those things can erase one fundamental truth of life: moving stinks. Because for as great as Julius Randle's summer was, and for excited as he is to start fresh in a new city, there was no escaping this most unenviable chore.
"Moving and packing up stuff sucks," Randle says, laughing into his cell phone.
Today, about a week before his official introduction at Pelicans Media Day, he's back in Los Angeles, grabbing the last of his prized possessions from his previous home before returning to his new one in New Orleans for good, along with his wife and infant son. "Putting stuff in boxes, putting it on the truck and finding the company to ship the cars and your stuff, that's the part that sucks. Other than that, it's exciting for us to have a new journey, a new start and to finally get there. It's just the process of actually moving that sucks."
During a summer full of headline-splashing signings, Randle's move flew under the radar. After spending his first four NBA seasons with the Lakers, the 23-year-old signed a two-year, $18 million deal with a player option to join the Pels (he can choose to become an unrestricted free agent next summer).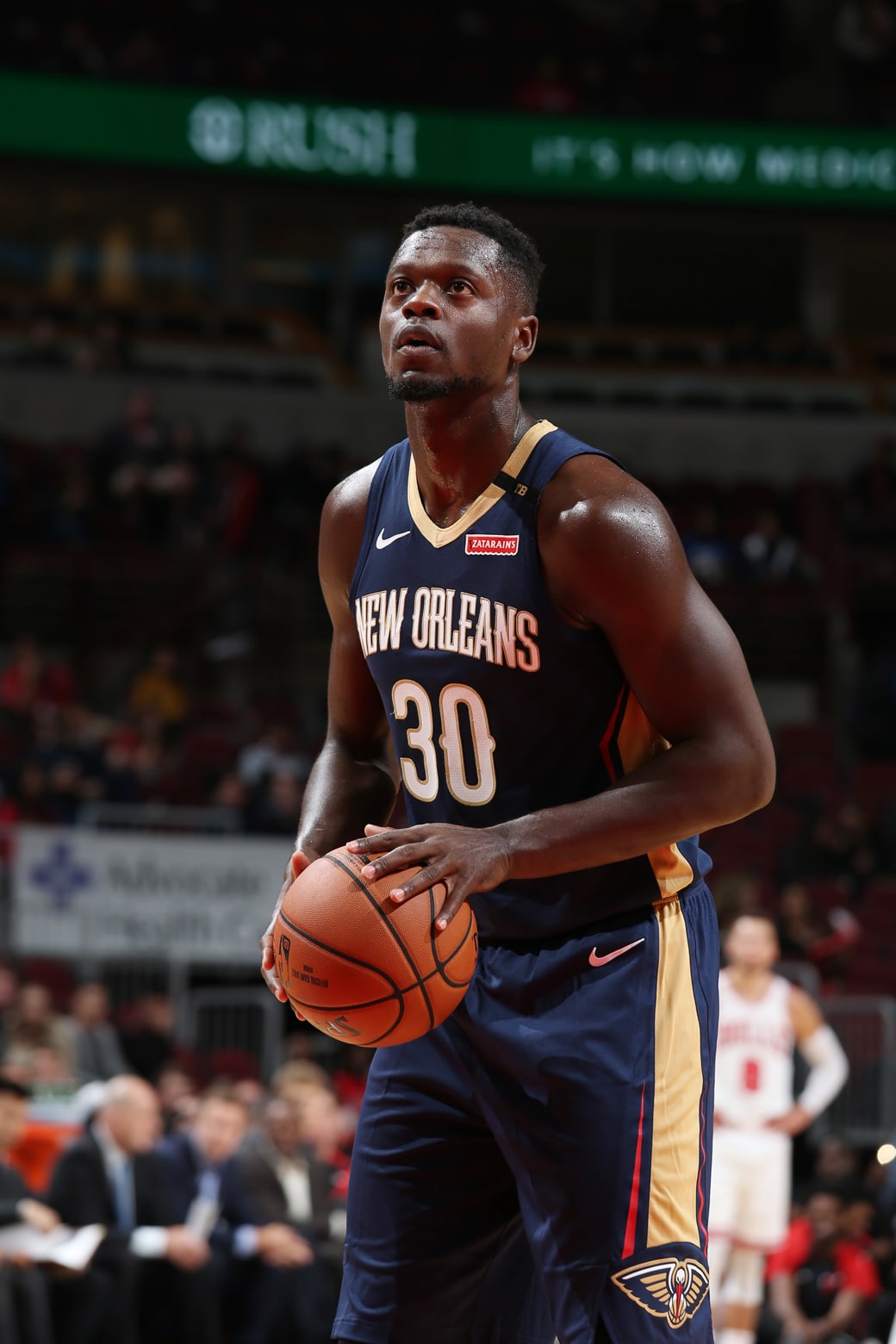 Randle was caught right in the middle of a wild game of NBA musical chairs this offseason. The Lakers renounced his restricted free agent rights one day after LeBron James announced he was heading to Los Angeles, allowing Randle to sign with New Orleans. Rajon Rondo, who ran point for the Pelicans last season, joined LeBron in L.A. Meanwhile, All-Star big man DeMarcus Cousins was leaving New Orleans to ink with the world champion Warriors, despite facing a long road back from injury. Charting player movement this summer—even just between Hollywood and The Big Easy alone—was like that Zach Galifianakis math GIF IRL.
Once the dust settled, though, and the bigger names had landed in new locales, it was clear that Randle was highly (albeit perhaps quietly) sought-after around the League for his unique blend of skills. ESPN's Marc Spears reported last week that at least 25 teams showed interest in Randle before he signed with the Pelicans.
So why did Randle land on New Orleans?
"It was a complete basketball decision," he tells SLAM. "It had nothing to do with anything else. It was about me the basketball player, and where I see myself fitting long-term, to bring the best out of me as a player—and where I can win. They were building something pretty special before I got here. It was a complete basketball decision and that's all I was really focused on."
He's right. When Boogie went down with an Achilles injury in late January, the Pelicans went all-in on running and spacing the floor, finishing the 2017-18 regular season as the NBA's No. 1 team in Pace. After a surprising sweep of Portland in the first round of the 2018 Playoffs, New Orleans lost in five games to the Warriors, but along the way, Golden State shooting guard Klay Thompson called playing against the Pelicans "tiring" and "kind of like playing ourselves." Of course, the Pelicans are not the Warriors. But the up-and-down style is one that Randle feels he can flourish in—and his new head coach agrees.
"We're excited about Julius because he can do some of the things as far as playmaking that DeMarcus could do. I think he can push the basketball," New Orleans head man Alvin Gentry told reporters at Pelicans Media Day. "The pace is not going to be a problem. Obviously [Lakers head coach] Luke [Walton] is kind of from the same school I am, from a pace standpoint and [being recent assistant coaches at] Golden State. We'll give [Randle] an opportunity to continue to play in the open court. I think that was the thing that was most attractive to him."
Indeed, the 6-9, 250-pound forward's full arsenal was on display on Sunday night in Chicago, as he racked up 15 points, five boards, five dimes and a blocked shot in 25 minutes of preseason action against the Bulls. "I think people sleep on his passing," added Pelicans guard Jrue Holiday at Media Day, himself the beneficiary of a nifty Randle assist on Sunday. "I think it'll be big for us. He's an athletic big who likes to run."
For Randle, who averaged a career-high 16.1 points and 8.0 rebounds as the only Laker to play in all 82 games during 2017-18, seeking out a new team was a chance to pinpoint a system that suits his skills.
"Seeing the style of play, how they play fast—I feel like that really just fits my style and how I want to play basketball," says Randle, citing the Pelicans' top-3 finish in team assists last season. "Coach Gentry gives you a lot of freedom, lets you go and play. It says a lot when a coach gives you that kind of freedom but guys still play extremely unselfish and play winning basketball. That said it all to me."
Holiday and Davis are the franchise cornerstones, and with Nikola Mirotic raining threes as a stretch-four, Randle bringing his versatility to both ends, and tons of depth in the form of E'Twaun Moore, Elfrid Payton, Ian Clark, Solomon Hill and others, the Pelicans look primed to ratchet things up a notch this season, determined to make themselves known as serious contenders in the West.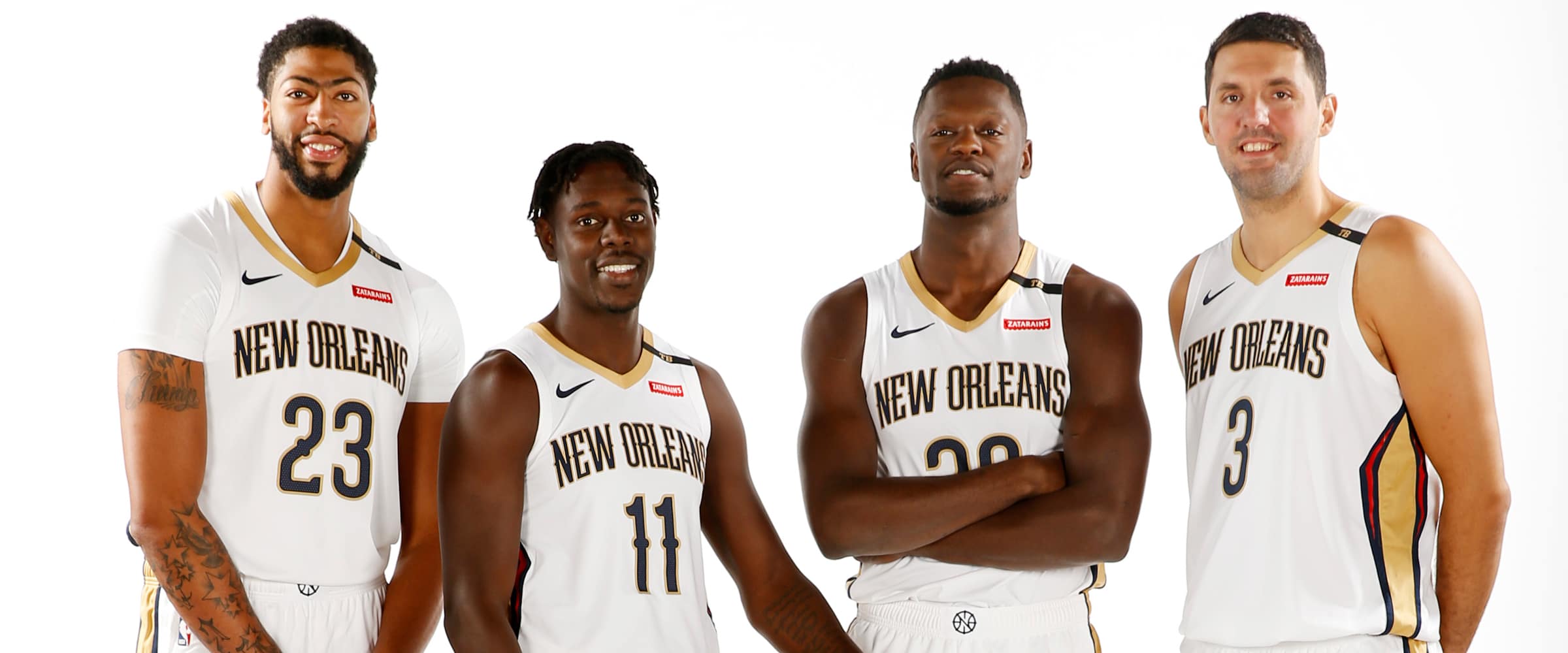 X's and O's aside, there was one other factor that may have swayed Randle during his brief free agency: A phone conversation he had with Davis, a fellow Kentucky alum who he's known for a while now.
"That was the first person I called," says Randle. What exactly was said during that phone call he won't disclose, but Randle categorizes both he and AD as dynamic bigs. "So being able to get up and down the floor, play with speed and pace, and our skillsets, I feel like it'll be a dangerous thing for opposing teams this year."
Davis—one of the most dominant forces in the game right now—is happy to have Randle on board, too. "He's very competitive," Davis said at Media Day. "He doesn't stop, so I'm excited about playing alongside him this year."
For all the excitement about joining the Pelicans, it's admittedly still a little bittersweet for Randle to leave Los Angeles. The Dallas, TX native spent the bulk of the summer there even after signing with New Orleans, flying back and forth for weeks at a time to get his new crib in order. And in doing so, he had time to think about the friendships built on what was a Lakers roster in flux—Randle spent his first two seasons playing alongside Kobe Bryant in his final years, and his last two on a squad treated as a total rebuilding project.
"When you go to war with guys, you establish relationships and bonds, friendships that are beyond basketball," Randle says now of his former Laker teammates.
As for what it'll feel like to return to Staples Center as a visitor, it's clear he hasn't thought that far ahead, because he breaks into laughter when the subject's introduced. "It's going to be fun," is all he can muster after the laughs, sounding as if he genuinely hasn't yet played that moment out in his mind.
It's at once a charming, disarming response, but also sort of an unintentionally ominous one—fitting for a Black Mamba pupil, perhaps. Though what Randle learned most from No. 24 was how to approach his game preparation when no one's watching.  Which is why he has, since the Lakers made him a top-10 draft pick back in 2014, always gone hard in the lab during the offseason.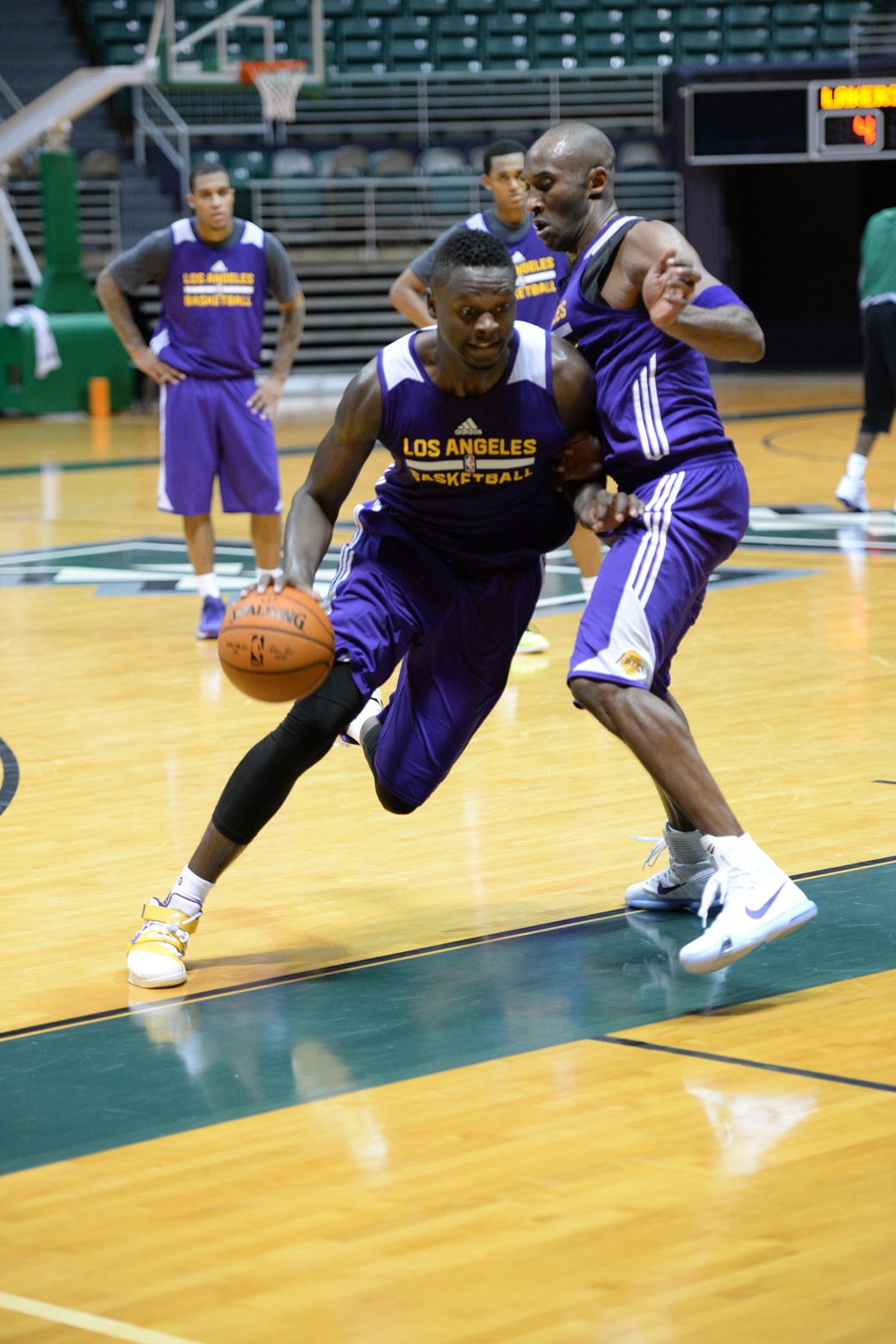 "My summers I always try to make harder than my seasons," Randle explains. "Every year, I work as if I want to be an All-Star—as if I know I'm going to be an All-Star. So coming off the season that I had with L.A., I feel like I'm really establishing myself, my game and my confidence. I'm excited to get this thing rolling, man."
Randle wants to make one of the NBA's All-Defensive Teams in 2018-19 and be up for Most Improved Player—an award he says he's always wanted to win. For a guy who doesn't turn 24 years old until November, coming off his best season to date with a little new money and a lot of new motivation, accomplishing those goals feels well within reach.
As for what new elements of his game we might see this year to get him there, Randle quips, "I can't give you all the secrets." Then he laughs. He mentions Gentry and emphasizes the word "freedom" again. He pauses. And then simply says, "You'll see when the season comes."
—
Abe Schwadron is the Managing Editor at numberFire and a former Senior Editor at SLAM. Follow him on Twitter @abe_squad.
Photos via Getty Images.
2,472