The son of a huge police officer, 22-year-old Jusuf Nurkic was born with the genes to play pro basketball, but his journey from Bosnia to the NBA was as quick as it was curious.
On February 13, Nurkic was traded from the Denver Nuggets to the Portland Trail Blazers. And, in 15 games with the Blazers, the third-year big man is posting 14.2 points and 9.9 rebounds per game. On March 9, he put up a ridiculous 28-point, 20-rebound, 8-assist and 6-block performance in a win over the Sixers.
Nurkic is all of a sudden living up to his "Bosnian Beast" nickname. We caught up with him earlier this season to learn about his path to the League.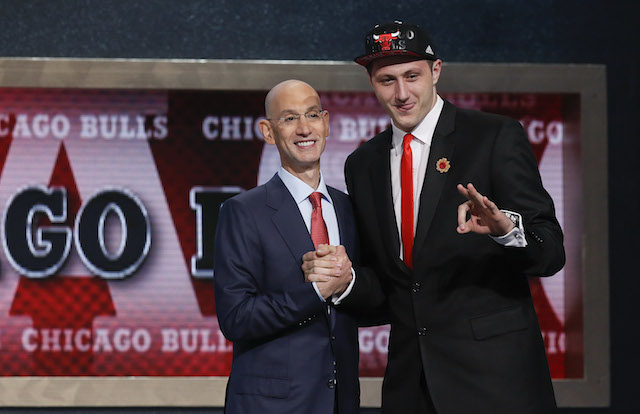 SLAM: How did you get introduced to basketball?
Jusuf Nurkic: My father is a 7-foot tall, 400-pound police officer in Bosnia—don't mess with him [laughs]. He tried to play basketball but they couldn't find shoes for him. He's a size 22. My agent saw him and went up to ask him if he had any kids and my dad said, 'Yeah, I have one and he's giving me trouble because I can't find shoes for him.' From the first day I met my agent, he told me I was going to be an NBA player and I thought, What's wrong with this dude? I haven't even practiced yet [laughs].
SLAM: When did you sign your first professional contract?
JN: I signed my first professional contract in 2009. I was only 14 years old and I had never left my family, not even to go on a sleepover. I went to Slovenia and I cried almost every day for six months. I was going to school and trying to learn a new language and a new culture. It was hard, but it was fun.
SLAM: What was your EuroLeague experience like?
JN: I was practicing five times a day and going to school at the same time. I got hurt in 2011, but when I came back, everything changed. I got a lot of opportunity playing for Zadar in the Adriatic League—I had an unbelievable time there. People love you when you fight and show you want to play hard. Then I went to play for Cedevita in Croatia and played 14-15 minutes a game and averaged like 12 and 7.
SLAM: What was draft night like for you?
JN: Getting drafted was probably the happiest moment of my life. It was my first time in the USA and in New York, and my whole world changed overnight. When I saw my name and my country's flag on the big screen, it made me proud for my people and myself.
SLAM: Was it hard to learn a new language and adjust to American culture?
JN: In America it's easier to learn a new language—no one makes fun of you, people try to help you. In my country, if you say something wrong, everyone makes fun of you [laughs]. When you come into a new system, new culture and new people, everything is new for you. Especially when you're young and have never been that far from home. It was a tough learning process, but I'm getting used to it.
SLAM: Is trash talk different in the NBA compared to the leagues in Europe?
JN: Overseas, if I said something wrong they could use it against me even if I didn't mean it. I had to be careful with what I said. They may have taken it the wrong way and I didn't want to get myself in that type of situation. In the NBA, Kevin Garnett is one guy I didn't want to mess with. I didn't get a chance to trash talk with him, but I heard him talk to my teammates and I liked it—I was laughing.
SLAM: Were there any NBA players you looked up to?
JN: Just one: Kobe Bryant. My first game in the NBA was against the Lakers in San Diego and when Kobe came out for warmups, I stopped and went to the bench and watched him. I couldn't believe I was playing against him. When Coach called my name, I couldn't even pay attention, all I could think about was Kobe. I'll remember that night for the rest of my life. He gave me a signed jersey and shoes before he retired.
SLAM: How do you keep in touch with friends and family in Bosnia?
JN: We use FaceTime and Skype, but it's hard to communicate because I am always traveling and there is a big difference in time zones. I try and do whatever I can to make my home in [the US] feel like home in Bosnia, but you miss your family and friends. You grow up with people and try and stay in touch, but it's hard. People back home will get up at 3 o'clock in the morning to watch me play. It will be fun to have an NBA event in Bosnia one day. We're working on that.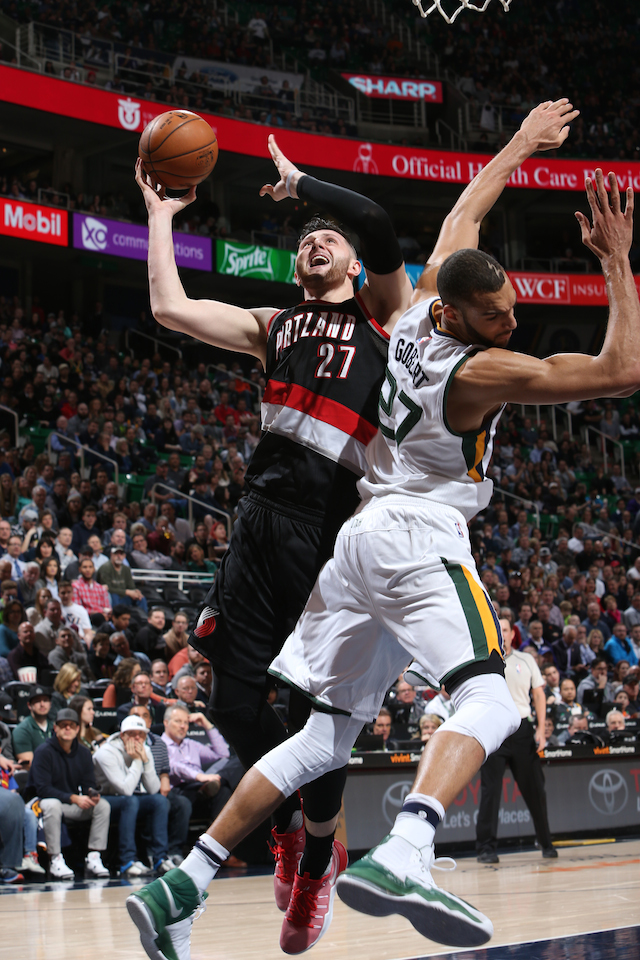 Peter Walsh is an Associate Editor at SLAM. Follow him on Twitter @Peter_M_Walsh.
Photos: Panagiotis Moschandreou/EB via Getty Images, Melissa Majchrzak/NBAE via Getty Images, AP Photo/Kathy Willens