While most 20-year-olds are waking up late on a Sunday morning after a long night of partying, Minnesota Timberwolves rookie center Karl-Anthony Towns has already gone through practice and is now kicking back watching the Seattle Seahawks beat up on the Minnesota Vikings. His early December Saturday night didn't consist of passing around a cheap bottle of whiskey and chasing girls; instead, he dominated the Portland Trail Blazers big men to the tune of 27 points and 12 rebounds in a loss. Come Monday, he won't be cramming for finals in a too-tiny library chair; he'll be going up against the Clippers' star-studded frontcourt of DeAndre Jordan and Blake Griffin.
Such is life for the 7-foot, 244-pound man-child who has helped transform the Timberwolves from a perennially tanking team to one of the most fun squads in the NBA.
A sure-fire prospect coming out of Kentucky, Towns was drafted No. 1 overall and joined a Wolves team pieced together by the late Flip Saunders that featured a mix of potential superstars—like fellow No. 1 pick Andrew Wiggins—and veteran mentors like Kevin Garnett, Andre Miller and Tayshaun Prince. The combination was a risky endeavor since it meant established veterans would be losing minutes to unproven rooks and second-year players. But Saunders' vision and the vets' acceptance of their roles has jumpstarted Minnesota's rebuilding efforts. Instead of pouting on the bench or causing a stir in the media for playing short minutes, KG, Prince and Miller have embraced their roles and are often seen on the bench coaching up the young'uns in timeout huddles and cheering them on during crunch time.
Garnett, who has been in the League as long as Towns has been alive, has taken the franchise's new centerpiece under his wing and is teaching him what it takes to last two decades in the League. "You have to strive to be great every day, that's what KG always tells me," says Towns. "I'm always trying to be not as good as KG, but better. That's how all of us are—we're competitors. We want to be the best we can possibly be and we're working as hard as [Garnett] and I'm constantly asking him questions and looking for tips to improve my game.
"When you have one of the greatest teammates in history like Kevin Garnett, it's very easy to learn a lot. You're talking about having a living legend on the bench telling you exactly what you need to do to win the game. We've been blessed to have one of the greatest players to have ever played the game on the bench."
Just months removed from his teenage years, Towns is already setting goals for himself, including one to be mentioned in the same breath as KG in Timberwolves lore. But those goals are not unrealistic. As a rookie, KG averaged 10.4 points, 6.3 boards and 1.6 blocks. As of this writing, Towns is averaging 14.9 points, 9.2 boards and 2.2 blocks. While KG relied on his power and athleticism in his early years before developing a sweet mid-range game, KAT is already a perfect fit for the quickly evolving pro game.
At Kentucky, the Piscataway, NJ, native was typically confined to the paint, but as a pro he has flashed a silky smooth jumper that extends to three-point range to go along with his bruising post presence. The rookie is ushering in a new wave of stretch 5s and could become one of the most valuable and highest paid players as the emphasis on three-point shooting and shot blocking becomes greater and greater.
Of course, Towns doesn't have it all figured out quite yet and when KG teaches, KAT listens intently and learns. "The dope thing about him is that when I do teach him something, he's able to apply it right away and he gets what I'm teaching," Garnett told NBA.com. "It's kind of refreshing to be honest, because sometimes you have to go slow, you have to show it three or four times with guys, which is fine because you have to be patient. But he gets it right away and he is able to apply it."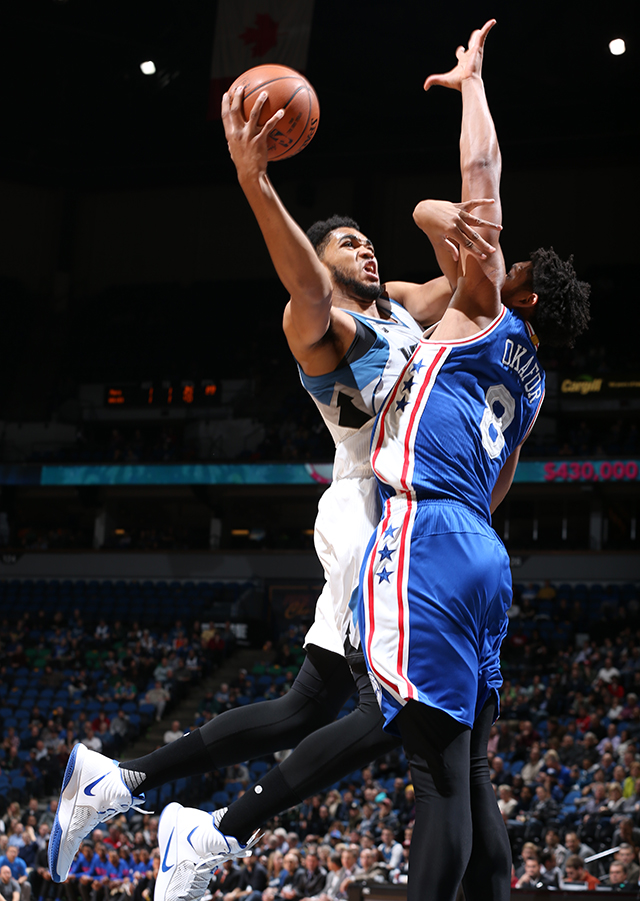 Towns was expected to come in and make an immediate impact, but even his biggest fans have to be shocked at how quickly he has adapted and straight up dominated so early. According to NBA.com, Towns is the first teenager in the League's history to amass a double-double in his first two games, joining Shaq as the only other player to average 17.7 points, 10.3 rebounds and 2.7 blocks in their first three games. The early dominance has continued through the quarter mark of the season. Against the Hornets on November 10, he had 19 points, 13 rebounds and 3 blocks. Against the Magic a week later, Towns put together a 21-point, 12-rebound, 6-block performance. And against the Lakers on December 9, the rookie amassed 26 points, 14 boards and 3 blocks.
While the numbers are already staggering, the fact of the matter is Towns has been groomed for the rigors and competition of pro ball since the age of 16 when he joined the Dominican Republic National Team. In 2012, under the tutelage of former DR head coach and current Kentucky boss John Calipari, Towns played sparingly in the FIBA World Olympic Qualifying Tournament. At a time when most kids were practicing for their driver's license test, Towns was traveling to Caracas, Venezuela, to play against pro ballers from Russia, Lithuania and Nigeria while learning from NBA All-Star and Dominican National Team player Al Horford.
"Playing with Al during the Dominican Team taught me a lot," says Towns. "His ability to be so intelligent on the court and also help his teammates out allowed me to develop as a player intellectually rather than physically. Him teaching me little things about positioning and angles allowed me to score the ball at an easier rate with a lot less energy. Al taught me a lot that allowed me to play at a high level right away. We still keep in touch. He tells me to keep playing hard and keep developing my game—keep making everyone proud."
Horford's influence on Towns has become increasingly apparent as the season has progressed. The T-Wolves big man is well on his way to becoming one of the premier stretch big men in the League, a distinction the three-time All-Star Horford already owns. "When we played the Timberwolves, one of our players said, 'Man, he's Al Horford,'" Hawks Assistant Coach and Dominican Republic Head Coach Kenny Atkinson told SiriusXM NBA Radio's "The Starting Lineup." "The way Towns plays the game, it's like he's been in the League for 10 years. It was really the first time I got to watch him and I was impressed. His composure, demeanor and basketball IQ are very similar to Al's."
Despite being praised League-wide for his maturity and play, Towns may be his own biggest critic. When he makes a mistake on the court and gets pulled by coach Sam Mitchell, Towns looks legitimately distraught on the bench. When he fails to make a defensive rotation or call out a screen, reports say that Towns gets so upset with himself he is visibly disappointed in the locker room long after the final buzzer.
The morning after games, he's at the practice facility by 9 a.m.—even if the team has the day off. It's the type of attitude that is rare in young players and one that has helped Towns live up to and exceed expectations already. "Living up to expectations is something I have to do," he says. "My goal is to never meet expectations, but to pass them. I understand that Coach Saunders took a huge risk drafting me No. 1 overall and I just want to do everything I can to make his pick one of the best."
Before his tragic passing from cancer right before the start of the 2015-16 season, Saunders put the Timberwolves in position to succeed for years to come with a core of young, potential All-Stars being mentored by a group of veterans who had been through it all. The plan started in the summer of 2014 with the drafting of guard Zach LaVine and the trade that sent Kevin Love to the Cavaliers in exchange for Andrew Wiggins. The plan then picked up steam when Saunders flipped Thad Young for Kevin Garnett and hit its peak when the Wolves were awarded the No. 1 pick at the 2015 Lottery.
Around the NBA, other franchises are taking their own roads to rebuilding. As the 76ers continue their insulting process (though the hiring of Jerry Colangelo will certainly change the way business is done in Philly) and Byron Scott borders on ineptitude in Los Angeles, the T-Wolves have shown the rest of the League the correct way to turn around a franchise. It's a true shame that Coach Saunders can't see his vision through.
In its 27-year history, the Timberwolves franchise has only made the Playoffs eight times and only advanced past the first round once. Outside of Garnett, the team has a history of disgruntled stars (Stephon Marbury and Kevin Love come to mind) plotting to get out of town. And, of course, the Wolves will forever be haunted by the fact that former GM David Kahn passed up drafting Stephen Curry in favor of Jonny Flynn and Ricky Rubio in 2009.
But the Wolves are now trending up. Between Towns, Wiggins and LaVine, the team has a young core that other tanking teams can only dream of. Blessed with otherworldly skill, the trio is determined to accomplish the ultimate goal set forth by Saunders.
"We talk about winning Championships," says Towns. "That's our goal—to bring this great city, these great fans and this great organization a Championship. That's what we're working toward every day."
—
Peter Walsh is an Editorial Assistant at SLAM. Follow him on Twitter @Peter_M_Walsh.
images via Getty