The visitor's locker room at Staples Center is a hive of inactivity. It is nearly motionless and pin-drop quiet. Eight Spurs sit silently at their lockers and scarcely interact with one another. A muted TV is in the middle of the floor playing the previous night's Clippers game. Manu Ginobili stretches on the floor watching the TV intently. Tim Duncan stares directly at the floor as if the carpet holds some key to life. Boris Diaw leans back in his locker with his eyes closed. No one speaks.
There is a palpable been-there, done-that, no-nonsense approach to these Spurs. A tiny little window into who they are. It's as impressive as their ball movement or commitment to selflessness or mind-numbing longevity.
In the center of this safe place sits 23-year-old Kawhi Leonard, the Spurs do-everything, franchise cornerstone-in-waiting. For him there is no sweeter sound than the silence that envelops him.
Leonard gravitates to the absence of sound. If he doesn't have to speak, he usually won't. And when he does it's only when he's asked a question. He likes to sleep on team flights and isn't overly interested in music or nightlife. Ask him about his favorite anything and get used to long pauses. Teammates tease him about his monkish behavior, which more often than not draws a sheepish grin. But the flip side of that lack of flair is a singular focus that's made him one of the League's most intriguing young players.
"All he does is think about basketball," says Tony Parker. "Nothing else seems to interest him."
Last season the 6-7 fourth-year small forward broke out in the loudest of ways as his career trajectory underwent a seismic upward shift when he averaged 15.1 points, 7.1 rebounds and 1.6 steals while becoming the second youngest player to win Finals MVP as the Spurs captured their fifth title. Though the Spurs declined to grant him a long-term extension on October 31 (for legit cap reasons), it is widely assumed the franchise will revolve around Leonard for years to come. Besides, Spurs head coach Gregg Popovich recently proclaimed Leonard "The Big One," hinting that it was time for San Antonio's decorated vets to pass the torch.
"I think he can be an MVP candidate," says Duncan. "The sky is the limit for him and if he continues on that path I don't see any doubt why he couldn't be."
A large gray door near the locker room exit with the words 'Team Chapel' on it swings open. The quietude of the room is finally broken when Pop emerges and asks for time. They are the first words spoken in the Spurs locker room in nearly 11 minutes.
This is just a snapshot of the highly organized, hyper-efficient world that has been Leonard's Fortress of Solitude.
It is the perfect place for the sullen wunderkind to evolve and grow into the face of this storied franchise. Even if he never says much.
But Leonard has always been shy and withdrawn. Growing up the only thing he did less than talk was show emotion, but one day during the spring of his senior year in high school all that changed. It would play no small part in shaping the man he has become.
***
Kawhi Leonard collapsed to the floor sobbing. His Riverside (CA) Martin Luther King team had just beat Compton (CA) Dominguez at Pauley Pavilion on the campus of UCLA. In the concrete hallway Leonard's mother rushed to comfort her son. He had nothing left save for exasperation and heartache. The stunning victory had little to do with his uncharacteristic outpouring.
Less than 24 hours earlier, his father had been murdered.
Forty-three-year-old Mark Leonard owned a popular hand car wash in Compton and on countless summer days he would bring his young son along to work to impress upon him the importance of an honest day's work. Kawhi would hand wash and detail dozens of cars a day. As his long fingers wilted from the soapy water he saw how customers respected his father and the good will he built up in the neighborhood.
"I'd be there for 10 hours on some days," he said. "Just all day washing cars and being with my dad and getting closer."
The father helped the boy develop his game in both football and basketball. They would lift weights, play catch, do sprints and run hills near his mother Kim Robertson's home in Riverside. He attended nearly all of his son's games.
But on January 18, 2008, during Leonard's senior year, the elder Leonard was closing up the car wash near the intersection of Arbutus and Wilmington for the night when several men approached him. After an argument one pointed a gun directly at him. Nearly 30 shots rang out. Ten hit Mark, killing him instantly. Kawhi's sister called with the news as he was heading home after a game. He had spoken to his father just hours before. The next night, the crestfallen Leonard decided to play.
"Basketball is my life, and I wanted to go out there and take my mind off it," Leonard told the Los Angeles Times later that year. "It was real sad. My father was supposed to be at the game."
In the months after, Leonard began to come to terms with the tragedy, harboring no ill will for the person who took his father's life. He guided King to a 30-3 record averaging 22.6 points, 13.1 rebounds, 3.9 assists and 3 blocks a game on the way to being named California's Mr. Basketball.
After receiving offers from UCLA, USC and Michigan, Leonard chose San Diego State, thinking he would have a better opportunity to play. He led the Aztecs in scoring and rebounding in his freshman year, earning a rep as a flypaper defender with a high basketball IQ and a relentless motor.
During his sophomore campaign, behind a team-leading 15.5 points and 10.6 rebounds, Leonard drove San Diego State to the Sweet Sixteen before losing to eventual champion Connecticut. Soon NBA general managers were buzzing over the rather unheralded prospect with long arms and a quiet demeanor. When Leonard began hearing a flood of reports that he was a first-round lock he declared himself eligible for the Draft.
Once in San Antonio, Leonard settled into life with the Spurs rather easily after the team made him the 15th pick in the 2011 Draft. From the start, Popovich's plan to bring him along slowly suited Leonard well. There was an invaluable support system in place that covered Leonard's needs from basketball instruction (assistants Chip Engelland and Chad Forcier were available on off days) to mentorship (Duncan asked for the role).
In his first three seasons Leonard was the beneficiary of hyper-defensive focus on Parker and Ginobili. He'd wait on the wings for Parker's kick outs and gladly accept Duncan's sweet drop offs when he cut to the rim. But Leonard earned his keep primarily on the defensive side of the ball. Pop routinely assigned him to guard the opposing team's best player.
The Hall of Fame coach was most impressed by Leonard's shrewd understanding of defensive nuance. "He knows tendencies of his opponents," Popovich says. "He doesn't bail guys out who take bad shots, is always in the right position and uses his length really well defensively."
Much has been made of Kawhi's enormous hands, which were a crazy 19 percent wider than the typical prospect at the pre-Draft combine. But those mitts would be far less useful if it wasn't for his exceptional reflexes, length and anticipation.
In the closing moments of the Spurs' November 10 victory against the Clippers, appearing to be more than an arm's length away from ballhandling wizard Jamal Crawford, Leonard reached out and simply snatched the ball from the bewildered guard like a frog snatching a fly out of the air.
"We want him to be a Bruce Bowen-type player," Pop continues, "but obviously he'll surpass what Bruce was able to do for us."
Five nights later against the Lakers, Jeremy Lin attempted to bring the ball up the floor on the right wing. Leonard approached him just above the three-point elbow and plucked him clean racing the other way for the uncontested dunk. On the following possession, Lin again brought the ball up and Leonard stripped him in the same exact spot.
"When young kids like him do well usually the defense is overlooked," Popovich adds. "But he's as good defensively as he is offensively. That's what makes me believe he's going to be a special player as he proceeds."
During the 2014 Finals, Leonard blossomed in nearly every phase of the game. He harassed Dwyane Wade into sloppy, turnover-ridden performances. He blocked Heat bigs' shots from the help side. His 7-foot wingspan nearly erased passing lanes. LeBron James was caught shaking his head at one point when he saw Leonard checking back into a game. Over the last three games of the Finals, he averaged 23.7 ppg, 9.3 rpg and 2 bpg on nearly 69-percent shooting. Kawhi Leonard had arrived.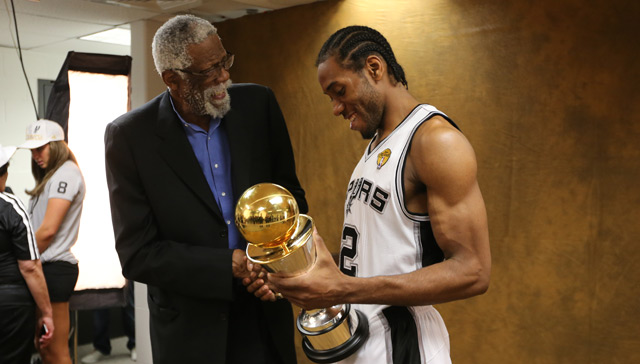 But the stellar play and waterfall of accolades that followed could hardly budge Leonard from the safety of near solitude in which he clings to like a life preserver in a storm. After the Finals Leonard went on a mini-publicity tour, which included appearances on LIVE With Kelly and Michael and a chat with MTV star Rob Dyrdek. The only subject discussed was basketball.
Leonard's one-on-one interviews and public appearances are few and far between. A Spurs media relations staffer warns that Leonard just doesn't care about media attention.
He was one of the last NBA players to join Twitter, the chattiest of all social media platforms, and for a brief moment there was a glimmer of hope that Leonard was coming out of his shell. Well, six months and 11 tweets later, it has only served to reinforce one immutable truth any Spur will be glad to tell you: "Kawhi is Kawhi."
***
After that November game against the Clippers the locker room hummed in stark contrast to the pregame monastery-like hush a few hours earlier. A crush of media surrounded Leonard, wanting to know how he felt about his latest exploits. He had just scored 28 points (adding 10 rebounds and 3 steals) while frustrating the Clippers' starting backcourt into a 7-23 shooting nightmare. Leonard's game-winning steal and intelligent play were heavily buzzed about.
As is his way, Leonard spoke sparingly but earnestly. He was half dressed in jeans, an undershirt and bare feet. His hands were in his pockets and his broad, muscular shoulders were a bit slumped, making him look a tad shorter than his 6-7 frame actually is.
He deflected any praise and credited his teammates for putting him in the right spots. "I just want to play," Leonard said. "I love everything about basketball and I just want to win."
For anyone else it would be cliché. For Leonard the sincerity rang true. It's all he's ever wanted.
It was just Kawhi being Kawhi.
Chris Palmer is a SLAM contributor. Follow him on Twitter @ChrisPalmerNBA.