Late bloomers often look back on early struggles with frustration, sometimes blaming the system itself for their delayed ascension. A coach disliked my game, or I didn't get enough playing time because of my draft position, such players might argue.
For Kent Bazemore, it wasn't that deep. He just wasn't good enough. Not yet.
"It was never anything about not being seen," says Bazemore, standing in front of his locker before an early season game in Philly. "If you're talented, they'll find you. But there were big holes in my game. Obviously, shooting. I was a great defender and great athlete, but I hadn't put it all together."
The journey Bazemore took from that player to a starter and key contributor on this Hawks team, one with legitimate designs on an Eastern Conference title, began with a promise to himself. He sat quietly among family and friends at his uncle's restaurant, Bazemore's Country Kitchen in Kelford, NC, the night of the 2012 NBA Draft. He wasn't surprised when name after name got called, and his phone remained silent, except for the occasional updates relayed by his agent—a Summer League invite here, a training camp invite there. As he put it, "I like to live off evidence, and at that time, there really wasn't any NBA buzz, so I just wanted to continue to work and get better."
He agreed to sign with a team in the Ukraine but didn't really want to go. Instead, as the draft broadcast ended on the restaurant's 28-inch TV and he turned away, he vowed to become a better player, one capable of proving himself if given the opportunity.
A broken foot the summer before his senior year had kept him from getting to work on his shot and limited his athleticism for much of his final college season, as his three-point percentage dropped from 40.8 percent his junior year to just 32.1 percent his senior year. He was an elite defender, but that qualifies as only one half of the three-and-D identity he'd need to stick in the League.
"We had people come from the Magic, the Celtics," Bazemore says. "And they'd just say to keep working on your shooting, on your body. So I knew it would be an outside chance, but it would be up to me to seize the moment. And five years later, here I am."
If it seems unfathomable that the senior at Old Dominion with a bum J is now a critical starter for the Hawks, then the series of serendipitous turns of events that brought him here are borderline impossible.
Happenstance No. 1 came on the night of February 21, 2014. At the time, Bazemore was shuttling between the Golden State Warriors—playing sparingly for the burgeoning superteam—and their D-League affiliate in Santa Cruz. Fourteen separate times, Bazemore was assigned or recalled from Santa Cruz during his two seasons with Golden State. Despite the mental and physical toll all that yo-yoing took on him, he remained steadfast in his routine.
"I worked so hard every day," Bazemore recalls. "The first year-and-a-half, two years, every day: I showed up early, stayed late. Showed up early, stayed late. Worked with Joe Boylan, who's now with Memphis, doing a lot of pick-and-roll, using my athleticism and shooting. So many shots every day. I mean, it was a lot, to the point I'd ice my shoulder, ice my elbow."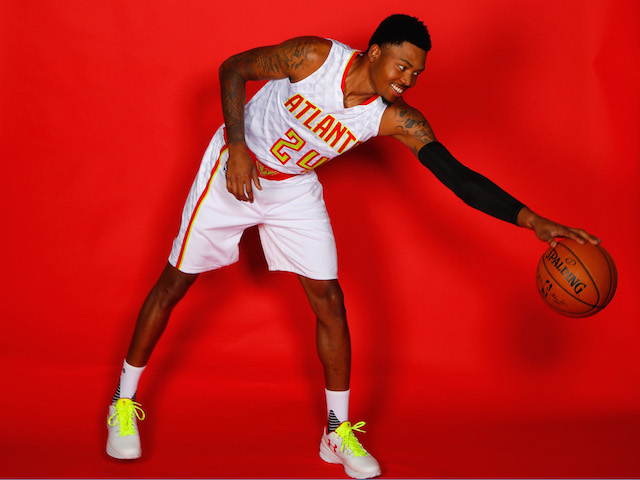 Then came the deal—at the trade deadline, Bazemore and MarShon Brooks were shipped to the Los Angeles Lakers in exchange for Steve Blake. In a trade that hardly registered in the larger NBA consciousness, it was everything for Bazemore—something he realized as soon as he spoke with his new coach, Mike D'Antoni.
"They were having a down year," Bazemore says, "and he said, 'We're going to have a lot of minutes for you.' He had a lot of wing scorers, but not a lot of guys known for their defense. So it was an opportunity for me. I didn't really put a lot of pressure on myself, saying, This is it. But I did know it would be a lot of playing time for me."
His first Lakers game was on national TV: a Lakers-Celtics matchup on ESPN. Bazemore had been in Santa Cruz a little over a week earlier. He'd been averaging 6.1 minutes per game when he was with the Warriors. But that night at the Staples Center, before a national audience—and Jack Nicholson—Bazemore played 33 minutes, the most of his career. He scored 15 points, added 4 assists, 3 rebounds and 2 steals. He played, in other words, a vintage Kent Bazemore game.
In the storied history of Lakers-Celtics games, that one probably won't be remembered by many fans. The Lakers won to improve to 19-37. The Celtics fell to 19-36. Bird-Magic, it was not.
But it launched Bazemore.
"Playing down the stretch of an NBA game and winning it, that's where players make their names," Bazemore says. "Lakers-Celtics, on ESPN. Defending Jeff Green. It was a great night for me. Defended well, made some good passes, made my free throws. I showed some stuff. And it was a testament to everything I did before that. All those days, crawling into bed, crawling out of bed, crawling to the gym, working out. Just wanting to get better."
It paid off for Bazemore in his 23 games—including 15 starts—for the Lakers.
"He's terrific," D'Antoni recalled during a recent visit to Madison Square Garden. "I knew he could play right away. He seized the moment, took it and ran with it."
With L.A., Bazemore averaged 13.1 points per game, shot 37.1 percent from three, locked down opponents on the defensive end, and hit the free agent market as precisely the kind of player the Hawks have been cultivating during the Mike Budenholzer era.
"We knew when we signed Kent, and were able to add him to our program, that he was an elite defender, and an elite competitor," Budenholzer says. "So I think defense and that competitiveness was there from day one. And we felt like he could grow and mature offensively. He's been doing that. The first year was off the bench, the second year as a starter, and the third year, hopefully, he'll continue to grow. He's a great worker, he's got a great heart. He's the type of guy we want to work with."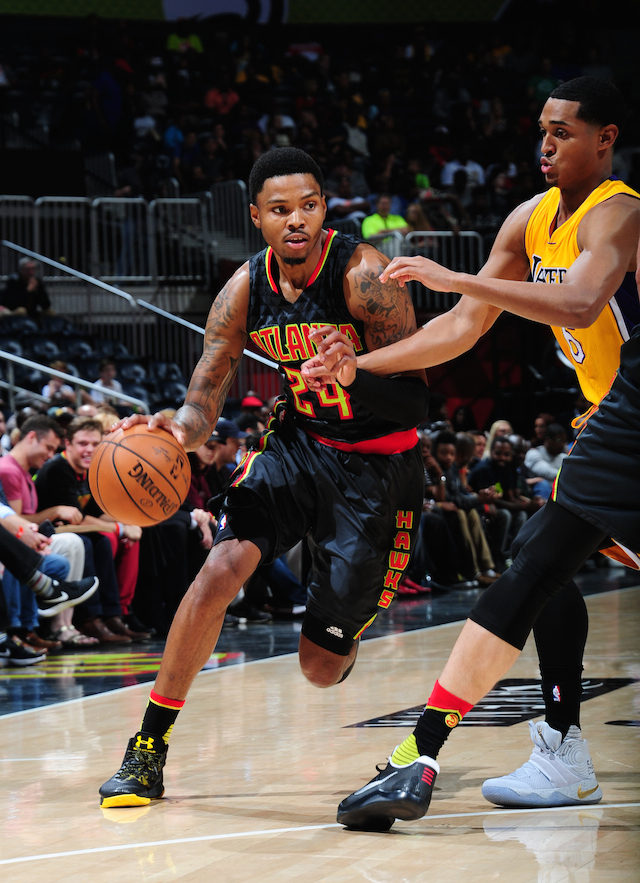 The Hawks gave Bazemore a two-year, $4 million deal in 2014. It was the kind of contract that made sense for both sides. For Atlanta, it limited the risk if Bazemore's Lakers production was a mirage. For Bazemore, it put him squarely into the free agent pool by the summer of 2016, when the salary cap was already expected to balloon, meaning that if he could prove himself, there'd be a huge reward for him.
"Coming here, I still really hadn't cemented myself," Bazemore admits. "Still the question, Can he do it over 82 games? Because it was such a small sample size. So for me, I came to a very loaded team to play defense. I'd play five minutes a night, 20 minutes a night, whatever they needed. But still working on everything."
In his first year with Atlanta, the Hawks won 62 games, and Bazemore contributed in precisely the ways the team needed him. Bazemore played virtually the same number of minutes per game, shot threes at a 36.4 percent clip, and Budenholzer threw him at opposing teams' best wings again and again.
Still, there came another opportunity to prove himself late in the year. Facing the Cavaliers in the Eastern Conference finals, the Hawks lost Kyle Korver to an injury and needed Bazemore to start. Not only did Bazemore hold his own—though the Hawks lost, Bazemore scored in double figures during both games and averaged more than 38 minutes per contest—he impressed the Hawks so much internally that the team let DeMarre Carroll walk in free agency, making Bazemore the starter in Atlanta three years after he watched guys like Thomas Robinson, Fab Melo and Jeffrey Taylor get their names called instead of his on draft night.
As a starter, Bazemore continued to improve last season. His free throw percentage improved dramatically, from a career mark of 60.5 percent entering the year to 81.5 percent in 2015-16, part of the payoff from a reconstructed shooting stroke. His midrange helped nudge his two-point shooting percentage up over 51 percent, while his three-ball held steady at 35.7 percent. He remained a key cog in what was the NBA's second-ranked defense by efficiency.
So when the Hawks went out and drafted Taurean Prince this summer with the No. 12 overall pick, it wasn't to supplant Bazemore. It was to learn from him.
"He never wastes time," Prince says of Baze. "If it's something that isn't going to help him get better, he's probably not going to do it. And you can tell that's what got him to where he is. He just flies around. He doesn't get screened, and the rare times he is, he doesn't let one play affect the next. And that mental part, that's what separates the good from the great."
Greatness no longer feels like an unreachable goal for Bazemore, whose goals for this season include a 50-40-90 season offensively and a spot on the NBA's All-Defensive Team. And with a new contract in tow, he's got all the confidence in the world to go after his goals.
The first day of NBA free agency happens to fall on Bazemore's 27th birthday, July 1. This year, he decided to spend the day by himself, on the golf course, to ameliorate the stress of the unknown. He recalls speaking to his agent, Austin Walton: "I just wanted to stay in Atlanta." That night, the call came. Four years, $70 million. He celebrated by proposing to his girlfriend, and the pair are set to be married next June—late June, just in case his Hawks reach the pinnacle.
Bazemore knows he'll be under a microscope, just like all the free agents who signed this summer and whose deals appear to be inflated. But he's no longer worried about whether he's good enough to realize his basketball dreams.
Through the first 11 games of the 2016-17 season, the Hawks are tied with the Cavaliers for the best record in the East (9-2) and Bazemore is averaging 11.5 points, 3.3 rebounds in 28 minutes per game as a starter, plus career-bests in assists (3.1) and steals (1.6).
"That may not make sense now," Bazemore says of his new money, "but there will come a day where it's, 'This kid earned everything he got.'"
—
Photos via Getty Images
184