Media Day is an odd way to celebrate the start of the NBA season. Instead of partaking in on-court action, players are whisked through a cycle of media responsibilities and peppered with questions that range from bizarre to silly to—on rare occasion—thought-provoking. Since no basketball has been played in months, guys are often asked to weigh in on hot topics in the national conversation—this year, San Francisco 49ers quarterback Colin Kaepernick's peaceful protest during the national anthem is discussed with nearly every player—or how they spent their summers, or what they hope to accomplish over the course of the next six months.
The process itself is jarring. Cameras flash everywhere as players go through a gauntlet of TV interviews, press conferences, photo shoots, radio hits, podcast spots, Snapchats, tweets and flicks for the 'gram. There are strong "first day of school" vibes.
Out in Oakland, the calendar reads late September but it feels like mid-July as the temperature creeps into the mid-'90s. Though players aren't scheduled to show up for another few hours, the Warriors' training facility is already starting to fill up with camera crews, media and team staff members waiting to get a glimpse of two of the game's biggest stars side-by-side as teammates for the first time.
By our estimation, it is the highest-attended Media Day across the League (perhaps in history even), and for good reason. Not since LeBron joined the Heat in the summer of 2010 has a basketball team captivated the country to this degree. The team, which has been cast as the NBA's new villain, will be the League's most covered—maybe the most covered in all of sports—and Warriors PR guru Raymond Ridder is going through an exhausting list of beat reporters and national writers who will be covering the squad on a day-to-day basis.
As you make your way through the very top floor of the Oakland Convention Center, massive photos of Warriors greats like Wilt Chamberlain, Rick Barry, Chris Mullin and Al Attles line the walls. Any minute now, a group of young millionaires, many of whom will join the aforementioned legends on the wall when their respective careers are over, will enter the building.
Once Stephen Curry and Kevin Durant show up and start to pose for portraits, a small hysteria takes over the gym, as everyone tries to get a look at the back-to-back MVP and his new running mate. Despite the crowd that has surrounded them, Curry and KD are at ease, joking and laughing together. Spirits are high, as they should be—the greatest regular-season team of all time just added one of the five best players in the League, and one of the most prolific scorers in NBA history.
Even in person, it's hard to fathom.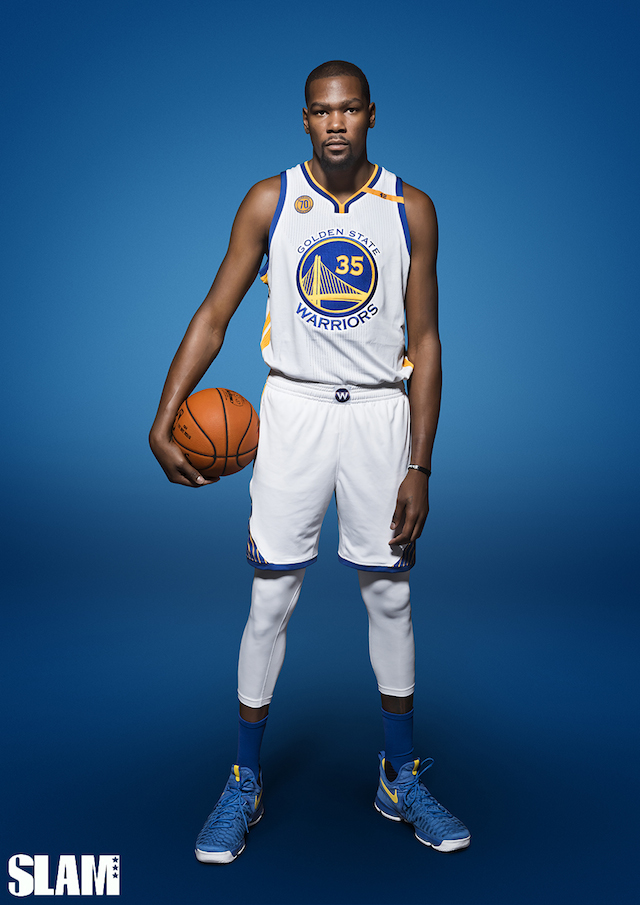 Dark Knight feelin', die and be a hero
Or live long enough to see yourself become a villain
I went from the favorite, to the most hated…
—Jay Z, "So Appalled"
Not that long ago, KD was the the NBA's darling.
While LeBron dominated over the past decade, Durant became the people's champ. A humble kid with unbelievable talent, Durant was a pillar in the Oklahoma City community and wasn't scared to publicly nudge James for leaving Cleveland for Miami while he quietly signed his own extension with the Thunder back in the summer of 2010.
His success and popularity peaked during the 2013-14 season, when he won the MVP award and won fans' hearts with a teary-eyed dedication to his mother during his acceptance speech.
This past season, Durant's future and the Warriors' chase for 73 wins were the biggest storylines in the NBA. Little did anyone know that the two were on a collision course that would shake up the entire landscape of professional basketball.
As the season wore on, a February report from Adrian Wojnarowski of The Vertical suggested Durant was considering leaving OKC and the Warriors had a real shot at getting him. The thought seemed so outlandish that other high-profile media members laughed it off and doubted the legitimacy of the report, even calling it "idiotic." [Never doubt Woj!—Ed.] In most people's eyes, there was no way KD would leave the franchise he was so integral in building, especially with a player like Russell Westbrook as his P.I.C.
In the Western Conference finals, Durant, Westbrook and the Thunder held a 3-1 lead over the Warriors. They were on the cusp of facing LeBron and the Cavs in the Finals. And then, thanks to Klay Thompson's heroics in Game 6 and 36 points from Curry in Game 7, the Thunder were sent packing. It was another disappointing end for Durant, an outcome that was becoming frustratingly routine in OKC.
During his exit presser in June, KD was asked about his future and where he would sign in a few weeks. While he deflected most of the prompts, he did reveal what he was looking for during the decision-making process:
"Most important thing for me is the type of people I'm around every day and if I enjoy playing basketball," he said. "That's what I'll center everything around…Winning a championship is what we all want to do. But at the same time, you want to be around good people, you want to be around a good environment and good coaching. That's what's most important to me."
After the Warriors and Cavs duked it out in an all-time great Finals matchup, Durant dipped to the Hamptons in Long Island for a little R&R and to set up shop for meetings with potential suitors. The visiting teams pulled out all the stops.
The Celtics brought along Tom Brady. The Heat came strapped with master salesman Pat Riley. The Warriors pitched "Strength in Numbers"—with Curry, Thompson, Draymond Green and Andre Iguodala all present for the meeting—and a chance to win championships immediately. It was everything Durant said he was looking for.
On July 4, 2016, the basketball world came to a screeching halt.
"The primary mandate I had for myself in making this decision was to have it based on the potential for my growth as a player—as that has always steered me in the right direction," Durant wrote in The Players' Tribune. "But I am also at a point in my life where it is of equal importance to find an opportunity that encourages my evolution as a man: moving out of my comfort zone to a new city and community which offers the greatest potential for my contribution and personal growth. With this in mind, I have decided that I am going to join the Golden State Warriors."
The immediate backlash against Durant was intense. Popular media figures took shots at him. Former players blasted him. Local Oklahoma City rappers made diss songs. The internet ran wild with memes and jokes. When a Thunder "fan" used a Durant jersey as a target for his assault rifle, the backlash went to a dark, scary place.
In the dog days of the offseason, old heads like Charles Barkley and Reggie Miller took verbal shots at Durant for heading West. But for better or worse, NBA legacies are defined by rings. It's the reason Robert Horry is considered a potential Hall of Famer and not remembered for being a mostly marginal role player who bounced around the League. It's the reason Kobe spent the last 20 years obsessively chasing Michael's six rings. It's the reason why Curry, Green, Thompson, Iguodala and the Warriors' brass traveled across the country to meet with Durant.
Durant's decision wasn't about money, MVP awards, sneaker deals or publicity. It was about putting himself in the best position to win a ring (or rings, plural) and enjoy himself along the journey.
As the vitriol hit its peak, Durant found solace in Rio De Janeiro, of all places, as Team USA made the trip for the Olympics. Not only did we see KD loosen up and smile as he cheered on his fellow Olympians at their respective events, basketball fans got a glimpse of how dominant a player like Durant can be on a team surrounded by star players. The entire experience was therapeutic for KD.
"I think it was a blessing in disguise for him just to be away," says basketball lifer and the architect of Team USA, Jerry Colangelo. "I think there would have been a great deal more attention had he been in the States. I think that was a little bit of refuge for him. He was very happy, he was very excited and he was happy to get away.
"When I met him for the first time, he was a freshman at the University of Texas. I was at the Final Four in Atlanta and getting out of a car in front of the hotel and Kevin was walking up to the front of the hotel with a couple buddies," continues Colangelo. "We stopped them and I introduced myself and he knew who I was and he had this wide-eyed look on his face. I said, Kevin, I don't know what your plan is for staying in school or going to the Draft, but it doesn't matter to me, I want to invite you to our USA Olympic camp. And he was excited. He said, 'You can count on me! I'll be there.' And that was my first introduction to Kevin Durant."
Durant certainly isn't that wide-eyed kid anymore. He's developed a bit of an edge over his time in the NBA. At Media Day, though, it's obvious that being around a new team has him feeling refreshed and energized.
"It's becoming more and more realistic with each day that goes by," says Durant. "Now that I'm here at Media Day with my jersey on and with all my teammates, it's real. I'm excited, man. It was a fun, fun summer—a different summer than I ever experienced, and for the most part it was good to go through. I'm ready to go, I'm ready to play and I've been anxious to play."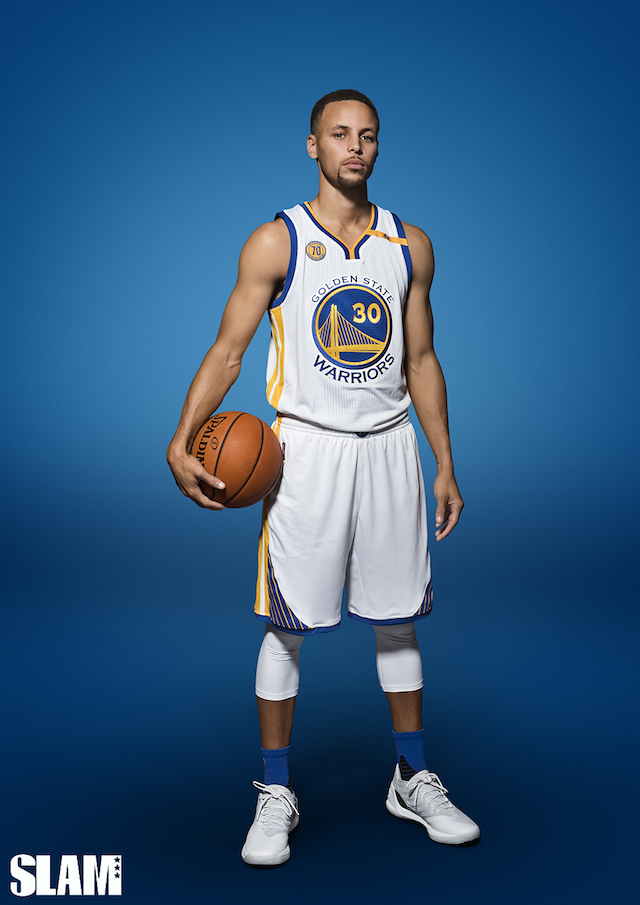 I don't know what the fuss is,
my career is illustrious
My rep is impeccable,
I'm not to be fucked with.
—Jay Z, "Success"
Curry, a 6-3 baby-faced assassin, overcame worrisome ankle injuries that plagued him early in his career and proceeded to take the NBA by storm with unreal handles, unlimited range and a playground-type game so refined that on some nights, Warriors games looked more like NBA 2K than real life. His stature and story from an under-recruited prospect to two-time MVP resonated with kids who aren't 6-10 superhumans, and made him beloved in gyms and living rooms across the globe.
In 2014-15, he went toe-to-toe with LeBron and won, becoming a global icon in the process and flipping the NBA on its head with never-before-seen three-point barrages.
Leading up to the 2015-16 season, most assumed that Curry had peaked.
Nah, son. In the very first game last season, he dropped 40. Four days later, he put up 53. He followed that up by smashing the single-season record for three-pointers, leading the Dubs to a regular-season record 73 wins and becoming the first unanimous MVP in League history. Not a bad encore.
In the 2016 Playoffs, everything fell apart. Hampered by injuries, Curry wasn't himself. And while he displayed some flashes of brilliance, he limped to the Finals for a rematch with LeBron and the Cavs.
As exhilarating as it was to bounce back from a 3-1 deficit in the conference finals, blowing a 3-1 lead in the Finals will haunt Curry and the Warriors forever. Golden State learned first-hand how slim the margin is between immortality and failure, and it's not a fleeting feeling.
"The truth is, that's a pain you're never gonna forget for the rest of your life," says Green. "Whether you use it for motivation or not, I mean, in this organization we want to win, so we don't need any other motivation."
In the Playoffs, Curry and the Warriors' popularity dissipated. Once praised for his hard work and hustle, Green was now being dismissed as a dirty player for his below-the-belt shots that resulted in a one-game suspension during the Finals. Curry, arguably one of the most beloved players in League history, wasn't spared, either. The two-time MVP was criticized for his shaky defense and his celebrations after hitting big shots.
"It didn't bother me much at all," says Curry. "You talk about how the Finals ended, it obviously didn't go our way, it didn't go my way. What are you going to do about it? What's next? That's how I feel about it. I never got too wrapped up in the praise, either. It's obviously a much better feeling but I don't feed off that. It doesn't change the way I play, it doesn't change who I am. The criticism, you hear it, you have a human emotional reaction to it and you move on. It doesn't really bother me or affect my daily life, or how I play the game."
Curry, who looked to be noticeably bulked up at Media Day, has a lot to prove after the way the Finals went. What's scary for the rest of the League is last season may have been a warmup. With Durant in tow and Klay and Draymond now reaching superstar status, Curry will see more one-on-one defense than he did all of last season, making his potential stats absolutely mind blowing.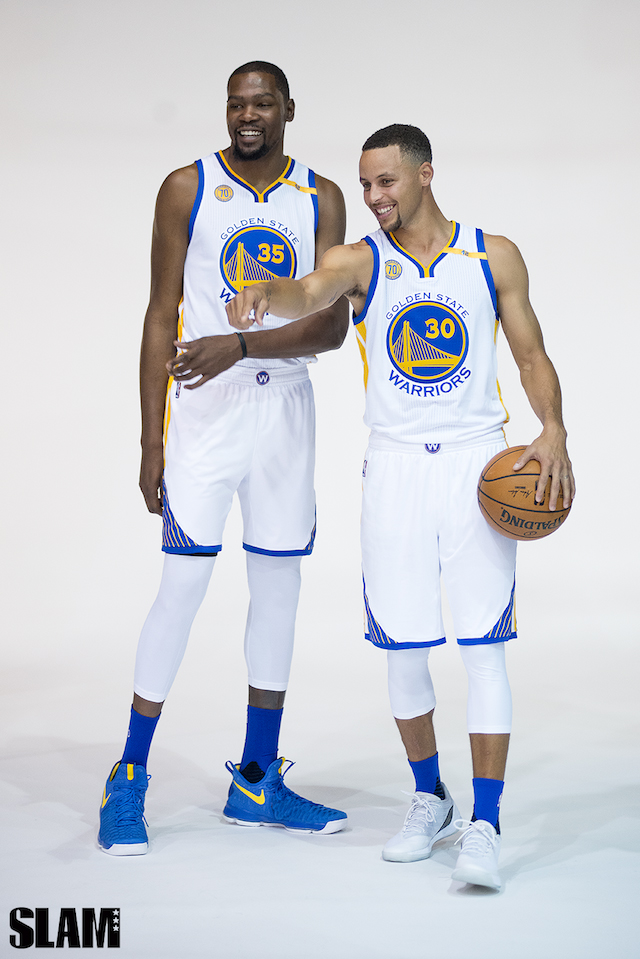 First they love me,
then they hate me,
then they love me again.
— Jay Z, "Meet the Parents"
Fair or not, the Warriors are the NBA's new villains. Unfortunately, that's often what comes with greatness. It wasn't until the end of LeBron's run in Miami that fans began to appreciate just how amazing those Heat teams were. From a purely basketball-viewing standpoint, though, the Dubs will be an absolute joy to watch.
On any given night, texts between basketball junkies will be flying. "Oh shit, Steph is going off!" followed by, "Yo, and KD has 40!" Never mind the fact that a hot Klay Thompson can give a team 30-plus in a quarter and Draymond is a walking triple-double.
The team will miss the contributions of fill-in coach Luke Walton (now the Lakers' head coach), Andrew Bogut and Harrison Barnes (both with the Mavs), Festus Ezeli (Blazers) and Leandro Barbosa (Suns), but a player like Kevin Durant makes up for any and all losses.
"There were some holes and weaknesses that we had and we got a monster that fills them all," says Iguodala. "We got a monster on our team now, and it's going to be really fun to see him play. We don't have too many weaknesses with a guy like that."
All eyes will be on the Warriors. And every move they make will be dissected and broken down ad nauseam. Golden State is must-see TV. The Dubs know that with the addition of Durant, their team will be under a microscope the whole season.
"There's no more pressure than there was last year," Curry insists. "Coming off a Championship, trying to defend that, the regular season we had, getting to a Game 7 of the Finals, that was so much fun. That's what you live for, that's what you play for. This year, we're as confident as we were last year, but it will be a different journey. Our expectations are really, really high, as they should be…Every year on [Media Day] you can't fast forward to April, you have to stay in the moment. For us, that's even more important with the changes we made. Take each day as an opportunity to get better."
His media duties fulfilled, Curry grabs a ball and hoists the first and only shot he'll take today before he leaves the court. Swish. The first of hundreds of three-pointers that he'll drain over the next six months while wearing a Warriors jersey. As Steph heads for unseen quarters, Durant makes his final statements: "I'ma be who I am every single day. I'm gonna approach the game the same way I've always approached it. Nothing's changed except my jersey."
—
Peter Walsh is an Associate Editor at SLAM. Follow him on Twitter @Peter_M_Walsh. Portraits Atiba Jefferson.