Robert Parish played 21 years in the NBA for four different teams, but we remember him as a Boston Celtic. Kevin Willis played 21 years for eight different teams, but we remember him as an Atlanta Hawk. Kareem Abdul-Jabbar played 20 years for two different teams, but we remember him as a Los Angeles Laker, where he won five of his six Championships.
The NBA player who is able to withstand the rigors of 20 seasons is a rarity, the aforementioned trio making up three quarters of the four that have been blessed enough to play two decades at basketball's highest level of competition. The fourth's NBA clock is still going, it's just ticking a little faster now.
Kevin Garnett is in the midst of his 20th NBA season, and he's returned to the place he called home for the majority of his career—the place where we remember him most—for his last hurrah. Now, as one of the game's all-time preeminent power forwards, the man they called The Big Ticket during his first Twin City go around, is the lone veteran on a youthful Minnesota team, a young group oozing potential but still needing a few years' development to reach that potential. A season and a half in Brooklyn for the soon to be 39-year-old played out uneventfully, on a team with a myriad of expectations but little to show for it. This past trade deadline, one of the busiest in years, saw Garnett shipped back to where it all began, to Minneapolis. This time though, he's no longer the marquee. Instead, he's the old veteran teacher, set to impart wisdom on the young Wolves—guys like Andrew Wiggins, Ricky Rubio, Zach LaVine and Anthony Bennett—just like Sam Mitchell and Terry Porter did for Garnett when he was a fresh faced teenager in 1995. Now, it's his turn to be the teacher.
When he was drafted in 1995 out of Farragut Academy in Chicago, Kevin Garnett was the watchful student, the unknown, the guy set to embark on a journey few had ever done. Joe Graboski was the first ever NBA player to do it, in the late 1940s. Tony Kappen and Connie Simmons did it earlier, pre-merger in the Basketball Association of America. Reggie Harding was drafted straight out of high school in 1962, but played two years in the minor leagues prior to his first NBA game. Moses Malone ushered in the modern era of high school stars to go straight to the pros. Then Darryl Dawkins did it. Bill Willoughby was next. Shawn Kemp sort of did it (attended college but never played). Willoughby played nine seasons, and averaged marginal numbers. Dawkins played 15 seasons, named his dunks, was one of the original power dunkers, and was a showman. Malone was a rebounding savant, champion and famous for "fo, fo, fo."
In the modern game, just Malone, Dawkins and Willoughby made the jump. Since 1976, no player had taken his talents straight from high school to the pros. Until Garnett.
Kevin Garnett was the first of the new generation of players to make the seemingly impossible transition that only those three had dared try in the modern NBA. In his rookie season, he was the youngest T-Wolf by five years, the new face of a 7-year-old franchise, their marquee at the present but also the cornerstone of their future. They called him The Kid.
The Kid's journey began in Greenville, SC, a historically racially charged town in America's deep south. The Kid learned the game there from coach Duke Fisher at Mauldin High, putting up numbers like 13 points, 14 rebounds and 7 blocks as a freshman, learning the basketball grind and molding his superior work ethic. He starred at the 1994 Nike Camp, was the first underclassman to win South Carolina Mr. Basketball, and then blossomed at Chicago's Farragut Academy, becoming one of the top prospects entering the '95 Draft.
The impressions he left on then Timberwolves head coach Flip Saunders and General Manager Kevin McHale in his pre-draft workout were so much so that he shifted their thinking from taking one of the top-four prospects that they hoped would be there at number five—Joe Smith, Jerry Stackhouse, Rasheed Wallace and Antonio McDyess—to being enamored with Garnett and wanting him at that spot—"We looked at each other and said we better hope this kid's there at number five." Garnett was there, and McHale and Saunders took the chance on the League's youngest super talent.
"One of the reasons I think I'm ready is because I work so hard."
That was Kevin Garnett on draft night 20 years ago, his own belief on why he would be able to make the transition to the NBA without difficulty. The "Ready or Not" Sports Illustrated cover was real, Garnett the great unknown. But, he knew something they didn't. Years later as a Celtic, Garnett would say, "People thought I was gonna go three years and be out the League. You know, or a couple years or maybe make it here and there and be out. No, they didn't know the drive that was within."
"You tell him something and he'd look you straight in your eye. And he'd go out and do it." — Sam Mitchell
As a teenager playing in a grown man's league, Kevin Garnett was a hyper-active, know-nothing-better than to go out and play as hard as humanly possible, to make an impression, to prove people wrong. And he was driven. Passionate. "We beat Kevin unmercifully in practice" are the words of Mitchell, the veteran who took Garnett under his wing, mentoring him, teaching him how to be a professional. "Never said a word. Always picked himself up. And he'd play harder."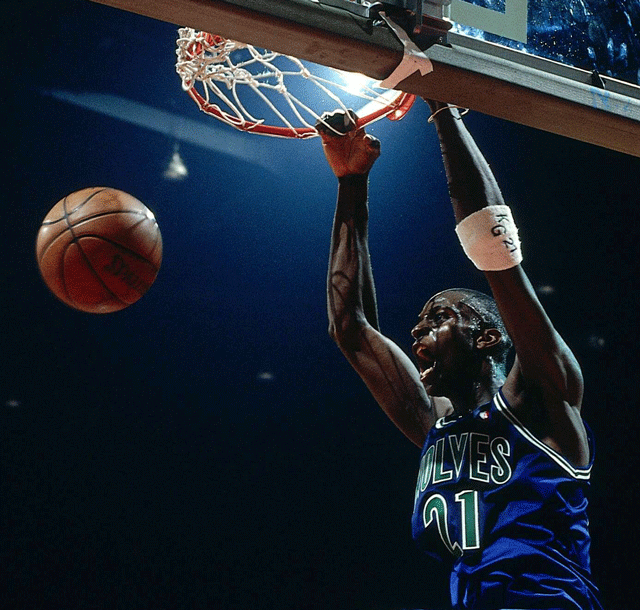 All the soaking up of knowledge, the beatings in practice, paid off.
Garnett's drive within would make him a legend in Minnesota and a star in the League. What they got out of KG over the next 12 years—10 All-Star games, an All-Star MVP, a regular-season MVP, a trip to the Western Conference Finals—was about more than just the accolades that cemented his status as an all-time great. It was Kevin Garnett setting the bar for the future high school phenoms like Kobe Bryant and LeBron James to skip college and make it at basketball's highest level of competition. It was playing with a ferociousness, an intensity, a 48-minute motor unlike anything that had been seen before. It was putting the Timberwolves on the map, a franchise that lay in the frigid Midwest, one that had no identity before Garnett arrived. Only five NBA teams resided between Minnesota, down to Louisiana and all the way out to California, Oregon and Washington, three of which were in Texas, the other two in Denver and Utah. The Timberwolves represented much of Midwest if you started going west from Wisconsin and Illinois, and Kevin Garnett was the one identifiable constant with that team and region for his first 12 NBA seasons. He became the League's highest paid player, signing two big contracts with the Timberwolves—a then record $126 million over six years in 1997, and five years and $100 million in 2003.
Minnesota was where he grew up. He went from rookie sponge and master student, to the leader, who carried not just the Timberwolves, but the Twin Cities, on his shoulders. He had gone through the high of being a part of one of the League's young dynamic duos with Stephon Marbury, to the low and frustration of seeing Marbury traded and again walking the lonely road—no veteran in Mitchell to guide him, no budding star in Marbury to help on the court. He dealt with the tragic death of his close friend and teammate Malik Sealy, went through seven straight years of first round playoff exits, only to elevate the Wolves to a Western conference finals trip in 2004 and then see the team dismantled, and return to the League's dungeon, one year later. Through the highs and lows, the ups and downs, we'd get the essence of what Kevin Garnett was during his time in Minnesota. The 2005 John Thompson interview revealed not just how passionate he was, but who he was. He was a guy that we knew could play—24 points, 14 rebounds, 5 assists, leading the League in total points and rebounds in his 2004 MVP season—but we saw the passion, and learned the man. The guy whose heart and determination was the driving force behind him playing every game—"I suit up every night"—no matter how hurt, no matter how tired or sore. The guy who missed just three games in a stretch of six straight seasons. The uber-competitive player who hated losing at anything and everything—basketball games, sprints, cards, or dominoes. We saw the tears in that interview, the tears of passion, of personal pride, of a guy who wanted to win so badly, with such a desire, that he was moved to that deep emotion at just the thought of not being a winner one day. We also saw the loyalty of a man who never wanted to leave where his career started. Even when he was looking the end of his career as a Wolf in the face, he was "still fighting it," as he talked to good friend Chauncey Billups before making his decision to leave and head east.
"He's trying to bark to his teammates, team unity. Because he knows, that's that it's gonna take." — Jo-Jo White
When the 31-year-old Garnett teamed with Paul Pierce and Ray Allen in Boston in July of 2007, it represented new life. The erasing of past disappointments, the focus shifted toward the potential for greatness in a new city with a rich basketball tradition. Instead of bleeding green and blue, he now bled green. Instead of pounding his chest with the Timberwolves' number 21, it was the Celtics' number 5. He adopted Celtic Pride, and epitomized it. He was all in with Boston, just like he was all in for Minnesota. For seven years, he was their heart and soul. Garnett was part of an All-Star trio—with Paul Pierce and Ray Allen—to lead a juggernaut Celtic team to a title that first season, the biggest regular-season turnaround in history. A force to be reckoned with they were—as KG said they would be when they came together that summer—winning 66 games and the Championship in six. Kevin Garnett embodied every quality of a leader, the consummate team player. His Celtic number 5 was entirely symbolic, the "We Not Me," the "Boston is a Brotherhood" mentality taking on the fullest form. It took a team to win. The ring he so dearly coveted and worked so tirelessly to get, he now had. The interview with Thompson brought Garnett to say, "No one will ever be able to call me a loser to my face. Never. Never." Now, they really couldn't.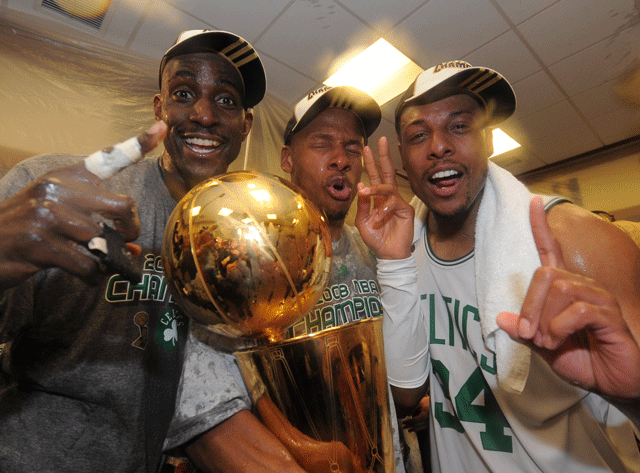 During his Game 6 post-game Finals interview with Michele Tafoya, the "Anything is possibllllle!" scream and the "Made it Ma, top of the world, top of the worrrrld!" exclamations were more than just emotional sentiments in the moment. They represented 13 years of blood, sweat and tears that Garnett had poured into the game, the "aches and pains…sleepless nights"—as he relayed to Thompson—all worth it, the high school nights he'd sneak out of the house to play ball because he knew his mother didn't approve, but he knew that it was his ticket, the culmination and validation of one of the game's greatest players, now a champion. He wasn't just there by himself. He brought South Carolina, Chicago and 'Sota with him. It was his moment of triumph.
Garnett and his Celtic teammates never experienced the mountain top again, dealing with a mix of injuries, a driven Kobe Bryant, and the beginning of the Miami Heat Big Three reign over the coming three seasons following the '08 championship year. In 2013, Pierce a career Celtic, and Garnett a transplanted Timberwolf who since 2007 had adopted the Celtic way, enduring himself to the people of Boston and becoming what Celtic tradition was all about, were sent to Brooklyn. It would be the third chapter in the Kevin Garnett NBA journey.
"I'm embracing this opportunity. I'm looking forward to it."
The reason for going to Brooklyn was simple. Danny Ainge wanted a rebuild, and Garnett and Pierce were the veterans with the big contracts on a team whose championship window has since closed, the opportunity passed by. On the surface, everything looked good. Big names, bright lights, big city. But the Nets didn't live up to the expectations. Most glaringly perhaps, Kevin Garnett wasn't the same.
Like Dominique Wilkins as a Spur, or Patrick Ewing as a Sonic or Celtic and Net teammate Paul Pierce as a Net and Wizard, Kevin Garnett as a Net just didn't seem right. He adopted the culture and the way, went all in in Brooklyn. But it was different. It felt like he had gone to the Nets on a loan, the veteran guy who could be an accessory to a title contender, grab another Championship and then drift into retirement. When you think Brooklyn sports history, you think Ebbets Field, Jackie Robinson, Pee Wee Reese, Branch Rickey, Chris Mullin, Bernard King, Mike Tyson. No matter what Garnett accomplished in Brooklyn, you'd never associate him closely with the borough. In Brooklyn, Kevin Garnett became the role player, the complimentary piece. As so happens when any professional athlete gets older, they aren't the same guy they once were. Rarely do guys go out on top of their games. Karl Malone went out at 40 on bad knees with the Lakers. Hakeem Olajuwon went out at 39, averaging single digits with the Raptors. Combine Garnett's declining stats and the fact he was in Brooklyn, it just didn't seem right. The fact that he's now in Minnesota, it just seems right. Even though he'll probably play around the same amount of minutes and put up the same numbers as he had in Brooklyn, it just seems right. You think Minnesota sports history, and along with the late, great baseballer Kirby Puckett, Kevin Garnett is Minnesota sports. So it was only fitting that the February 19 trade deadline brought the 38-year-old back to the Midwest, his second home.
"I'm trying to be what Sam Mitchell was to me."
With the sunset on his Hall of Fame career imminent, the only active NBA player to have played a game against Magic Johnson, is no longer The Kid. No more is Kevin Garnett the hyper teenager who knew nothing better than to run up and down the floor and hustle his behind off to make an impression in the League and prove the doubters wrong. No more is Kevin Garnett putting up ridiculous stat lines—like the 32-point, 21-rebound, 5-block masterpiece in a clinching Game 7 for his Timberwolves in the 2004 West semi-final. No more is he the franchise centerpiece or one of the top players in the game. That, is in the past. What he is now is the mentor, the big brother, he's these younger guys' Sam Mitchell. It's what he did in Brooklyn, realizing he was no longer the main guy, but helping out the younger Nets, being to them what the man Garnett called his dad, had been for him in Minnesota. And it's why he's back in Minnesota now. He isn't the cornerstone. That goes to the rookie sensation Wiggins. But Kevin Garnett is the franchise. Kevin Garnett, simply put, is Minnesota basketball, the wide-eyed skinny kid now the grown man, with a championship ring and a complete Hall of Fame resume in tow—15 All-Star games, an MVP, All-Star MVP, Defensive Player of the Year, and the only to reach 25,000 points, 10,000 rebounds, 5,000 assists, 1,500 blocks, 1,500 steals.
"If I was going to waive my no trade situation, it would be just for this."
For the rest of this season, or if the KG-Minnesota reunion lasts longer than that, the city of Minnesota will have its favorite son back. The circumstances will be different, the results not the same. No more playoff games or title expectations, no more tearful interviews with Thompson about Garnett's burning desire to win a Championship, how all the hard work is all for naught. He's got his ring. He's accomplished just about all you can in the NBA. The time to accomplish what he was successful in accomplishing in his career is now complete.
Michael Jordan said at his 1993 press conference announcing his first retirement, "When I lose a sense of motivation and the sense of to prove something as a basketball player, it's time for me to walk away from the game of basketball." Garnett is no longer motivated to improve his game, or win a Championship. He's done all of that. He's now motivated by passing on knowledge to the younger guys, making them better. In Boston, he took Leon Powe and Glen Davis under his wing. In Brooklyn, it was Brook Lopez and Mason Plumlee. Now, it's guys in Minnesota just about the age he was when he stepped into the League as a rookie. Wiggins was four months old when Garnett was drafted in 1995. Rubio wants a picture with the future Hall of Famer. No doubt, most things about this Kevin Garnett-Minnesota Reunion, eight years in the making, are different.
But, there's still the sweat-soaked stanchion pregame that Garnett knocks his head against, the chest pound prior to tip off, the expletives and primal screams, the pumping up of teammates, the hollering and encouraging from the bench, the basketball bounces off his forehead. And for the first time in eight years, it's in Minneapolis, at the Target Center.
Flip Saunders is his coach once again. Mitchell is an assistant. Minnesota is where Kevin Garnett belongs. As he said at his introductory presser Tuesday afternoon, "It does feel like full circle. This is the perfect situation." The Hall of Fame career etched in stone. His NBA journey, full circle.
Jake Carapella is a graduate of Western University and was a statistician and scout for the London Lightning of NBL Canada for three years. Follow him on Twitter @Jsports22.
Images via Getty
208