Before he was the League's MVP, before his turnaround jumper and tenacious D saved basketball in Minnesota, before he returned the Larry O'Brien Trophy to Boston and taught us all that anything was indeed possible, Kevin Garnett was just another rail-thin teenager unsure of himself and his place in life.
"I vividly remember him calling me after his first day of training camp and on the brink of tears," recalls Eric Fleisher, Garnett's former agent. "The guys on the team were being physical with him, pushing him, grabbing him. He was a kid joining a man's world."
Garnett was just 19 years old at the time, two years away from being allowed to legally buy a drink. He was also just months removed from being selected fifth overall by the Timberwolves, becoming the first player since 1975 to be drafted into the NBA straight out of high school. A South Carolina native, Garnett moved to Chicago prior to his senior year so he could enroll in the more prestigious Farragut Career Academy, and also so that he could get away from his native Mauldin following a racially charged fight at his school.
But this latest move to Minnesota would present an entirely new set of challenges. Suddenly KG had millions of dollars in the bank and millions of fans following his every move. The mall was no longer an option; 6-11 men with octopus-like arms don't exactly blend in.
So Garnett found other ways to entertain himself. He and his friends would race go-karts up and down the street, Fleisher says. Garnett bought himself some puppies, too. Anything to ease his adjustment off the court, so that he could focus on thriving on it. And—when given the chance to play—thrive he did. Garnett averaged 10.4 points and 6.3 rebounds during his rookie season, despite playing just about 29 minutes per game for a team that would win just 26 games that year, a number that even as a kid KG found unacceptable.
"He'd call me after games, almost in tears following a loss," Fleisher says. "Even then he couldn't take losing—and when he was a rookie he'd get even more upset when teammates of his would be joking around in the locker room after a loss."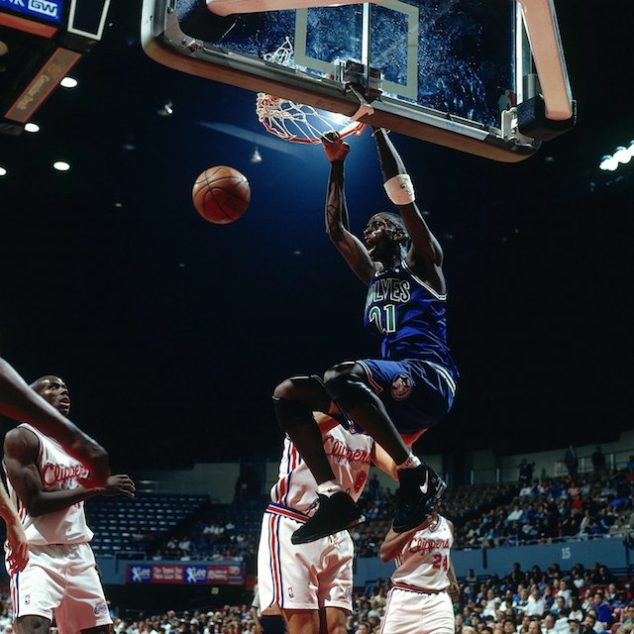 Then again, Garnett's rookie year wasn't about wins and losses. It was about building a new foundation in Minnesota, and in the NBA, too. KG was there to show high schoolers—and the League—that skipping college and going straight to the NBA was a viable path. Not just for anyone, though. It took more than raw talent to pull off that jump.
Sure, Garnett was blessed with a combination of physical gifts we see once in a generation. He was as tall as a skyscraper but could run like a gazelle. He could bury jumpers from 20 feet out but also shoot over smaller defenders in the paint. He was the rare player who could swat a shot on one side of the floor, then sprint down the court and finish with a dunk, and he often did.
But there was always more to No. 21's brilliance. KG showed a generation what it meant to play with passion and what it looked like to be addicted to winning.
"He paved the way for lots of high school guys and young players," Fleisher says. "All you have to do is look at the Drafts after him."
Kevin Garnett changed the NBA. And it all started his rookie year.
—
WATCH: Karl-Anthony Towns x Kevin Garnett Mixtape
Photos: Mitchell & Ness, Getty Images