You remember the stop. How could you not? It was the matchup the Warriors wanted—Kevin Love on an island against Stephen Curry. The Cavaliers led by three with just 44.2 seconds remaining. Just 44.2 seconds stood between Cleveland and its first ever title, but only if Love could succeed where so many before had failed.
For five seconds, Curry bobbed and faked and juked, but Love stuck with him. In search of a lifeline, Curry passed the ball to Draymond Green, who immediately tossed it back. Curry then dipped back into his bag of tricks. He faked again, dribbled left and crossed back to his right. Love stuck with him the entire time. Finally, Curry surrendered, heaving an off-balance rainbow from a foot behind the three-point arc. It grazed the back portion of the front rim on the way down toward the net, which sent it careening back into the air and then into the welcoming hands of LeBron James.
You remember that play. How could you not? Kevin Love, 6-10 with the footspeed of a statue running in quicksand, sealing a Game 7 win by stymieing the League's leading scorer, the two-time reigning MVP who had spent the previous couple years rendering the greatest athletes in the world helpless.
https://youtu.be/5Kil_Ugzezk
But here's what you might not remember:
Go back and re-watch the final possession of Game 7. Watch what happens after Curry, with Golden State down 4, misfires on another bomb. Watch Warriors forward Marreese Speights grab the offensive rebound on the right baseline and dribble back into the corner. Watch him rush a three with 0.8 seconds remaining. Watch all that, but also keep an eye on what happens on the opposite baseline.
If you do you'll see Love, subbed out for Tristan Thompson and watching from the bench with his hands on his knees and a scrunched-up maroon warm-up shirt in his right fist. After the first miss, Love commits a violation. His glee thrusts him across the out-of-bounds line and on to the court. For just a moment the Cavs have six defenders on the floor. As Speights launches the Warriors' final shot of the season, Love hops back out of bounds, but the elation rushing through his veins won't allow him to stay sidelined. Before Speights' shot can clank off the rim, Love is sprinting on to the court, arms spread wide.
He's the first to meet LeBron James under the basket. LeBron jumps into his arms. They scream and laugh and cry.
You remember the stop. How could you not?
But do you remember the euphoria Love felt afterward?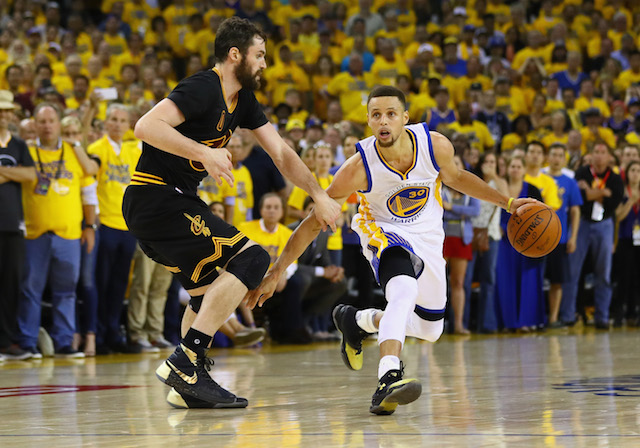 * * *
It's a Wednesday afternoon when Kevin Love calls, just a few hours before Game 7 of the World Series, as he's driving home from the Cavaliers practice facility. We start by talking about the Indians. Later that night, Love will watch Game 7 with some teammates from a box at Progressive Field. We talk about what championships can do for a person, which is what I want to know—how being a champion has changed Kevin Love's life. Or, rather, why it's changed his life, why being able to hoist a trophy and wear a ring is the sort of thing that matters to someone like Kevin Love, a man who's only 28 but is rich and famous and one of the best in the world at what he does and who before winning a title had already accomplished more than most humans do in a lifetime.
Love is also a smart and intelligent dude. He reads biographies about Steve Jobs and Andre Agassi in his free time—he's the type of guy you'd think could figure out how to derive pleasure from life without succumbing to the sports world's belief that championships define the man.
And yet…
To Love, there was something about being crowned a champion that clearly mattered. Why else would he subject himself to all the hardships? He didn't have to sign off on a trade to the Cavaliers in August 2014. He could have stuck things out in Minnesota, kept filling up box scores with video game-like numbers and maybe eventually gone back west (he grew up in Oregon), signed with the Lakers and morphed into a Hollywood star.
Sounds like a pretty good life. But also one Love didn't want. Instead, he wanted—no, needed—to win.
Why is what I want to know. But that's too much Freud to have at the top of an interview, so instead I begin our conversation with what I think is a simple question.
What was the hardest part about joining the Cavaliers?
He rattles off a few answers, ones you've no doubt heard before. How it was difficult learning how to play without the ball always being in his hands, and how he also had to learn to play outside-in. How that level of media attention devoted to those Cavaliers teams—the deep dives into minutia like body language—was something even he had never experienced before. How frustrated he was after separating his shoulder during the first round of the 2015 playoffs, an injury that made him a spectator for the rest of the postseason and the Cavs' Finals run.
"That was a real down moment," Love says. "At the time I thought we were really rolling and playing well."
But then he mentions something else, something different. First he says it was hard getting accustomed to living in a new city, which is not at all surprising to hear him say. Then he adds one more detail.
"I would say living downtown and living in a residence that was not only a residence but also a hotel at the same time was tough for me, knowing that, in Cleveland, they live vicariously though their sports."
See, after being traded to the Cavaliers, Love moved into a two-bedroom apartment on the 20th floor of the swanky Metropolitan at The 9. The hotel seemed like the perfect place to live. He could see Quicken Loans Arena from the spin bike looking out his living room window. It took just five minutes to walk to games.
But there he also couldn't be himself. The lobby was constantly bustling with locals checking out the hotel's new restaurant and club. To get outside he'd have to walk through packs of fans, many of whom would have no problem recognizing him and spitting out requests or advice.
"Your stress levels go up like crazy when you wake up in the morning or come back at night from a game and don't know who you're going to see," Love says. "It just felt a little cabin fever-ish, like I could never leave."
So, Love didn't. He binge-watched The Sopranos, Sons of Anarchy and Mad Men. He Facetimed friends and family back west. He shot pool on the table he owned. He spent many evenings alone, unable, due to the hotel's archaic design, to even open a window for fresh air. Every invitation morphed into a calculation. What are the pros and cons of going out? Who am I going to run into downstairs? Are they opening the club early tonight? Is it Happy Hour?
"Not being able to be a free spirit and live life the way I wanted to," Love says, "definitely made that first year-plus more difficult. Especially in hard times, I don't think that's a healthy way to live."
His lease there ended last fall and he checked out more than 50 houses before finding one to his liking. It's in a suburb 20 minutes away from the arena and has a green yard and welcoming kitchen. He lined the walls with pictures of family and friends. He began hosting team dinners and dance parties. Gone were the nights sitting at home with nothing to do but think about whatever was going on in his life or pick up the remote.
"Right off the bat you could see how much happier he was after moving," says Ernie Spada, a childhood friend. A longtime Cavaliers staffer says Love's emergence from "his shell"—you know, the one myriad gossipy columns and TV rants were devoted to—coincided with when he started having teammates over.
Love had come to Cleveland searching for something. Now he was finally free to pursue it.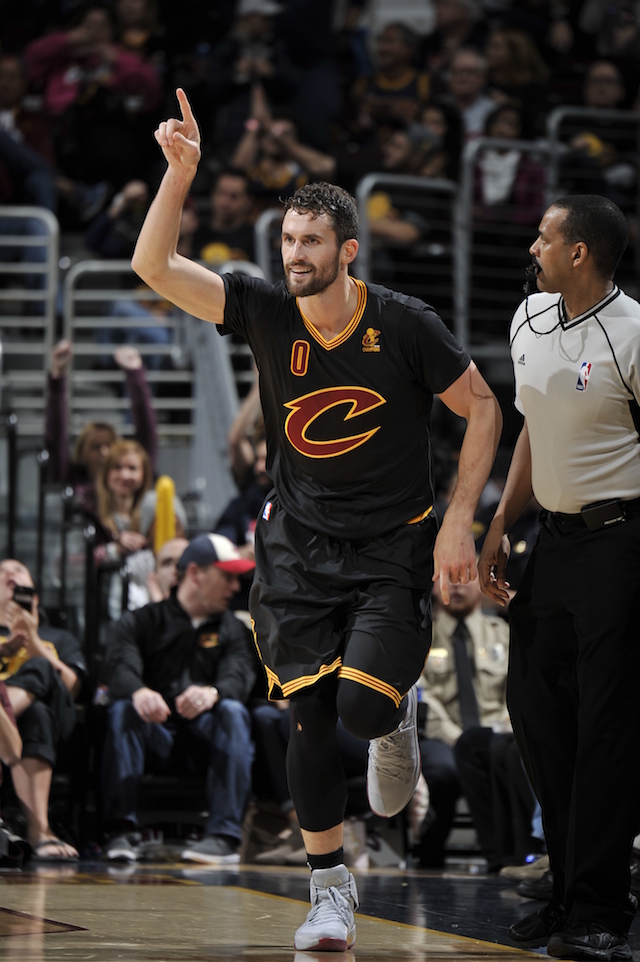 * * *
Love says he hasn't watched a replay of "The Stop" on Curry, but he's clearly seen the videos and pictures of the celebration afterward.
"If you look at my face when that buzzer sounds, when I go hug LeBron and everyone is jumping on top of us, the joy in our faces, you can see it…"
He then trails off, unsure of how to put his feelings into words. I figure it's the perfect time to circle back to my original question, the why in all this.
Spada and Rob McClanaghan, Love's longtime trainer, were both at Game 7. They both met Love on the Oracle Arena floor after the Cavs had delivered Cleveland its first professional sports title in 52 years. They both say they could see the pressure being released as the chips and monkey were removed from Love's shoulders and back.
And all that's probably true, but also something you'd expect Love's friends, and really even casual observers, to say. It's the sports cliché we've all been trained to believe. But is that really how Love thinks? And did the simple act of winning a Game 7 make all the poison lobbed at him over the previous two years, all the questioning of his talent and aspirations and mental fortitude, all the suffering on the court but also alone in his apartment—was all that worth enduring?
And if so, why?
"There's nothing quite like sports glory," Love says. "People are always going to remember a winner."
So it's more of a mortality thing?
"Well, it's a résumé thing, and it's validation for sure," says Love, who through the first 15 games of the 2016-17 season is averaging 22.3 ppg and 10.7 rpg, his best-ever numbers in a Cavs uniform—not to mention his historic 34-point first-quarter outburst last week. "There's so much that goes into winning a championship, and there was so much sacrifice, certainly from me but also everyone else on the team, and winning makes it all worth it.
"I'll put it like this: From now on, when you talk about a guy like JR Smith, he's JR Smith, NBA Champion. There's no arguing it or debating it. It's a fact. And you can't ever take that away."
—
Yaron Weitzman is a Senior Writer for SLAM. Follow him on Twitter @YaronWeitzman.
Photos via Getty Images.