Hall of Famer Kevin McHale has been around the NBA for almost 40 years.
As a player, the dominant power forward spent his entire career (13 seasons) with the Boston Celtics, winning three titles and making seven All-Star teams.
Since retiring in 1993, McHale has worked in the Timberwolves' front office and as a head coach for both Minnesota (2005, 2008-09) and the Rockets (2011-15). He's currently an analyst for TNT and NBA TV, and has been on the call for the first round playoff series between the Bucks and the Celtics.
We caught up with the basketball legend earlier this week to discuss the postseason, James Harden's MVP campaign, Kevin Garnett stories, and more:
SLAM: What have been your biggest takeaways from Bucks-Celtics so far?
KM: The ability of the Celtics to throw different lineups, different people, and have a lot of guys contribute. Jaylen Brown has been tremendous both games. [Terry] Rozier has been tremendous both games. [Jayson] Tatum had a huge first game, didn't play that well in Game 2. Marcus Morris coming off the bench. Al [Horford's] been great. There's an art to this, and I give Brad Stevens a ton of credit. There's an art to having four or five of these guys all playing well at one time. With some teams: if one guy plays well, the other guys suck. Like your goodness adds to my badness. And those are bad teams. Just the strength in the numbers of what the Celtics are able to do, the pace of play that they play at, their actions. They're getting the ball from side to side. I thought they forced a lot of shots in Game 1, not as many in Game 2. But normally their offense just kind of flows.
[Giannis] Antetokounmpo is the best player on the floor, and normally when you have the best player on the floor, you have a heck of a chance to win the series. That's always been the case. From the Bucks side, who else is going to step up? Who's going to play well for them? [Kris] Middleton found a way to score both games, especially in the first game. He was phenomenal. I thought [Malcolm] Brogdon played really well. I thought [Eric] Bledsoe didn't play very well and probably should know Terry Rozier's name. The Bucks have got to find someone else. [Tony] Snell's got to make some shots. They got to find some other players to step up and play well. Jabari Parker has to bring something.
SLAM: You mentioned Giannis – he's had two great games so far. Watching him up close in the postseason, what are your thoughts? 
KM: Any kind of open court, any kind of free flowing [situation] when the defense can't get set, he's almost un-guardable. The amount of ground with every stride that he covers is amazing. His ability to take it in and make a lot of and-ones going to the hole. He's just impressive. He gets it up on the glass. He's got a nice little touch. Jump shot is not where it needs to be, but he'll improve some. I think other people running with him, getting out in front, would allow him to maybe play-make more in the open court. Because in the open court, it just doesn't seem like he has guys up there running with him, where he can pass as an option. He's kind of taking it 1-on-2, 1-on-3. His ability in the open court is really truly phenomenal. Harden, who I coached, was amazing. Any time he got in an open court situation you felt very comfortable that he would get fouled or score. LeBron James with his ability to bully you. Russell Westbrook with his explosiveness. Giannis is right there with those guys in the open court.
SLAM: Games 1 and 2 were at TD Garden. What is it like for you to be back there, especially during the playoffs?
KM: Honestly, for me, the most enjoyment I had is the day between the games I went over to the Celtics' practice facility and sat down with [Director of Player Personnel] Austin Ainge – not Danny [Ainge], not his old man. But his kid is a hell of a lot more fun than Danny [laughs]. And just talked basketball while guys come in and out. Guys I know and guys I've known for a long time. It's just kind of a revolving door in Danny's office for the next four or five hours in the afternoon. Brad [Stevens] comes in for awhile, and we tell stories. I think Brad is mortified at how renegade-ish our teams were back in the 1980s [laughs].
It's just a flood of people coming in. Austin's in there and then Danny. It's like a five-hour BS fest. That to me is by far my most enjoyable time of being out there. Just hanging out with friends…and just talking ball. Brad's such a good coach and does such a great job for them. Getting Brad's thoughts on the game and stuff – it's all very interesting to me. Danny is a phenomenal talent evaluator, a phenomenal GM. I don't think there's anybody better in the game than Danny. It was fun just to sit there and reminisce about stuff.
SLAM: You spent time with the Wolves' organization. I'm curious what advice you would give to big man Karl-Anthony Towns right now, given how much he has struggled through his first two playoff games.
KM: Attack. Just attack. Put your head down and attack. Drive, attack. Get the ball, attack. Attack the offensive glass. Sprint the floor. Nothing makes you feel better as a big guy than a couple tip-ins on the offensive glass, a run out ahead, a dunk or two just because you're sprinting on the play and [Andrew] Wiggins drives left and they cut him off with [Clint] Capela and he drops it off for a slam dunk. Any of that stuff…
He's got to be aggressive. You don't want to go down shooting one-legged fade-aways. He's going to have to be way, way, way, way more aggressive in everything he does. But not only him – everybody on the team. Everything they do has got to be faster and harder.
SLAM: Have you noticed any changes to Harden's game from when you coached him that have sparked his incredible success this season?
KM: I think he's gotten better at a lot of different things. His shooting has improved every year. He has a shooting routine where he takes a ton of shots every single day. And that little step back three is almost un-guardable. If he's making that, you're just in a world of hurt. And you know, [the Rockets] play a game [that helps]. James is one of those guys: the more he dribbles, the more comfortable he gets. In Game 1 – I was talking to one of my buddies who's with the Timberwolves – [Harden] had 44 points and I think he had seven or eight possessions where he dribbled it over 25 times himself. Klay Thompson doesn't dribble it 25 times in a month [laughs]. James gets into his thing and his one-on-one game. He draws fouls. He does stuff. Teams that have done the best against James have made him make quick decisions. They push up on him.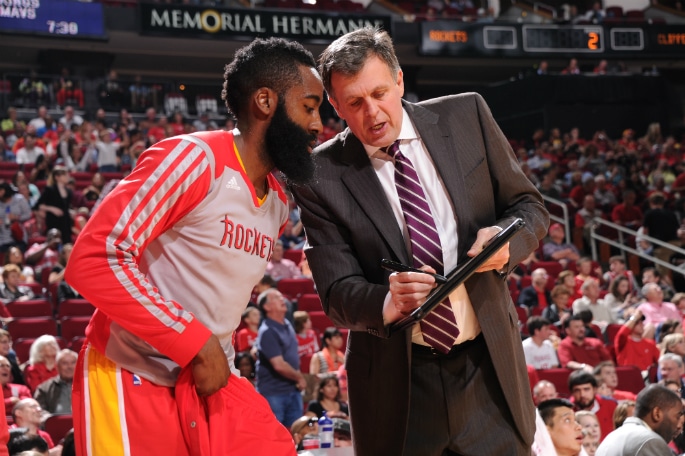 SLAM: Is Harden your pick for MVP?
KM: Yeah, I think Harden is definitely the MVP. I don't think there's any doubt about it. You could make a case for LeBron, there's no question. But I think Harden is the MVP this year.
SLAM: Do you believe the Rockets are the favorite to win a title?
KM: Yeah I do. I've said it about Golden State doing their games – The pace at which they run their offense, and Steph [Curry's] been out I know that, hasn't been at the pace that it's been at the last couple years. Their offense is a bit slower to me. The cuts aren't as quick and decisive. The passing has not been boom, boom, boom – where you're chasing them at all times. And their defense hasn't been as good. [Andre] Iguodala is a year older. [Shaun] Livingston, all those guys. Livingston and Iguodala used to come in and change games left and right. They would put lineups out there where they would just switch and get up into you and get deflections…I haven't seen their defense at that level.
And the one thing that you can't do – you can't will yourself to be healthy. If Steph's healthy, he'll be healthy. But you really can't go out there and will yourself to it. If you haven't been healthy all year, which they haven't been as a team, what's to say you're going to get healthy now? Just because you need it? You can't will that. So there's a lot of question marks.
SLAM: You're really close with Kevin Garnett from your time in Minnesota. Do you have a favorite KG story? 
KM: Oh god [laughs]. I remember this one time I'm 37, 38-years-old. Kevin's a rookie. He comes in my office and says, I'm gonna come back tonight at midnight. Come on we'll work out. I looked at him like, I am not working out at midnight [laughs]. I'm here from like 9 in the morning to like 4 in the afternoon, any time in there I'm good. But I am not coming at midnight. And I was just laughing because he was such a hard worker.
The first practice we had [when KG was a rookie]. He got done. He was laying on the ground. He had given everything. And he was laying there and I'm like, oh my gosh, we have practice tonight [also]. He's laying down, he's just breathing heavy. I go, you know we go again at five. He says, I know, I know, I know. I'm thinking, OK, there's no way this kid is going to be able to put that much energy into tonight's practice. I go to the trainer: you got to get fluids in him. We may have to hold him out tonight.
He did the same exact thing that night – Laying on the ground after that practice. He did the same thing the next morning, and the next night while we had two-a-days. He leaves it on the floor like that as a rookie in training camp – That impressed me. He literally had nothing left at the end of practice every single day. The energy that that guy had to put into basketball – I've seen guys work really hard, I've never seen anybody work harder [than KG].
SLAM: To pivot to your playing days, do you have a favorite postseason memory?
KM: I think, honestly, just the vibe of the playoffs, and the excitement of playing in it. The arduous part of the season is over, you're not having back-to-backs, the travel schedule eases up, and every game really means something. And it's really, really fun. I don't know if I have one memory that stands out, but just the feel of going into the playoffs. The feel of going into every big game. The butterflies driving to the game when you just can't wait to get there. You got all that nervous energy flowing through your body. And the funny thing is, you have all these [emotions]. You worry about all this stuff. You got the anxiety, the butterflies. And the ball goes up and it all goes away. You just focus and play. All that crap goes away, and you're just at a heightened sense of awareness so you play so well. Because you're there. All the anticipation was a sign to me that I was ready to go. I miss that.