On this day (Feb. 24) in 1978, a then-New Jersey Nets guard named Kevin Porter set a record by dishing out 29 assists in a single game. (That record was later broken.) In our new issue, Dave Zirin wonders why we now so rarely hear Porter's name. Check it out below.–Ed.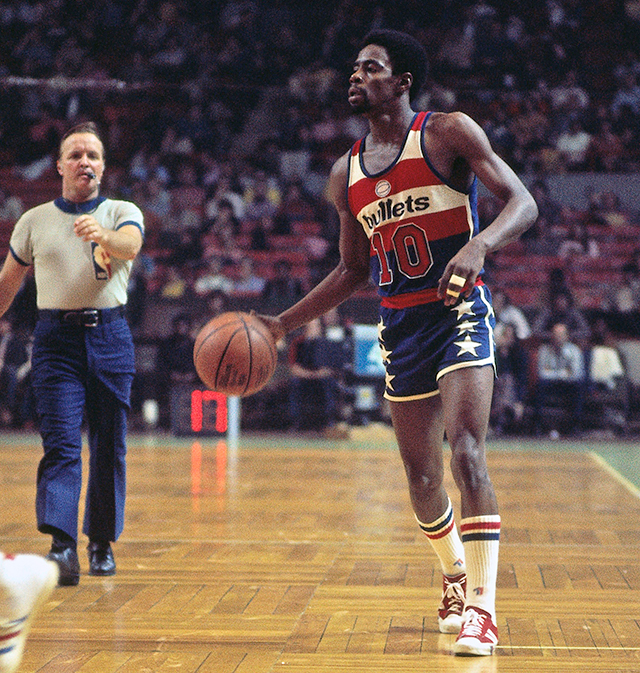 My first experience coming across his name was as a kid listening to Hubie Brown. Every time Trail Blazers All-Star guard Terry Porter did something special, Hubie would say, "You gotta love what Kevin Porter did there." Whether Hubie was having a senior moment, a 1970s flashback or just trying to slip in some history, it started me thinking: Who the hell is Kevin Porter? I consider myself a basketball history aficionado, yet this name that rang only the faintest of bells continued popping up at odd moments: a Zelig-like footnote to records set by far more evergreen icons.
When Isiah Thomas made history in 1984 with 1,123 assists, it was said offhandedly that he was just the second person in NBA history to pass 1,000 assists, and the first was Kevin Porter. In 1990, when Scott Skiles delivered a still all-time-record 30 assists in a game for the Orlando Magic, we heard that he had broken the previous record of 29, set by this guy, Kevin Porter. So I dug deeper on Porter, who averaged 13.4 apg over the course of a season, a total bested only by Isiah and John Stockton. He once dropped 30 points and 25 assists in a contest (the only person to ever tally a 25 and 25), and surpassed 20 dimes in a game 16 times.
Porter was the starting PG on a Bullets team that played in the Finals. He led the NBA is assists four times in seven years. The only players who have more assist titles are either in the HOF (Stockton, Cousy, Oscar) or will be (Nash and Kidd). Yet, Kevin Porter never even made an All-Star team. I hit up ESPN's Mike Wise, who had the privilege of watching Porter in person.
"The guy was a distributing machine. He could thread passes between every nook and cranny in the building," says Wise. "His stutter-step lost most people guarding him in the '70s. It's too bad people forgot him. Kevin deserves to be remembered simply because few could put the ball on a teammate's fingertips like he could—then or now."
Basketball historian Bijan Bayne says, "What always stood out about Kevin Porter is that he was pass-first, in an era of Pistol, Clyde, Pearl, Tiny, Westphal and Jo Jo. That watered down his star quality. But he had this signature high yo-yo dribble that was under supreme control, as he surveyed with his head up—unusual before Magic. He should be remembered as someone with quickness and vision who orchestrated NBA game against history's premier guards."
To understand Porter's bizarre anonymity, you have to start with college. He went to Saint Francis (PA) a little-known player barely 6-0, drafted into the L as a third-round backup. Then there is the era in which he played: '74-81. Those very years encapsulate the "black hole" of NBA history. Porter entered a year after the Knicks' second title and left right after Magic and Bird made their debuts, shortly before a guy named Jordan. For most of that time, the NBA was beyond an afterthought: It was a dying league whose Finals games were shown on tape delay. It was a time when the NBA was swept up in the backlash racial politics surrounding the country, painted as thuggish, coked up, fro'd up and BLACK at a time when white families were in flight from the urban arenas that the League called home. With the exception of the one Finals year with the Bullets, Porter spent time with weak teams in small markets. We are talking about someone who had to run point for the infamously run Pistons team coached by Dick Vitale—and that, for Porter, was a career year. He then had the misfortune of tearing his Achilles, effectively ending his career. One could have seen Kevin Porter as a back-up PG deep into his 30s; instead, he became a forgotten star from a forgotten era. But the blindness that we often have about the past should never become a crutch or an excuse. Kevin Porter was a transcendent player whose best rivals any point guard from any era. He should be remembered. He should be celebrated. And he should be honored as someone who went from the shorty at Saint Francis to the mini-Magic of his time.
He is now teaching elementary school physical education in Chicago and in an interview with the Orlando Sentinel said, "I've been blessed. All I wanted was to be a fifth-grade teacher. That was my life," he said. "I wanted to be a teacher."
In other words, he is still making the assist and still doing it in the shadows.
—
Image via Getty
499