Picture a classroom fusing the philosophy of John Dewey and legacy of John Starks. The New York Knicks' Garden of Dreams Foundation has essentially done just that with its 2016 Black History Month education initiative.
The "Dream Big, Speak Out" curriculum for NYC high school students is a program created by the New York Knicks and Urban Word NYC, a non-profit spoken word arts organization. "Dream Big, Speak Out" is designed to engage student reflection on the African-American experience to understand how Black History resonates within our everyday lives.
Over the course of a two-month program, 15 teens meet weekly to explore history, poetry, music and popular culture to cultivate their powerful youth voices, with the focus on identity politics and personal linguistic development.
Key elements include a trip to Washington, DC, visits to important sites throughout NYC, an open mic event and even an on-court recognition during a Knicks game.
"The intent is to engage in these topics in a more dynamic way through weekly sessions, as opposed to what we have traditionally done with the Knicks Poetry Slam the past decade," says Urban Word co-founder and Director Michael Cirelli.
Cireilli, referring to 2003 when the NBA Read To Achieve campaign, was helping young people develop a life-long love for reading. Def Poetry was on Broadway and the community emphasis on education and the power of literacy were reaching new levels.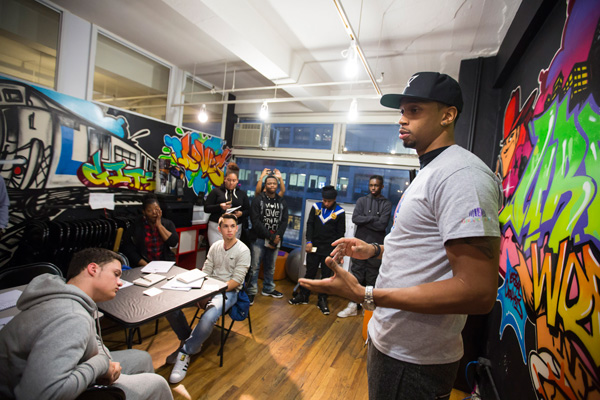 Cognizant that spoken word would be a great medium within the literacy building initiative, the Knicks approached Urban Word to create a series of poetry slams held at Madison Square Garden.
Stephon Marbury was the first Knick player aligned to the poetry partnership and, over the years, Amar'e Stoudemire, Iman Shumpert, John Starks and Allan Houston were active in helping over 30,000 students each year develop their verbal rhetorical skills.
"The Knicks players and staff were impressed with how the poets competed against each other but also openly supported one another and always hugged at the end," Cirelli offers. "Spoken word, similar to basketball, is a competition. Performance makes you a better writer and potentially a better person as you learn to work with, compete against and support your peers."
Cirelli relies on his own experience on HBO's Def Poetry Jam to better position these students for success.
The quality and magnitude of the event caught the attention of many respected talents in the industry. LL Cool J was so impressed when he attended the Knicks Poetry Slam that he autoschediastically gave each of that year's 12 finalists $1,000 out of pocket toward their college fund.
Cool J's gesture inspired the Knicks to do similarly by supporting Urban Word's existing college program that awards full scholarships to the University of Wisconsin, Manhattanville College, St. John's University and Mercy College to college-bound high school seniors in the tri-state area.
The Knicks involvement goes much deeper than just a financial investment. Both Urban Word and Knicks staff hold weekly meetings in the palatial Madison Square Garden board room (with all the memorabilia and pictures on the walls) talking about poetry and ways to best serve students.
Though a massive brand, the Knicks are not pushing any corporate agenda and essentially acquiesce to Urban Word's sophistication and expertise in the field.
Cirelli explains, "They want to learn and see what the next generation of Knicks fans are doing. By supporting these kids in that space, MSG learns about their fears, challenges and who the young people are in the city that their team represents."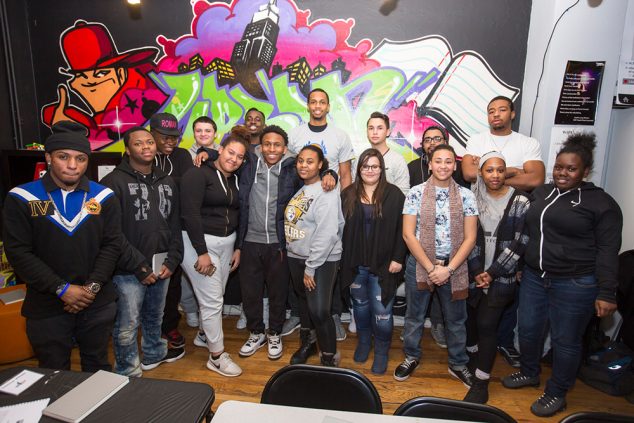 The 2016 "Dream Big, Speak Out" pedagogical objective is to repurpose and downsize the Knicks/Urban Word partnership into something more comprehensive and deeply experiential for the participants.
Never deviating from a creative writing lens, the created work takes on different media and manifestations within the genre. Students create a script, song/poetry, journalistic article, or performance piece that expresses something that they need to overcome.
The "Dream Big, Speak Out" national standard-based, common-core curriculum is purposely intensive for these select students who demonstrate leadership qualities, community engagement and a fresh perspective.
The data and results from this New York Knicks/Urban Word 14-year collaboration are both statistically and anecdotally beyond the Garden of Dreams' dreams. Graduates from previous programs have gone on to write books, teach in academia and tour the country as poets—and all are young people who may not have had the opportunity to attend college if not for this partnership.
Knicks Poetry Slam 2003 winner Jamila Lyiscott recently got her PhD at Columbia, while 2005's champion Joshua Bennett went on to star in the HBO Brave New Voices series and has his first book of poetry due out later this year with Penguin Books. 2013's winner, Ramya Ramana, was named New York City Youth Poet Laureate and shared her words at Mayor Bill de Blasio's inauguration ceremony.
Success on the court is something that the Knicks have been struggling with throughout this season (and century), while their impact in the community and throughout the city remains at a championship-caliber level.
Despite their current place in the standings, the Knicks are leading the League in innovation through education as the "Dream Big, Speak Out" program continues to help NYC students read and achieve.
Photos courtesy of MSG