Kobe Bryant on LeBron James, The Warriors, Giannis Antetokounmpo, Jersey Retirement and Filmmaking
Kobe Bryant is getting both his No. 8 and No. 24 jerseys up in the Staples Center rafters tonight to put a Hollywood ending on a legendary career. The last time Kobe suited up in the purple and gold, he ended his storybook career with a finale that was straight out of Central Casting. On the final night of the 2016 season, with celebrities, former teammates and delirious fans looking on, Bryant scored 6o points against the Jazz and rode off into the sunset as one of the greatest players to ever do it.
Kobe's Hollywood ending served as a setup for his next career move: Bryant then founded Granity Studios to help athletes maximize their full potential through creative storytelling.
In November of 2015, Bean penned "Dear Basketball," an ode to the game that debuted on The Players' Tribune. Kobe then teamed with two legends in the film industry—animator and illustrator Glen Keane, who has worked on Disney films like The Little Mermaid, Beauty and the Beast, and Aladdin, and composer John Williams, whose credits include Star Wars, Jurassic Park, E.T., and other classics—to bring "Dear Basketball" to life.
The five-minute short film was a 2017 Tribeca Film Festival Official Selection and is being considered for an Academy Award nomination. The film is available to watch here via Verizon's go90.
While Kobe is working on other endeavors, he still keeps an eye on what's going on in the League now. We caught up with him to talk about "Dear Basketball," filmmaking, the Warriors, LeBron, Giannis and much more.
SLAM: Where did the idea to turn "Dear Basketball" into a short animated movie come from?
Kobe Bryant: I knew that storytelling was where I wanted to go, and I wanted to build a company where the fabric of the company was stories. I had this kind of pipe dream of turning "Dear Basketball" into an animated short film and to go out and get Glen Keane and John Williams to work on this piece. To say that that is a ridiculous dream to have is an understatement, but that's where it started. I wrote this letter to the game of basketball and then from that point, I called up John and Glen to see if they wanted to make this dream a reality and that's what we did.
SLAM: Did you work with them both in the studio?
KB: Glen and I worked out of a studio. The first thing we did after our phone call was we met up together at a studio, not to talk about the piece really, but just to get to know each other. My family came, his family came, and we just talked and got to know each other. We talked about all of his previous works, and we talked about my career and he and I just bonded. Even though they were different disciplines, we approached them both the same way. From there, things just grew and it transformed into, You know what? Let's do this thing. That's how it developed.
I've known John since about 2008. I gave him a call and he had read the piece and loved the piece and said that he would love to join us.
SLAM: Do you approach filmmaking with the same tenacity you did during your playing days?
KB: For the creative process, it's the same passion for detail and heart delivered into it. When you're creating, you have to create something from a place within and you have to find a way to pull that out and communicate it in a way that people can internalize it themselves. It's a different process compared to competing and hitting game-winning shots and things of that nature. That stuff is a physical action, this involves a lot more introspection and quiet time to pull that out and manifest it into words, or pictures, or music, or all three.
SLAM: As a beginner in the film industry, I'm sure this has been an exciting learning experience for you. Has the learning experience with film been any different compared to when you were learning as a young NBA player?
KB: It's no different than my approach to the game of basketball. It's no different. It's learning, learning, learning, learning, learning. After the first championship, I learned. After the second championship, I learned. So everyday for me was learning like I knew nothing at all. That's the key. As a beginner here in this industry, my attitude is the same now as it was going into my last game ever. It's learning—that never changes. That never, never changes.
SLAM: I wanted to get your opinion on a few NBA storylines that have been developing this season. First, the Warriors have been playing with a chip on their shoulder and we've seen Kevin Durant and Draymond Green get tossed from games. As someone who has been to the Finals multiple years in a row, is this their way of staying motivated during the regular season?
KB: I don't know if they're thinking of it that way, but I think the season means a lot to them. The fact that they are emotionally invested and they have these outbursts shows that last year's championship doesn't mean a thing to them—they want this one, and they want it bad. It shows that they care and they're not resting on the championships that they've won.
SLAM: Who are a few guys that you're a fan of?
KB: Giannis is really, really fun to watch. The way he plays the game and the passion with which he plays, I love watching Giannis play.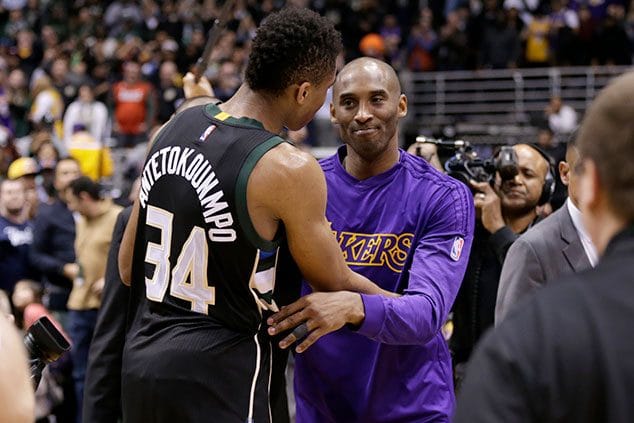 SLAM: Does he remind you of the way you played at all?
KB: He plays with the same passion and the same mean streak. He's aggressive, he's always attacking at both ends of the floor.
SLAM: The Lakers are going through a transitional phase with their young core. What's your impression of Lonzo, Ingram, Kuzma and how they play?
KB: I think they're doing well. It's always tough to go through a transitional period with so many young players because they're still trying to figure themselves out individually. But the beauty is they get to grow together and figure out how to mesh together. No different than Golden State. When those guys first came into the League, they were young and they kept them together. They developed their players and they grew and all of a sudden you have this juggernaut. They certainly have a lot of potential. Brandon Ingram has really seemed to turn a corner in the terms of the way he's playing.
SLAM: Lonzo has been getting a ton of attention. Putting all the off-court stuff aside, what are some things you like about his game and the way he plays?
KB: His athleticism and his length are really important. His size, his vision. He's a really good rebounder, which is important to have as a guard because you can control the tempo of games a lot better. The shooting thing, that will come around. It's about getting used to pace, and tempo and all that other stuff. He has a really good feel for the game and from everything I hear about him, he's a hard worker. No matter where his game is now, even if he's playing lights out basketball, because of his work ethic he's going to continue to learn and get better.
SLAM: You were right around the same age he is now when you were a rookie. You can probably relate to the pressure he feels as a young player who is looked at as the future of the Lakers. Do you feel like he's handling it well?
KB: How would I know? I have no idea, I hope he is. The only thing I try to do is just focus on the craft. That's the only thing that's important: the craft. Focusing on your game, developing your game, mentally and physically doing what you need to do, you focus on that. The hoopla that surrounds you is nothing more than hoopla. What's important on Monday won't be important on Tuesday. But what's important consistently every single day is how you improve and how you get better. Hopefully he's locked in on that. If he is, he'll be just fine.
SLAM: LeBron is in his 15th year…
KB: Which is crazy!
SLAM: What's impressed you the most about his longevity?
KB: What's impressed me the most about his longevity? I don't know if I'm impressed by it. I've come to expect him to have a long career because of his size and the way he takes care of his body and his commitment to the game. It's a pretty simple formula. We all played together on the Olympic team and one thing I always said to the guys was, If you do the work, you take care of your body and do the things you're supposed to do, you'll play for a long time. And if you don't put in the work, you won't.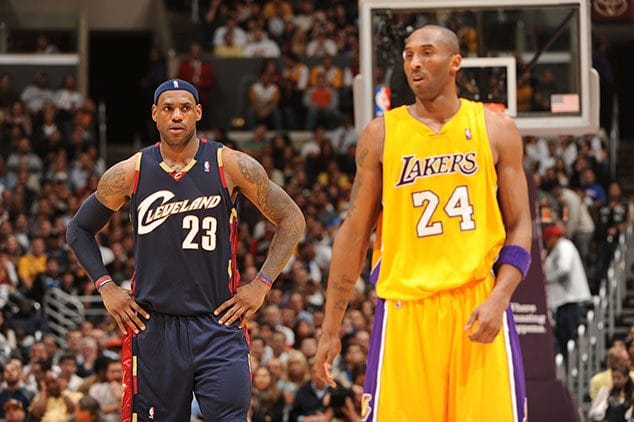 SLAM: As fans we got robbed of a Finals matchup between you and LeBron. Does it disappoint you that you never played against each other in the Finals?
KB: Sure, I think it would have been a fun matchup. You have the Magic and Bird matchup, and the Magic and Michael, and Michael and Clyde and all those fun matchups. It would have been fun, that's for damn sure.
SLAM: When you were on Team USA together, did you guys ever talk about what it would have been like playing against each other in the Finals?
KB: Who, me? No, never. I never trash talk. I would never say anything like that. [Laughs] Of course we did.
SLAM: One of the most impressive things about LeBron's legacy is that it took other superstar players around the League to join up just to stop him from winning again. What do you think about superteams and the League's parity?
KB: I don't think it's any different than him going to Miami to stop our reign in L.A. We both got blindsided by the Dallas Mavericks, but it's the same thing. I've seen it before. Whether it's him going to Miami, or Durant going to the Warriors. I've seen it before.
SLAM: Some of the old-school players seem to take offense with the amount of money the players are making today and criticize them for the way the game is played. Are those fair criticisms?
KB: No one determines what's fair and what's not fair in terms of criticism. Everyone has the right to criticize—whether it's fair or not depends on the point of view you have. I really don't care one way or the other. I think the game is meant to evolve, and meant to change, and meant to go through ebbs and flows.
The game has always been different. From when Elgin and Oscar were playing to when Dr. J came in the League, which was different than when Magic and Bird were in their prime, and when the Bulls were going through their run in the '90s. The game evolves and styles change. There will be a point of time when things will go back closer to the way they used to be with bigs dominating in the paint, but now is not that time. It's just the natural cycles.
SLAM: Today's players, and LeBron especially, use their platform to raise awareness about social and political issues. What do you think of the social movement going on in the NBA?
KB: I think it's great, I think they're doing exceptional things in that regard. The NBA has always been forward and at the forefront of not only allowing, but encouraging players to speak up. This is the society and the world that we live in, right? You want to be able to have every body feel like they have the ability to speak their opinion, and speak their mind and speak on issues that they believe are important and significant to them and their culture. I think it's been phenomenal what LeBron, D-Wade and CP have done, and going down the line to Maya Moore and what the WNBA has done as well. I think it's been great.
SLAM: Kyrie took a huge chance by leaving the Cavs, but has had a great start to the season in Boston. You have a documented relationship with him. Have you noticed any differences in the way he carries himself now that he's the centerpiece of a team?
KB: He's done the same things. You can't change who you are—you are who you are. The same way he was in Cleveland is the same way he is in Boston now. I think the game and the systems are different. Cleveland played that kind of two crown approach of basketball when he was there. Boston plays a more democratic system.
A lot of the criticisms were that Kyrie likes to have the ball in his hands all the time and all this other stuff and that's true. His game hasn't changed, the system has changed and it's allowed us as fans to see another side of his game.
SLAM: Your jersey retirement is tonight. Have you given any thought to what kind of emotions you'll be feeling? In the past you've said that you don't miss the game, but being back on that court will bring back memories, I'm sure.
KB: I think it will bring back some nostalgia. You see fans and faces in the crowd that I grew up seeing on a nightly basis and to have that moment i think is going to be very emotional. It's going to be fun, though. I'm looking forward to it.
—
Peter Walsh is a Senior Editor at SLAM. Follow him on Twitter @peter_m_walsh. 
Photos via Getty Images