Kobe Bryant's career has paralleled SLAM's existence almost exactly, and honestly, closer than any other player's has. The proverbial we at SLAM got our start in late-1993 and started popping up on newsstands in the beginning of '94. Granted, this was a few years before Kobe became a household name, but honestly, SLAM wasn't a household name either. As Anthony Gilbert explains in his piece on Kobe's Philadelphia-area roots in this issue, it didn't take long for the Lower Merion High star to become a regional sensation.
In the spring of '96, before Kobe turned pro, we did a big feature on him called "Higher Learning." It was SLAM's 11th issue—we were finding our footing as an increasingly well-known publication just as Kobe was finding his footing as an increasingly well-known ballplayer. He turned pro a couple months later, ended up with the storied Laker franchise, and the march to international stardom was on. Obviously, Kobe Bryant's popularity grew far larger than SLAM's, but we grew, too, publishing 150-plus-page issues on the regular and sometimes selling 250,000 copies. He'd made it big and we'd made it big, and some of our best-selling issues, not coincidentally, featured Kob. There was his first cover (24), when Piotr Sikora shot Kobe and his 'fro and Cheo Hodari Coker penned a classic cover story. There was the happy cover with Shaquille O'Neal (43), black-jersey issue (66; pictured in his hands above), the snake cover (97), the USA cover (114), the two-Kobe issue (126), the gritted-teeth Champs issue (131) and the gorgeous Martin Schoeller close-up (136). We actually tallied up all the SLAM cover subjects recently, and KB is currently tied for the all-time lead with LeBron James: a whopping 21 covers each.
As Kobe aged, he changed. He became less explosive, but smarter. He grew from a brash teen to an old head. He started speaking out on social issues and started a company, Kobe Inc., which is a multi-armed operation in Newport Beach that will keep its namesake plenty busy in retirement. SLAM is still pretty brash, I'd say, but we have matured, and we've transitioned from solely a print product to a multi-media brand that reaches more people than ever before, albeit in a variety of social–media–based ways that didn't even exist back when SLAM and Kobe were getting started. Now Kobe's hanging up his playing shoes, and we've chosen to honor him the best way we can: with this beautiful collector's magazine that tracks his entire, legendary career with words and images that represent the way we've always covered him. Eventually, he will be passed in covers and SLAM will have new heroes and legends that we grow old with. But we'll never forget what he meant to us. Just as his fans will never forget what he meant to them.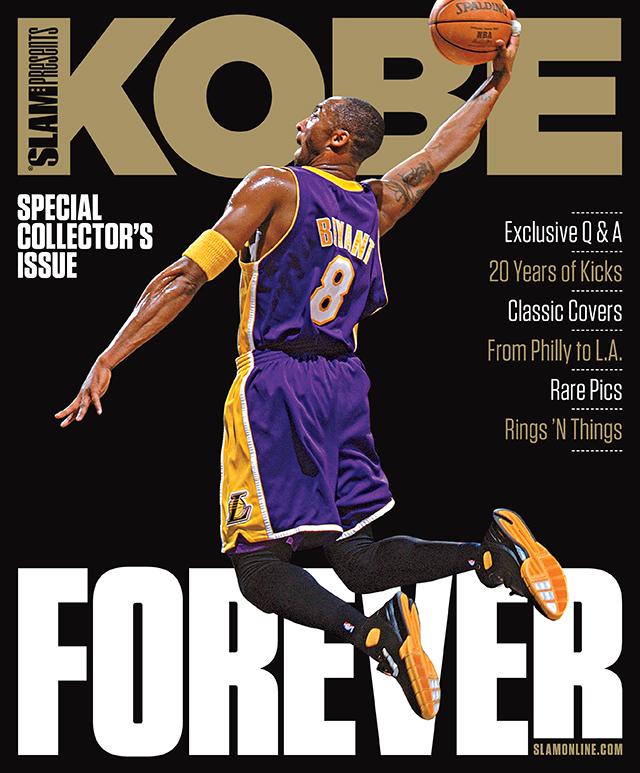 RELATED: Is Kobe the G.O.A.T.? Michael Eric Dyson spoke with a bunch of NBA players—Kobe included—to find out.
Not finding this mag on newsstands. Order it by mail here: https://www.circsource.com/store/storeBackIssDescription.html?backIssueId=6391