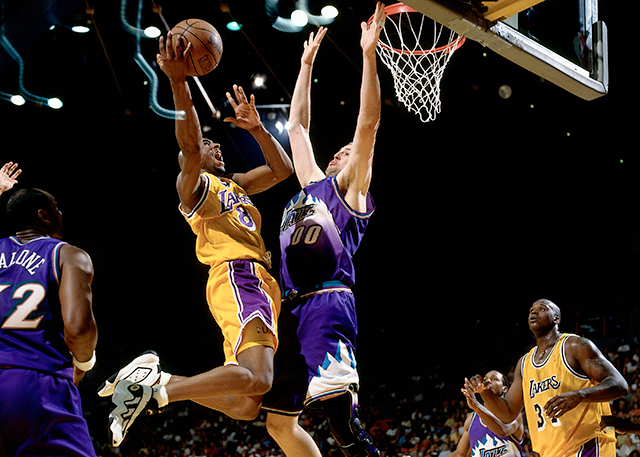 The Lakers are synonymous with Championships and once-in-a-lifetime athletes like West, Baylor, Chamberlain, Abdul-Jabbar, Johnson, O'Neal and Bryant. The common denominator is the gold and purple (formerly known as "forum blue") uniforms that are known worldwide as basketball royalty.
Kobe Bryant has emerged from the Laker greats as an icon who transcends sports and pop culture. He has an approach that combines his rigid technique, drive and intelligence into a relentless attack. He is both the teacher and the apprentice.
From the moment the Hornets traded him on Draft night, Kobe has cherished his roster spot as a Laker. Now in his final season, he reminisces about how it began. "That was a dream come true—that's the same material that Magic used to wear, the original-original jersey," Bryant says. "To put that on, with the mesh, and playing in The Forum, that's what it was all about."
The phrase "dream come true" sounds like something out of a Disney film. But as cliché as it is, Bryant had always wanted to become a member of the Lakers, and he will soon close the book on what was a storied career.
"It's overwhelming, and it's funny to say it, but I have seen him over the years in a Lakers jersey pretty much his whole life," Kobe's sister Sharia Washington says. "The only difference is that he was wearing a Lakers jersey with Johnson on the back, because that's what he was always wearing. It was that jersey, a Lakers jacket and a Lakers warm-up. It's kind of a mix of emotions like I can't believe this is happening, and then, well, yes, I can, because I had seen it for so long."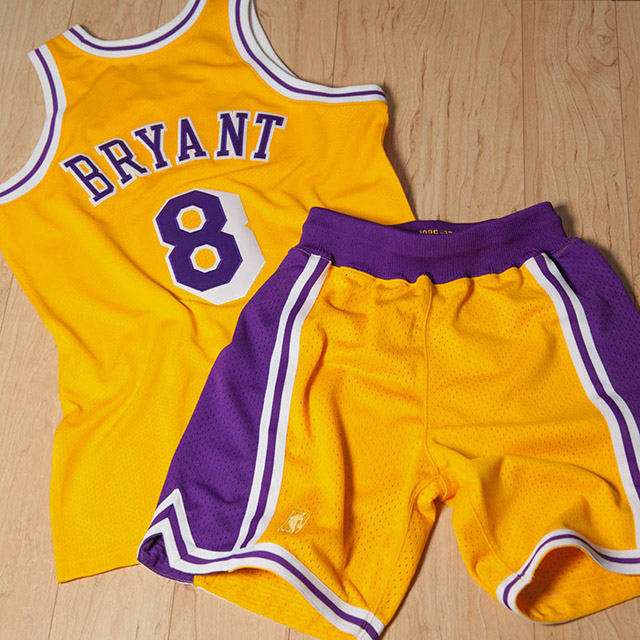 The road to greatness began with a detour just shy of training camp. An unquenchable basketball thirst led Bryant to play any and everywhere. During a pickup game on Venice Beach, he fell and broke a bone in his left wrist, which would sideline him for several weeks, causing him to miss his first camp and the exhibition schedule.
He eventually saw action in 71 games with six starts during that first season. His averages of 7.6 ppg, 1.9 rpg and 1.3 apg showed a preview of what would become a stellar career. Coach Byron Scott marvels at Bryant: "I saw one other person that I have had a chance to be around for a number of years, that had the same type of drive, and that was Earvin."
Playing in the Great Western Forum was a right of passage for the young guard. His heroes had all cut their teeth there. Bryant recalls his memories in the Lakers' old residence, describing it as "beautiful—I couldn't ever imagine being on the Forum floor. You know that's where I saw all the magic happen, literally, and the classic All-Star Game—Jerry West with the shot to tie the game—and all that stuff. To be on that floor was such a special time for me."
When the curtain falls for the final time, the Lakers will have the decision of when, and which number of Kobe's to officially retire. Considering all he's accomplished, it's safe to say both 8 and 24 could one day be hanging in the Staples Center rafters.
149