Kristaps Porzingis on Knicks, Carmelo Anthony, Luka Doncic and Conversations With Kobe
Following a frustrating end to a 2016-17 season that ended without a Knicks playoff berth for the fourth consecutive season, NYK big man Kristaps Porzingis found himself in the middle of trade talks after he skipped his exit meeting with former Knicks GM Phil Jackson.
Even though the drama surrounding KP lasted between the months of April and June, it might as well have been a lifetime ago.
This summer, while KP chilled out in Latvia in between workouts and playing for the Latvian national team at the 2017 FIBA Eurobasket, the Knicks underwent a major overhaul. Frank Ntilikina was drafted, Jackson was let go, Tim Hardaway Jr was signed to a big deal, Scott Perry was hired to replace Jackson and Carmelo Anthony was traded.
When KP made his way back across the Atlantic, he was greeted with plenty of new faces at Madison Square Garden, and with a new role as the centerpiece of the Knicks' rebuild.
Now that the season is here—the Knicks are set to take on Melo and the OKC Thunder tonight—it's time to get back to basketball. We caught up with Kristaps to talk about his offseason, Luka Doncic's NBA potential, and what he learned from Melo.
SLAM: Based on how everything went down last season with the Knicks and the changes in the front office, is it good to get back to just playing basketball?
Kristaps Porzingis: Oh, for sure. It's good to put all that aside and just focus on basketball and myself as a basketball player so I can help my team win. That's the only thing that I'm thinking about. It was a long summer—we didn't make the playoffs last season again and I was back home for four, five months just working on my game. I was doing individual work everyday preparing myself for the season. I'm excited the season is here and I can't wait to show what I worked on all offseason.
SLAM: Was it nice to spend time and unwind with your family in Latvia? 
KP: I had a great time back home. Exactly as you said, I had a lot of downtime with my family, but I was also in the gym for six hours a day or on the track and field, or in the swimming pool. I was working on my body and working on myself. That was the main focus and the main goal while I was back home.
SLAM: Was playing for Latvia in EuroBasket a good way to prepare for the season, as opposed to playing in pickup runs?
KP: Definitely. I think playing in the EuroBasket helped me as a leader and it will help me this season—it's already helping me. The experience of being with another coach, being with other players and speaking my own language and communicating that way, it was a lot of fun. We weren't able to do what we wanted to do but it was a good experience and it prepared me for the season.
SLAM: Luka Doncic blew up over the summer and he's getting a lot of love as the potential top pick in the 2018 draft. What did you think about his game?
KP: What he's doing at 18, I've never seen a player in Europe do that. He's one of the leaders for Real Madrid and he's being very consistent—he's not playing one game great and then playing the next poorly as most young guys do, as I did myself. He's being very consistent and that has surprised me the most. What he's doing at the top level of Europe, I believe that he should be the No. 1 pick.
SLAM: From our perspective in the US, all we've really seen from him are clips on Twitter and random games. But as someone who has played against him, you think he's the real deal?
KP: I do, I do. I'm judging it based on the highest level of playing in Europe, which is very tough to do. Another story is how is it going to translate to the NBA. Guys who are killing it in Europe don't always come over to the NBA and have success right away.
Myself, for example, I wasn't a huge star like Luka is right now in Spain. But I came over and it was easy to adapt and translate my game to the NBA. For guards, I think it's always a little harder. He may need a little bit of time, but based on what he's doing in Europe, I think there's no college guy who would be able to do what he's doing in the EuroLeague at that level right now.
SLAM: There was a lot of change in the organization while you were in Latvia. Are you sensing a culture change with the Knicks?
KP: As you said, there are a lot of new faces and new people and all of us together are trying to build the right culture and right mindset in the organization. It's also up to me to lead by example, to be the guy that comes in every day, does his work consistently and is very professional. That way, every one else will keep that high level. We're on our way there, hopefully. The front office tried to make changes and hire new people to help that, but it doesn't happen overnight. It's a process and hopefully we can get there one day.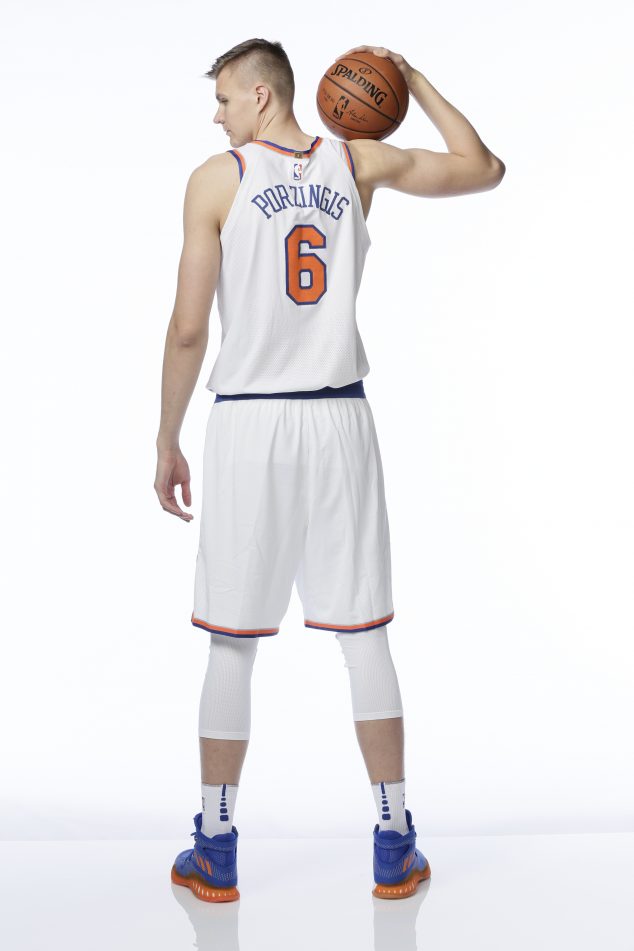 SLAM: Based on the roster composition, there's more of a youth movement with yourself, Tim Hardaway Jr and Frank Ntilikina as the core. With you being at the center of that, are you taking on the responsibility of being the face of the franchise?
KP: It's gotta come natural. It can't be something forced where I have to be this, or I have to be that. If that's how people view me, and that's how it has to be, then it will be like that—I will be the leader and step up and be that guy. Like I said, it's only going to happen with me playing at that level and people putting me in that position. All I have to do is focus on playing on the best basketball that I've ever played.
SLAM: With the Knicks and Thunder playing this week, it almost feels like the NBA has scripted what's going on. Do you even think about the matchup with Melo, or do you approach things the same way you would any other game?
KP: It's another game, but obviously it's going to be against my ex-teammate. I have nothing but the best to wish for Melo—he was a great example for me in my first two seasons and a great leader and mentor. I only have the best things to say about him. It's going to be fun to go out there and play against him. It's also going to be tough, [because] he's still one of the top offensive players in the League in my eyes and I'm probably going to have to guard him. It's going to be a challenge for me, but I'm looking forward to it.
SLAM: By all accounts Melo was well liked by teammates in New York. Did he ever talk to you about what it's like to be the face of a franchise, or did you learn from watching how he carried himself on a day-to-day basis?
KP: It was more natural for me to look at what he was doing from the side—how he handled things on and off the court—and I think that's how you learn the best. I asked as many questions as I could that came to my head that I wanted to know. My first three years were great seeing him day-to-day.
SLAM: Yeah, and for a guy like Melo who has had his name in trade talks, had amazing years and years where he was hampered by injury, it seems like he is someone you can learn a lot from. 
KP: It was crazy to see how calm he was when all the stuff off the court was happening with him and Phil [Jackson]. He was the same in practice, he was the same in the locker room, he was the same all the time. He's always calm and collected—he's such a professional. That's something I learned from him for sure.
SLAM: Can you tell me about BODYARMOR's  "Obsession Is Natural" campaign?
KP: It was Kobe's idea. That's been his mentality his whole career. I think BODYARMOR has signed guys that have had that mentality—not the "Mamba Mentality" exactly, but kind of obsessed with what they do and I see that in myself. I saw the video [Above–Ed.] that they made and I love the way I look in that video. I really enjoyed making that whole campaign commercial and I'm enjoying the whole idea and what we're doing.
SLAM: Have you had any interactions with Kobe?
KP: I think when the idea came out, he called me and I had a lot of questions for him and tried to steal a little bit of his time and ask questions about being a leader and so on. We had a good conversation.
SLAM: Were you starstruck at all when you heard Kobe's voice on the other line?
KP: [Laughs] It was pretty crazy, honestly. I was happy that I had the opportunity to talk to him and ask him some things and get 15 minutes of Kobe's time. Even after finishing playing, he's still very busy and that was really cool that he called me.
SLAM: Was there any advice that he gave you or any words that have stuck with you?
KP: Of course. Every word he said I still remember. That's a conversation between him and I and I'm going to keep all those secrets to myself.
SLAM: Fair enough. I'm sure the conversation involved a lot of cursing on Kobe's end.
KP: [Laughs] Nah, nah, nah. It was a normal conversation.
—
Peter Walsh is a Senior Editor at SLAM. Follow him on Twitter @peter_m_walsh.
Photo via Getty Images.
—
Related
Kristaps Porznigis on His adidas Crazy Explosive PEs and the Knicks' Locker Room Culture
2017 SLAM Top 50: Kristaps Porzingis, No. 23