24 days have passed since Kyrie Irving was last seen in the Bay Area. 24 days ago, he hit a game-winning three-pointer over Stephen Curry in Game 7 of the NBA Finals as the Cleveland Cavaliers defeated the Golden State Warriors to hoist their first title in franchise history, while also becoming the only team ever to come back from a 3-1 deficit in the NBA Finals.
His return visit to the Bay didn't consist of anything basketball-related. Irving, who joined gaming connoisseurs Hike the Gamer and Typical Gamer, tested out Descent, the third DLC pack for Call of Duty: Black Ops III that released Tuesday for PS4 during a livestream on the brand's Twitch channel.
Descent features four new multiplayer maps—Empire, Cryogen, Berserk, Rumble—along with an alternate universe of Nikolai's motherland, the 1940s Soviet Union, in the next highly-anticipated chapter of the Origins Zombies saga, Gorod Krovi.
After about an hour on the sticks, SLAM caught up with the champ to hear how he grades himself as a Call of Duty gamer, his Finals performance, those first couple days after bringing the Larry O'Brien Trophy to The Land, the upcoming Olympics and much more.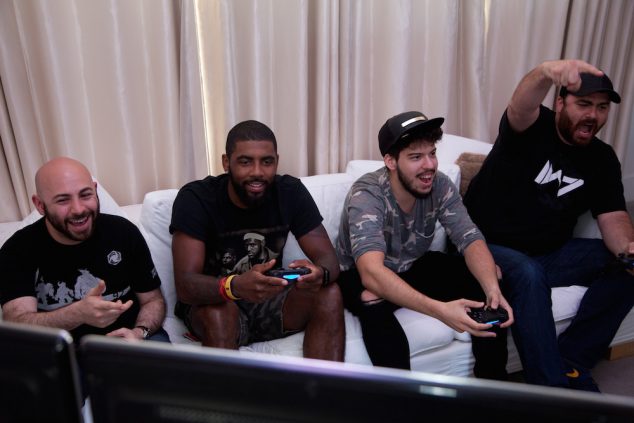 SLAM: How would you assess your performance today with the professional gamers?
Kyrie Irving: Oh I'm definitely giving myself and A+ and we got some great quality wins. We didn't lose, so I'll give myself an A+.
SLAM: Jordan Clarkson recently said the NBA should have a Call of Duty tournament with players. Would you be in favor for something like that?
KI: I absolutely would.
SLAM: Have you gone back and watched that big three-pointer you hit in Game 7?
KI: I have a few times. I have. For me, it was just an emotionally hyped game anyway, so I'm always trying to remain even keel and stay focused on the task at hand. And all I was I was thinking about after the shot was let me get to Klay [Thompson] or [Stephen] Curry so we could get a stop and win the championship.
SLAM: During the parade, what were your emotions like, knowing you played an essential part not only in the Cavaliers' first title in franchise history, but bringing a professional sports title back to Cleveland since the Browns in 1964?
KI: The greatest thing I've ever been a part of and I've ever seen in terms of celebration. And seeing all those fans out there—it was nothing like it. I'm stopping in between intersections and I'm trying to get the fans hyped because I believed that we could do it, but when it actually happened and we were champions and we're at our parade, that's when it actually becomes very much real. I'm just thankful about the way we did it and the way the championship transpired. I don't know if you enjoyed it, but that was one of the—I know I've only played in one—but hands down, it has to be one of the best Game 7s ever.
SLAM: How much better did the victory feel with the roller coaster of a season the team had with the midseason coaching change, people saying you and LeBron couldn't play alongside one another and coming back from being down 3-1 in the Finals to be the first team to ever do that?
KI: I was waiting for more questions after we won. I was waiting for the, "Well, Kyrie what do you think about this?" or "LeBron, what you think about this?" All the questions surrounding our whole team were answered—we won a championship, so honestly, there are none. I was so defensive after the game I was just ready for someone to really say something that kind of got me going. I was so riled up emotionally in trying to win a championship that it was the hardest thing I ever had to do. I'm glad that we answered all those doubters and all those people that said we couldn't do it.
SLAM: Speaking of playing alongside LeBron, what are some of the things you've learned and are continuing to learn from him that have helped you become a better player?
KI: Being around a great player, especially of his stature, for a certain amount of days consistently, if you don't get better then I feel like you're kind of wasting a lot of your time and talent and a lot of the intangibles you could be learning from a championship winner and an MVP-caliber guy almost every season that he's been in the league. I take it as a unique opportunity to develop as well as continue to grow in my quest to greatness. I have a lot of great mentors and a lot of great people that I'm around every single day that I'm very thankful for.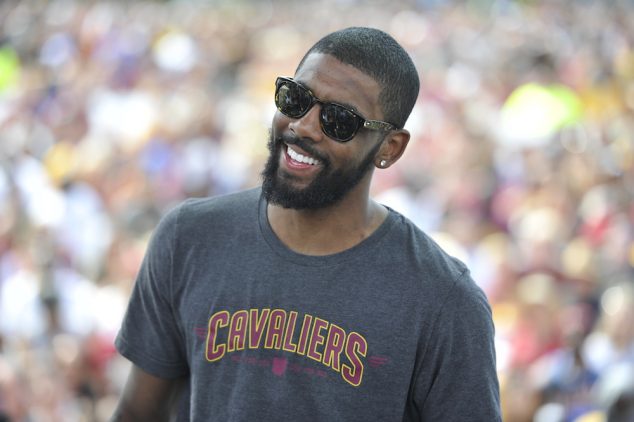 SLAM: Throughout the season, you compete against the other 11 guys who are now on Team USA. What's it going to be like to be teammates and have the same goal in mind for the Olympics?
KI: It'll be a very unique opportunity. I'm looking forward to take advantage of it because I don't get to see these guys every single day and we all bring something different with our respective teams, so it's just a great thing to be a part of.
SLAM: You bringing your ring to Rio to flex on any of the Warriors?
KI: Nah, man. [Laughs] We have one goal in common and that's to bring a gold medal back home for our family, our fans and ultimately the country.
SLAM: What were your initial thoughts on KD's decision to join Golden State?
KI: I didn't really have any. I'm glad for him and the decision he made for his family and his career. That's just as far as it goes, man. I got to focus on winning this gold medal and when we get back here, that day I'm focusing on how could be better for next season.
SLAM: Recently, you donated 190 pairs of Kyrie 2s to the Boys & Girls Club in Cleveland. Do you feel athletes with signature shoes should be doing this more often?
KI: I think they should be doing what they think is best for their community and whatever they want to do to give back. The way I was raised, my mom, as she looks down on me, she would be knowing if I was doing what I needed to be doing with the platform that I'm on to be able to influence them and connect with kids. It's a unique opportunity you have to take full advantage of for the next generation that's coming up because they're going to be leading us eventually. So, I'm going to be the older man one day looking at these kids that have grown up and I want to be able to say that I got the chance to connect with them if not in person, but through the storylines of my shoes and also helping them along the way to achieve their goals.
SLAM: Both the Kyrie 1 and 2 have gotten great responses from a performance standpoint and are fan favorites worldwide. Is it still surreal to you that you have your own signature line of kicks?
KI: Absolutely. [Laughs] There's not a day that goes by that I don't thank God for putting me in this position, and blessing me with a lot of the opportunities that I've had—to be able to be a creator behind my signature shoe. I used to be in 3rd grade wondering what I would call my first shoe or what it would look like or what the shoe box would look like or would my first shoe go well with the kids as well as the sneakerheads—and you try to find a balance in all of that. When you're growing up, you're seeing everyone and you're seeing all the shoes coming out; you start to idolize it and all these guys that are great, great, great athletes and now they put out shoes and you're able to put out shoes and you're able to feel like you're one of them. I'm glad that I have that opportunity and I'm just so thankful I have that support with not only the fans across the world, but the Nike brand in believing in me, my mind and what I want to put out to the whole the entire world.
SLAM: Can you give us any hints at what to expect from the Kyrie 3?
KI: I wish, man. I wish. [Laughs] It'll be kind of under wraps until…I would say November or December.
SLAM: Dino Smiley, commissioner of the Drew League, said you're one of the players he'd like to see play in the league. Any chance that's a possibility for you in the future?
KI: I know, I've been trying to catch up with the Drew League for the past couple years, man. It's like, usually, I'm out for the summer or I've been hurt in the summer. There's a promise before I reach year however-many, that I'll be playing in the Drew League one day. I have so many friends that are playing in it. A lot of guys from L.A. that are pros are playing—I have to make an appearance there. I'm looking forward to it.
—
Photos via Getty Images