All-Star Weekend is full of parties, corporate events, random run-ins and plenty of basketball. While most media sessions are overrun with journalists, every now and then the chance for one-on-one time with one of the NBA's brightest stars emerges. Which is how SLAM found itself sitting at a roundtable with Kyrie Irving and a few other respected writers at the swanky Hotel Bel-Air in Beverly Hills.
Kyrie was on-hand to answer questions about the making of Uncle Drew the movie and give insight into what his days on-set were like. During the discussion, we found out Irving heard about the trade that sent him to Boston while he was working on the movie and, like a true professional, didn't let the news stop him from finishing the scene.
Check out more about one of the "craziest summers of [Kyrie's] life" below.
Q: When did the idea of Uncle Drew the movie become a reality?
Kyrie Irving: I was actually at a minicamp, I forget exactly where, but [writer] Jay Longino and I were talking to [director] Charles Stone and my agent and they were saying that Uncle Drew could become a movie. This was two years before anything being set. So when they came to me, I was like, Wow, you can't be serious. You see one rough draft of the script and then a final draft of the script and I was like, Okay, so when are we doing this? It just happened to be shooting during one of the craziest summers of my life. To think about the journey to get here that started in New Jersey, started with internet shorts and inspiration coming from an old dude taking a skateboard out of a suitcase to schooling youngbloods, to a full on movie, man, it's awesome,
Q: What was it like doing this job for the first time on a set but also, as you said, going through this crazy summer?
KI: I was on set [when I found out I was traded,] so you can only imagine what that reaction was like. When I was finding out that I was traded, I left for about five minutes and came back and started acting my scenes again. That's a full blown life right there [laughs.] It was an awesome experience, even with everything going on and something I'll remember for the rest of my life. I tried my best not to let it mix as much as I could. Inevitably it did.
Q: You've kept to yourself in terms of endorsements, you keep everything kind of controlled. Does Uncle Drew allow fans to see a different side of you? Will this change your public perception?
KI: Where I am in my profession and what has come with it has been a lot. It's been a true adjustment for me because as a kid, you want it and when you get it, you're like, This is it. This is what everyone is so crazy about. When I have a great chance to be authentic and showcase talent that I've had for a while—and I'm not saying I'm the best actor—but I've always wanted to act, and be a creator and influencer, but not necessarily put my name on it. I've always had that attitude since I was a kid. I don't necessarily want to be in the front, I like to be in the back observing. Sometimes that's the best way to learn. For me, it's great. It's great for my family. I think about the multiple legacies I want to leave before I'm done playing basketball, before I'm done leaving earth. I think that Uncle Drew is part of that lineage now. Whether I do it again, who knows? I just love putting a stamp on something that I can be proud of.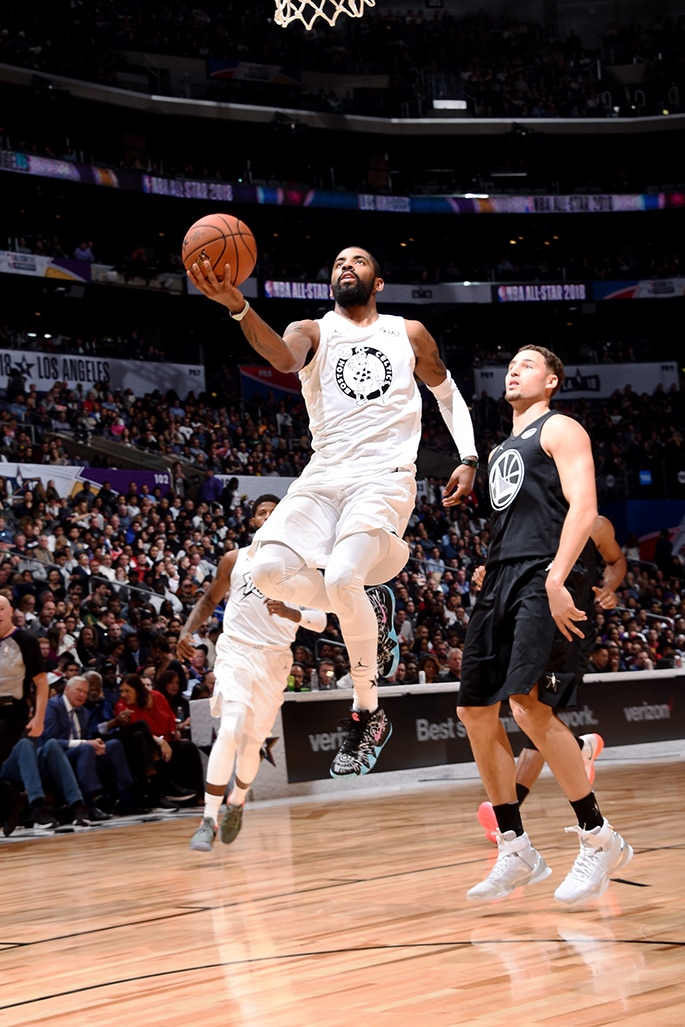 Q: Did filming during the offseason interfere with your preparation for the next season?
KI: In the summertime, I'm trying to gain as much ground as I can to be ahead of the curve heading back into the season, that's why this summer was so unique. When we had our preliminary meetings with Lionsgate, everything was coming together and they said, Okay, we're going to do this in August. In the back of my head I'm thinking, Okay, I have this much time for vacation, I have this much time to work on my game. I'm usually pretty strategic because I have an idea of things I want to get better at during the summer time. That all went out the window with this movie. When I had that time, I had to figure out how to be an actor and be a professional athlete and balance the two.
Coming off that set, I was like, I want to play basketball right now. I need it. I ended up playing with Lou Will and Montrezl [Harrell] at the [Atlanta Entertainment Basketball League] playoffs because I was thirsty for basketball and wanted to play at a high level. At the same time I had to be up for 4-5 AM call times, get my makeup on, then be on set, then play basketball on set, acting and then go from there.
Q: How much did working as an actor open your eyes to the work that goes into making a movie?
KI: I give all respect to Jay Longino and Charles Stone, I gave all the power to them. For me, it was a unique experience because I had never acted before. I had been on a few TV shows, been on camera for a little bit, but full-blown acting for 14-hour days and thinking when you have to get off set, I'm in my Uncle Drew makeup eating lunch and trying to stay in character as much as possible. Just how diligent and strategic the scenes are, that's something I'll never forget. It was something that I can only experience myself to understand what actors go through on a day-to-day basis. Putting on that makeup was an experience in itself.
Q: You were clean shaven at the introductory press conference in Boston. Was that because of the beard you had to put on for Uncle Drew? You didn't shave because of a new start in Boston or anything?
KI: Nah, nah, nah. I tell you, I appreciate people taking a double-look, like, I don't think that's Kyrie, because people are so used to seeing me with a beard [laughs.] I loved it, though. When I actually had hair on my face and I had to put makeup on, I had on a full-blown mask and had to tie the hair in, it would rip some of my hair out. There was one time I had glue stuck in my beard and after the day was done, I started combing my beard and some of the glue was still stuck in my beard. As I was combing, some hair started to come out, so I had to shave. It was for the makeup though, not for a fresh start.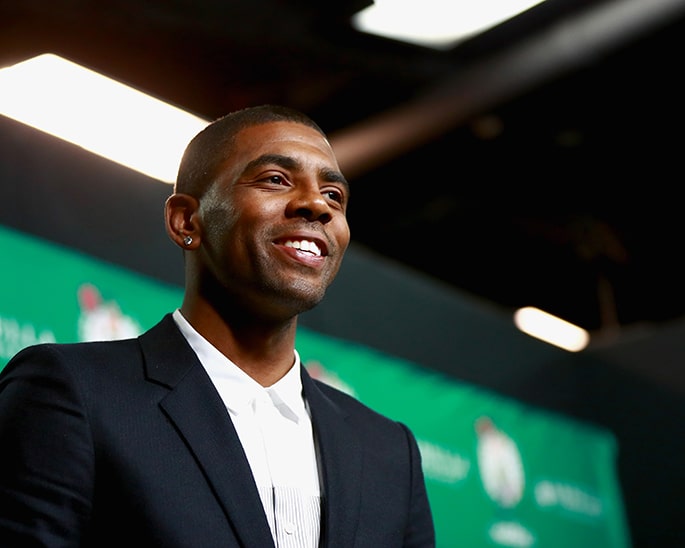 Q: Do you have the bug now? Or will this be the only time you appear in a movie?
KI: My strength and conditioning coach was like, The next movie you're doing will be when you're retired.
Q: Are there any basketball films that you grew up liking?
KI: One of my favorites was He Got Game. That was a unique story for me. It played on my life a little bit—not necessarily the combat that was going on between the husband and wife—but Jesus losing his mom and the way his dad pushed him. I envisioned that as my dad in our backyard telling me, People in L.A. are working out while you're sleeping! You want it? And my dad giving me a whole bunch of talks to the point where I took the reins and ran with it. When I turned about 16 years old, I didn't need the motivational talks from my dad anymore where he would tell me this is the person you need to be ready for, or this is the opportunity that you need to be prepared for. From that point, I already had that itch and that it factor of wanting to destroy and wanting to become a maniac of this game. Once you become maniacal about it, you can kiss a lot of the things normal people do out the window.
Q: How did you prepare for your scenes and memorize your lines?
KI: I had an acting coach, Adam Lazarre. We were right across from the Four Seasons in the park reciting lines and how to best remember lines and being in my room and having my best friend practice my lines with me and asking him, How are the lines looking today? You get the script and the way the scenes are going to go the next day. I was in my room reading the script in different voices, trying to do my best to remember the lines. I was trying to come in every single day to remember lines, I didn't want to be the guy who had to yell out, Line, please!
Q: Who was the best actor out of you, Shaq, Chris Webber and the rest of the cast?
KI: Me [laughs.] Nah, everyone had their mess ups and everyone had their great days. It's a real commitment to be an actor. I'll tell you that, man.
—
Peter Walsh is a Senior Editor at SLAM. Follow him on Twitter @peter_m_walsh.
Photos via Getty Images.
3,942