Picture Kobe Bryant in a Knicks uni. Doesn't look that bad, right? A little strange, maybe—we've only ever seen him in purple and gold—and it'd take some getting used to. But we'd get there. Now picture him in a (defunct) Bobcats jersey—orange and blue, just the same. Looks awful, I know.
The only way to explain that difference is to say that more goes into how a player looks in a jersey than just how he looks. It's not New York's colors that would work for Kobe; it's all the other stuff. It's the big city, the big fan base, the big arena, the big brand. He'd eventually look just fine as a Knick, because when a player fits with a team, the jersey fits, too.
It's what's so strange about LaMarcus Aldridge joining the Spurs. He spent nearly a decade playing for the rival Blazers, but now that he's in San Antonio, it feels like he's been there the whole time.
Aldridge, who at 30 inked a four-year, $80 million deal with San Antonio in July, was born a few hours north of his new residence, in Dallas. (His two young sons have grown up there, too.) He battled for respect on neighborhood playgrounds. He attended his local high school, Seagoville. He spent two years at the University of Texas.
But it's not just his Texan roots that make Aldridge feel like a born Spur. He's a "supremely underrated defender," a "great passer" and "a little-things guy, which is unusual for a superstar," according to his old teammates, Robin Lopez and Jamal Crawford. He's durable, having long hovered around 35 minutes nightly without ever missing 20 games in a season. He spent nine years humbly carrying the Blazers—a role previously filled by Bill Walton and Clyde Drexler and Rasheed Wallace. (Only Drexler has scored more points in the franchise's history than Aldridge; no Blazer has collected more rebounds.) Aldridge's offensive game is just like the Spurs themselves: sharp, dependable, dominant.
Nobody who played as much as Aldridge scored a higher percentage of his points from midrange last season. Aldridge is especially lethal off the left elbow, where his jumper is unpretentious and sure, catapulted safely from high above his 6-11 frame. From deep along the baseline, Aldridge will square up, back down and fade away. Last season, he nearly tripled his (modest) career three-point total.
In a League full of 6-10 snipers afraid of the paint, Aldridge's arsenal is whole, his production is automatic. Flip on an old Blazers game and watch LA score 8 points in the first quarter, 5 in the second, then 8, then 6—an inevitable, tremendous 27, all told. (Though that might be cause for self-criticism. "He'll have 25 and 10 and then say, 'Yeah, but I played like trash.' That's how high his standards are," says Crawford.)
It's a fading style—the deliberate pace, the consistency, the fundamentals, even. Some parts KG, some parts Sheed, Aldridge will insist, and, yeah, those elements are most definitely there. But Aldridge has chiefly brought to mind one specific dude ever since he took off in Portland—a certain plaid-wearing five-time champion who has perfected the art of meticulous domination. Now that Aldridge has followed his hoops doppelgänger to San Antonio, comparing the two is irresistible. The narrative here is crystal clear—the Texas kid following the Texas legend, No. 12 mirroring No. 21, the student in his prime leading the teacher out the door, the dawn of a new age, and so on.
So here it is:
"Nobody can be Tim Duncan," says Aldridge. "He's one of one, so they're not bringing me in to be him."
Oh—right—forgot about that. Aldridge is not in San Antonio to be the next Duncan (not yet, anyway); he's there to be next to Duncan.
Take cover.
***
The state of Texas is where LaMarcus Aldridge got good.
"In sixth, seventh grade, I was like a point-forward," Aldridge recalls to SLAM. He's in Las Vegas for a three-day USA Basketball minicamp. Here, his Spurs debut carries little drama—34 of America's top players are walking slowly through practice, and Aldridge will skip the closing exhibition. There's scant evidence of a Southern upbringing in his voice. What's easy to hear, though, is that he's answered a shitload of Spurs questions lately, and that he's happy to instead shed light on his salad days.
"None of the guys on my team could dribble," he continues. "I would bring it out, throw it to the wing and then go to the block and post up."
The competition at Dallas' Seagoville High School was more legit, as the school frequently faced the likes of Chris Bosh (Lincoln) and Ike Diogu (Garland). As an eighth-grader, that's where Aldridge believed he belonged. So he proved it.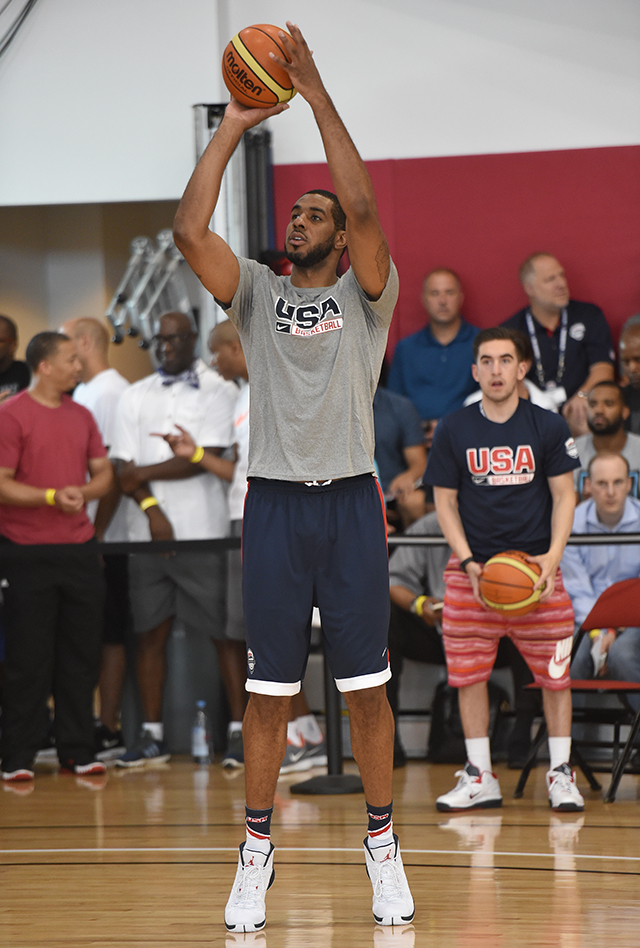 "There was a guy playing my position [at Seagoville], and I was talking trash to him," Aldridge remembers. "The high school coach was like, 'If you think you're better, play him one-on-one.' But I couldn't really play 'cause I had on these hard-ass jeans and no basketball shoes. He beat me. I was like, Tomorrow, I'm gonna have on my hooping gear. I came back the next day with shorts on and some hooping shoes and beat him like 10-1. So my first day there, I was known as the starter."
Aldridge made major strides as a freshman at Seagoville, and by his senior year was a McDonald's All-American. His HS class included a handful of guys who made the jump straight to the pros—Dwight Howard, Al Jefferson, Josh Smith and Sebastian Telfair among them—and Aldridge was right on par. He remembers how his mom found out.
"She didn't really know I was good," Aldridge says. "I never said anything, and she was always at work. Her co-worker would be like, 'Man, your kid at Seagoville is really good.' She wouldn't pay it no mind. Eventually, people started telling her, like, 'Girl, your son is good.' She was like, 'Is he?' She was my biggest fan after that."
Aldridge declared for the 2004 Draft out of high school but withdrew his name and instead enrolled at Texas. As a sophomore, he carried Texas to the Elite Eight and was the Big 12 Defensive POY. Best of all, home games felt like home games.
"Having my mother, my brother and my nieces and nephews in the stands—that made the games even more fun for me," Aldridge remembers. "[It was] everything that I wanted being home. I didn't go out of state for ball 'cause I felt like Texas had what I needed—a good support system."
***
Gregg Popovich wasn't lying.
No, early in the summer, when he said he planned to be in bed when free agency began at midnight on July 1—rather than working the phone lines, trying to sweet-talk free agents—he meant it.
"Nobody called me at 12:01," confirms Aldridge.
A handful of teams eventually reached out to LA, but none could match the potential for both individual and team success offered in San Antonio. The Suns threatened, but the Spurs answered: A call from Duncan, texts from Tony Parker, a face-to-face meeting with Popovich himself.
"It was good to see him in a different light," Aldridge says of his new coach. "He's a very caring person, a winner, and he's strict. That's why he's had the success he's had."
There's plenty more coming. With no disrespect to the great Spurs teams that trucked through the 2000s, this might be Pop's most talented roster yet. Aldridge is the best big man the Spurs have had since Prime Duncan, and Current Duncan was one of only two players in the League to average at least 13 points, 9 rebounds and 1.9 blocks per game last season (along with Anthony Davis). If Parker has lost a step since he debuted '01, his unselfishness and moxie more than compensate—there's no point guard better suited to run this show. Danny Green is among the League's most accurate and prolific three-point shooters. As for Kawhi Leonard, well, "Everybody knows he's one of the best two-way players in the game," says Aldridge.
If San Antonio struggles offensively some nights—which could happen—quality defense should keep the team afloat. Green and Leonard are strong on the wing, and Duncan and Aldridge are committed, solid post presences. (Aldridge expects that he and Duncan will do some switching against opposing bigs, but admits that, "Nobody knows but Pop.")
The Spurs' bench was the highest-scoring unit in its conference last season, and David West should absorb the roughly 25 nightly minutes that belonged to Aron Baynes and Matt Bonner. Despite Manu Ginobili's decline, he remains frightening with the ball in his hands and the game on the line. Boris Diaw picks apart defenses at zero miles per hour, and there is no way to stop him.
Critics will wonder about Popovich bringing Aldridge, an outsider, into a famously harmonious environment. The Spurs won 55 games last season—ho-hum—and Aldridge's occasional need for isolated possessions could disrupt the team's renowned free-flowing system. True, for a restrained franchise, the Spurs acted out of character by indulging in a chancy free-agency chase and the cost-cutting trade of Tiago Splitter. But it would be shocking to see this thing flop.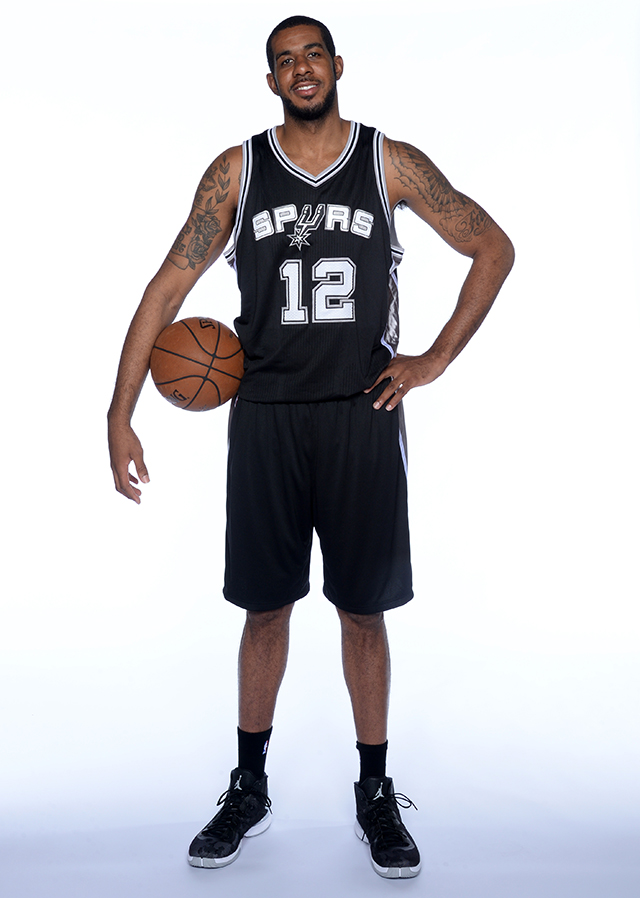 Just ask LA's buddy, Crawford. "Going to San Antonio is going to solidify everything he's done," he says. "He will be in the Hall of Fame when all is said done."
Or, for a typically unassuming prediction, just ask Aldridge himself. "They know how to plug guys into their system, so I feel like if it was going to be an issue, they would have passed on me," he says of his fit with the tight-nit Spurs. "I shoot a lot of mid-range, and Tim doesn't really shoot that many mid-range. We both can play on both blocks. We both command double teams at times—or at least respect. So I see us playing well together. I see him making my life easier, and vice versa."
Besides, should the pairing fail, it's only temporary. Aldridge confirms that Popovich has promised to stick around through the life of his max deal, but the future of the roster itself is a mystery. Ginobili was hesitant to return this season, and, eventually, Duncan and even Parker will hang 'em up, signaling the transition from this generation to the next. Surely, someday, Parker will be replaced by a mixtape legend currently stressing about the SATs, and Aldridge will become Duncan after Duncan.
Probably.
"Tony had a rough year, but I don't think he's at that point," says Aldridge, referring to the prospect of retirement. "With Tim, he's already played 200 years, so I didn't wanna bring it up again."
—
Leo Sepkowitz is an Editorial Assistant at SLAM. Follow him on Twitter @LeoSepkowitz.
images via Getty/NBAE