It's an honor to get it, really. It represents the utmost trust. It reflects countless hours in the gym, dedicated to the craft. It's a sign of respect, of appreciation, of value.
LeBron alluded to it the other day, claiming that a number of his teammates, including newest acquisition Kyle Korver, were worthy of it.
But overall, only a select group of guys are bestowed with the ultra-green light, and Pelicans guard Langston Galloway is one of them. He has earned it.
"The coaches and my teammates definitely trust me …I just go out there with the ultimate confidence and green light and knock down shots whenever I can," said Galloway during an appearance at NYC's NBA Store earlier this week.
And that's often. Galloway has already hit 75 three-pointers this year, just two less than he hit all of last season. He's currently tied for 23rd in the League in three-point field goals, ahead of All-Stars like Carmelo Anthony and Kevin Durant. Of the top 23 gunners, Langston plays the least minutes per game (21.4). When you look at the per-36 stats and consider only those who have appeared in more than ten contests, Galloway moves up to 9th. "All the hard work that I put in in the summertime, I think it's definitely paying off," he said.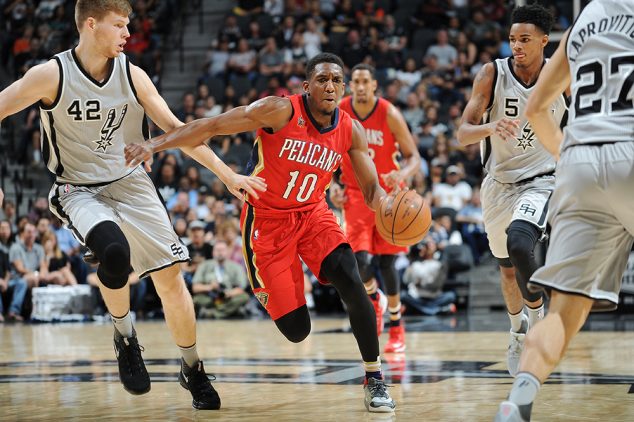 Galloway's journey started in the D-League. Though a short stint, he explained on SLAM's Respect the Game podcast that it certainly was a grind. His team, the Westchester Knicks, played back-to-backs where they literally left the first city at 5 a.m. (after a game the night before), arrived in the new one around 10 or 11, got their naps in, and then had to gear up to take the court for another game. It didn't take long for Galloway to prove himself, however, as he was called up to the big stage after just 19 games.
Over the course of two seasons and 127 games with New York, Langston averaged 9.1 points, 3.8 rebounds, and 2.8 assists. He proved himself again – this time, making it clear that he was deserving of a solidified spot on an NBA roster. As a Baton Rouge, LA, native, Galloway was amped to get a call from the Pelicans during the 2016 free agency period. "It definitely was a shock," he said, "I didn't think it was coming and then all of a sudden, things just started materializing, and it worked out…I was real excited, because I mean it's a dream come true to play back home." But the two-year, $10 million dollar deal did not make Langston complacent. Instead, he has continued to progress, developing his already sweet stroke and becoming more and more of a threat from deep.
With All-Star weekend just over a month away, and New Orleans playing host, there is a growing movement (especially on social media) to get Langston into the three-point contest. You can trust that this guy will not be fazed by the pressure that comes with the territory. Here's your evidence…
1.     Only two players, Kyle Lowry and Eric Gordon (both 17+ point scorers), have hit more long balls in the fourth quarter than Langston Galloway.
2.     Among the guys who have attempted more than 35 treys in the final twelve minutes, Galloway ranks first in three-point percentage, connecting on a scorching 51.4 percent (36/70). That's absurd.
3.    "Clutch time" is defined by NBA Miner as the final five minutes of the fourth quarter or overtime when the score is within five points. Galloway is currently fourth in total three-point field goals (eight) during this time, behind just CJ McCollum, Russell Westbrook, and Isaiah Thomas.
"In the fourth quarter, I just want to help my team win any way possible. That definitely takes over my mentality," Galloway stated.
So he's ready. He's prepared. And he's more than worthy. "Let's make this happen. Need all the support I can get," he tweeted out.
Some guys want their rest during All-Star. Some want time away from the game. But Langston just wants to keep shooting.
That green light never turns off.
Related
The SLAM Podcast Feat. Langston Galloway
The SLAM Podcast Feat. Tim Frazier
—
Alex Squadron is an Editorial Assistant at SLAM. Follow him on Twitter @asquad510
For more information on NBA All-Star Weekend, including how to vote, a schedule of events and where to get tickets, visit NBA.com.
106