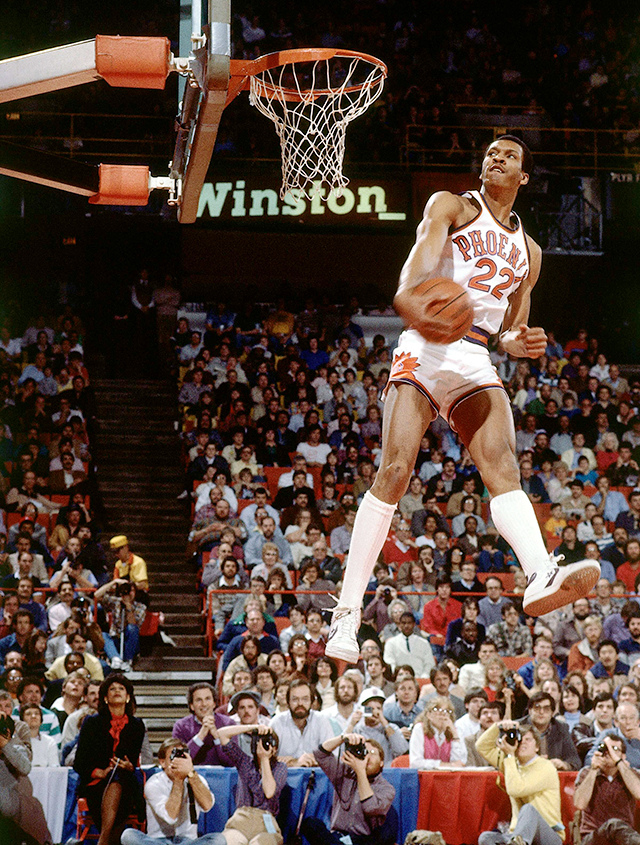 The young man from South Carolina is captivated. This forever-elevating dynamo toying with the ground-bound mortals, even on television, is the greatest thing he has ever seen. The game ends. He shakes off the chills, heads outside, and tries to replicate the magic. When the kid actually dunks—trying to tear down the backyard hoop reinforced with thick wood by his father—the transformation is complete.
"Man," Larry Nance thinks. "Now I am Dr. J."
***
By late January of 1984, Julius Erving was a god in Converses. Especially in Denver, where Erving, the Phoenix Suns' Nance, and seven others participated in the 1984 NBA Slam Dunk Contest, part of the League's inaugural All-Star Saturday. Erving had won the ABA's Dunk Contest (also in Denver) eight years earlier, a touchstone moment for the maverick, short-lived league. Then, he was the NBA's ambassador—handsome and eloquent—when the public associated pro basketball with drug abuse and greeted it with thinly veiled racism.
It was ordained that Erving win. Nance, in his third NBA season, had long ceased being an acolyte. "If Dr. J is in a slam dunk contest—who at the time is the best dunker I've ever seen—I want to go compete against him," Nance says. An even bigger motivation was Nance's love of cars. The $10,000 first-place prize would go a long way toward that 1967 Camaro he was eyeing.
The soft-spoken 24-year-old did more than win the contest—and, yes, buying that car was only part of it. Nance had vanquished his boyhood hero in a one-on-one showdown. Looking back, Nance thinks Erving didn't have his best stuff. But Dr. J had an impact. "It was like being in the contest with royalty," admits Hall of Famer Dominique Wilkins, a participant. "I was probably more in awe than I was worried about competing."
Nance had expected to win. What was unexpected was that he played a part in pushing the NBA toward its renaissance. Previous All-Star Games followed a model more befitting a sales convention. It was essentially banquet-game-go home, according to Rick Welts, the erstwhile NBA executive and current Warriors president/COO, who is credited with creating the All-Star Weekend concept. All this hoopla—a dunk contest? An old-timer's game?—was off-script, and a huge risk. Welts could barely enjoy the electric atmosphere, complete with attendees creating impromptu scorecards. Commissioner Larry O'Brien's blessing for this extravaganza featured a 24-diamond caveat: It can't embarrass the League or cost a cent. Welts' job was up in the air every time the players were.
If there was any disappointment, former Denver Nuggets public relations director Tom Hohensee says, it was that Erving lost. Sports Illustrated reserved four pages for the festivities, remembers Welts, when "I don't think they had ever devoted a page to the All-Star Game before." The weekend, thanks to the Slam Dunk Contest, became a must-see event for fans and advertisers, notes then-NBA director of public relations Brian McIntyre. A new trajectory was set, Welts says. On February 1, the League got the perfect commissioner to navigate it: a 41-year-old basketball-loving lawyer and NBA employee named David Stern.
Larry Nance, the freshly crowned skywalker in this developing world, was pensive on the plane ride home. Regardless of how wonderful it is to have grown men flee from your airborne fury, there was more to basketball. Walter Davis, Nance's friend and All-Star teammate, still remembers the mid-flight conversation over 30 years later…Yeah, winning the dunk contest is great, but I really want to be an All-Star.
That would happen next year, the first of three selections in a terrific 13-year career that also included three spots on the NBA's first or second All-Defensive team. (Nance retired as the all-time leader in blocks for a forward.) That .546 career field-goal percentage featured plenty of mid-range jumpers.
"Man, Larry Nance was a player," Wilkins says.
However, Davis says, too many remember Nance for the wrong reason: "There was more to his game than just dunking a basketball."
***
Some families eat or play board games or gossip. The men in Nance's family played basketball—rough, competitive games featuring an array of talented cousins, uncles and brothers. Nance was at the tail end. Compassion didn't exist. Defense mattered. "If you're going to play with my family," Nance says, "you better learn to stop somebody." Despite the apprenticeship, Nance didn't envision basketball as a career. He had skills back then, says Fred Gilliam, a future college teammate. Gilliam played against Nance during a high school playoff game. Gilliam's team lost, but he didn't stay home. He drove just to see Nance play in the next round.
Playing ball in community college and becoming a mechanic and truck driver were perfectly fine for Nance—until Clemson University head basketball coach Bill Foster saw potential in the 6-6 teenager with long arms.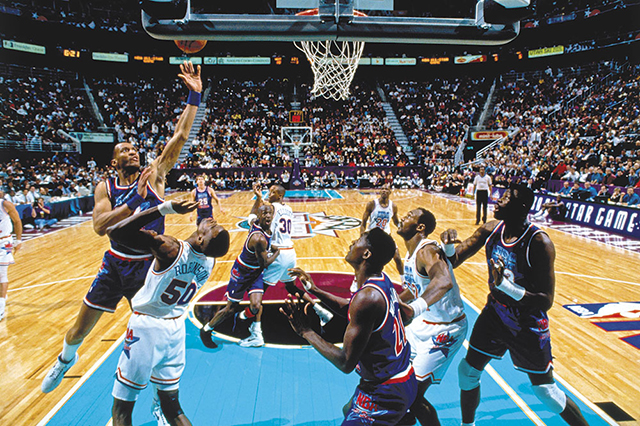 You didn't know what to expect game-to-game, but Nance could explode at any time, says Jeff Lamp, the University of Virginia star. He was a phenomenal athlete who literally didn't know his own abilities. Nance would catch lobs and dunk from every conceivable angle. Yet he kept asking teammate Horace Wyatt, "Roomie, did I make that?" Wyatt remembers Nance rounding into form junior year, after Foster chastised him for his uninspired play at the Far West Classic in Portland. Nance called home looking for sympathy. "Well, why are you crying?" his uncle Bobby said. "You know you've got the talent to go out there and play." His senior year, 1981, Nance made the All-ACC second-team and was named an honorable All-America.
Pro teams got really interested, Nance says, after he won MVP at the Portsmouth Invitational Tournament. (Nance's assessment, according to Wyatt: "Roomie, I did good.") Phoenix Suns general manager Jerry Colangelo was an early admirer. Watching Nance at that March's ACC Tournament, one moment sold him. Nance came across the circle, drove and dunked from what looked like the free-throw line. That is a move, Colangelo thought, you cannot teach.
Getting Nance was not guaranteed. Los Angeles picked 19th in the 1981 NBA Draft, one spot ahead of Phoenix. Nance was a possibility; Jerry West, the Lakers' future general manager, wanted him. Plus, Larry Friend, a Suns' limited partner and an ex-Knick, loved forward Jay Vincent. He pushed Colangelo to select the Michigan State star.
Lakers head coach Paul Westhead, however, preferred the University of Michigan's Mike McGee—and got him. "Frankly, he would have fit in with us beautifully, the way we played," West says of Nance. McGee was gone after five nondescript seasons. (L.A. eventually drafted a Nance—Nance's son, Larry Jr—in 2015.) As soon as the Lakers' announcement was made, Colangelo couldn't select Nance fast enough. Friend bolted out of the room.
That was the last time anyone was angry over Nance. Lithe and quick, the 6-10 Nance could block Kareem Abdul-Jabbar's sky-hook at its apex—he had the picture in his house to prove it—and blanket a mover-and-shaker like Alex English. But the kid wanted to learn, remembers the Suns' small forward Alvin Scott, a teammate for four seasons. Every year, Nance tried to improve some aspect of his game. The results were undeniable, Scott says; you could count on him to grab a key rebound, hit a big shot. Each year, Suns guard Kyle Macy believed, Nance played with more confidence.
Through it all, "he was a humble kid from Anderson, SC," says Wyatt, a close friend. "To this day, it's still the exact same way." Scott remains a friend. "He's a giving person, a loving person," he says. Opponents agreed. Kind of. "A nice guy, but definitely a competitor," says Ralph Sampson, the Hall of Fame big man for the University of Virginia and Houston Rockets. "He wanted to win."
Nance loved Phoenix professionally—and personally. The weather and the city's racing scene were fantastic. Then, on February 25, 1988, Walter Davis drove to Veterans Memorial Coliseum to play the Cleveland Cavaliers and wondered why Nance was driving in the opposite direction.
Upon hearing that he was traded to Cleveland, an angry Nance left the arena. Yes, the Suns were having on- and off-the-court woes, but he wasn't the cause. He wanted to help. Why ship him—and to a snow globe? Colangelo, who now owned the Suns, felt the team had to rebuild. The team, to use his phrase, had to back up the truck.
Nance was the Suns' best player. He had to go. "It really did hurt," Colangelo says, "because I loved Larry as a person."
Even those not actually involved in the trade were thrown off. When Cavs head coach Lenny Wilkens called to welcome his newest addition, Nance's future wife, Jaynee, answered. Clearly this is Larry pulling a prank, she thought; anybody who knows basketball knows Larry is at the game. Click. Hurt feelings and questionable phone etiquette aside, Nance had to move on. That's what professionals did. The next day, he boarded the Cavaliers' bus. "Alright," he announced. "I don't know who wears No. 22 on this bus, but I've got to have it."
The Cavaliers lost nine of Nance's first 11 games. Nance got stomachaches and endured sleepless nights. Wilkens preached patience. He moved Nance to power forward and brought John "Hot Rod" Williams in off the bench. Finally, Nance realized his profound good fortune. Wilkens was a wonderful coach who believed in spreading the wealth. Everyone abided. Guards Mark Price and Ron Harper were young and talented. Center Brad Daugherty was a stud. The Cavs made the Playoffs. They were off.
He loved those teams. He cherished the closeness. After practice, guys spent time together. Williams, whom Nance despised as an opponent, became his best friend.
"It really was like a family atmosphere with our team," says Mark Price, Nance's longtime Cleveland teammate.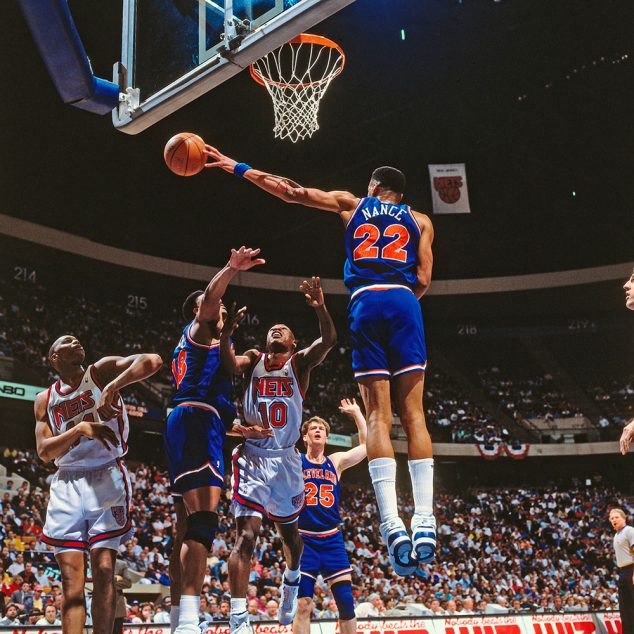 Nance brought more than his well-rounded game to Cleveland, where he made his final two All-Star teams. "He contributed in so many ways on the court and off the court because of Larry Nance, the man, as opposed to Larry Nance, the basketball player," says former Cavs general manager Wayne Embry. Wilkens believed Nance's encouragement and support helped the young squad mature. Regardless of the situation, Nance possessed what then-assistant coach Dick Helm calls "relaxed confidence." It spread through the entire team. He initiated holiday gift exchanges and invited teammates over to his house to fish in his backyard pond. He bestowed nicknames, his sign of closeness. Helm, who spent a summer honing Nance's jump shot, became "Papa Helm." Price was "Little Bit," though the All-NBA point guard admits there were other, unmentionable monikers. Nance, Wilkens says, made the players care about each other.
Talent and togetherness couldn't get the Cavaliers into the NBA Finals. Four times, from 1988 to 1993, their postseason runs were ended by the Chicago Bulls, or, more accurately, Michael Jordan. The unraveling began in 1993. Wilkens, still upset over Harper being traded, resigned, and back issues forced Daugherty to sit down for good that season.
Nance's career concluded following a frustrating 1993-94 season that featured arthroscopic knee surgery. He returned too soon and had another knee surgery. The Cavaliers balked at re-signing him. He felt that one season removed from being an All-Star, he should play the same way—even at age 35. Nance admits that was a mistake. He could have been a role player and role model somewhere.
Regret has little place in Nance's post-basketball life. Making the Hall of Fame would be nice, primarily because it might help get sponsors for him to drag race, his other passion. Missing out on a Championship does not erode his soul. "What makes me proud is when people tell me they enjoyed watching me play because of effort," he says.
That may sound underwhelming for the man who ruled the sky in Denver so long ago, which is just fine. In Atlanta, Horace Wyatt is probably talking to his kids again about his old college roommate, but not about dunking. Larry Nance, he will stress, is the person you want to be.
—
Images via NBAE/Getty
544