Larry Nance Jr and BiPro hosted the "Dunks Don't Happen By Accident" Clinic for children at the Boys & Girls Club of Venice last Friday in Los Angeles.
At the event, Nance, who was diagnosed with Crohn's Disease at 16, emphasized the importance about proper nutrition and dieting that have been beneficial to him to be able to perform at the highest level from college to the NBA.
Children at the event asked Nance about having Kobe Bryant as a teammate, playing against LeBron James, what pieces the Lakers need improve and how much he misses former teammate Lou Williams.
After the Q+A session, Nance participated in a series of basketball drills before switching courts and going undefeated in Knockout against the teenagers.
We caught up Nance to talk the Lakers' front office fiasco, picking Magic's brain, the rebuilding process and more.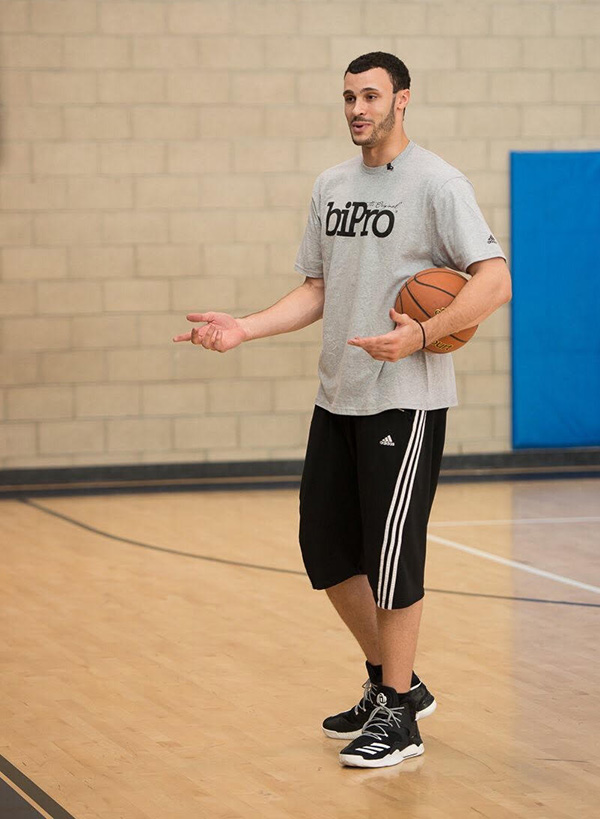 SLAM: What was it like the first couple of days after news broke out that Mitch Kupchak and Jim Buss were relived of their duties and Magic Johnson was the team's new President of Basketball Operations?
Larry Nance Jr: It was weird. We switched coaches this summer but that was the first major change I really experienced. It's obviously huge for the entire franchise. Mitch is the one that drafted me and Jim Buss as well so I have nothing but good things to say about them, but at the same time, Magic is a proven winner and any time you can surround yourself with winners it's going to be a positive outcome.
SLAM: Now that Magic's around more often, what are some of the things you'd like to pick up from your new GM?
LN: Just how to win. We've had two rough years thus far and he's a legend, you know? And he's not one of the best Lakers to ever do it but the best players ever to put on an NBA uniform. You just want to pick his brain and his mindset going into games and what made him stand out from everyone else.
SLAM: Any questions in particular you've already asked or will be asking?
LN: I would actually like to ask him how it was playing against my dad. [He] played 13 years and played against the Lakers a whole bunch, so I would like to know if he talked trash or whether he was quiet and stuff like that.
SLAM: It was obvious guys on the team were somewhat trying to win over Luke Walton when he was named the head coach during training camp. Do you feel like it's the same now with Magic at practice?
LN: Yeah, you definitely want to go out there and show him what you got and that I'm an integral part of this going forward. Everyone's out on the practice court busting their tails and in the games going as hard as they can. There's another level of excitement around the team.
SLAM: What are your goals for yourself and the team during this rebuilding process?
LN: I'm just hoping to get a lot of experience for our young guys. We have, what, eight or nine guys under the age of 23-24, so we're definitely one of the youngest teams in the League. The more experience you can get at playing high-level teams is going to be beneficial for us in a couple of years when we make this playoff push and hopefully it'll help us get there when we do get older and mature.
SLAM: How important is it to inform young athletes to take care of their bodies?
LN: It's big time. That's played a huge role in my upbringing and my road to the NBA. Now, guys are starting younger. The earlier you can get on taking care of yourself and getting the right nourishment and protein to build muscles, stay strong and all that good stuff, the better it's going to be.
SLAM: When you do these types of events, what's your main message you make sure the kids take away?
LN: Mainly just to have fun with it. Basketball is a game—it's supposed to be fun. When you put too much pressure on yourself or others or stuff like that, it takes a little bit of the fun from it and that's actually one of the biggest things we stress with the Lakers. You're supposed to have fun, and the second you lose that is the second you lose a bit of the game, so I just try to stress the importance of having fun with it.