He said it would happen, and it did. For months, LaVar Ball never shied away from letting the world know of his vision: His All-American son would get drafted by the Los Angeles Lakers and become the much-needed young star the historic franchise would build around. He said he would speak it into existence throughout the winter and spring, while media and fans alike criticized and mocked his candid remarks.
And then June 22 happened. Lonzo Ball walked across the stage at Barclays Center and shook NBA Commissioner Adam Silver's hand while rocking a Lakers-themed colorway of his signature sneaker, the ZO2s by Big Baller Brand. LaVar? He wasted no time before donning a Lakers-themed BBB hat just seconds after the commish uttered Zo's name.
It was months in the making. Maybe years. Despite having less than a 50 percent chance of landing a top-3 pick in the 2017 NBA Draft, LaVar did indeed speak Lonzo to the Lakers into existence.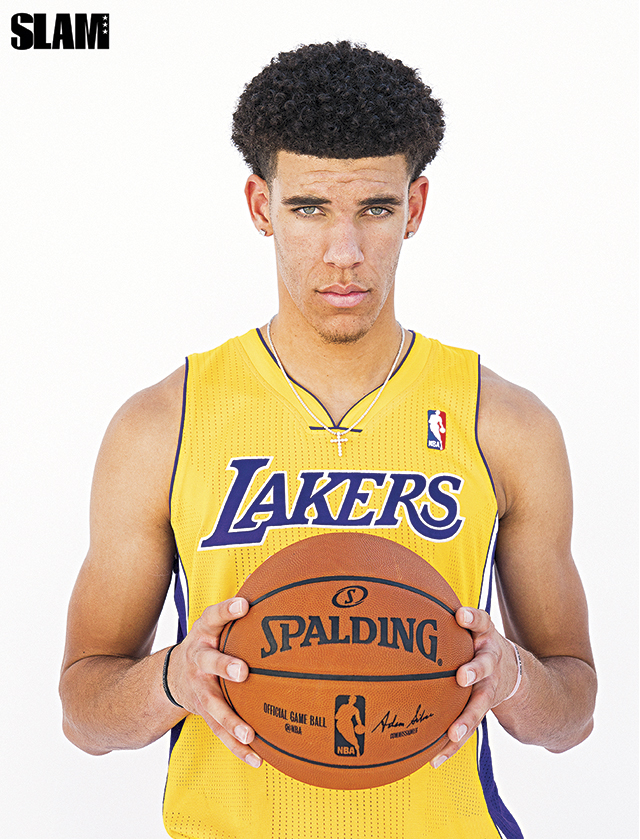 Less than 48 hours after Draft Night, SLAM was in LA with the Ball family to shoot this month's cover. As part of our new issue—The Future Issue—LaVar writes an open letter about the motivation behind his family's movement and what he hopes everyone keeping tabs on them takes away from it.
After the shoot, we had a chance to chop it up with LaVar about a variety of topics, including the vision he has for his two younger sons, LiAngelo and LaMelo. After all, he did manage to correctly forecast Lonzo's path to the League.
Lonzo, LiAngelo and LaMelo played one season together in high school. With all three in the starting line-up during the 2015-16 season, Chino Hills HS went a perfect 35-0, shining a national spotlight on the California school. The Huskies would end up as the No. 1-ranked team in the country, averaging almost 100 points per game (in eight-minute quarters). Then this past season, LiAngelo was California's leading scorer, while LaMelo became a household name for pulling up (successfully) from halfcourt and dropping 92 points.
This coming season Melo will have the reigns at Chino Hills, while Gelo will follow Zo's footsteps by heading to UCLA, where he'll play for Steve Alford's Bruins squad.
"With Gelo, he's the middle guy, but he's in the best situation," LaVar told us. "I've told him, I wish I was in your shoes, man. You're one and done. He's coming in with more expectations, but also less expectations. More expectations because you're Lonzo's little brother, but also less expectation because everybody thinks you're a three-star recruit. So whatever you do is good. Average 30 points? You're a top-5 pick. Suck? You're still one and done. Good, no one picks you. Good, you can come into the Lakers as a free agent. And now watch Lonzo play with his little brother. Get him for nothing. When I say championship, championship, championship—when all three get on the [Lakers], you saw what they did in high school, and now see what they do as grown men playing together."
The likelihood of the scenarios through which all three could end up on the same Lakers team as rookies is anyone's guess. But we gotta admit, just the thought of it happening—we're very much here for it.
"The Ball Dynasty," says LaVar, smiling. "See, my boys are never going to go, 'Hey, I'm scoring 30 points. I need 40 mil. I need more than Lonzo or I'm leaving.' You'll never have contract disputes. That's how you win championships. They only care about winning. They'd stay together for the rest of their careers. The chemistry they have, you've seen it already. That's why I see that far ahead: All three of my boys on the Lakers at the same time. Put them together and watch what they do. It'll be magic. Lonzo knows where his brothers want the ball, where to kick it to. We'll have our own Big Three."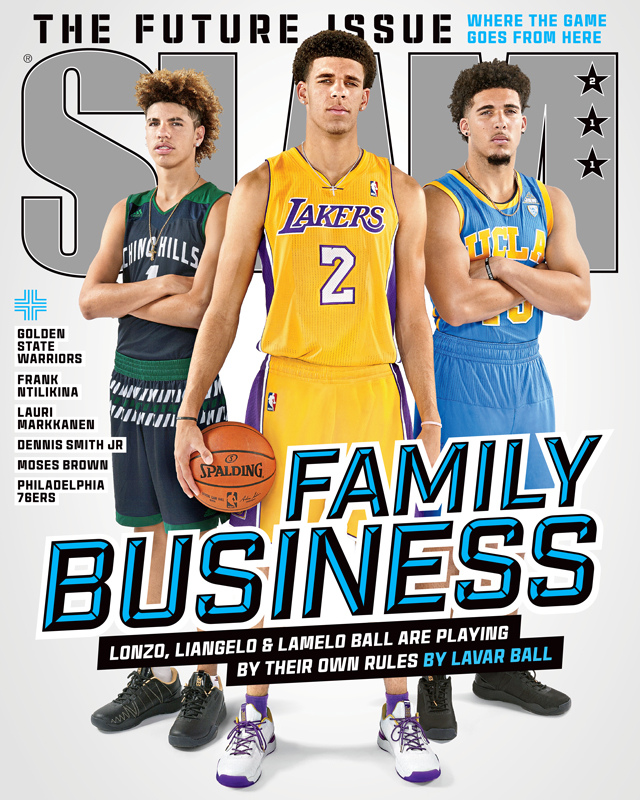 Over the holiday weekend, Big Baller Brand shared an illustration on Instagram that portrayed all three Ball brothers in Lakers uniforms with a the caption simply saying, "Imagine," accompanied by a thinking emoji.
Could a Ball Brothers reunion in the League really be in the cards?
As LaVar says in his essay in our newest issue, "Without the vision, you have no precision." And in the Ball household, there's a whole lot of that.
—
Franklyn Calle is an Associate Editor at SLAM. Follow him on Twitter @FrankieC7.
Portraits by Atiba Jefferson; Family/Lakers pic via Getty
—
RELATED:
Lonzo, LiAngelo and LaMelo Cover SLAM 211
LaVar Ball Writes About His Family's Movement