By the time LeBron James made his home debut with the Cleveland Cavaliers on November 5, 2003, it had already been something of a rough start for the Chosen One and his squad. Yes, James had scored 25 points—adding 9 rebounds, 6 assists and 4 steals—in his NBA debut versus the Kings. But the Cavaliers lost that game by 14, the next by 9, and the one after that by 19, putting them in an 0-3 hole before even playing in front of their hometown fans. LeBron's first NBA game at Gund Arena loomed large.
He was awful.
The Cavs dropped to 0-4 as James posted just 7 points (on 3-11 shooting), getting to the line only once in 41 minutes and missing both of his three-point attempts. He did add 9 assists and 11 boards but was outplayed by fellow rookie Carmelo Anthony, who doubled the King's point total with 14.
It was an inauspicious debut for both James and his new home whites, as the Cavaliers brought back their classic wine and gold color scheme (with navy trim) for the first time since the early '80s. But redemption would come quickly, as the Cavs posted double-digit wins in the next two home games, with James scoring 17 in each.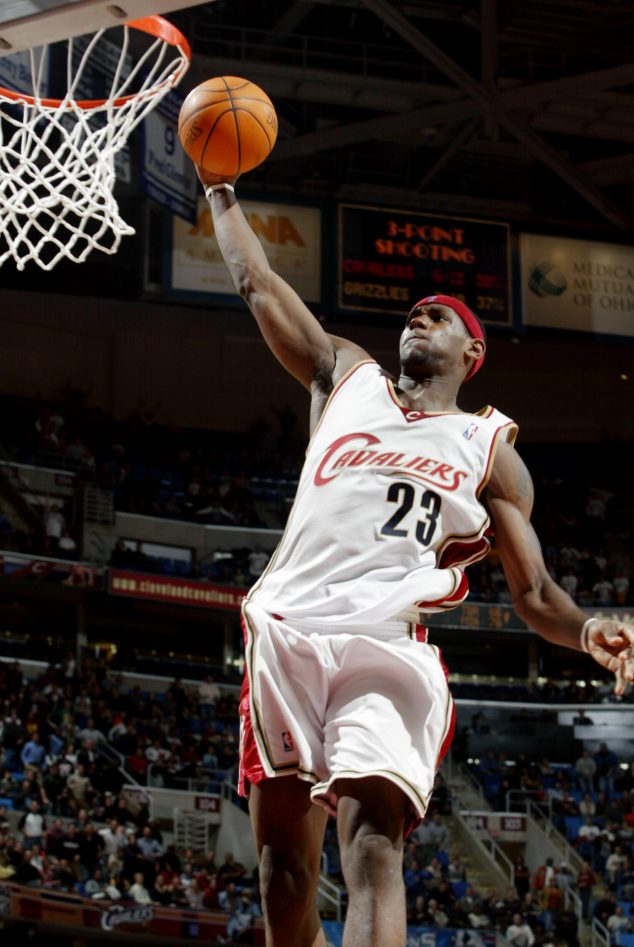 And as LeBron settled into his new surroundings, he put up his best games of the year at home: 33 points, 16 rebounds and 6 assists against the Grizzlies at the end of November; 32 points, 10 rebounds and 9 assists against the Blazers in late December; and a season-high 41 points, 6 rebounds and 13 assists against the Sixers in late March. The Cavs went 23-18 at home, offset by a 12-29 record on the road. Rookie of the Year, yes. Playoffs, not quite.
But the playoffs were always a long shot for a team that had gone 17-65 the season before, one that featured not only a highly touted 18-year-old star but a new head coach in Paul Silas. Winning more than twice as many games as the year before qualified as a tremendous accomplishment. As for James, he entered the League with the highest of expectations—a No. 1 overall pick who attended the draft in a snow-white suit, the presumed savior of his home state team—and exceeded them at every turn.
No, James didn't post a 50-point game as a rookie, and, hard to believe as it may be in this post-Westbrook world, he didn't get a single triple-double. What he did show was poise and versatility and maturity and sheer athleticism rarely if ever seen in anyone who made the leap from high school to the NBA. While Kobe Bryant, Kevin Garnett, Jermaine O'Neal and Tracy McGrady would all become All-Stars, they also all went through growing pains, some more than others. James hardly did.
And while he didn't enter the NBA as a finished product—he missed the All-Star cut for the first and only time in his career—most of the building blocks of his game were already in place. Compared to Michael Jordan simply because of his dominance in high school, he emerged as more of a Magic Johnson-type floor leader in Karl Malone's body—who could also hang 30 on you with no problems.
The jersey James wore as a rookie would eventually be completely redesigned in 2010—as James himself left town to join the Miami Heat to don both a new uniform and a new number. Four years later, two rings richer, the King returned to Cleveland once more, and this time around he gifted hometown fans with a ring of their own. The reign continues.
—
Photos via Getty Images
157