"Not really that experienced holding this thing—it isn't too familiar."
It's Cavs Media Day in late September of 2017, and LeBron James, gripping a basketball, has jokes. Seated on an apple box in a massage room-turned-SLAM photo studio, Bron fiddles with a rock as he poses for the portraits you see above and below, palming the ball the way you or I might control a softball.
Dad jokes aside (for which he gets a pass, considering, ya know, he's a dad), LeBron not only looks plenty comfortable taking photos for the cover of a magazine—he looks plenty comfortable all day long. He speaks eloquently about social issues during a press conference; he laughs with teammates as he strolls around the photo and video set-ups; he somehow never once seems to lose the smile on his face. His 15th NBA season has arrived, and LeBron just looks…at ease.
With three championships (including one for the hometown), four MVPs, 13 All-Star appearances and enough individual and team awards that frankly this paragraph could go on for hundreds and hundreds of words, plus a relatively newly established status as the voice of a generation, we've collectively reached a point where anyone still hating on LeBron James is, quite simply, an asshole. He looks like he knows this, as he should, and the result is a relaxed demeanor rarely seen on a person with such a blinding spotlight perpetually shining in his or her direction.
After he finishes his SLAM photo session, the best basketball player of today's era—and possibly ever, though that's a conversation for another time—leans against a counter on the side of the room and settles in to field some questions about the past, present and future.
SLAM: Most NBA players head into the offseason with a certain thing they want to add to their game over the summer, but at this point for you I'd guess it's a little of everything. Is there anything specific, even mentally, you tried to add over the past few months?
LeBron: For me, mentally, I'm always trying to learn to be a better leader every single day, and be more constant, be more vocal at times, be more there for my teammates at times. When guys say, "You're a great leader," I say, "I'm still trying to figure out ways I can be better." Then for my game, I worked on everything, man, from my shooting to my ballhandling to my post [moves] to my dribbling—everything. I always felt like if I can improve myself individually, then it's gonna make our team that much better. So that's what I've been trying to do.
SLAM: What kinds of activities do you do to improve your mental approach?
LeBron: I read The Godfather all the time. I'm back reading it again—I just started again last week. It just hits home for me. Even though they were Sicilians and they come from different walks of life, the notion of family and being together and having adversity and having people that you think are in your corner and they're not—anybody can relate to that. That's life.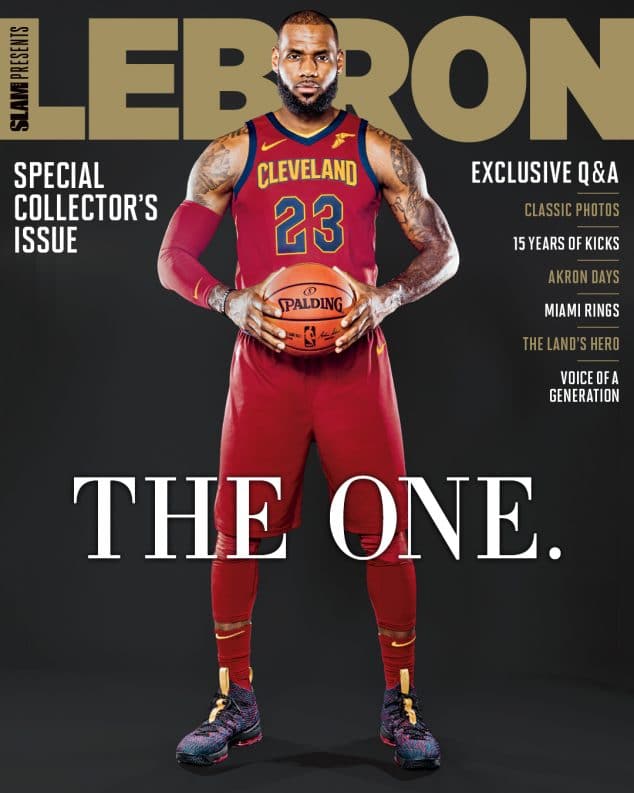 SLAM: We were also able to keep track of your summer because you've been supplying the world with amazing Instagram Stories. 
LeBron: [Laughs] That's just who I am.
SLAM: It's cool because the workout stuff, you in the gym at early hours in the day, that's gotta be super motivational to kids trying to be like you.
LeBron: For me it's not even for work no more, it's just a lifestyle. I feel great when I get a workout in, and I don't feel so great when I don't. Even with my whirlwind of a schedule this summer, being in Vegas or Charlotte for [my sons'] basketball tournaments, or being in Asia or being in the Philippines for my Nike tour or being in New York for Fashion Week, I always figure out a way to get in the gym and improve my body, improve my mind and improve my game. It's just a lifestyle.
SLAM: Plus you've been showing off your music taste on there—are you up on A&R Bron?
LeBron: I heard a little bit about it, man. I wasn't up on it when I was doing it, but people have just been sending me, like, "You're like a real A&R guy." They're like, "If you approve it, other people are going to." I love music. I listen to pretty much everybody—I'll give anybody a chance. And if it hits my ear, then I'm gonna let the people know that it hit my ear. I'm all over, too. Being from Ohio, we have an opportunity to listen to everybody, from the East Coast with all the East Coast rappers, to down south with Cash Money and Baby and those guys when they were doing their thing and No Limit was popping and doing their thing. We've also got the South where you get to Texas with UGK and Scarface and all those guys, and then we go all the way to the West as well with Pac and Snoop and Tha Dogg Pound. We cover the whole thing. It's crazy, because I listen to everything. I just love music. It's a passion of mine.
SLAM: Are you like, This song is good—if I put it on my IG Story, it'll help it get a deserved boost?
LeBron: You know what, sometimes I don't even think about that, man. If that's what comes out of it, I think that's amazing.
SLAM: Like that Tee Grizzley record…
LeBron: I heard! And shout out to Tee Grizzley—I've seen and heard a couple of his interviews where he shouted me out and said that I helped jumpstart things for him, but I just appreciate the great song. Shit, he put together an unbelievable track for the summer and we were all rocking to it. That's what it's about.
SLAM: You said you were inspired this summer by your sons' AAU tournaments. There's been a lot of talk about if kids are learning the game properly in that scene. What did you think of it?
LeBron: There's some bad basketball, there's some good basketball. I think it's all predicated on the coaches and the way they're teaching those kids. The great thing about it is the coaches that we have, they teach our kids the right way. Number one, you've gotta play together. Number two, you've gotta know the fundamentals of the game. How to make a left-hand lay-up on the left-hand side, whether to throw a chest pass or a bounce pass, knowing when to take a charge or go for a block, or knowing not to settle for a jump shot or [shoot it]—there's certain things and intricate parts of the game that we're teaching our kids that are more than just getting the ball, dribbling down the court and shooting. That's such a minor detail of the game and there are so many more levels to it. I saw some bad basketball this summer, but I'm in a position where I can watch my son be a part of a program that's trying to do it the right way.
SLAM: The way information spreads these days leads to a ton of noise around basically every single thing you do. What do you do to block that out and just focus on the things that matter?
LeBron: I really don't get involved in it, man. If I send out a tweet, I don't read comments. I don't go in to look at how many—what is it, retweets, or likes, or whatever it's called. If I send out an Instagram post, I don't really check to see how many likes I get. When I send something out, it's either from the passion of how I'm feeling or what I think needs to be said. I know it's a lot of noise out there, but it's all white noise to me. I don't really get involved in it and I don't really pay attention to it.
SLAM: How about in terms of basketball—we've seen you listen to music and read books before games to block everything out, but have you been trying anything new?
LeBron: Nah, it's the same motto. The same tune. I listen to music all the way to the game. I read before the game as well. Then right before the game I listen to some more music. For me, it's all about repetition and how I can maximize what I've been doing. It's been working, so I wanna keep it going.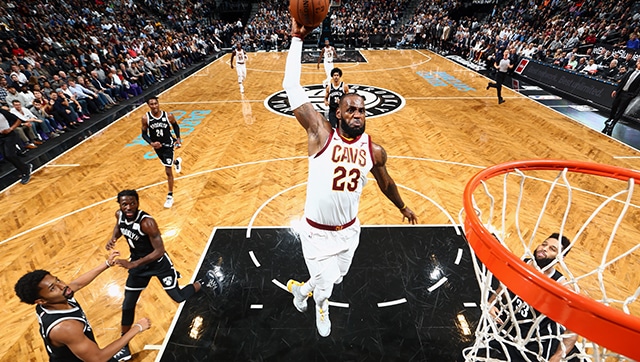 SLAM: When your name is brought up, not only now, but 10, 15, 20 years from now, what are you hoping people have to say about your basketball career? 
LeBron: First of all, that I was one of the most unselfish basketball players that played this game, at a level that he didn't have to be unselfish—but it's just part of my DNA. I cared for my teammates more than anything, but when I stepped out on the court, I gave it my all. There was never a moment when I didn't give it my all. One thing that they will always be able to say is that I was a champion. They'll never be able to take that away from me. Where they rank me, who I'm better than, who I'm not better than—I call that barbershop talk. That's gonna happen. No matter if you like it or not, it's gonna happen. It happens with the greatest of all time, Muhammad Ali. With Muhammad Ali, it's who's better, him or Floyd [Mayweather Jr]? Who's better, Tom Brady or Joe Montana or Aaron Rodgers or Peyton Manning? It's barbershop talk. What's better, ham and cheese or peanut butter and jelly? They can't even talk and people talk about them. It is what it is. For me, it's just being able to maximize, and hopefully people will talk about some of the best qualities you have, more than the stuff that doesn't mean anything.
SLAM: Speaking of looking back, years down the line I think we'll talk about how during this time period, there was a shift in how athletes used their platforms to talk about social issues. Do you agree with that?
LeBron: Yeah, I do. But it's hard to say. It's hard to know how much impact you're making when you're in it. I don't think Martin Luther King Jr knew the type of impact he was making while he was making those speeches. You don't ever know when you're in it. You only know after, or unfortunately when you're not around anymore. But it's just who I am. Hopefully I'll make an impact that'll last longer than me and last longer than my kids, and then my grandkids get to benefit from that. That's the ultimate goal for me.
SLAM: I read through an old issue of SLAM last night, and in it you were about to be an NBA rookie and you were asked about the draft age limit. You responded by saying something along the lines of, "That's not up to me. I'm just a player." Fifteen years later, nobody would ever say that, because now being an NBA player means you have real power. You've driven that movement—has that been a conscious effort?
LeBron: I think it has been a conscious effort because we understand how much we mean to this league. But at the end of the day, we understand that how much commitment you put into the game is the byproduct of what you put onto the floor. It's always been important for these kids to know that they have a platform and they have an opportunity to do something that's greater than just the franchises they play on, understand that they are important as well. But first of all, you have to put in the work. You can't be a guy who comes into this league who doesn't put in the work and then feel like you have the right or the entitlement to say something. Entitlement is the worst ingredient in any mixture of anything you can have. If you're humble about it, and you put a lot of work into your craft, and you give everything to your situation, then I think you'll be put into a position where if you have some things to say, it'll go beyond what you ever imagined.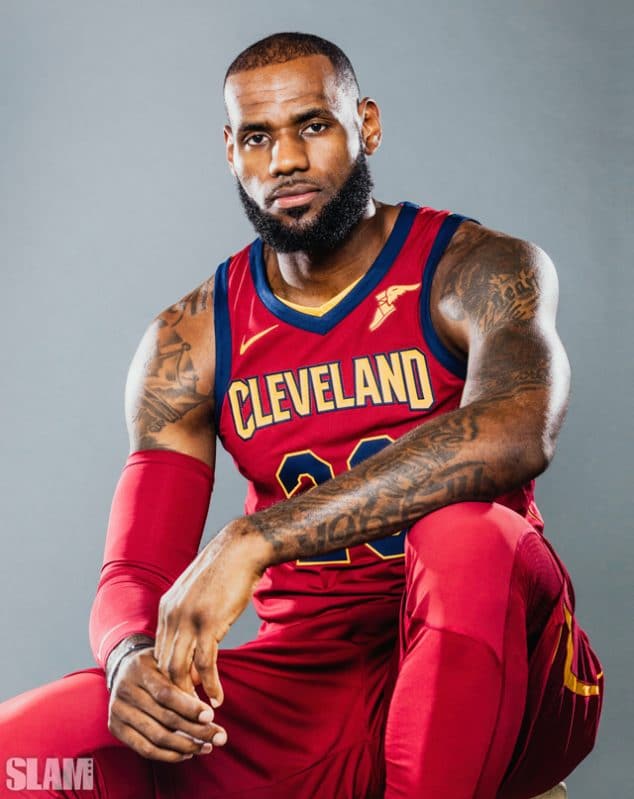 SLAM: Now you're a leader both for guys on your team and guys across the League…
LeBron: They wouldn't tell you that.
SLAM: I think some would—guys from your agency, from Nike…
LeBron: OK, the guys from Klutch would. The guys from Nike, nah. They all got that ego. [Laughs]
SLAM: What's it like being able to say, "I've experienced a lot over the last 15 years and I have a ton of information to pass down to the next generation?"
LeBron: One thing about me is I've always had an open-door policy. For guys who wanna learn about the game, about business or things that's going on off the court or how to handle certain things, I've always had an open-door policy. I believe I have a gift to give to the game, and it's always been bigger than just me. If I can help the next generation know that their voice can better the inner city or the way they play the game can inspire a kid to want to be great, then I've done my job.
SLAM: You probably don't have another 15 years left, but you've got a solid chapter or two remaining. What else are you hoping to accomplish?
LeBron: I'm still in championship mode, which I've been in for a long time. Those things can happen, and sometimes they can't. The only thing that you can guarantee is that you give it your all, and hopefully at the end of the day you put yourself in a position where you can compete for a championship. For me, I want to maximize my potential. Every single year, while I'm still loving the game at this level—and I still love the game, I still love to train, I still love to compete, I still love the League—then I have a responsibility to give everything to the game. And I have no signs of slowing down. I'm gonna keep it going for as long as I can.
—
Adam Figman is the Head of Content and Editor-in-Chief at SLAM. Follow him on Twitter @afigman.
Portraits by Julian Berman, action photos via Getty Images.
—
SLAM Presents LEBRON hits newsstands Friday, November 10. Go cop it!