With TNT courtside in Cleveland, and a national television audience looking on, LeBron James and Kevin Durant met on an NBA stage for the 20th time in their Hall of Fame careers on Thursday.
What ensued was an old school, superstar matchup that proved a fitting chapter for one of the best individual rivalries in League history.
During the opening period, James and Durant defended each other without any cross-matches while combining for 29 points. By the end of the night, they'd eventually total 58.
"KD is long and athletic," James said following the Cleveland Cavaliers 104-100 win over the Oklahoma City Thunder. "You're not going to block his shot, so you just got to get there to contest."
The contest from James on Durant's final shot proved to be just enough to steer it off the mark. But early on, it was KD who got the better of LeBron. He scored 16 first-quarter points to help build an early lead that Oklahoma City would extend through the end of the third period. James, however, would eventually use an 11-point fourth to help lead a 30-22 Cavaliers charge that closed out the victory.
"Sometimes we over-helped, sometimes we needed to help and they got wide open shots," Durant said postgame after spending nearly 30 minutes chasing James on the offensive end of the floor. "They got threes and offensive rebounds. That's the name of the game. We didn't communicate well and they finished."
James knocked down two threes while collecting a pair of offensive boards on his way to a 33-point, 11-assist, 9-rebound night to pace the Cavaliers. He spent about 23 of the 40 minutes he played defending Durant.
While totaling 25 points, 5 assists, 3 rebounds and a game-high 41 minutes, KD guarded LeBron exclusively when both players were on the floor. Despite being forced to challenge the best player in the world on a night he knew his team was shorthanded, the OKC superstar was just that missed three in the waning seconds away from sending the game to OT and surpassing his season scoring average of 27.2.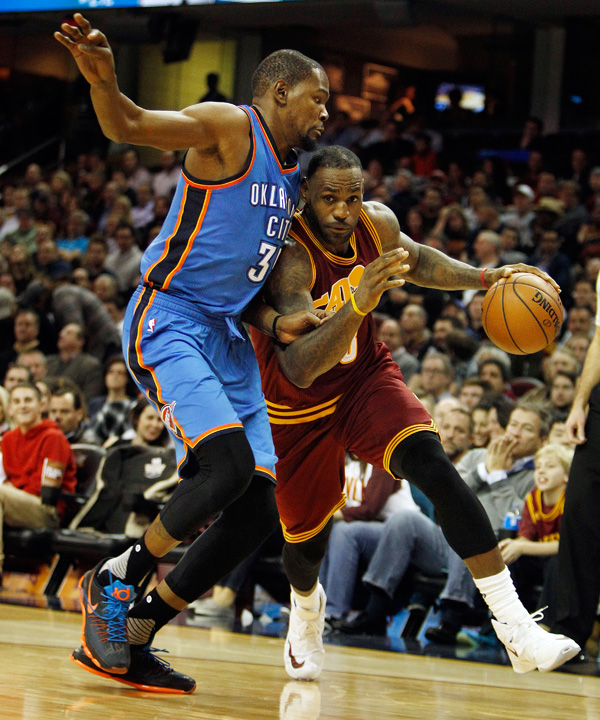 "I know passing Kareem is not in his memory bank right now," James said of Durant at shootaround. "But long term, he could definitely challenge that record. He's a 7-footer with 6-foot ball-handling skills and a jump shot and athleticism. It's never been done in our League. Never had a guy that's 7-foot, can jump like that, can shoot like that, handle the ball like that. So it sets him apart."
What also sets the James vs Durant matchup apart from other legendary scoring duels is that we're watching two superstars, playing the same position, going head-to-head in their respective primes that could both eventually finish among the top-five all-time scorers in NBA history.
The top-five career scoring list currently reads: Kareem Abdul-Jabbar, Karl Malone, Kobe Bryant, Michael Jordan and Wilt Chamberlain. With the exception of Malone and Jordan—who played different positions—each of their respective primes were in different eras. Assuming he's right about Durant's potential to challenge Kareem, James could cement a spot in the top-five alongside KD one day by averaging about 20 points per game for the next four seasons.
"It's never been my goal," Durant told NewsOK.com in response to James suggesting he could catch Kareem on the all-time scoring list. "It's cool to, I guess, be in the company of the great scorers in the League. But that's never been my goal. It's always been to have fun playing the game, to enjoy every step on the court, and to win a championship. Being the best scorer ever has never been the goal."
Although that's never been the goal for Durant or James, competing at the highest level against each other always has. Since KD entered the League in 2007, he's now lined up against LeBron 15 times in the regular season and five times in the postseason. During those 20 head-to-head matchups, James is averaging 29.3 points while Durant is scoring 29.5.
The 21st time these two heavyweights will collide is set for February 21, when the Cavaliers travel to Oklahoma City. If we've learned anything from the first 20 times they've squared off, this is an NBA matchup we'll all have circled on the calendar. It always seems like James and Durant have it circled on theirs.