It was one of those surreal moments, time and place and context all jumbled up. On a quiet afternoon 15 years earlier, you walked into a small Catholic high school in Akron, OH, to interview some kids on the basketball team. And now here you are, back in the same building on another quiet afternoon 15 years later, sitting across from one of those same kids.
Only now, you're sitting in his office, the one with "Director of Athletics" on the door.
"It's definitely a good feeling to come home," says Willie McGee, St. Vincent-St. Mary Class of 2003, who was hired at his alma mater last summer. "Being around good people, receiving a ton of support, it's just been a blessing."
What are the odds? What are the odds that a kid from a difficult upbringing would turn his athletic ability into academic opportunity, earn a couple of college degrees, and come back in his early 30s to run one of the most successful small-school athletic programs in the nation? It's crazy to even consider—that is, until you shrink the sample size. Narrow it down to single digits, to a tight-knit group of friends with a common connection and collective ambition, all pushing each other to achieve their dreams. Yes, those same kids we first encountered in the St. V lunchroom back in the spring of '01.
In that case, and in retrospect, the odds don't seem so bad.
And that common connection: It's LeBron James, of course, the man who put St. V on the map during an unprecedented high school career. To the rest of the world, the guys around him were just that—a "supporting cast," dudes who filled out a roster. But there was always more to these guys, and half a lifetime later, there still is. Making their marks as entrepreneurs, entertainers, educators and athletes, they're excelling in ways reminiscent of their high school success: benefitting from their connection to an all-time great, but still living their own lives, willing and able to take—and make—their own shots.
"The thing LeBron says, 'Earned not given,' I think is everybody's motto," says McGee. "I think we all feel if we work hard, we can go out and earn the right to achieve what we want. Everybody's working, and everybody's doing good."
"I mean, it's always beneficial to know someone like LeBron," adds Brandon Weems, now in his first year as a scout with the Cavs, "but at the same time, we're all in the grind, and everybody's working. We're all just trying to make it."
Trying and, more often than not, succeeding.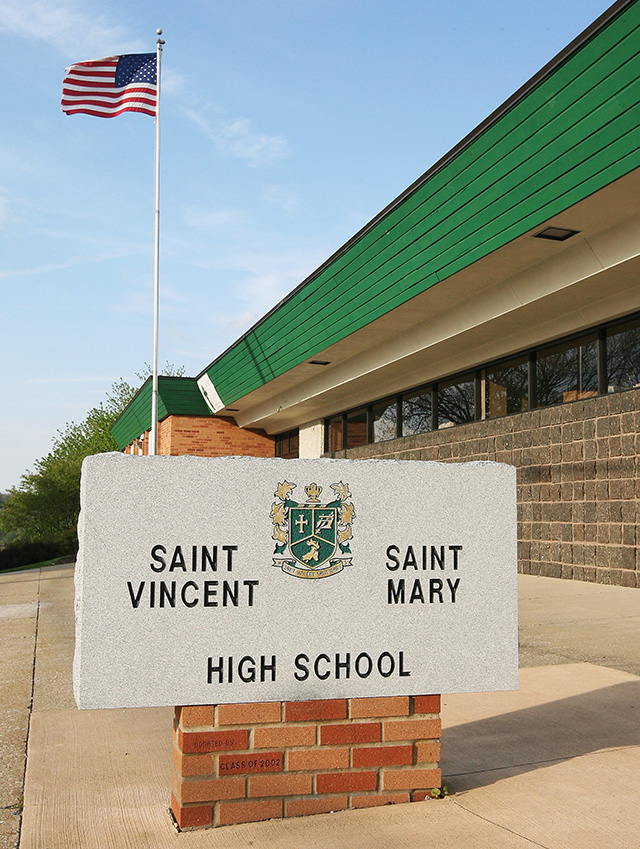 For Weems, that success has come on and off the court, but always within the game. A grade younger than LeBron and most of the rest of the crew, Weems had always challenged the older, bigger dudes in football and hoops. He never did catch up to them size-wise, but he could play, graduating from St. V in '04 and going on to star at nearby Walsh University, where as a do-it-all point guard he won an NAIA national championship as a freshman and eventually earned All-American honors.
It was a reference from his "big brother" LeBron that helped secure a grad assistant gig at Kentucky in 2009, the start of a three-year run on Coach Cal's bench that ended with Weems earning both a Master's degree and, as Assistant Director of Basketball Ops, a 2012 National Championship ring. "It was unbelievable," Weems says. "Our time at St. V was kind of like that, but Kentucky's the biggest stage you can be on in college basketball. To be able to work under a Hall of Fame coach, work with several future NBA guys, that was an unbelievable experience."
From Lexington, Weems moved on to assistant coaching gigs at Drexel and Oakland University, where he was on staff until last fall. That's when Cleveland GM David Griffin, whom Weems first met while he was at Kentucky, came calling—for the second time. "He was trying to get me to do something last year, but I didn't feel like the time was right," Weems says. "But at some point I knew I wanted to see if the NBA was the right opportunity."
He's taking that opportunity now, road tripping to college, D-League and NBA games to scout potential draftees and free agents. Given his time at Kentucky, there's no doubt Weems recognizes talent. Of course, he saw plenty of it on his own high school team—and not only his "big brother." Time has shown the talent on those St. V squads was no joke.
Dru Joyce III is in his ninth season of professional basketball in Europe, not bad for a guy who says, "Coming out of high school, I'd accomplished my goal to play Division I basketball, and I didn't see anything beyond that." The kid they used to call "Lil Dru," both because of his stature and the presence of his father, eventual St. V coach Dru Joyce II, he was the one credited with convincing friends and teammates LeBron, Willie McGee and Sian Cotton—the self-proclaimed Fab Four—to go to the predominantly white Catholic high school in town. Under the guidance of then-St. V coach Keith Dambrot, Lil Dru thought they could do something special.
They did, of course, and afterward, Joyce walked on at the University of Akron, where he was eventually reunited with Dambrot (now in his 12th season in charge of a solid Zips program) and earned a scholarship. He grew just enough and never lost his handle, court vision or deadeye stroke, to earn a shot overseas. Nearly a decade later, he's established himself as one of the best players in the German league, most recently with s.Oliver Baskets in Wurzburg. (And his dad? "Coach Dru" is in his 15th season as St. V head coach, where his résumé includes three Ohio state championships.)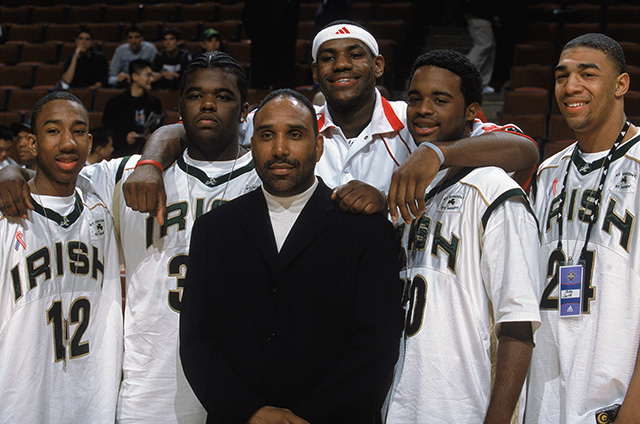 Romeo Travis was a late addition to those St. V dream teams, a childhood friend and teammate whose sophomore-year transfer turned the Fab Four into a Fab Five. By his own admission, he was an often tense and angry kid, and he says stepping into that team with its support system of friends and positive role models was vital. "I always tell people, these guys changed my life." Like Joyce, the 6-7 forward suited up for the hometown Zips in college, where they roomed together and helped lead Akron to back-to-back 20-win seasons; as a senior, Travis was named MAC Player of the Year.
And then it was off to Europe, where over the course of nearly a decade Travis has played in Spain, Germany (where he briefly reunited with Joyce), Israel, Croatia, Ukraine and Russia, with a brief stop in the Philippines before landing this season with Le Mans Sarthe Basket in France. In maintaining that success, he credits his PG with a lifetime's worth of assists. "Dru helped keep me calm in college, and then as a pro, he was the one who convinced me to switch to the 4," Travis says. "I was basically a power 3, but he was like, 'I'm telling you, go back to the 4, they get the shots here.' I did, and my career got amazingly better."
There's an easy metaphor there about challenges overcome, and he's hardly the only one. Sian Cotton, the burly big man on those Fab Five teams, was always a football player first, and after high school he headed off to Ohio State on a scholarship. Things didn't pan out for Cotton in Columbus, but he eventually rediscovered a passion for music and committed to a career in hip-hop. He's dropped a succession of singles and mixtapes, including last year's Hustle Spirit; and if you're reading this, there's a decent chance you heard Cotton's track "Almost Home" on the LeBron-curated soundtrack for NBA 2K14.
Then there's McGee, who went to tiny Fairmont State University in West Virginia on a football scholarship, came home with a degree and ended up as an assistant coach, first at St. V, then at Akron under Dambrot while he completed a Master's degree. In the time since, he's worked in youth and social services, and was an assistant basketball coach at Chowan (NC) University when he came home again, taking charge of the St. V athletics program last summer.
Frankie Walker is the one member of the crew who didn't graduate from St. V, but his connection runs as deep as any. It was Walker's family who took in a young LeBron when his home life was at its most unstable in grade school, and Frankie's room he shared. As with Weems, whose late mother was LeBron's godmother, Walker's bond with LeBron is best described as brotherhood.
Five years ago, Walker and LeBron teamed up in Miami to open UNKNWN, a street- and sports-inspired spot for high-end kicks and apparel. When we caught up with Walker in January, the self-described "sneaker guy of the bunch" was back in Northeast Ohio putting the finishing touches on The Flat Hat Club, a similar retail and lifestyle spot due to open this spring on the University of Akron campus. His business partner is none other than Romeo Travis, who says the goal of FHC is affordable style—a place where "you feel cool, but don't walk out of the place feeling like you've been had."
That mindfulness reflects the reality most of these guys came from—which is to say, economically at least, not much. But what they lacked in financial resources, they were blessed with in support that still pays dividends. And while one of them stands out for the money and fame, that support flows in all directions. "You know, LeBron's an only child, so he always wants people around him," Travis says. "He's the guy that calls people, trying to get everybody together for dinner, whatever."
Adds McGee, "He's doing a lot of great things for the community, and when he has events here, we don't come out to be part of the sideshow—we're truly coming out to show support. He texts us afterward, thanks us for being there, just to see some familiar faces. We're happy to support him."
Fifteen years later, so much has changed. Everything, really, except that bond.
—
Top image via Patty Burdon/St. Vincent-St. Mary HS, others via Getty