It's an indelible memory for me, 14 years later. I was just starting as a sports and politics columnist for a local Maryland newspaper called The Prince George's Post, reading an interview with this NBA rookie who had more buzz around him than anyone since Kareem Abdul-Jabbar. This teenager was speaking about his goals in life and said that his dreams included being "the richest athlete in the world" as well as becoming "a global icon like Muhammad Ali." I remember hearing that and thinking that this teenager with the galactic skill set was in for a difficult dose of reality. I thought that while these were great goals, they didn't exactly go great together, because Ali is not an icon for the size of his bank account but for what he sacrificed. This young man, I thought, was describing a path that simply did not exist. He'd be better off saying that his goal would be finding the lost city of Atlantis. In all my wisdom, I wrote at the time that this kid from Akron would eventually have to choose: he could be an economic leviathan or a political trailblazer. But he couldn't be both. Then there was the small fact that he would also have to fulfill the unrealistic expectations being set for him on the court to even have the chance to try.
So the checklist of this teenager was nothing less than: 1) be the player of his generation; 2) be a voice for his generation; 3) get paid. These were his goals and they seemed absurd, but dammit if LeBron Raymone James hasn't made fools of us all.
LeBron, while accruing statistics and accomplishments that will put him in the G.O.A.T. discussion with Jordan and Kareem (my personal top three), has also shown that reaching for mogul status does not need to be at cross-purposes with being a voice for the voiceless and using your athletic platform to fight for a better world.
I didn't think those goals could work together because it had never been done and there was no example. I couldn't see then that LeBron was going to create a new mold. These aspirations haven't been fully reached as of yet, but the template that LeBron has laid out will influence athletes for generations. The previous age, where the guiding ethos was "the game is to be sold, not to be told," a time when you measured your success by endorsement dollars and speaking out, was seen as a liability, is over.
It's LeBron's world, but it didn't just take shape because of his individual iconoclastic vision, as driven as he is. It's happened because his prime has organically intersected with the Black Lives Matter movement—which was formed in 2013 following the murder of teenager Trayvon Martin and the subsequent acquittal of Martin's killer—as well as the rise of social media, and LeBron has been savvy as hell about his interaction with both.
In 2012, 17-year-old Trayvon Martin was killed by George Zimmerman, a wannabe neighborhood watchman, who stalked Trayvon, shot him and wasn't arrested. This happened in Sanford, FL, and as the days went by and Martin's killer still wasn't arrested, protests exploded in Florida. Demonstrations and walkouts took place at dozens of high schools throughout the state. While Martin's killer walked free, the media demonized and dehumanized a slain child.
The Miami Heat were not isolated from this, and as a team they made the audacious decision to pose for a photo, all wearing hoodies, their faces covered in shadow. Trayvon was wearing a hoodie when he was killed, a fact that was used as enraging rationale by his killer's defenders for why he was perceived as a threat.
#WeAreTrayvonMartin #Hoodies #Stereotyped #WeWantJustice http://t.co/tH6baAVo

— LeBron James (@KingJames) March 23, 2012
At their game following the photo, James and several of his teammates took the floor with messages like "RIP Trayvon Martin" and "We want justice" written on their sneakers. James later said, "It was very emotional, an emotional day for all of us. Taking that picture, we're happy that we're able to shed light on the situation that we feel is unjust."
But it was the photo of the hooded Heat players that went viral, at a time when social media platforms were still in their infancy. The lesson was not lost on the King
LeBron's next iconic moment was also driven by the confluence of injustice and social media. In 2014, a police officer in Staten Island, NY, choked a man named Eric Garner to death. Garner's last words, caught on film, were "I can't breathe." After footage of Garner's strangulation went viral, Derrick Rose, then on the Bulls, wore a black t-shirt during pregame warm-ups emblazoned with Garner's final three words. LeBron was asked about Rose and he said that he saw it on social media and if he had such a shirt, he would wear it as well. His response was also seen on social media and shirts from several sources were waiting for LeBron and the Cavs in the visiting Brooklyn locker room for his game against the Nets.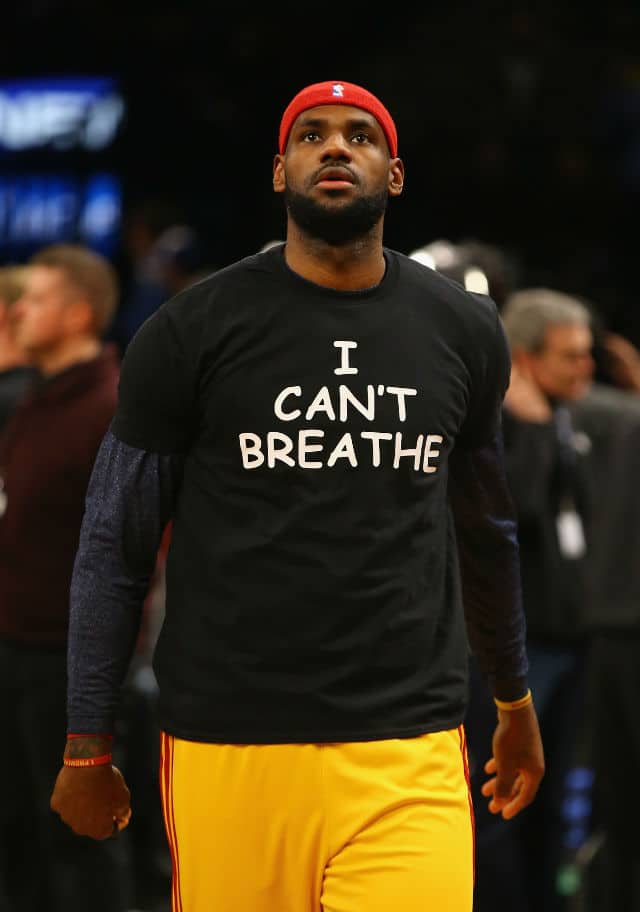 Since that time, LeBron has made an effort to continue to build his brand off the court while commenting on racism, police violence and poverty off the court. This has accelerated dramatically in the wake of the election of Donald Trump, whom in so many respects is the anti-LeBron: a child of privilege who feeds off bigotry and division. While Trump is attacking youth programs that benefit the disenfranchised, LeBron is using his wealth to open up educational opportunities where none exist. But when their paths have crossed, LeBron has faced him down.
After Trump disinvited the Golden State Warriors to the White House—an invite that their star players had already said they would decline—LeBron dropped the tweet heard 'round the world: "U bum @StephenCurry30 already said he ain't going! So therefore ain't no invite. Going to White House was a great honor until you showed up!" In covering this tweet, The New York Times made a point to note that LeBron has just as many Twitter followers as the president. While Trump seems to relish feuds, he has left LeBron alone, almost as if, at least in this case, he knows better.
U bum @StephenCurry30 already said he ain't going! So therefore ain't no invite. Going to White House was a great honor until you showed up!

— LeBron James (@KingJames) September 23, 2017
The great thing about LeBron at this point in his life is that he does more than send tweets.
He addressed his comments about Trump to the media and tweeted a statement explaining his opposition to Trump with more maturity and stability than the current occupant of the White House. That a young man from a single parent home who grew up in an unstable environment is now this kind of leader is a remarkable American story. But what makes LeBron special is that he does not want his story to be used as a way to spread a fiction that this country is somehow a post-racial Shangri-La where anyone can make it and institutionalized obstacles do not exist. Instead, he is on a mission to make sure that young children who have to navigate poverty or racism can succeed in spite of a power structure that feeds off of their powerlessness. It's a hell of a task, but given just how much LeBron James has accomplished, it'd be foolish to doubt him. That teenager from Akron proved me wrong once, and I sure as hell am not betting against him again.
SLAM Presents LEBRON is available now! Buy it here.
—
Photos via Getty Images