GRAB YOUR COPY OF SLAM 226 FEATURING THE CLIPPERS
"When it was brought to us, it was like, Yeah, we gotta do that. That's a must," Patrick Beverley tells SLAM.
It's a Thursday afternoon in January and we're at the Honey Training Facility, the Clippers' headquarters in Playa Vista, CA, a city located about 30 minutes southwest of downtown Los Angeles. Montrezl Harrell has just walked through a door that leads into the media room, which is adjacent to the team's practice court. With every step he takes, there's a clanking sound from the plethora of chains that are stacked together around the 25-year-old's neck.
He's wearing a red velvet durag with a white headband over it. The ties hang down his torso. Harrell's also wearing Beverley's jersey. In comes Pat, a sleeve on his right arm and two headbands placed over one another, with a diamond-encrusted Cuban link and Lou Williams' jersey on. And Lou, with no accessories other than his assortment of ice, is sporting Harrell's home jersey.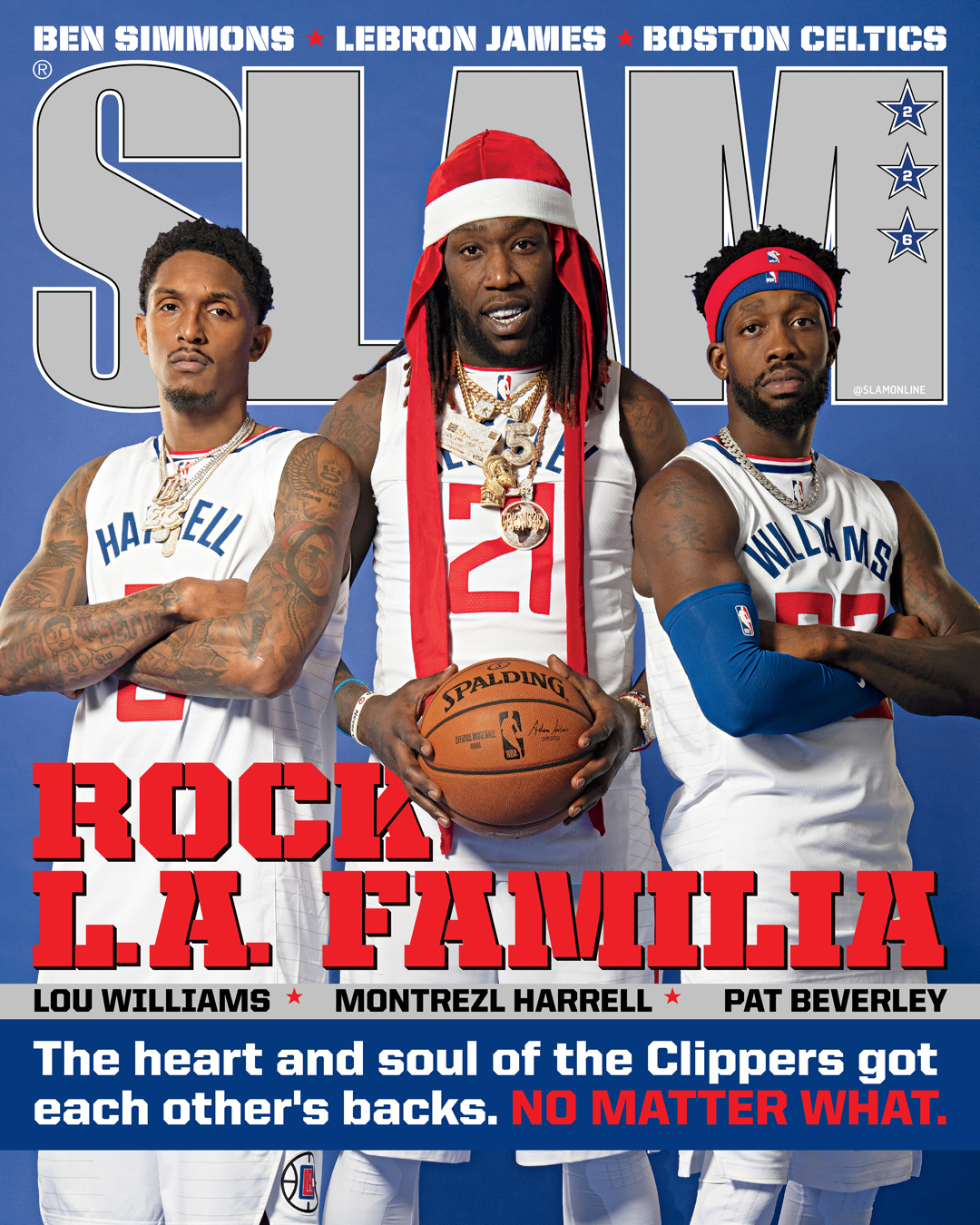 In 2002, Elton Brand, Lamar Odom and Darius Miles graced SLAM 57 wearing each other's jerseys backward to represent an era that was the epitome of fashion. Brand posed with a fitted; L.O. rocked a Sean John headband; and D-Miles wore the untied red durag with the white headband. Nearly two decades later, Beverley, Harrell and Williams are posing in a similar manner, paying homage to the aforementioned cover.
"They represented a culture back when they played with the Clippers," Beverley, who's spent the last three years with the team, says. "We reinvented something and added our own little swag to it."
"I look at it in retrospect," Williams adds. "Once it's all said and done, you can look at that cover, look at us recreate it and having an opportunity to do it with this group and possibly to make history will be dope."
The history Lou speaks of: bringing the Clippers their first ever title. After acquiring Kawhi Leonard and Paul George this past summer, the Clippers are considered championship contenders.
"This is a Laker town," Williams, who played with the Lakers from 2015-17, says. "There ain't no confusion about that. That's perfectly fine with us. We prefer it for the odds to go against us. I think that brings the best out of us. I think that's just the difference [between] playing for the Clippers and the Lakers. So much is expected of the Lakers from the beginning and it's, like, surprising if we do something."
To be born and raised in Los Angeles and root for the Clippers can seem taboo, especially when there's already an established basketball team that's been here since 1962. The Lakers' résumé speaks volumes, too—16 championships, 11 retired jerseys, the Magic Johnson-led Showtime era, Kobe and Shaq, and five statues (four players and one broadcaster) that are enshrined outside STAPLES Center, serving as a reminder of who the superior team in L.A. is.
It takes a special kind of group to cheer for a team that relocated here 22 years after the Lakers did. A special kind of group to devote its allegiance to a squad that's never made it past the second round of the playoffs, one that was plagued by injuries when it had promising pieces and ultimately left a lot of "What if?" hypotheticals.
Despite everything that's happened within the organization—underachieving seasons, parting with franchise players, the demise of Donald Sterling's ownership—there's still a loyal fan base that reps Clipper Nation.
"They let us be us," Beverley tells SLAM. "Not only does the team allows us to be us, but the fans do, too. We come into games, we wear chains, sweat suits—[we're] locked in and trying to get a win—and they embrace that, and I think that's the biggest thing."
The fanbase Beverley speaks so highly of is something he appreciates about the city. Last season, while sitting in his locker answering post-game questions after a win over the Lakers, Pat dedicated the victory to those who, like himself, got it out the mud.
"The people in the back," Beverley told reporters. "The blue-collar people who don't have a lot given to them, who work for everything they deserve. And that's what we're doing right now. We do it for them."
Earlier this season, he partnered with Honey, an L.A.-based tech company, to offer fans tickets at an affordable price. For all 41 home games this season, $10 tickets have been made available to purchase an hour and a half before tip-off.
"I grew up in situations where we weren't able to [go to games]," Beverley says, reminiscing on his childhood. "I remember when I was in Chicago trying to get to Bulls games, my mom had to work and do all that to try and get tickets so [I'm] fortunate to give back and inspire more."
The Clippers have continued to serve those who are underprivileged throughout the city. To date, there are about 150 refurbished basketball courts throughout the greater Los Angeles area that feature the team's interlocked logo (first introduced in 2015), with that number set to double later this year.
The team also has a mobile optometry shop that shows up to local schools in the county. The shop started with five schools in Watts, then expanded to serve children in Inglewood and Long Beach. The Clippers are also set to relocate to a new arena in Inglewood by 2024, and have rebranded their identity and marketing to connect with those who may feel overshadowed by the city's glitz and glamour.
"We don't have to be one way off the court and be a whole completely different way on the court," Harrell says, referencing what the team's "L.A. Our Way" mantra means to him. "What you see is what you get, and the fans have done a great job of embracing that and being able to follow that culture."
What's evident within the first few minutes of being at the photo shoot is that the relationship between the trio isn't fabricated. The conversations flow freely, ranging from praise to distant memories to just joking with one another, like they've been friends since childhood.
"I put up 40 on his head, that's what I remember," Williams recalls about the first time he played Beverley. "I like to check people's temperature. I don't really talk a lot, but me and Pat got the same DNA—we just go about it a different way."
"I thought bro was crazy to be real with you," Harrell adds.
"I thought you were crazy, too," Beverley claps back.
To understand how strong the camaraderie between the three is, the birth of it dates back to 2012, when the Houston Rockets signed Beverley, a hard-nosed 6-1 point guard by way of Chicago who had stints in Greece, Ukraine and Russia.
Three years later, Houston took Harrell, a 6-7 power forward from Louisville with an unlimited motor, as the 32nd pick in the 2015 draft. The following season, the Rockets received Williams, a reserve journeyman on his fifth team, via trade from the Lakers. The 2015 6MOY would play 23 games in H-Town before being on the move back west, this time to the other L.A. franchise.
In 2017, the Clippers traded Chris Paul to the Rockets in a seven-player deal that also involved a first-round draft pick. Among those players were Beverley, Harrell and Williams. Fast forward to 2020 and they are the only three players remaining from the trade, making them the longest-tenured Clippers on the roster.
As of this writing, the Clippers are 30-13 and sit in fourth place in the Western Conference. Montrezl Harrell is averaging career highs in points (19.3), rebounds (7.1) and minutes (28.7) per game. He's tied his career-high 34 points three times this season and has six double-doubles.
"I'm a dog, bro—no ifs, ands or buts about it," Harrell says. "I don't chill. I don't do vacations and stuff like that. When the season is over, I go home and be with my kids and family for that first week and…I'm right back playing in the Pro-Ams and in the gym with my trainer."
Harrell's on-court play—the way he attacks the glass to corral rebounds for second-chance opportunities, facilitates to shooters on the perimeter when the defense helps in pick-and-roll situations, uses his motor to outwork opponents or shows his expanded offensive repertoire—has paid dividends across the L.
"He's gotten better every year," Williams says of Harrell. "I praise him for accepting the position that he's in for the betterment of our basketball team as a whole."
Williams—the three-time 6MOY winner who's averaging 20.0 ppg and 6.2 apg in his 16th season—will go down as one of the best reserves the game has ever seen. Last March, Lou passed Dell Curry for the most bench points in NBA history. He currently has over 200 career games with at least 20 points off the bench—an NBA record—and, along with Harrell, has formed one of the best one-two punches in the Association.
The pair joins Kawhi (26.9 ppg) and PG (23.5 ppg) on the only team to have four players averaging at least 19 ppg. Lou and Trezz have propelled the Clippers to rank first in bench scoring (51.7 ppg) and second in boards (20.5 rpg).
"The chemistry just continues to build because we're able to build the work in when other people are vacationing," Harrell, who established that rapport with Williams at the AEBL Pro-Am in Atlanta, says. "We're playing the game that we love to play in general and it gets to convert within what we do in our actual workspace."
"Entertaining," is the word Beverley uses to describe the tandem. "The things that they do on the basketball court, you couldn't even find a [more] perfect match. The energy they bring, the professionalism they bring. In a lot of ways, the starting unit will come out dry and they pick up the pace. We're up 8 and the lead goes to 20—something like that you can't find that anywhere in the League except here."
Beverley is the head of the snake who embodies the Clippers' gritty ethos. His defensive assignments consist of guarding the League's best—LeBron James, Stephen Curry, Kevin Durant, James Harden, Russell Westbrook—and pestering anyone else on the court. Mr. 94 Feet, a nickname he received for his prowess locking up, has abided by a duck-no-fades mentality that only true competitors can appreciate.
"I gotta say, when I was growing up in Chicago," he says, when asked about his approach to the game, "the group of guys I [hung] around with was always all or nothing. That's how it's always been since I was growing up. I was fortunate to make it out, make it to the NBA and it's my same mindset."
Later in the interview, the trio talks about what a Clippers championship parade would look like in L.A. Williams says it'd be interesting because they're splitting a city with another team; Harrell believes they'd hear cheers along with boos depending on where in Los Angeles they're at; and Pat claims that they'd be so turnt that they wouldn't even care.
"It makes sense for our whole mantra and everything that we stand for," Williams says. "We'll be the first team in NBA history that it's L.A. our way and we can possibly hear boos at our own parade. I want to win it for the experience."
With a culture change and the right pieces, the experience to hoist the Larry O'Brien Trophy could be a reality come June.
—
GRAB YOUR COPY OF SLAM 226 FEATURING THE CLIPPERS
Drew Ruiz is an Associate Editor at SLAM. Follow him on Twitter @DrewRuiz90
Portraits by Atiba Jefferson