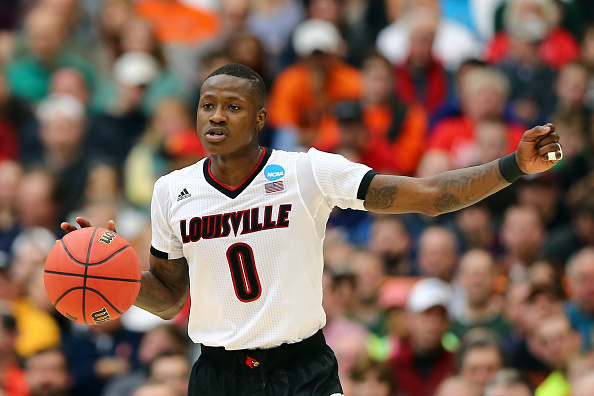 When Terry Rozier declared for the NBA Draft last week, most assumed that he would be staying in for good. The Louisville sophomore led the Cardinal to the Elite 8 and solidified his stock in the eyes of the NBA in the process. Still, Rozier had the option to return to school if he desired to do so. He made things official today, signing with Aaron Turner of Verus Management Team, along with teammate Wayne Blackshear.
"I'm excited to sign with Aaron and the Verus team," Rozier said at a signing dinner at Cleveland's Red The Steakhouse. "I'm looking forward to showing teams that I am a point guard and improving every day."
Rozier will join fellow Cleveland product and current Sixers forward JaKarr Sampson with the multi-sport agency. The Youngstown native played his high school ball at Shaker Heights before spending a post-grad year at Hargrave Military Academy. He averaged 17 points, 5.6 rebounds, and 3 assists per game as a sophomore at Louisville and will look to prove to teams that he is ready to make the transition to point guard full-time at the NBA level.
Blackshear had a four-year career at Louisville that was plagued with injuries, yet showed flashes of brilliance. The Chicago product was a McDonald's All-American in 2011 after a storied career at Morgan Park and for the Mac Irvin Fire on the AAU circuit. He displayed his serious talent late in his senior campaign, culminating with his 28-point outburst against Michigan State in the Elite 8. Now, he's ready to show NBA executives that is something that he has the potential to do on a consistent basis.
"I'm looking forward to getting an opportunity to show what I can do in front of teams," a confident Blackshear explained. "I'm going to be putting in work on my ball-handling, creating my own shot, and getting shots up from the NBA three point line."
225