The Man Behind The 7: Set Free Richardson Bridges The Gap Between Hoops and Hip-Hop
Set Free Richardson calls from Mexico, where he's been quarantined for the past eight months. He feels good, he says, wearing his signature No. 7 hat while explaining how the AND1 mixtapes were born.
To sit (virtually) with the very man who founded hoop mixtapes, who shifted the culture of basketball by creating a work of art that embodied it, is an honor. Hip-hop and basketball inspire the same kid, Set Free says over Zoom. Poetry in motion, set to a snare drum.
"The ball is the sound of a drum," he says. "The ball is the same beat as the drum in hip-hop."
The AND1 mixtapes were born out of Set Free's personal connection with hip-hop. Born in the Bronx, he lived "bicoastally'' between Philadelphia and Queens and found the best of both worlds when it came to music. NY had the MCs: LL Cool J, Salt-N-Pepa and Run DMC. Philly had the DJs: DJ Jazzy Jeff, Cash Money, DJ Mizz. He started DJing at 14, performing around the South Bronx in the 1980s.
While buying records one day at Footworks, a record store in Philly, Peter Smalls aka Biggie, a rep for AND1, approached him to ask what he thought about their sneakers.
"I was like, they suck," Richardson says with a chuckle. "But if you connect them with hip-hop right now, your company could be out of here. That's how my first introduction to AND1 came [about]."
Even then, Set Free knew there was value in attaching a brand to the hip-hop community. When AND1 sent him merch, he gave it to his friends who were rappers, like De La Soul and Black Moon. He went back to Smalls and let him know that they were all wearing AND1. Then he left Tommy Boy records in 1997 and joined AND1 shortly after, where he started working in product placement.
During a lunch break one day, Set Free says he was approached by the Head of Marketing, Jeffrey Smith, who wanted to show him some basketball mixtapes. Unsure of what to do with them but still curious, Set Free asked to take the tapes home.
He had a music studio in his basement and a VCR player above his turntables and usually liked to turn on the TV while DJing, to have it playing in the background. He popped the tapes in, and turned the volume down low as he started scratching. The snare drum hit just as a jump shot was made, a kick hit on a dunk. Boom, boom, boom.
He went back to the AND1 office the next day and was hyped for what he'd discovered. Next thing he knew, Jeffrey Smith was sending him to Miami to get in the studio to make the video mixtape. Just as he'd done with the merch, Set Free then sent one-minute snippets of the AND1 mixtapes via FedEx to his friends, like Sway and Common, and called them up to see what they thought of it.
"Some people were like, 'Yo, where is this at? Who are these guys? Where are they from? Where do they play like this? Can we go there? Can we go see a game like this?'"
"To know that I was responsible for putting something together that touched so many people's lives, touched some of my favorite NBA athletes today, to be a part of so many rappers' careers, helping them break their record, I'm not gonna say AND1 was the reason they broke the records, but it helped add to record industry record labels' plans. It's just overwhelming, it's a great feeling," he says.
AND1 stopped making mixtapes in 2008 but the legacy has lived on. The very existence of hoop mixtapes today, like an NLE Choppa track playing over a Bronny James highlight video, is influenced by those AND1 tapes.
That's exactly why players like Carmelo Anthony, Kevin Durant and the youngins' like Tyler Herro and RJ Barrett mess with Set Free and his company, The Compound. They often visit his gallery and "creative hangout space" in the Bronx.
This past NBA season, Richardson also saw an opportunity to artistically capture the movement that went on inside the NBA bubble in Orlando. Players were protesting and speaking up and the League had Black Lives Matter on the court and on the backs of jerseys. They were playing for change.
"I wanted to create something that players would look at, see, and be like, That's what I'm talking about," he says. "That, for me, represents change through basketball."
He had an idea, inspired by the image of a silhouette. Think Jerry West as The Logo and Michael Jordan as The Jumpman. He made his own silhouette of a basketball player holding a basketball, with a fist raised in the air and pitched the idea to the Players Association.
They loved it and The Compound printed 300 shirts and sent them to different players inside the bubble—Jae Crowder, JR Smith, and Danny Green to name a few. Set Free saw his merch serving a bigger purpose.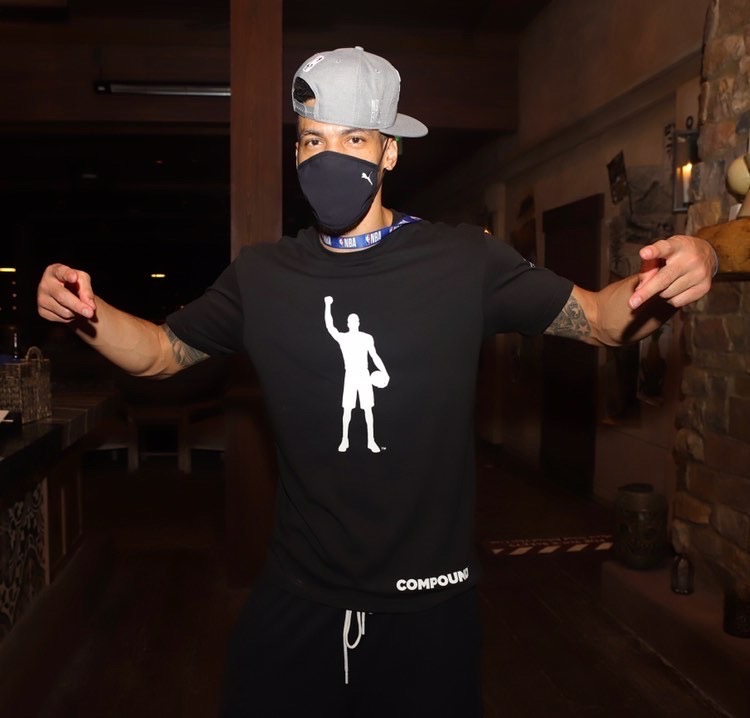 "I created a logo and an image that wants people to stand for something and it addresses more than one issue in the world," he says. "To be able to do it with my favorite athletes and my favorite sport in the world, it meant a lot seeing players at the podium like Jaylen Brown wearing, literally Danny Green wearing it the night of the championship.
"To create drip with a purpose now is incredible," he continues. "There's not too many brands or many projects that feel like drip that means something."
Players like Carmelo Anthony and Kyle Lowrey all rock The Compound's No.7 snapbacks, another product made with intention. The design is rooted in faith, as well as hip hop.
"When somebody asks me who's my favorite artist, I say God. He created the world in 7 days. 6 days work, one day rest. That's where it started, you know, God first is with me with everything. It's the scripture about the whole armor of God [and] this was the physical aspect of the closest thing I could look at to create like that represents that armor of God."
As for what's next for Set Free, he's moving into the production space. He's executive producing a 30 for 30 (but can't tell us what is yet) and is focused on continuing to tell stories and pushing The Compound beyond what people are thinking about.
"Hey, I might do fencing and hip hop next. Ballet and fashion, who knows. It's always the DNA of putting two things together that people won't expect."