In only his second year as the NBA's Deputy Commissioner, Mark Tatum shook hands with history. And those hands, he says, were so large that his own palms completely disappeared.
Tatum was on stage at the Barclays Center in Brooklyn to call the 52nd pick of the 2015 NBA Draft, a little-known 7-1 giant out of Punjab. That young man, Satnam Singh, turned out to be the first Indian player ever to be drafted into the NBA. "I was so thrilled to be a part of that," says Tatum, "to know that I'll be part of that history."
Tatum—and the NBA—haven't stopped shaking hands with India since. Last summer, he visited the country with Robin Lopez and Seth Curry to attend a Jr. NBA Elite Camp in Noida, a city close to the country's capital, New Delhi. Tatum is back in the country, helping the NBA launch its most-ambitious investment in India yet: an elite basketball academy where the League will develop top young male and female prospects from around the country. The NBA's hope is that the results will pay off longterm to build a stronger basketball culture in the country.
On Tuesday, the NBA announced the official opening of NBA Academy India at the Jaypee Greens Integrated Sports Complex in Greater Noida. Twenty-one elite male prospects, who were selected following a three-month, nationwide basketball talent search, will receive scholarships and training the first-of-its-kind academy.
The NBA says that the Academy in India will employ a holistic, 360-degree approach to player development with focuses on education, leadership, character development and life skills.
The official opening of NBA Academy India follows the launch of academies in Hangzhou, Jinan and Ürümqi, China; Thies, Senegal; and the planned launch of NBA Global Academy in Canberra, Australia. The Academies include educational development for top international male and female prospects and mark the NBA's most significant investment in elite player development.
While the Academy will serve to the top-of-the-line prospects in the country, the NBA has taken steps to reach deep into the grassroots to make basketball more ubiquitous around India. Over the last few years, the Reliance Foundation Jr. NBA program has trained millions of young players and instructors. The NBA also launched an 'NBA Basketball School' earlier this year in Mumbai, with plans to open more in the near future.
We caught up with Tatum over the phone from Mumbai earlier this week to discuss the ambitions for the Academy, the challenges and opportunities presented by India, and more.
SLAM: What has been your very first impression of India and of the basketball talent available for the NBA Academy?
Mark Tatum: My first impression was that the players had a true understanding of the game, and I was impressed by their willingness and desire to learn. I remember Seth [Curry] was teaching them how to shoot and Robin [Lopez] was taking them through drills. I remember vividly a couple of big, young gentlemen listening intently to what Robin had to say. They had knowledge and a passion to want to get better.
SLAM: Cricket is India's most important sport and basketball is still not popular in the mainstream—no India-born player has played in the NBA. Why did the NBA show so much interest in India and choose to invest in this massive venture?
MT: India has 1.3 billion people. We think it has the potential to be the next China for the NBA. I had the opportunity to call out Satnam Singh's name as the 52nd pick in the draft—I think it was inspiring and will inspire more Indian kids to play. The sport is really growing in popularity here. Our Jr. NBA program reached six million youth and we have taught five thousand physical education teachers since 2013. We have seven million Facebook fans from India, and that number is growing at a rapid pace.
This Academy is really the next step in helping to develop elite talent in the marketplace by providing best-in-class training and development. For us, it's a longterm opportunity and investment.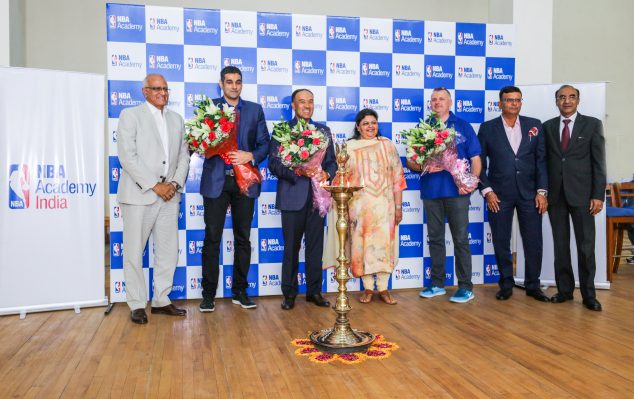 SLAM: Many in India believe that the best-case scenario is to follow that China model. The two countries have similarly large populations and potential, and if India can get a breakthrough like Yao, it would be huge for basketball and NBA in the country. But what do you think India can offer to the basketball world that perhaps differs from any other model?
MT: India is unique in the size of its middle-class population and how young the demographic is. In terms of basketball, China is a very mature basketball market: they have been playing the sport for over a hundred years. The game was brought there in the early 1900s! For us, the opportunity in India is to get more younger kids and more instructors teaching basketball, playing in schools and having a younger demographic who likes action. These youngsters are multi-talented. They are engaged in digital and mobile activities, which the NBA is perfectly suited for.
SLAM: The Academy aims to employ a "holistic, 360-degree approach to player development with focuses on education, leadership, character development, and life skills." Why has the NBA chosen to taken this additional responsibility for youth development outside the basketball court?
MT: We believe basketball and sport have benefits beyond the sport. Life lessons from team sports, specifically basketball, can help improve individuals and society. The lessons that I learned growing up playing basketball and baseball growing up were: how to be a good teammate, how to respect others, the values of hard work, that if you work hard at something you can get better at it. You learn how to overcome adversity and learn how to lose too.  For us it's about more than basketball on the court – there can be really valuable life lessons that individuals learn from the game.
SLAM: There are already NBA Academies in China, Africa, and Australia. Many of them follow the NBA's basic curriculum and philosophy in coaching and player development. Each culture is different, and India obviously has its own separate set of challenges and opportunities. What will be the approach for the Academy that will be unique to India at the grassroots level?
MT: I think the opportunity is that, in a short amount of time, there are kids here who have been identified through a national scouting network. What's so positive is the level of talent we're seeing from young kids in a market where basketball infrastructure hasn't been great. It is a huge opportunity that we're excited about.
The challenge is that there hasn't been a strong culture of basketball for over a century. How do you quickly build that culture? How do you expose these kids to the best competition in the world? The academy concept is really going to help with that. We're going to accelerate the development with access to best coaches and best trainers. They'll have a chance to travel and play against other academies in China, Australia, Africa, and potentially, teams in the US. This is a tremendous opportunity and we have some of the top prospects in the country.
SLAM: You played a part of Indian basketball history two years ago when you called out Satnam Singh's name in the draft. When you were informed of the Mavericks' pick, did you feel that this was going to be a historic moment?
MT: Oh yes, I remember that moment so vividly! I was thrilled to be a part of history. Earlier on draft day—all the draftees were at one hotel—I spotted Satnam and went up to say hello to him. He was so nervous and excited about the prospect of hearing his name. I said, 'Satnam, I hope I get to call your name tonight'.
How the draft works is that I wait in a room in the back. I get a card handed to me, and when I saw his name, I began to smile from ear to ear. I knew how happy he would be and what a huge moment it would be for the youth in India. So, I went out there. I knew where he was sitting, glanced at him, and called his name. it was an exciting moment for me, for him, for the country, for the history of the NBA. We'll look 10-20 years from now and realize what a big day it was.
I know that he is working hard—he is very talented, very skilled. He had a decent season in the D-League and I think he learned a lot. I still view him as a young big man who has an opportunity to make it.
SLAM: From what you know of India's potential, how long do you feel it would be for India to produce a decent NBA talent?
MT: There will be lot of divergent pathways. Some kids play in Division I colleges in the United States; some will play in the D-league; some will play in other leagues around the world. We're hopeful that in the next five-to-ten years or so that we'll see an NBA talent coming through these academies.
Related
Billion To One: Satnam Singh Q+A
—
Karan Madhok is a SLAM contributor. Follow him on Twitter @Hoopistani.

Photos via NBA