My first time as an All-Star was 2004. I was just having fun. I didn't wanna do the other stuff—like the media—but I was still having fun. I just wanted to play. At the time, we [the Pacers] had the best record in the League, so I was upset I didn't play a lot. I came off the bench—I probably shoulda started, you know, since I was probably the best small forward. I wanted to end the game on the floor, too, but I didn't. I had 7 points.
The West had a big team. I remember Shaq [the MVP] came to play. I remember them being big, but you still just gotta go out there. You always feel like you can win.
Jermaine O'Neal [who also played in the '04 Game] is a leader, man. He had a tough job in Indiana. He had to lead a bunch of young crazy people. I remember one time he pulled me to the side during a game and just kept it real—he had a conversation with me, he wasn't babying me—he was like, 'Man, you gotta stop doing this bullshit if you wanna win. You gotta quit it.' And Jermaine was young himself—only 23 or 24. He did a really good job leading. When I look back now, I can really say I'm proud of how he dealt with it all at that age. Jermaine was very mature. Actually, everybody was mature except me.
If I stayed in Indiana, I would've been an All-Star multiple times with a couple other awards, too, but it's cool. [During All-Star Weekend] I'd go on a trip with the kids, probably the Bahamas. It's a good time.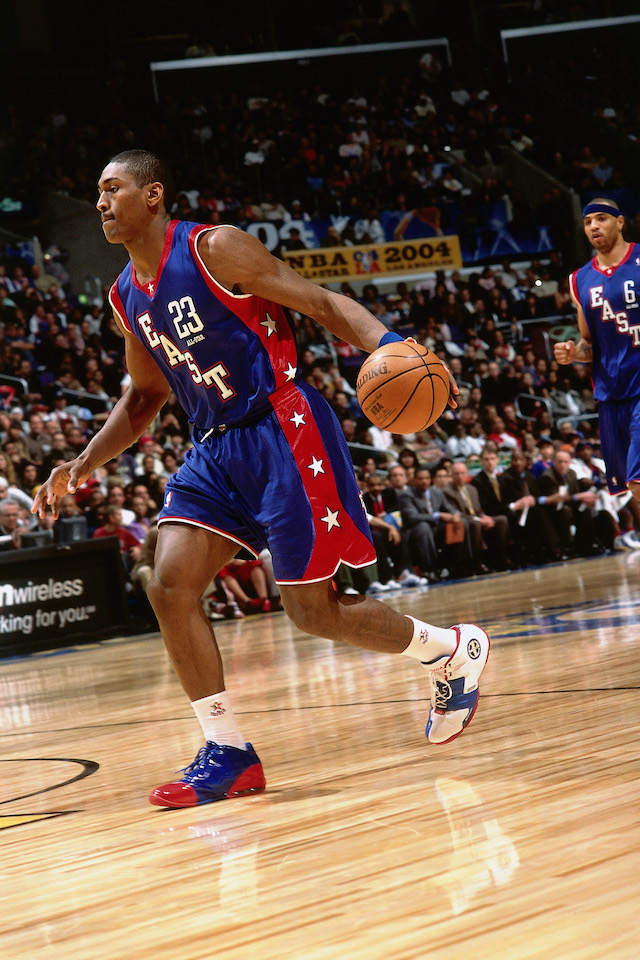 How did I only play in one All-Star Game? I kept getting in trouble! Nobody was picking me 'cause I kept getting in trouble. One year, I led the League in flagrant fouls, then I did go to the All-Star Game and was Defensive POY. The next year I got suspended, the next year I got traded to the Kings and moved to the West Coast midseason. Plus, we was losing even though I was one of the best small forwards. Then I went to Houston, where I was coming off the bench early in the season, then averaged like 15 in the Playoffs. But then after that I was playing in Los Angeles with Kobe and Andrew Bynum and Pau Gasol. So, you know, my role was lessened, right? So that's how. But I didn't pay attention to it—everybody's different.
My favorite game as a Laker was probably against San Antonio [in 2010]. I had a chance to play—Kobe was out that game, so I had like 20. Kobe missed five or six games. It was the only time I had a chance to prove my game in Los Angeles. I never really had a chance to do my thing because I chose to play on a team that had stars. I never really had that opportunity to be in L.A. and show myself. I had one chance when Kobe was out, and I put up some cool numbers.
As told to Leo Sepkowitz | Photos: Getty Images
1,262